The Qasimi Spring/Summer 2021 collection has arrived; in a season certain to be remembered by a global pandemic which continues to reshape all our normal anew. This was the first full collection from Hoor Al Qasimi, taking over as Creative Director from her twin brother and late founder, Khalid Al Qasimi.
Away from the action of London Fashion Week, a catwalk was replaced by a presentational video shot at The Biscuit Factory in Bermondsey, possibly the last at a location familiar to many a stylist, artist, photographer and MUA. Delayed demolition due to COVID-19 resulted in an apt setting for a seasoned curator with a longstanding commitment to creating cross-culturalism through the arts. Hoor is also earning herself an equally admirable "reputation for trying to save old buildings, or at least using them before they are demolished". It all feels profoundly symbolic and almost metaphoric.
But the house that Khalid built has always stood tall in activism and design. An architecture student who moved into fashion to much acclaim, it was a t-shirt with the words 'Don't Shoot' in Arabic, English and French in Autumn/Winter 2017, followed by a most considered response to Vetements for replicating it in Spring/Summer 2020, which distinguished him for many more. Qasimi was paying homage and drawing attention to a powerful moment in journalism during the Israeli-Lebanese war in 1982 where it was first worn by reporters – to help identify and keep them safe. For the month of August, Qasimi will be donating all proceeds from the sales of this t-shirt to Red Cross funds in Beirut.
This season also sees the introduction of a much-anticipated womenswear line, described as a soulmate rather than a romantic partner, and another natural stepping stone for a brand connecting cultures as well as that greater umbrella of all the arts. From books to musical instruments, paint to cement; all these disciplines combined have always informed and influenced the clothes we wear— how we see ourselves and who we are, are inextricably interconnected— and have even been the fuel for revolutions.
We spoke with Hoor Al Qasimi a few days after the show and were gently drifted into a world in which she is bringing equilibrium to pandemonium. Of all the halts, fashion maybe needed this most. Her light dulcet tones transport me to an enchanting sound installation in Lahore which she sends me to watch by message. Hoor is so very generous with her time, thoughtful with her words and exceptionally humble for such an accomplished woman. "Quiet and curious" as she describes herself, she is seeing an entire world and laying her own lines – effortlessly connecting a New Orleans Collective to a Somali- born UAE rapper; to bringing the latter on board to collaborate for Qasimi.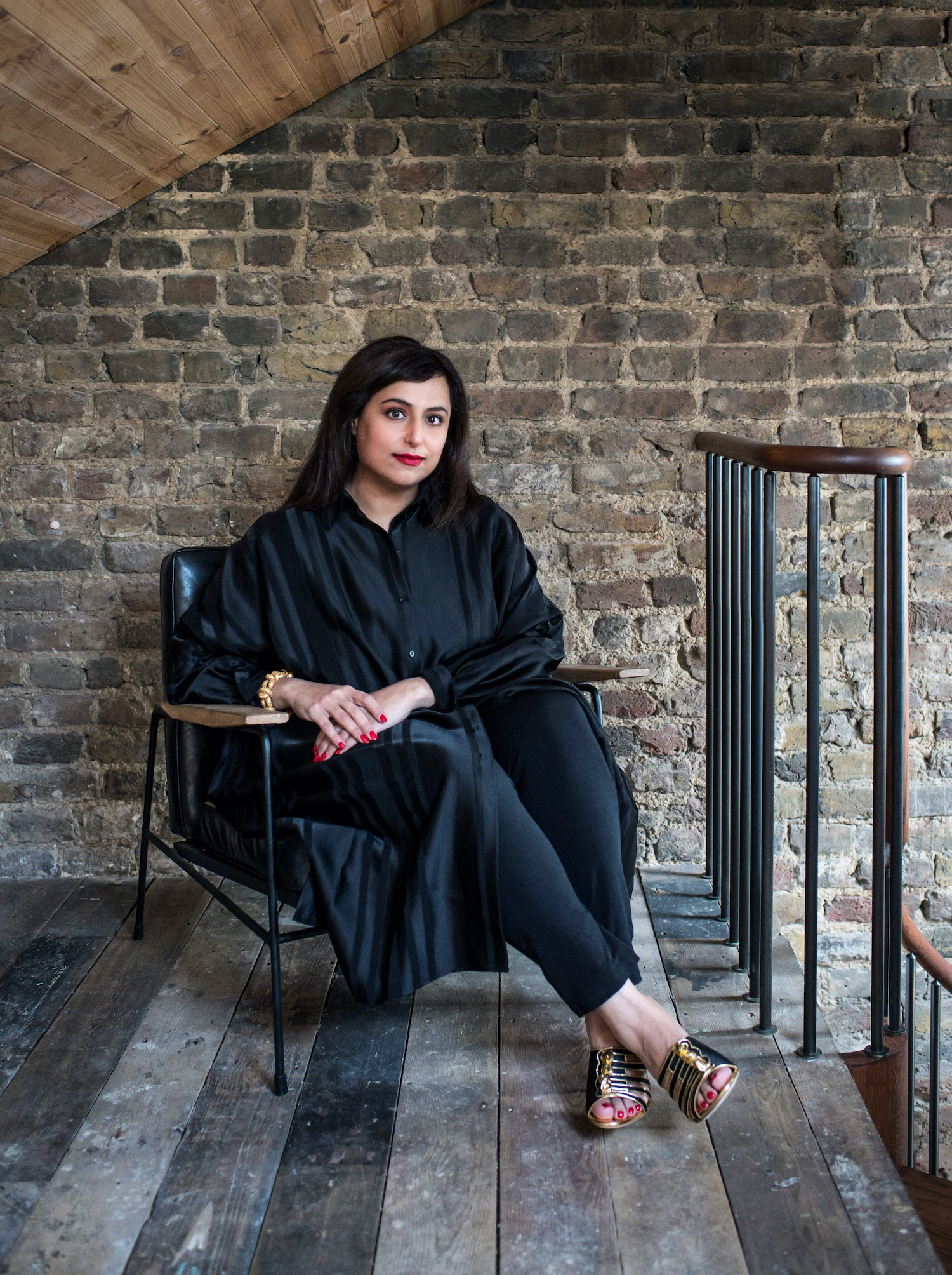 A family of intrepid explorers and builders with considerable thought, Qasimi the label continue to converse through clothes; but rather than an agitation for change, you feel that conversation in full flow. Hoor speaks of her late twin in measured and revered tones— both she and his team are honouring his legacy. Hoor Al Qasimi coming on board as Creative Director at Qasimi is also curating for fashion a most wonderful new stop.
Congratulations on a beautiful show. How have you found this seasons journey?
It was very emotional at the beginning, especially last season where I was a little like a fish out of water because I came in the middle and everything was fresh and surreal. With this collection I feel more confident since I've been through the journey from the beginning through to the end and I had an input into the whole process.
But it's still a learning curve for me, my background is in the arts but I was also very close to my brother as well, especially as a twin. He would share everything with me from the shoots to castings to fittings… it's very strange for me when I take these pictures and look at my phone. It's almost as if my brother is sending them to me.
Do you have a favourite piece from the collection?
The oversized shirts with the Sadu weaving. They look quite heavy because of the weave but it is actually very light and breathable, which is important because it's a summer collection.
Your brother's background was architecture and yours is in the arts— how are you finding the relationship between art, architecture and fashion?
My brother was always very interested in fashion and fashion photography. He went to the Architecture Association but his love was always fashion as well and he wanted to bring that together—he was very artistic, both of us with our backgrounds connected over many things.
For me it was the whole industry I was unsure of, the art world has been my home for over 18 years so I was a little bit nervous. But he has a great team here in the studio who worked really hard during this whole corona-pandemic, so there's that dedication from everyone.
And like a lot of people in the arts, I was, of course, interested in fashion too; so it was more about finding ideas of how to bring the two together. Khalid used a lot of statements and Arabic embroidery and prints. I was with the team and we were thinking about various themes and ideas, and a conversation led me to show everyone this work by Nari Ward, 'We The People', the Arabic version, and everyone loved it. So I asked Nari if we could use it and he was very happy for us to. And it just went off from there. And then for the music, I commissioned this young rapper FREEK.
Were you familiar with his work?
At the last Sharjah Biennial we had this art installation by New Orleans Airlift. I had shown them this abandoned plane in the middle of the Emirate of Umm Al Quwain and they asked a group of young musicians from the UAE to perform at the event and FREEK was one of them.
We knew we wanted to do a short film and the idea of spoken word was being discussed and I said, "Well, there's this young rapper, why don't we commission somebody and really have a collaboration." Everything came together very organically.
The essence of that presentational video, from the clothes to the message being delivered all felt so right…
It was a joy to work on. We were able to shoot it at this old biscuit factory in Bermondsey which is going to be demolished, so we were actually quite lucky that we were able to use it before they turn it into apartments. For me, as soon as I walked in (to The Biscuit Factory) I felt like I was in my element. The huge warehouse looked like an art installation rather than a fashion show, so it was a lesson for me because it was very much about the process and creating a final product which was great.
I read somewhere that you wanted to be a chef at 14 because it was different, I can tell there is a natural curiosity leading you which really is wonderful. What inspires your curiosity?
I'm very quiet and very curious. What inspires me is bringing people together. The serendipitous moments of life. I always trust instincts. If I bump into someone again and again I know I should be doing something with that person. I really follow those signs and trust those instincts because they led me to where I am in my career. Chance moments have really brought me to meet some amazing people who have inspired me.
For example, some of the exhibitions I have worked on which went onto change the careers of some artists also happened by chance meetings and then research of course. But I really trust these moments, and again, collaboration is always important for me— I think we are collectively stronger as people.
I feel like this collection, from the luxurious loungewear to the use of the spoken word artist, these are all tapping into climatic sentiments Qasimi has been built on…
We have always wanted to have this conversation with the Global South.
Excuse my ignorance— what does the Global South refer to?
This is the term that they use, a lot of people would actually like to replace this term but it's the only one we have at the moment referring to The Rest Of The World. So it's Latin America, Africa and Asia. It's not a colonial term but I do find myself trying to use it with quotations because I'm not exactly sure what the best term always is.
But I think our conversation with the "Global South" is very important. Our synergy is very important to how we create. Bringing a Somali-UAE rapper into this project was part of bringing us together. In January I curated the Lahore Biennial and for me, it was about making all these connections with South Asia to North Africa to East Africa—making all these connections to tell one story. I think it's the same as saying "We The People". It's about us coming together in that great big bubble of art which includes literature and music.
I'm sure you are asked this often but do you have a favourite piece of art?
At the moment I've been thinking a lot about a piece of work I commissioned for the Lahore Biennial by a Canadian artist called Hajra Waheed. I had to do a lot of site-specific work and hers was a sound piece that was installed inside this dewan or divanium, which is basically a space where people would gather to air their grievances to kings. It's a beautiful space in this old fort in Lahore and she created a musical compilation, an installation of humming sounds. The piece is called 'Hum' and it's 8 songs about resistance from South Central Asia and Africa. And they're just singing. And you walk through this space and you hear these songs by these people on resistance. It really is a stunning piece.
In an industry renowned for working at an exhausting speed, how could we all work together to achieve a more harmonious balance?
I think if we had the same values and the same mission than your automatically drawn to each other. At the beginning, I found it very intimidating if I'm honest, but the way to do it is with a trusted team to guide you—and actually say to you, "this is how sales work, this is how manufacturing works."
I think if you are overconfident and think you know everything, you are not going to be successful. It is so important to keep learning and to remain humble. I was having this conversation with someone in the arts actually and I said "I'm not going to pretend to know everything, especially because I started so young, there is no way I could know as much as another person in my field. It's not normal. They know things I don't know and I may know some things that they don't know, and if we don't ask, we are never going to learn."
Your curiosity is laying lines for other artists to follow. I have never visited Pakistan but your stories made me think of a poem about Shalimar Gardens I had to study when I was 15…
Shalimar Gardens are so beautiful. I could recommend many other places too. Lahore is such a beautiful city, you would have the best time. As a woman, I felt very safe walking around the streets of Lahore, even after sunset.
For the Lahore Biennial, I really wanted to connect Pakistan with Iran as well. Urdu as a language uses a script similar to Farsi. I thought it was very important to connect our cultures more so than if I was asked to curate something in New York.
The world of fashion feels very lucky to have you as Creative Director at Qasimi, how would you like your tenure to be remembered?
Khalid really did everything for what he believed in; he worked so hard for this brand and he stood for his values and it's really important that the brand continues with his vision. I didn't want to come in and just change everything. I think it's very important that it remains his. As much as I am doing, in my mind I always say that it's his — I still describe it as "I'm in my brother's office"…because it is forever his. We still have the same designers who worked with my brother. He built an amazing team and they know their stuff. I am also really trusting their direction.