Talks music, Lockdown and what's next…
If PrettyBoyDO's last project 'Wildfire' was a colour, it would undoubtedly be the colour red, with jaunty but weighty tracks laced with fiery lyrics, the 8 track project which features elite talent from Nigeria's music scene including Olamide. A few months since its release DO is in a more positive space, "in this current moment, there's a lot of happiness", he says when speaking of his current mental state, " but, in this moment, even though I am happy, my country people are not happy. The world is still fucked up…"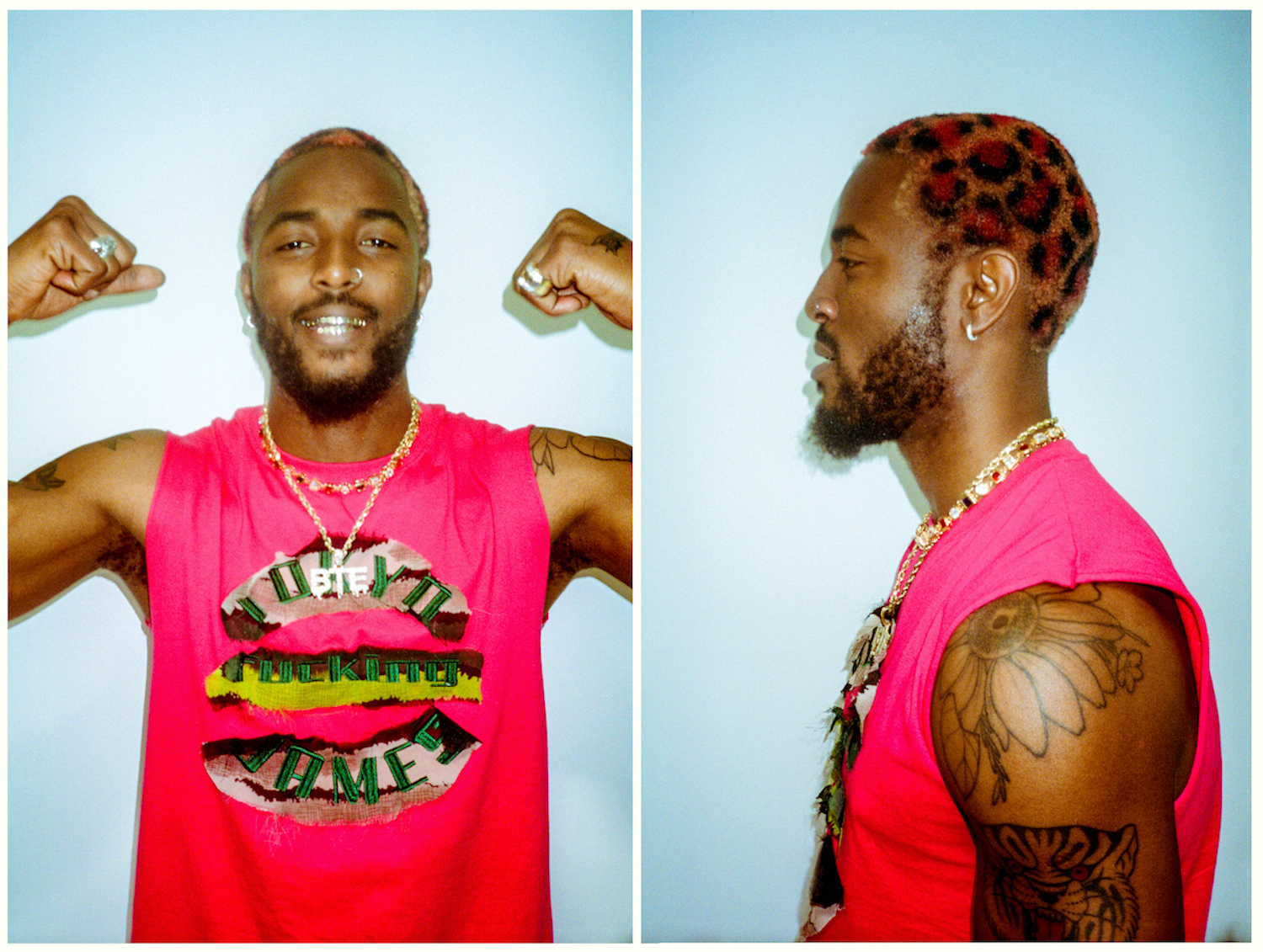 Jewellery: Chain Artists' Own, Serge Denimes x PAUSE Top: Tokyo James
Over the past few years, you've lived between America and Naija but do you feel any different about America with all of the things happening?
First of all, where I'm coming from is the jungle. I'm coming from jungle where everybody is na hustling, everybody is fighting. I go to America where it's like, especially for like a creative it's like, like I said paradise like. I work with my whole team, I got my videographers, I got photo people, I got like people who you just talk to, so for me it's like… and at the same time the sky is the limit cause you feel like you can touch the, yknow, touch the fucking sky. You can do everything. But in Nigeria, to me it seems like when I think of… not now tho, I've done music, but back then when I was on the come up in music, when you're thinking of your future in Nigeria it doesn't seem as bright, it doesn't seem as-as um… what's the word to, it seems as bright but it's just, it's so hard that it fucks up your thoughts. Does that make sense?
And in terms of everything happening in America, it's like. I even went protesting, we both went protesting.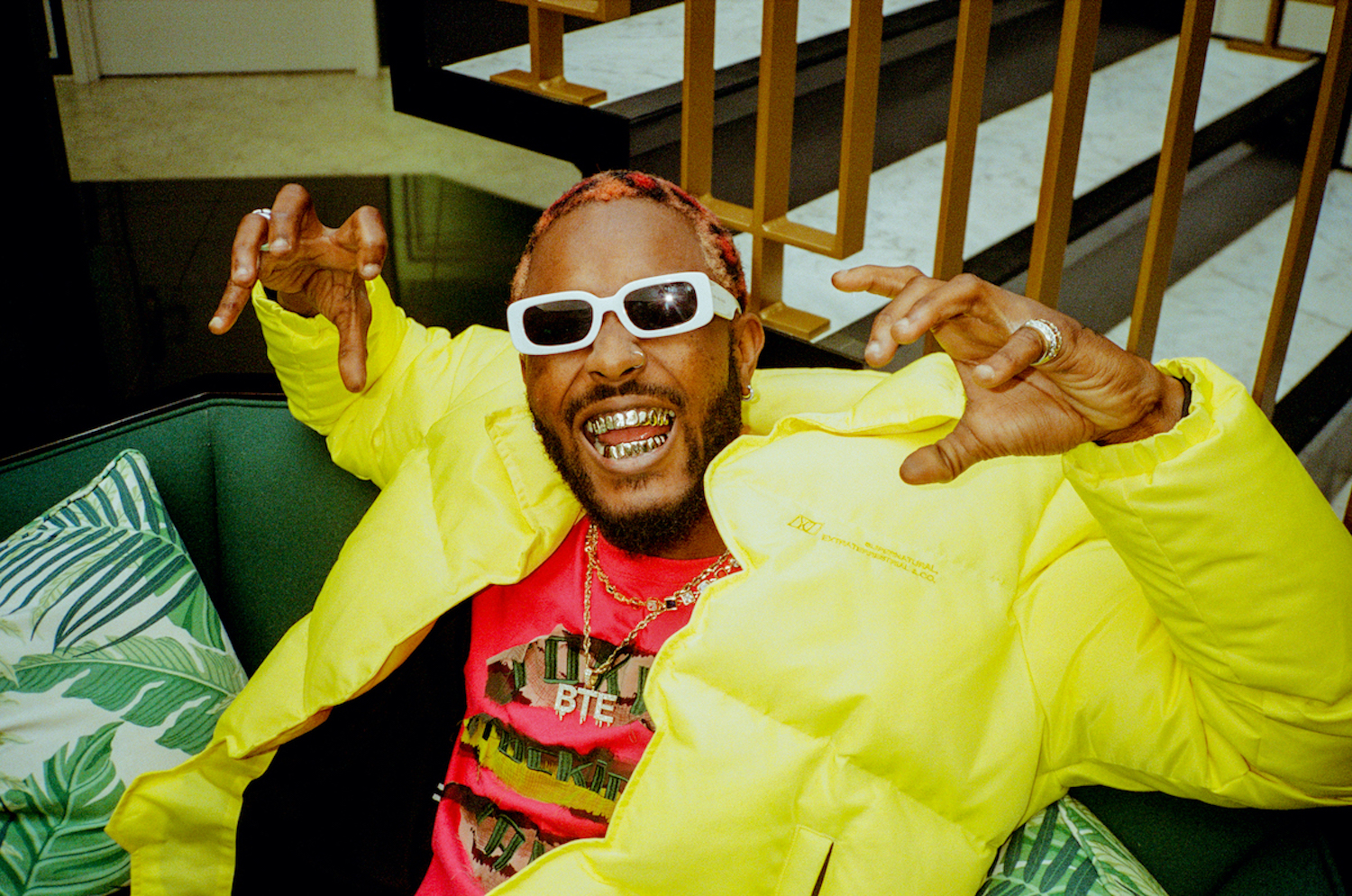 Sunglasses: Bonnie Clyde, Jacket: Xander Zhou, Top & Trousers: Tokyo James, Trainers: Air Force, Jewellery: Jewellery: Chain Artists' Own, Feather Pendants, Serge Denimes x PAUSE
Where, in LA? Or New York?
In LA we went protesting. But y'know um racism and all this business in the system, we always have to fight, we use our voices against it.
Obviously where Nigeria is at in terms of the music scene is very different from like 10 years ago. When did you start, like 2012? 10, 20, what year were you…?
Yeah, 2012. The day I dropped my first track, 2012, yeah.
I feel like right now, personally, the power is in the artist's hand cause you've got your own distribution systems and whatever. But then also, I feel like there's this new kind of expectation that you have to kinda fit into the western world systems. Do you feel that pressure as well?
I feel you, I feel you. Like me-like me I want all, from this second I'm talking to you, I want all awards, like that's my goal. Because at this point in time people will like him (Burna Boy), or the Wizzys lets just say from an African perspective, they have shown that anything is possible like he's (Burna's) been nominated for a grammy before. Like now Diddy is on the album, so it's like, for me, seeing someone like him, and you can see how (wealthy?) he is, you want to try and copy it. Like the sky is not even the limit, anything is possible, like especially now. I've been around so many of my own people who have shown me that anything is possible. I don't want you to look past my country people, like if my guys are doing it, I will do it. I wouldn't change my sound. At least, that's how I'm looking at it for now. But I'm not one to change my sound, even if I change it, it's still gonna be DO Boy. It's still gonna be the same thing I'm selling, if it's something – I'm not even selling anything I'm just being me.
Sunglasses: Hot Future, Top: Y Project @ Browns Fashion, Jewellery: Chain Artists' Own, Feather Pendants, Serge Denimes x PAUSE
Just being yourself? Yeah.
Yeah, so that's what we'll continue doing.
Why's your name Prettyboy?
Why's the name Prettyboy? Erm…When I was younger my mum and my sister they used to say – they used to call my sister a baby. So I used to call her pretty, she used to call me pretty back. I go to university and ASAP Rocky comes out with Pretty Flack/o. I'm like yo bro they've been calling me pretty yo, I wasn't even calling myself Prettyboy I was just saying D-O, D-O, D-O, D-O.
So then you just started calling yourself PrettyBoyDo with chest?
Yeah, I said 'call me that', everything pretty and… boom. So, 2017 I started calling myself, officially Prettyboy and that's the name. You never know, very soon I'll change it, I'll change it, it has to keep changing as time goes on.
Who do you think the best artist in the world right now is? Who is your favourite musician in the…history, who's not alive? There we go.
Err history-history. Favourite in history? History-history who will make me cry?
I mean they don't have to be dead.
I always think about who I connect with the most emotionally, the best ever all time. D-O who do you say? Man, I really… Okay I'll put it you in different ways
Go on
Me! As who I am and whom I- who feeds me is Tupac. Like I look up to Tupac, like he-. It's deeper than music, his movement, his missions, his everything. Then if I'm talking from a musical standpoint – let's say musical standpoint and I've been watching…if I look at my career and I wanna last like a 20+ year career, I really like Marvin Gaye. I really mess with what he did, let's say just on a musical standpoint, I really like what he did with his career, sonically. Like he reinvented himself a lot of times. Because it's crazy, I don't know why, like I just always think of the future.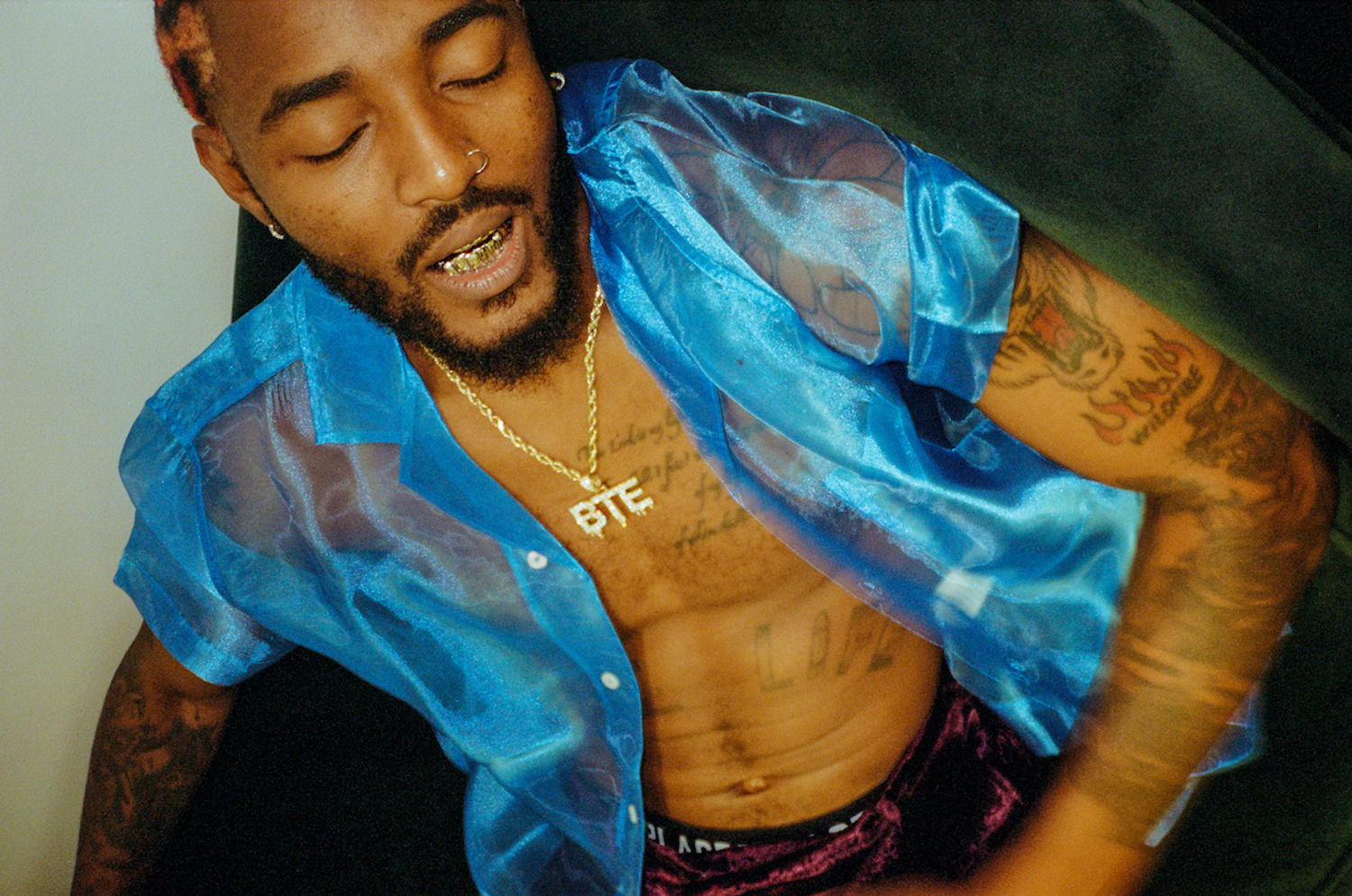 Shirt: ASOS, Trousers: Dries Van Noten @ Browns Fashion, Footwear: Clarks
Right…
Like I'm that kinda nigga like all the time I think, we're here today because of shit I did yesterday. You feel me? So…I think about the future, so I think about how??? How do you stay? How do people do it, that they stay 20, 30+ years like they have that kind of musical career, Drake has done it, I feel? Or Marvin Gaye, I call him – and even MJ for example was that great. Cause they kept changing the sound, when I say- not their sound, they changed their sound but they changed THE sound.
I'm inspired by – especially Marvin Gaye man, especially cause he took like, at least 60s, 70s, and early 80s before he died. He had 3 decades.
But out of interest, obviously 2012-2020. How has your sound changed? At what point do you feel like you found like 'this is me'?
I feel like I found my sound but I still experiment to get newer stuff cause like you said we don't know what's going to happen in 3 years or 4, 5 years. And I feel like I always have to be in that tune of changing the sound if that makes sense. But I'll say from 2012, I started off as a rapper but I still used to sing as I was rapping – cause I really like Drake, before I- I liked a lot of people but like when I started rapping, 20…12, 2011. When I released, my first track was 2012. I really like how Drake used to sing and rap on one track. So I used to try and sing and rap on one track. So at the time when I was in New York, I was in undergrad, I was in university, I was rapping, that was 2012 but I could see that in Nigeria they only like to dance…
I felt like I could reach a higher audience if I learn how to sing for that kind of (afrobeat) bounce so I started learning how to sing, it took me 2 years before I dropped a singing record that was 2014. So when I did that then I was like damn so officially I felt like "okay you can have a singing record, you can have records where you're just rapping, you can have records where you're doing both". I moved back to Nigeria 2015 but before that let's say its 2014, I put it in my mind that I have to know how I'm going to rap like erm patois or with pidgin (English), sort of like rap like I'm singing, but it's more like Jamaican dancehall-ish, where people can dance and still sing. So I'll say from 2014/15 I have, till today I've just worked on that.
Even when I got good at it I didn't know I got good at it. I keep saying I wanna change the sound, I wanna create some new sound shit, like how NSG dropped that "OT Bop" song I'd never heard any beat like that, never heard a bounce like that. That's what I wanna do every year if I can, God willing.
Who from the UK are you fucking with right now and who are you working with next?
We've got a couple of tracks, me and NSG. I've got one for my project and the other is for every person.  I only mess with the best of the best; Headie One, literally it's just that we don't have enough time. We're going to Denmark on Saturday. We've linked up with Octo a couple of times but we haven't recorded yet. Headie's a King now, he was fucking with me from Last Year, he's like the first UK artist to show me love out of everyone I've mentioned, then NSG, Papii, and OGD – OGD buss my head. I have to learn how to produce.
We worked with Neicey on London soil, Burna Boy's sister, she's fucking dope. We linked up with Skepta too, we met Wiz, Burna. Those are Naija boys. When we landed in London, we've been busy.
Sunglasses: Hot Futures, Sweater: GCDS, Jeans: Sulvam @ Browns Fashion
Does this mean we're expecting an album or are you still on Wildfire energy?
I'm not on Wildfire energy, me I want a Grammy too. Let's just say, we've been working on this for 2 months so we have until November/December when it's gonna come out.
Out of interest is Wildfire energy? Where were you at when you made this?
I know you're British, you're Nigerian British but I feel like my message is very clear in my country. So I wanted to know how that comes across.
Wildfire is a statement, was a statement, I make music with themes and Wildfire was literally… Before 2020, last year I put in so much work. I come from a country that the industry is very political, a lot of favouritism and all this type of shit and I feel like they don't like you if you come like "I'm the man". They don't like that. You really have to fight for yourself, but last year I put in a lot of work, let's say before January 2019 in my head I was going to drop a video for "Pull Up", I was gonna do "Dey Go Hear Weh", I also had "Waka", so I had three songs and I planned videos of those songs, planned the video in February, dropped the 1st one in April. My mind at that time was "this is my year, I'm gonna fuck everybody up" I did my show, the year finished and that was my best year, crying tears of joy after every show. We'd do videos and everything was hitting, but the love back. I did get stupendous love back, but from the industry, I did not get that love I thought I would. A lot of things happened last year, things that have even led to this year, it's from last year I could think of international distribution and all this shit.
But the level of work I put in and what I got back, I did not feel it matched and I know what I did for what I needed to do, so when this year came, me and my people we talk like I'm gonna drop a project, I chose the name. This project Wildfire was meant to be a surprise, I wasn't even meant to talk about it- to be honest, it was meant to be a setup, like what we're doing now. For the next project
It was ready since December, we mixed and mastered everything. It took me 2 months. February, I went to LA in February, that fucked up but I met my boy, we got to like something way bigger than I ever thought possible. But with Wildfire honestly, like that was January 2020. I used to not really talk a lot on social media but I used to post a whole lot more. I said I'm not doing any of that.
Now I said I'm carrying this red bell on my head because they call me that nigga that like – my character is that rebellious character. But now it's like, now I'm mature,  it's not really 'do or die' cause I could never stop, this is what I wanna do. But this is it like this is where I see – this is who I am. And it's like a book of revelation, you know like the world when the world is ending. I want this industry to end, to burn down by fire so that whatever comes next which is what we're planning is the jungle justice. But this wildfire was regulation like everything is going to burn down, all this politics, all these people.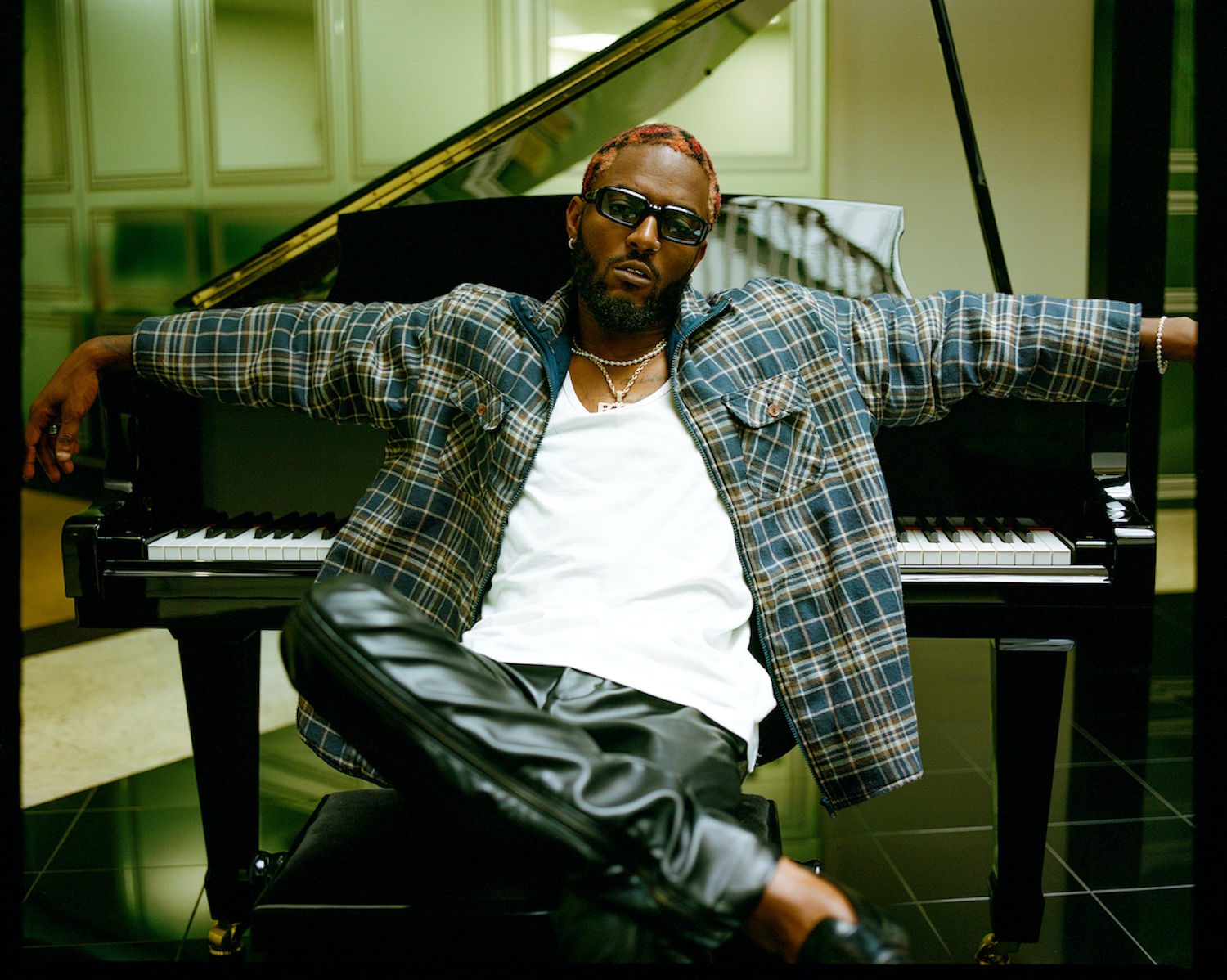 Sunglasses: Port Tanger @ Browns Fashion, Overshirt: Le Merj, Vest: Stylist's own, Trousers: Jordan Luca, Shoes: Grenson, Jewellery: Chain Artists' Own, Feather Pendants, Serge Denimes x PAUSE
Something that makes you stand out to me is I feel like you're colourful. Do you think in colours, is your music colours? Are you a colour?
It is- it is. You're very right. Colours are for the mood. Like we did red. We did red last year. Lowkey, I'm not gonna lie, Wildfire is to me a last year thing, it's really a last year thing. Like cause we- I finished recording it last year. We dropped it way later, it came out later than it was meant to come out. So Wildfire and all that shit, that was red, I was on a red-red ting cause I was angered. This time, I be telling my shawty I'll try not to be angry, I don't want to be angry no more, I been angry for too long. I'm trying to be in love like-
I hear that
When I'm in love. I'll try to be happier and at peace.
What colour's that?
I'm still not there yet.
We're not there yet. Okay, in this current moment?
In this current moment, there's a lot of happiness, right. There's ways to peddle happiness but – but, in this moment, even though I am happy, my country people are not happy. The world is still fucked up…there's still a little bit of… a little fragment here and there but it's still not going- I don't think it's going to be as angry as Wildfire, as my last shit. But yeah, I think in colours column, cause colours affect your mood, right? Right now I'm happy so I'm thinking like… blue- greeeen especially, green especially good.
This my next project is-is I think is going to be- I'm going to centre it around my country, my dad, the military, my dad was a military man, my first one was my mum, my dad was- I literally have to, like for me to even think forward I have to think like this because if I don't think like this then I'm just making things. I don't know what's happening-
Disconnected? Disjointed?
I'm just making music, I'm just… But if I think like this then I know okay, yes, this fits the mood, this fits what we're trying to do.
What kind of Nigerian are you? What tribe are you from?
Ummm…Southeast, like rivers in (Edo/Ondo) state?
If we're gonna describe your sound in three words, do you think you could do that? Is that even – oh, yeah. How would you describe your sound in three words?
Different… Spiritual
I feel like that tells me something about your self-awareness. I feel like you really know yourself.
*Laughs*. They gave me the words, oh.
Other male voice: Shit is spiritual.
Favourite place in the world?
I'll say two places, it has to be Lagos and LA.
It's like a dream. I would say right now, where I've been, Lagos, LA. LA cause I can smoke as much weed. I don't really do much, I just smoke – smoke weed…
Out of interest – how has lockdown affected you? Has it affected you? Because you're saying you're a homebody before all of this, that you don't go out so much.
Lockdown, the only negative was the videos I wanted to shoot, it's been the same for me minus the debt, in terms of my career, I look at lockdown as a positive because first of all nobody (money wise it's bad lowkey), but at the same time, luckily for me I had distribution… Nobody has shows right now so we're all equal.
It's levelled the playing field
You understand? (laughs) I've never been happier, I probably have never worked as hard, but we always work hard. We've done like 4 videos where our director is Lagos and we're in LA sending it back and forth
Manager: Nigeria have the shittiest Wi-Fi
This has probably been the most creative that I have been and that's why I'm lucky because all we do is work, I've teamed up and attacking these people from all angles. The visuals are hard, the photos are sick, I've changed my hair. It's been more creative, more like "ah just express", be it tattoos, I've loved it
If 2020 was a song?
Jagga Jagga – Literally, I was telling one of my boys, I went to a good high school, everybody was smart… Around 2012 he was up, he's always had a good job, I've had to hustle from the lows of this music shit, now we're in the same place. I'm in his crib in LA, when this whole corona shit comes up he loses his job, this is a nigga that's been good his whole life… By the book nigga, but where does he find himself? He finds himself in the category of a me, where when I was in undergrad, I had to switch schools, they suspended me… 4-5 days later he has an interview, he does his interview and he doesn't get the part, he's pissed off, because he's been good his whole life why is he finding himself in this position? I told him "bro, you have to become a me, us where dey dirty", because this time is for us niggas that hustle. Nobody wants to know if Wani is in Lagos…
Make it happen. Make it work
And that's what I told my nigga. My point is this a time for the people, people are getting rich of this corona where there's no money. It's just the time for us niggas.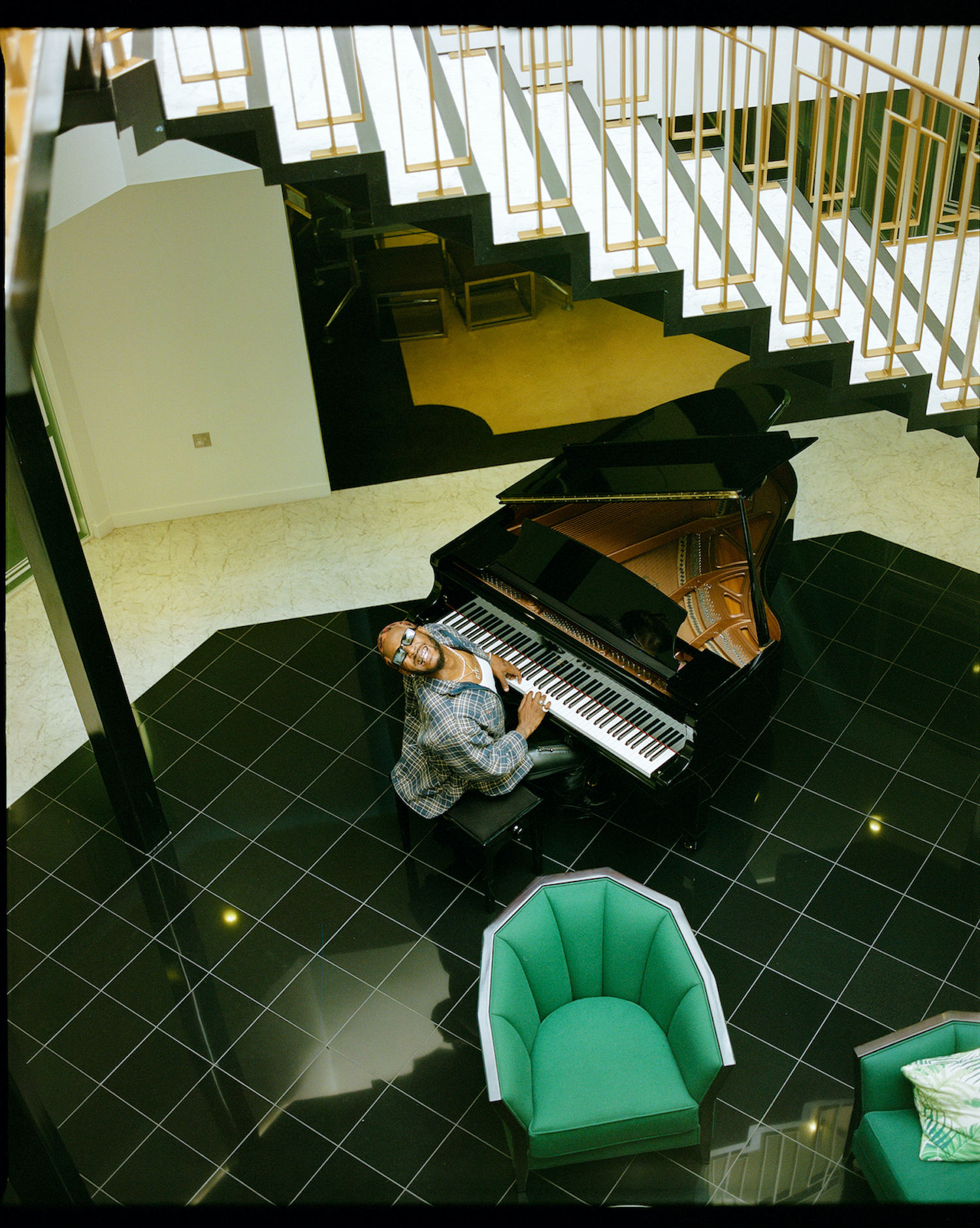 The movement in Nigeria is so inspiring because we're coming from nothing, there's no music industry in the conventional sense, so I feel like a lot of people are looking at people like you because they want to do what you did, what advice would you give to yourself 5 or 10 years ago?
I'll tell myself to calm down. If I didn't calm down I probably would not be here. But at the same time, I think about that shit a lot. Sometimes I wanna tweet, but I don't wanna seem like a dick. I'd tell myself I have to keep being hungry, that hunger is a gift and a curse. You have to be hungry, that will, will get you here where I am. It will get you high places but that hunger, I've lost blessings personally maybe when I first started. I feel like God blessed me so much, in 2015, I was back in Nigeria and I had the record deal, before I moved back I was dashing my shoes, Rick Owens, Balenciaga, I thought I'd blown… I moved back to Nigeria and this guy put my stuff on radio all the time, but as they used to play my record all the time, people didn't know who I was… People would say "I heard your record, bla bla", and I'd be like "no, not like that", but see that thing. It's like God is blessing you and that's what I mean by like, that hunger and having to calm down. Because any small step is a big step. And why I'm saying this is, I dropped a video and I didn't like how it was doing, I was telling the guy, and he said you have to accept God's blessings for you to move up. If every day with the small wins you're moving like (yeah *walks confidently*), then everybody is gonna think you're moving. That hunger is necessary but its good and bad.
Who should I listen to? Who do you recommend right now? Aside from you, who is popping?
Mojo (Chop life crew), Wani, I have a song with Mojo called Chop Life Crew, Jaiye times 2, that's one of the biggest records. Buju is fire too. I love this shawty Amma Rae from Ghana, she's hard. I'm tryna think of young people on the come up whose names don't really get. Cause I know you DJ right? Mojo, Timi Lare? The guy on the track with me. Odeshi, there's a guy based in Lagos "Mace/Mason" he's kinda fire too, he was on Odeshi's project. DAD who's American.
I'm excited for the future of you because I like your energy. Even from a strategy perspective, I've enjoyed your rollouts, I think it's sick. You're doing the right things, I love it here.
Thank you.
What's next? What can we expect from you? What can you expect from yourself? Where do you wanna take this?
I want to surprise myself, man.
I mean, maybe 1 to 5 years? Let's start small.
By 2 years I want to be a titan/title? in Africa, pedestal for Africa you think of Prettyboy. Then let's say 5 years, by that time I would have been in the fashion world, by that time by God's grace, one film would've come out, by that time my name will be big in the whole world. I really wanna be different, like I feel like my mind is really creative. Like I really sacrificed my whole life to this shit. I just wanna stand out. Like if I think of a Kendrick, I think of some guy that just has a beard and his just on his own or J. Cole. You get what I'm saying?
Stand out from the pack. No one can tell you nothing!
But a lot of art, because I have a lot of art in me. I love art.
I see the vision, Is there anything you want to talk about? I have interest! Anything that's on your mind??
I think we spoke about everything!
You see how you were talking about America and the unlimited opportunities, personally, I don't feel like it's the same here. So I feel like when a lot of people on your level of creativity look at the UK you don't respect us? So when you said you were coming here, I was like wow who's he gonna work with?!
No, I fuck with England. We have to come to England. It's what you have to do as an artist, especially if you're afrobeats. And in terms of talent, nah, everywhere-. We argue all the time, I don't even wanna go into that but I rate England highly though.
I feel like we're just more rigid. I feel like the UK scene is more…
Other male voice: Don't you have some of the biggest artists in the world?
But even then, it's rigid. They're a certain kind of person, I feel like they fit into boxes.
England reminds me of Nigeria a lot, I'm not even gonna lie. I feel like you guys- the Oyinbo people control everything.
That's what I mean.
That's the more reason why I have to come here. I saw OGD. I'm telling you, that nigga, I don't even care what he used/needs? to make but he's like a me. Like if someone comes to Lagos to see me, you'll probably be expecting us to be rolling in like drop tops. But if I drop drop tops to the studio (where am I going to be putting in work?). And that's what I saw with OGD and I'm like goddamn, that guy surprised me, even gave me some inspiration cause the guy beat me. We'll get to the top, one way we'll get to the top. I'm tryna say like damn, this nigga's at the top and see what he's doing, you feel me? I like that about here. America, that is the real world, the way they talk about music is real. It's probably the same thing here. I went to Thug's studio, the whole garage… cars, like cars, you get what you put in. You don't need to do any illegal thing in America. You do music, you quit all of that shit.
Other male voice: America's population is way bigger. Our music can travel further in America than it can in the UK. But don't get it twisted like, we live that lifestyle in America, we want cars. But in the UK they're not trying to have 10 cars.
We don't have space, darling. That is the problem.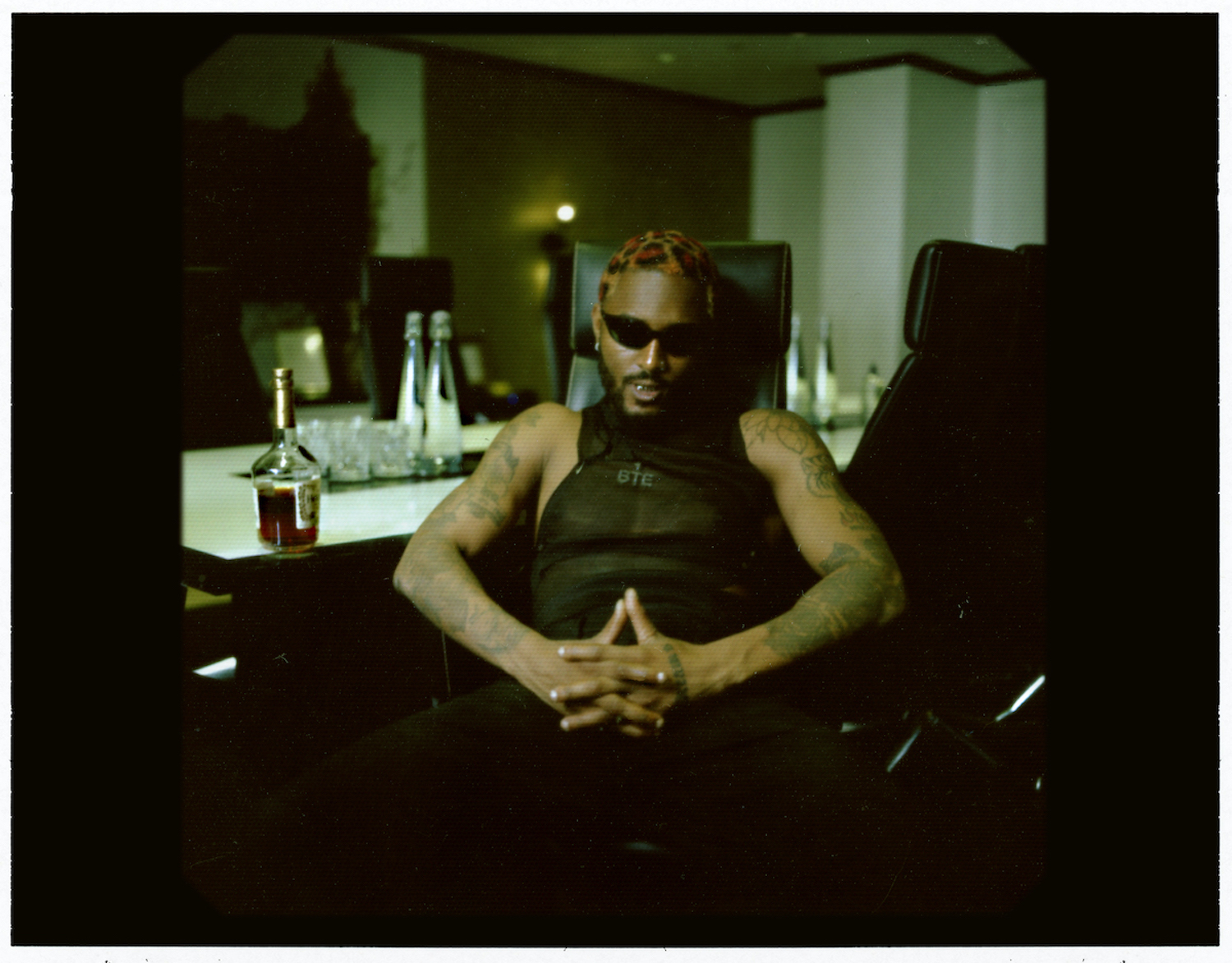 Sunglasses: Oakley, Top: Jawara Alleyene, Trousers: Le Merj, Trainers Air Forces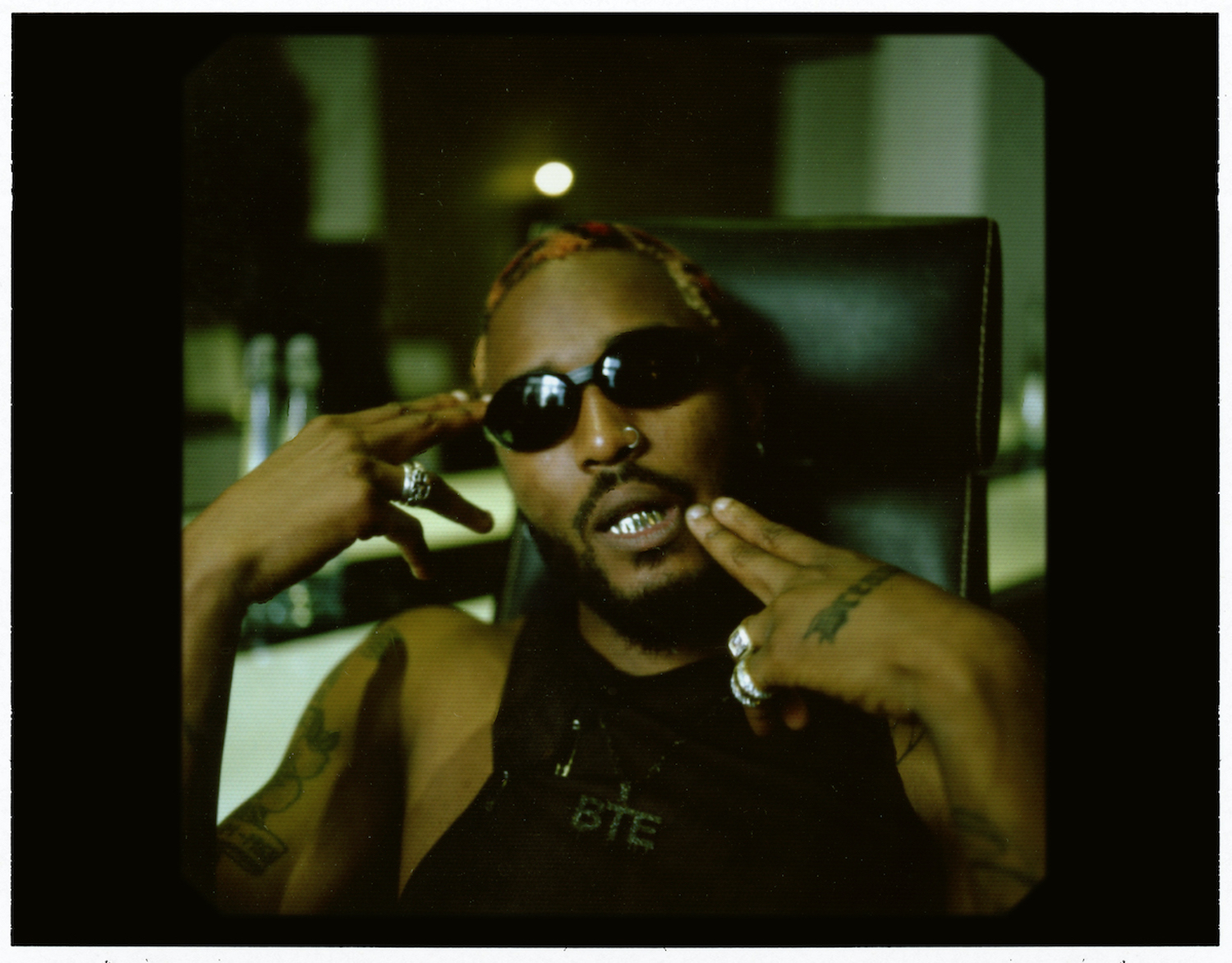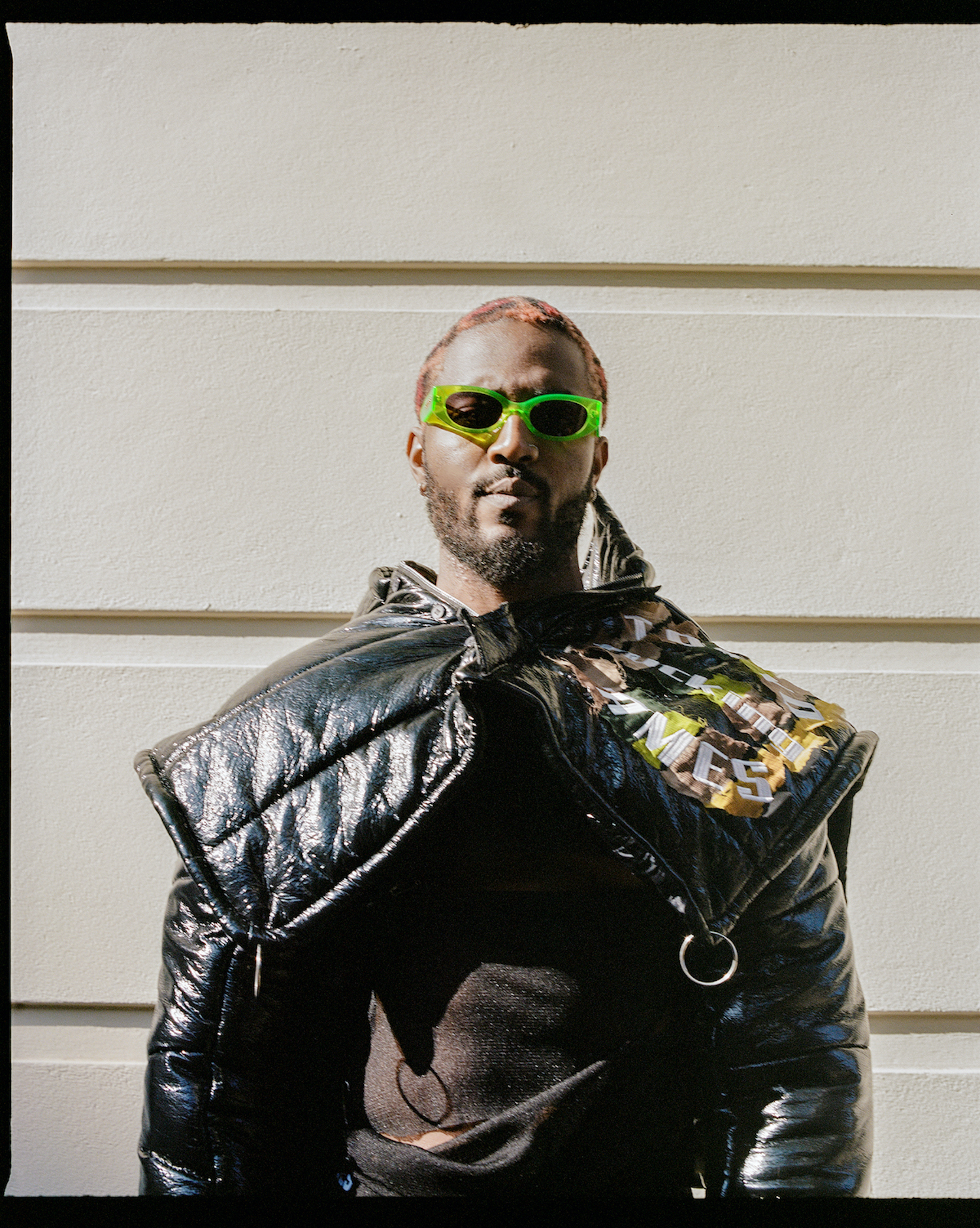 Sunglasses: Hot Futures, Jacket: Tokyo James, Top: Jawara Alleyene