With a golden reputation and slew of celebrity clients including Anthony Joshua, Rita Ora and Nick Grimshaw, it was only a matter of time before Shane Cooper took to creating a range of his own. One of his most revered drops to date, the anti-ageing Oxygenation Mask, encourages tissue oxygenation, cell regeneration and deep hydration with substantial results.
Another brand designed with men in mind from the ground up, Heath London is a father-and-son founded venture that combines modern pioneering formulas to deliver fuss-free and rapid results. A notable product mention, their Oil Control Moisturiser, combats greasy looking skin while providing fast-acting hydration with Hyaluronic Acid and Soliberine® NAT to smooth, hydrate and protect your face.
Spanning over forty years, Natura Bissé has been delivering natural-based skincare since long before it was the popular approach. A standout product worthy of your attention, their Oxygen Mousse delivers a silky, foamy alternative to your typical cleanser with ingredients to tighten pores, prevent clogging and provide a hydrated, matte complexion.
Another dedicated men's brand doing things right, Vitruvian pack natural botanical ingredients and essential oils into their products for a relaxing, but hard-working, range of products worth your consideration. Their Ressurection Cream serves multiple purposes with long-lasting hydration, broad-spectrum SPF 20 as well as damage repairing ingredients to help turn back the clock.
Serving as the first-ever hairdryer designed for men, Heist launched in 2020 with the goal of equipping gents with a range of hair tools and products created just for them.
Their signature product, the 2.0 iteration of the hairdryer delivers a seriously powerful unit with an airflow of up 80mph, UV light and ionic function for healthier hair – to scrape the surface. All complemented with a premium range of styling products, it's a brand giving aspiring newcomers a lesson in how to cater to the needs of men instead of a paltry 'masculinised' token offering.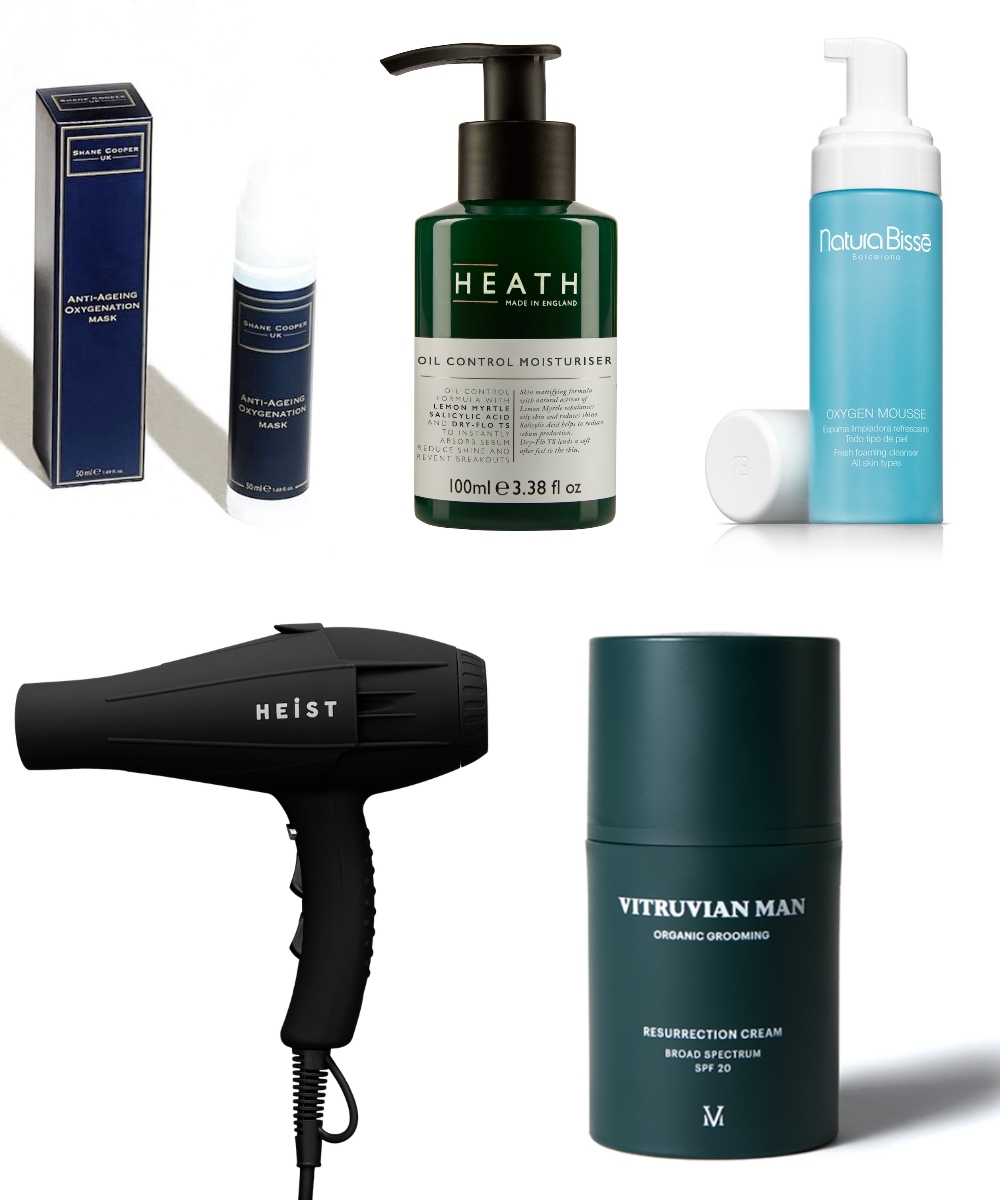 Shane Cooper – Oxygenation Mask
Heath London – Oil Control Moisturiser
Natura Bisse – Oxygen Mask
Heist London – Hair Dryer 2.0
Vitruvian Man – Resurrection Cream