PAUSE PRESS PLAY: ARTIST EDITION PART II
Special thanks to @nandosuk & @wrayandnephewuk
Cashh, TAYO, & Rachel Chinouriri Styled by Rhys Marcus Jay
Ghetto Boy, Elheist, Rachel Foxx, & Berna Styled by Jen Eleto
Macca Wiles Styled by Joshua Meredith
Alicai Harley Styled By Felicia Brown
Morgan Munroe, Mega & Jaela Styled by Elshaddai Nyagodzi
Take a look at who tempted us to PAUSE PRESS (&) PLAY their tracks as of late!
Special thanks to Nandos as well as Wray & Nephew
CASHH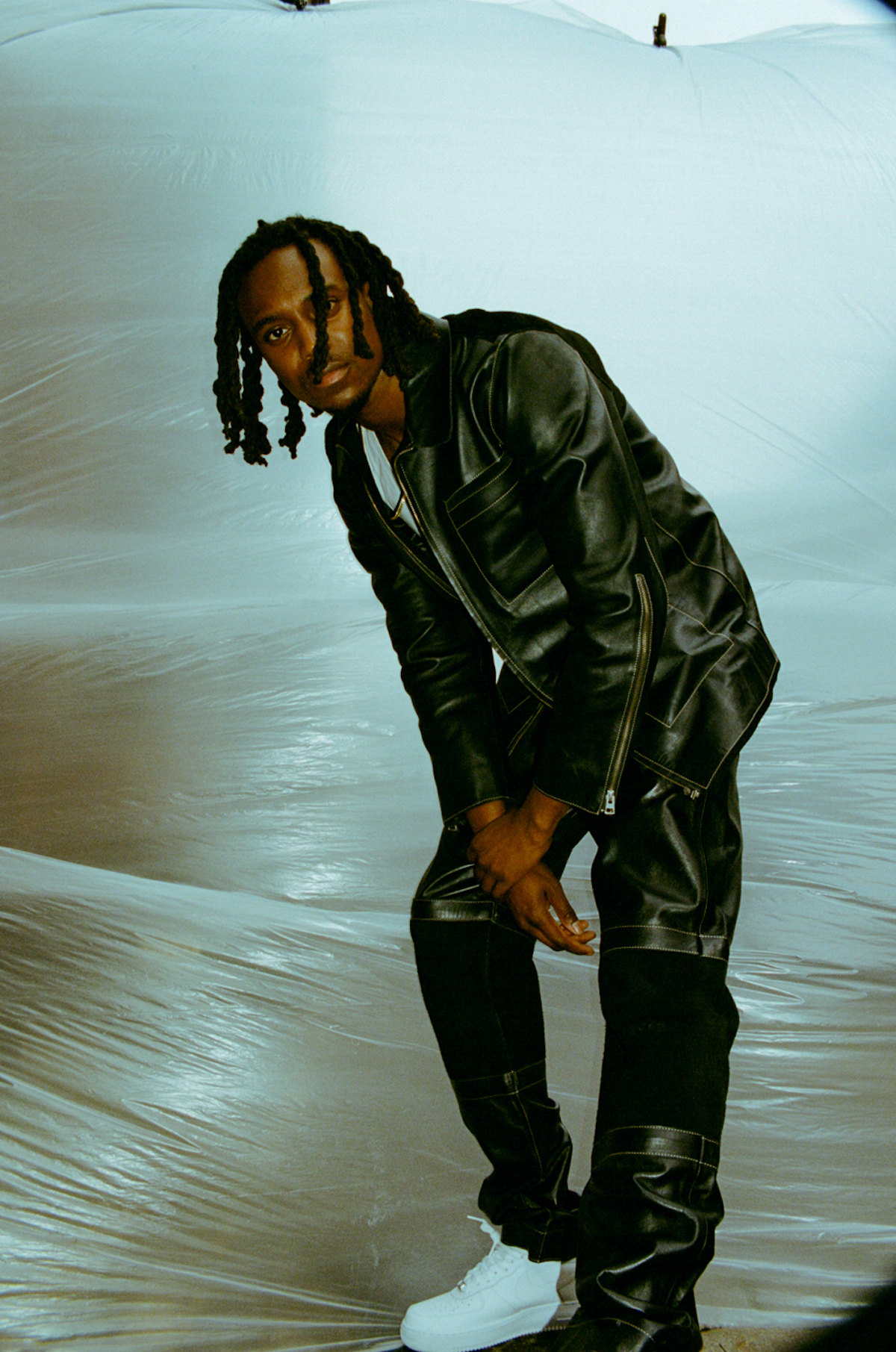 Full Look: Filling Pieces, Trainers: Nike
Hey Cashh, what's up. How are you?
Honestly. I'm grateful.
For those who may not know, may you briefly tell us about yourself?

My name is Cashief, take away the "ief" you get Cash. I'm a 26-year-old Jamaican born musician, who grew up in south London. I'm passionate about who / what I love and will do whatever it takes to protect them.
For those who do – you're no stranger when it comes to the music scene, formerly Cashtastic, your maturity has always translated onto your craft and lyrical abilities. Is that something you consider imperative as an artist?

For sure, the music I gravitated to when growing up had lyrics with meaning, content and subject matters are important when painting pictures with words. Gimmicks aren't my forte.
What does the word 'fashion' mean to you?
The word fashion to me means an expression of one's varied characteristics, thoughts and inner feelings.
Is there anyone you earn inspiration from both stylistically and musically?
I draw inspiration from everyday people. The unknown artists who I've just stumbled across in a playlist, the world-renowned well-established artists whose album everyone is listening to, the material I glimpse a fashionista wearing as I walk past them in the streets, the colourway I spot on a models Instagram. I'm inspired by it all, some subconsciously and others consciously.
Is there anything we can keep our eyes peeled on for the time being?
I'm very spontaneous so the best way to stay updated with me is to follow me on Instagram/ subscribe to my YouTube channel "Thenameiscashh". I've currently got a new single out entitled "10 on it". The full body of work will be released in 2021.
FOLLOW
BERNA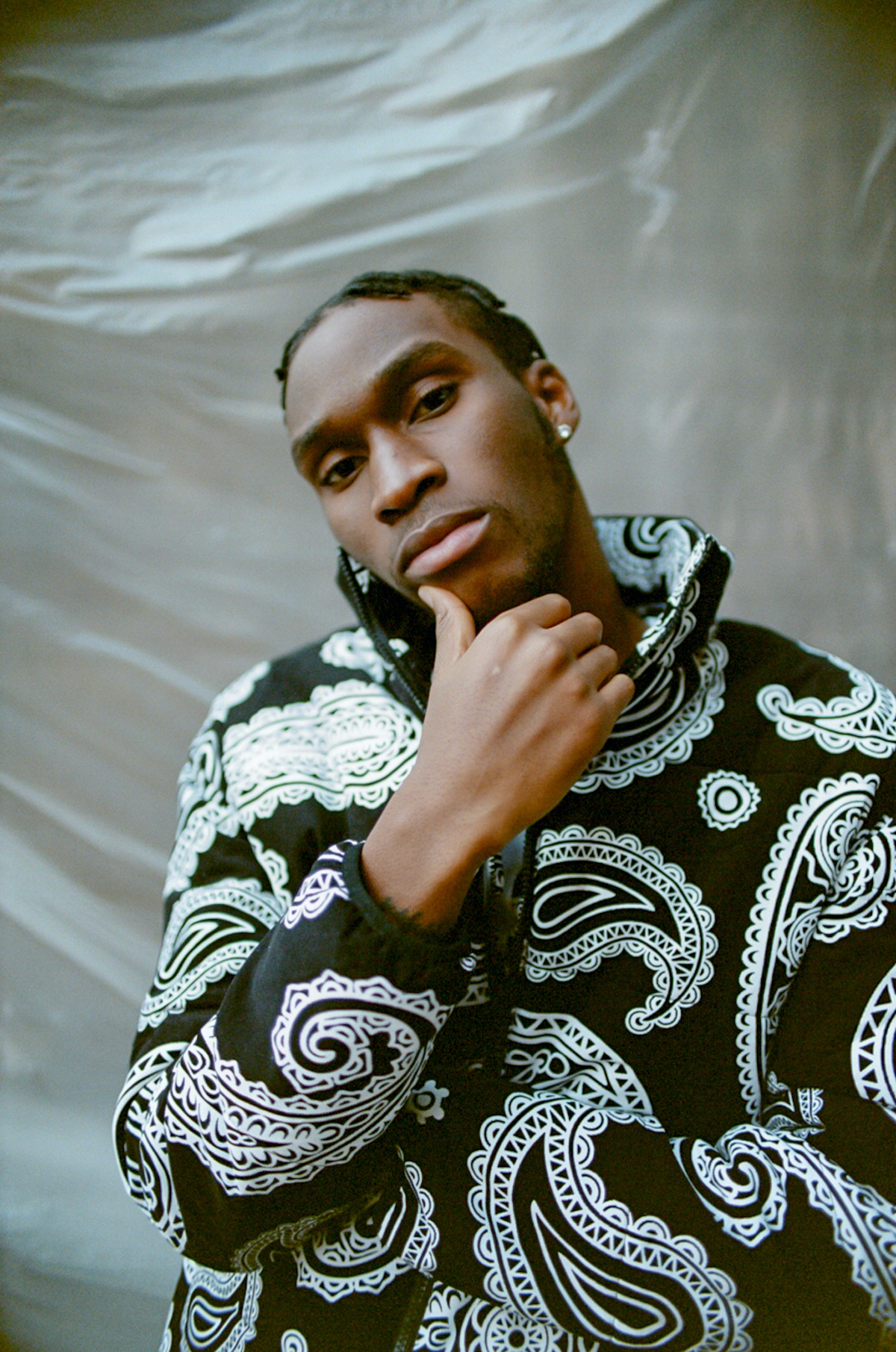 Full Outfit: Night Addict, Trainers: Jordan
Hey Berna, what's up. How are you?
Yoooo! I'm good! Same old same old. Working.
Déjà vu. We're in another lockdown, how's that going so far?
These lot are taking da piss, to be honest, it isn't changing anything about my daily routine. Studios are open still so I'm in there recording most of the time. Just jarring that we can't go out and enjoy life properly.
For those who may not know, may you briefly tell us about yourself?
My names Berna, I'm a 21-year-old rapper from East London, born in South Africa! Started rapping when I was 16 to honour my brother passing away and been tryna do him proud ever since!
Within the boroughs of London, there tend to be different avenues of fashion. What style do you think best represents where you reside?
Clean. Gangster but classy.
You uphold a very impressive back catalogue of tracks and freestyles, has there been a major highlight of your career thus far?
I think my debut freestyle on Blackbox is the major one for me because that's what made me known to the scene. It blew up more than I ever could imagine, I think it's got over 3M views right now. And obviously, I just dropped my debut EP 'Poor Little Rich Kid' which I'm mad proud of, the response has been sick so I'm glad everyone is seeing the growth.
What's your next goal?
To release my debut album with a bunch of sick features and start doing shows again!
FOLLOW
TAYO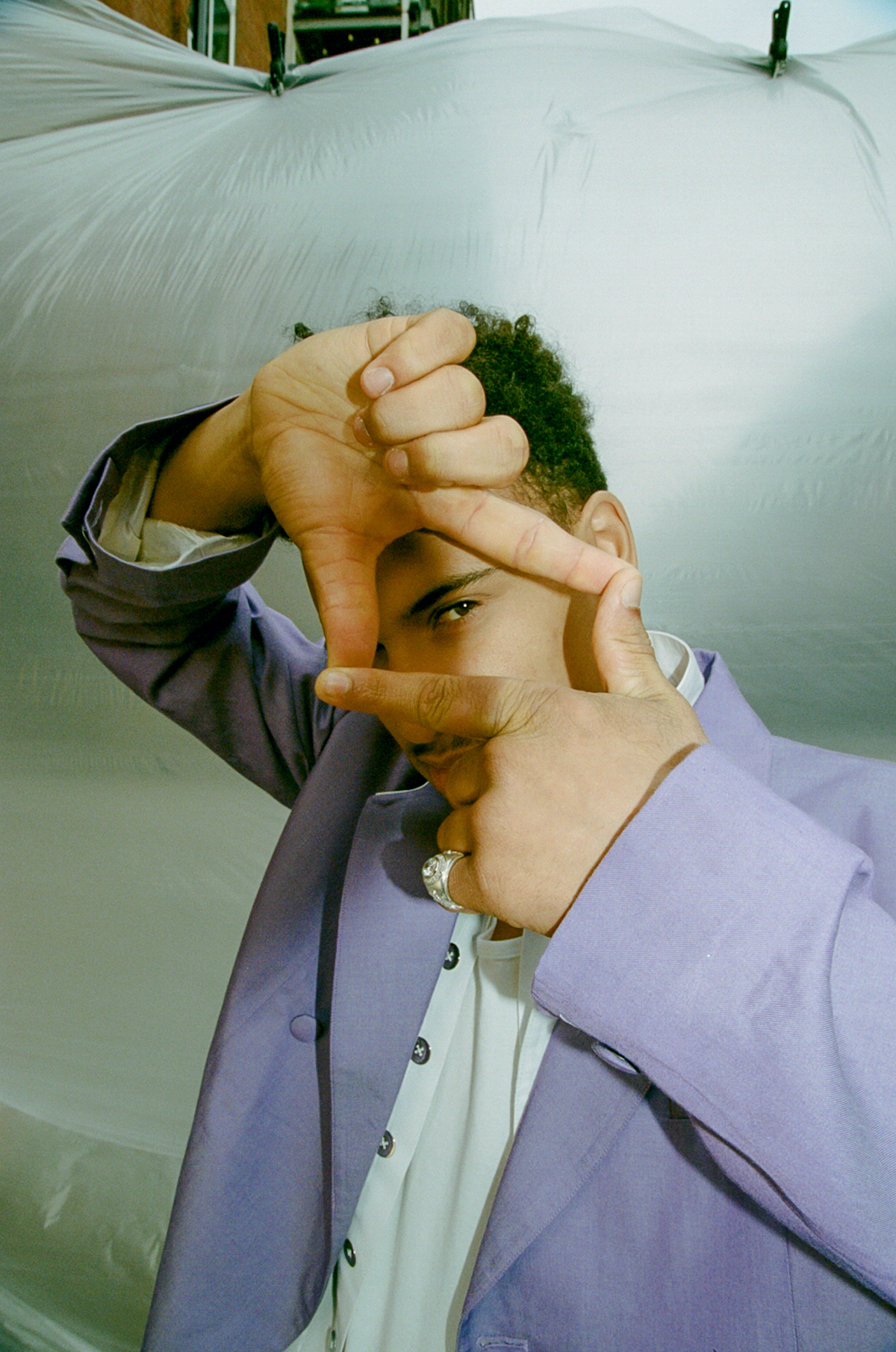 Look

:  Blazer: Facetasm Shirt: Spencer Badu Vest: Stylists' Own Trousers: Backseat Kissing Shoes: Filling Pieces 

Look 2

Full Look: Homme Plisse Issey Miyake
Hey Tayosound? How's life in lockdown 2.0?
Meh.
For those who may not know, may you briefly tell us about yourself.
I am an 18-year-old artist from Reading. I write songs about my life and stuff.
Your overall aesthetic is immaculately artistic. Even with one look at some of your art covers, are those concepts courtesy of you or are they a collaborative effort?
They're a collaborative effort.  I came up with the concept of the space monkey a while ago and then Bedroom put pen to paper. They added the animations and drew the artwork and really brought the character to life.
If your life so far had to be one song, what would it be?
This is a very hard question because most songs only have a single vibe running through them which would then help you determine the average vibe of my life but alas, I found a loophole and must throw you this absolute curveball. Gustav Mahler – Symphony No.3. Good luck unpacking that one lads.
Your style's quite quirky too. Are there any key elements that are inevitable when styling yourself?
I'm still really discovering what kinda stuff I like. I've gone full vintage and it wasn't my thing. I've gone full streetwear and it wasn't my thing, so at the moment I'm just trying to combine the two. It's all a case of trial and error.
Future plans. What can we expect for the future of Tayosound?
My latest single Gone is now out and then just more tunes really!
FOLLOW
MACCA WILES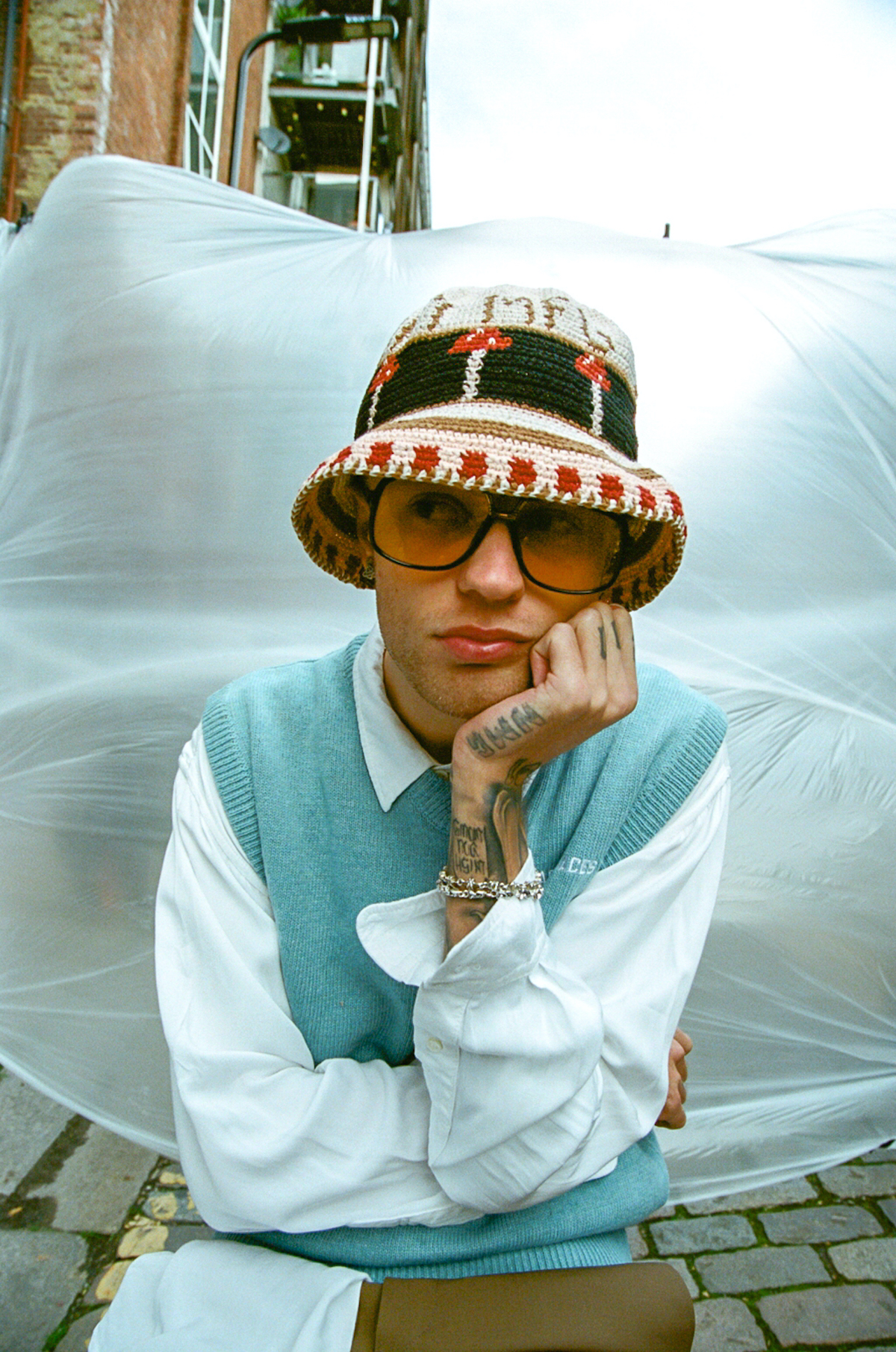 Hat – Story Mfg @ Mr Porter,  Shirt – Homme Plisse Issey Miyake, Vest – Places + Faces, Trousers: Prada @ Mr Porter, Trainers:  – Sean Wotherspoon x Adidas
Hey Macca Wiles, how's life?
Life's only ok right now, as I imagine I share the same feeling as most people due to the current situation in the world.
Describe the origin of your name.
It's my name, a lot of people think "Wiles" means I wile out you know, but it's really just my last name.
What does the word 'fashion' mean to you?
Fashion is whatever you feel comfortable stepping out in. Drip is in you not on you.
Music can be inspired by almost anything and everything. As an artist, what inspires your sound?
Feelings, emotion. it depends on how I feel that day the type of song that I come out of the studio with. If I'm angry I'll make some angry screamo s*** maybe if I'm sad I make some a little softer. I let my mind & body take control & steer the inspiration for me.
Do you have an item that you have to wear on a daily basis?
A plain white tee – gotta keep one on me at ALL times, you can't beat a plain white t-shirt.
What's in store for you next?
I hope the world opens back up so I can do shows in these places that have taken a liking to my sound, like Germany, Czech Republic, Russia etc. I just wanna be able to connect with the people that are supporting me. Until then just keep your eyes peeled it's a few things in the works for sure.
FOLLOW
GHETTO BOY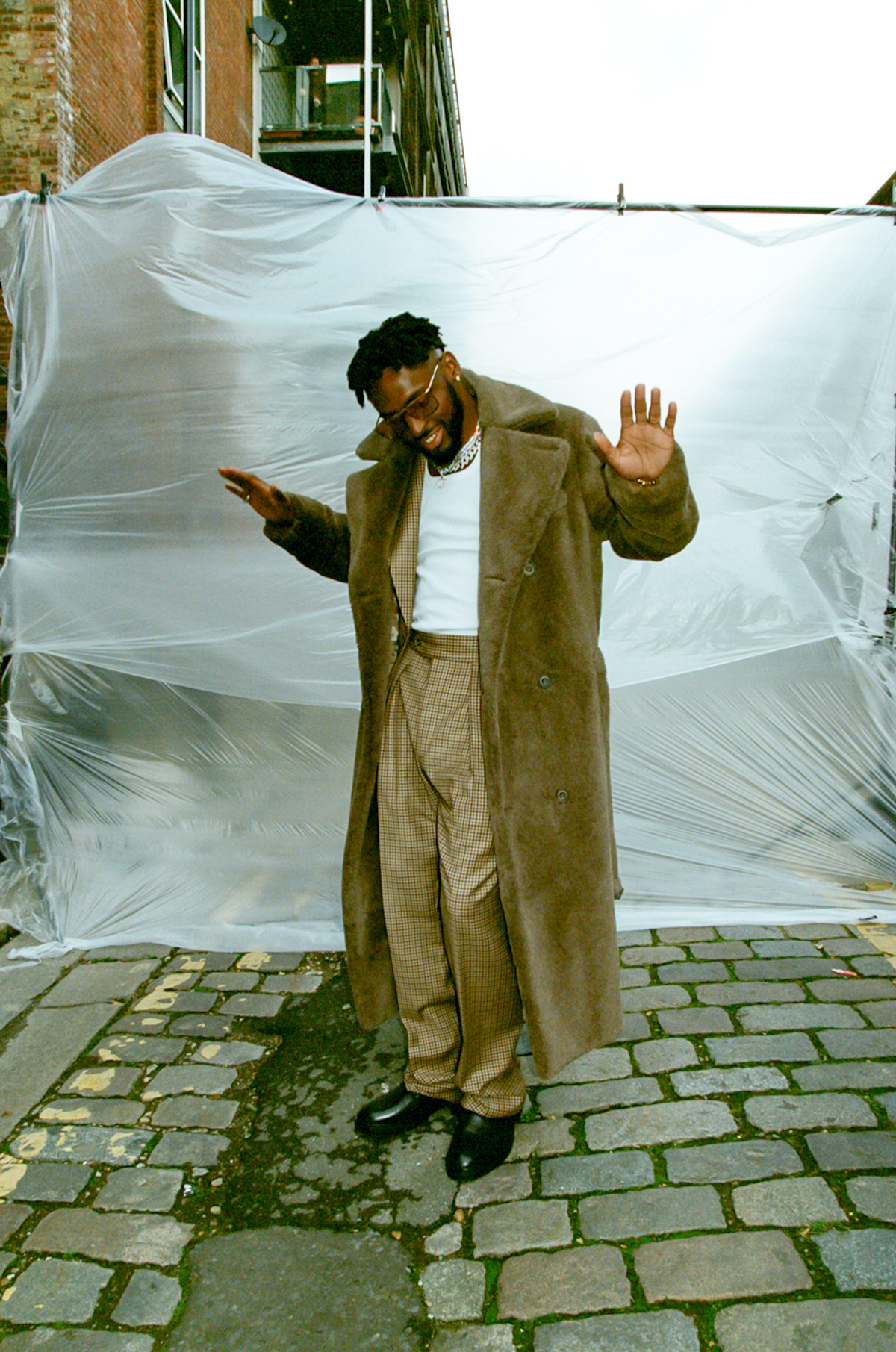 Look 1: Full Alexander McQueen, Sunglasses: Vintz Shop. Look 2: Full Look: Richard James, Boots: Grenson, Sunglasses: Vintz Shop
Aye GB, how are you?
What's up, I'm all good, I'm all good.
You bring such good vibes to your sound. What's usually the process of making music in your case?

The process of making music is listening to the beat, catching a vibe, making sure it's got all the Afrobeat elements. I don't really write my music, I just listen to it and go line-by-line and see if I can create a simple, catchy vibe for the people.
How important is it for you to combine your heritage with your art?
When it comes to combining heritage with the art – that's the main important thing. That's why I like to speak in broken English, or then mother tongue. Especially if I'm doing Afrobeats. And being from the UK, it plays a big role in the making of the genre.
Is there an item you are bound to repurchase again and again when it comes to fashion?
White Air Forces. I feel like everyone needs white Air Forces. Fresh ones.
Is there anything you aim to do in the second lockdown, now you've experienced it once before?
I'm thinking more content. I'm ready for it – to be posting more content, more videos, more conversations. Creating vibes. More pictures. Just trying to stay active. 
What's next for Ghetto Boy? Loop us in.
Hopefully next year, I can announce this 'Me Vs You' tour, I just dropped Me Vs You 2, so I'm hoping to join Me Vs You 1 and 2 and do a big tour. So, watch out for that, hopefully, I can announce that, and the world goes back to normal. One love. 
FOLLOW
RACHEL CHINOURIRI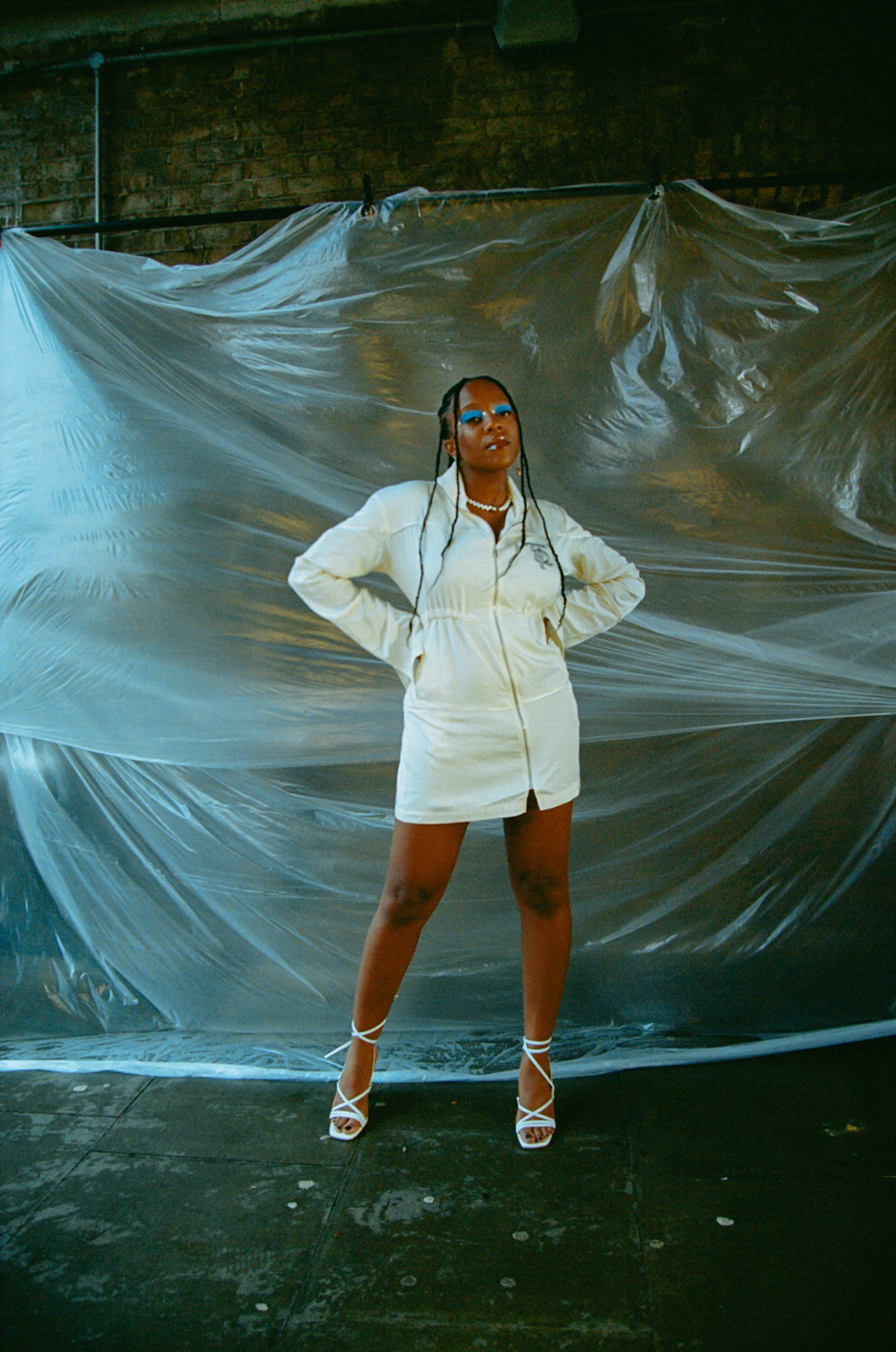 Jewellery: Mass.TV, Full Look: Filling Pieces
Hey Rachel, how are you doing?
I'm great how are you guyssss!
For anyone who may not know, care to describe yourself and your sound?
I'm a singer-songwriter from London who's been influenced by indie music, African acapella music and folk music. I also have a soft spot for pop
It's always so inspiring to see individuals like yourself utilize their following and voice to speak on imperative issues surrounding communities. Is this something you feel is important to do as an artist?
I think it's very important! As much as my world is music, I'm a human being affected by this and feel just like everyone else! It's our world to take care of and support everyone!
You're only allowed to wear one brand of clothing for the rest of your life, what's it going to be?
I mean, I'd say Dior and Prada are very level for me… very hard. Because I own something from Prada, I'll just say Dior so it's somewhat equal in my head ha-ha!
3 main beauty essentials, what are they?
mascara, contour, eyebrow pencil
Is there anything we can expect in the next coming months?

I've just started a project with Boots and the hygiene bank and I'm very excited to continue supporting the charity! An EP will be our next year and some shoots and Music videos!!
FOLLOW
ALICAI HARLEY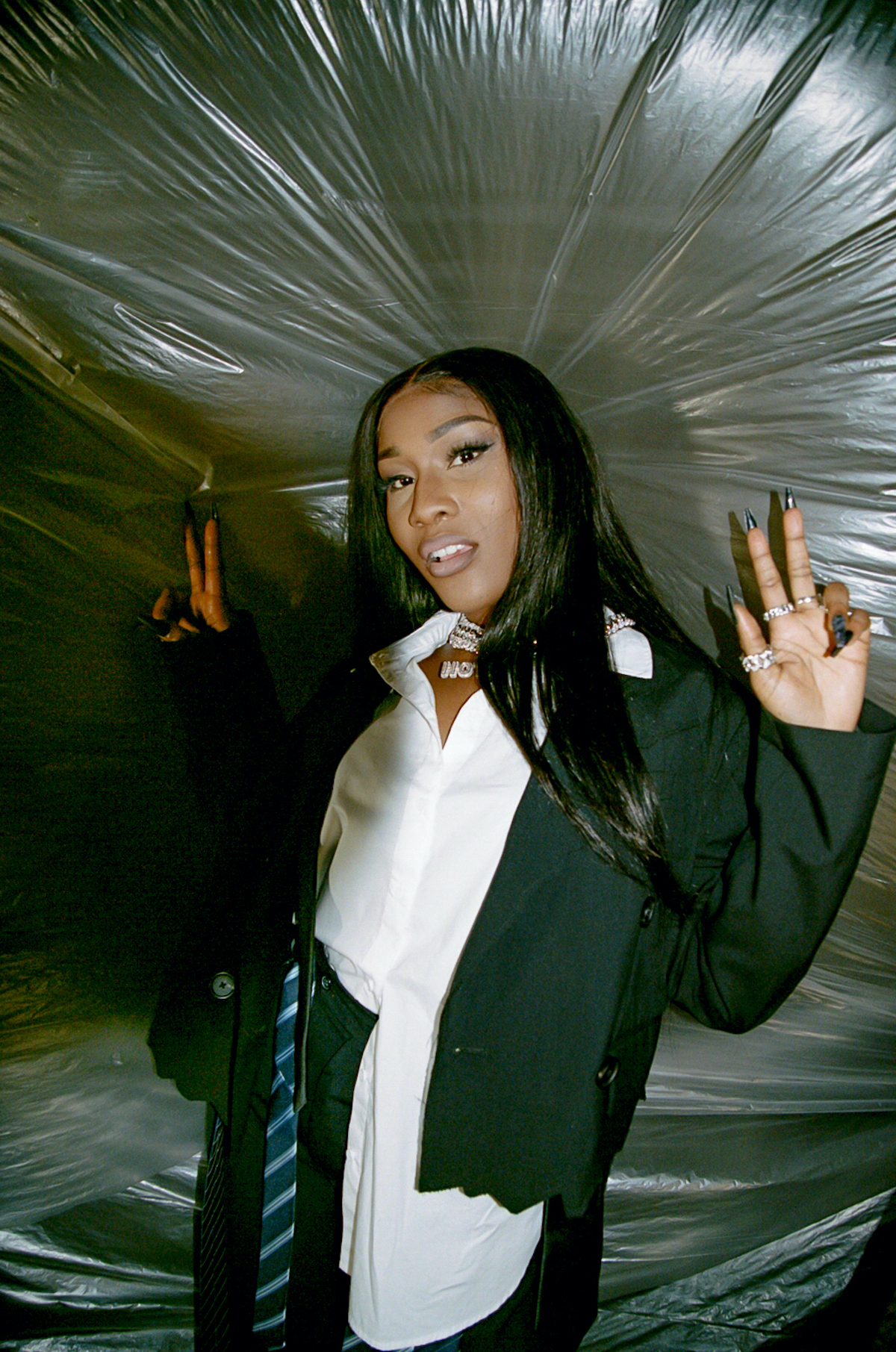 Blazer: UOOYA, Shirt – H&M, Tie: Next, Trousers: Sarah O Robinson, Jewellery: Shedean Jewels, Boots: Dr Martens @ Schuh
Hey Alicai, so nice to connect. How are you?

Hi, I'm fine thank you!
You were born in Jamaica, bred in the United Kingdom, having seen the best of both worlds, this inescapably reflects in your sound. How has this shaped your artistic development?
Being born in Jamaica and having the culture deeply rooted within me, but also being able to live in London and be a Londoner, has made me be able to master my sound over the years, when gelling both cultures together. It's definitely something I'm most proud of in my artistry. 
Your style is impeccable. What does the word 'fashion' mean to you?
For me, fashion is my identity, it makes me who I am. it's the first thing people see when they look at me, and it's also a way of me expressing myself, and a form of therapy as well.
It seems like we're deep into lockdown 2.0. What's the music-making process like now we're back in?
For me, I can definitely say that this time around I felt much more prepared for what was coming. A lot of the skills I'd learnt prior during the first lockdown, I had time again to implement those and recording and writing more. 
Is there a timeless piece of clothing or shoe that will always stick with you?
I would say for me it would definitely be over the knee boots and an oversized woolly jumper or a woolly dress. I actually look forward to that in wintertime, like to go and buy a few woolly oversized jumpers, and 2 pairs of oversized high knee boots – a grey pair and a black pair. That's just my thing that I really like, that's always been my look. From when I was younger until now, every winter I look forward to wearing that look!
What can we expect for the future of Alicai Harley?
From future Alicai Harley you can definitely expect more amazing and completely out of the box, but timeless music. The EP that we've all been waiting for is going to be dropping! I can't wait to get everyone's feedback, to hear everyone's reaction, and to just really see everyone take in my first body of work. And definitely, some really exciting collaborations that I can't wait for you guys to hear!
FOLLOW
RACHEL FOXX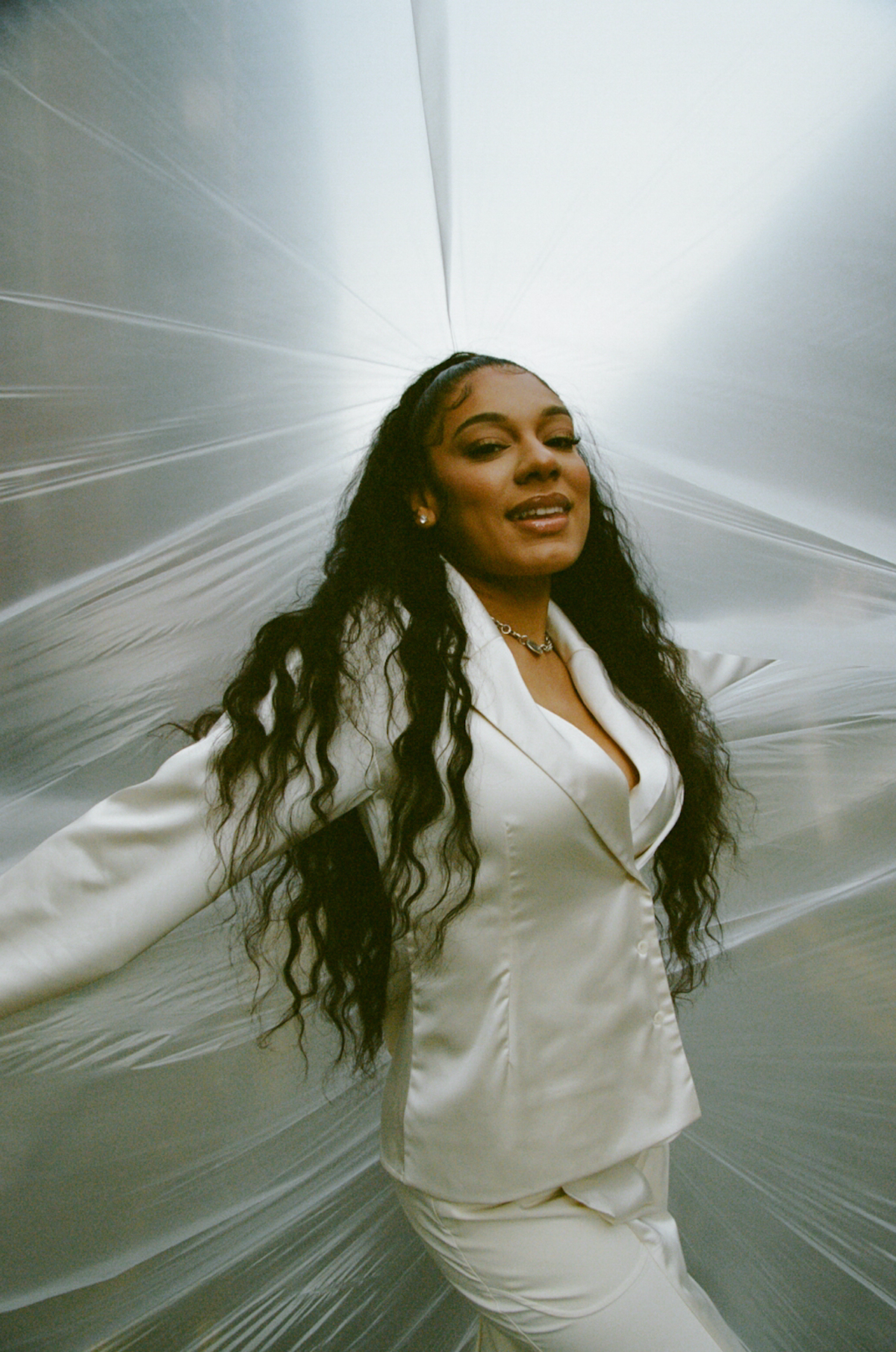 Look 1: Suit:

Sonia Carrasco, Footwear: Wallabee's by Clarks. Look 2: Sunglasses: Vintz Shop, Jacket: ASOS, Jeans: Topshop, Trainers: Nike
Hey Rachel Foxx, it's so nice to speak to you? How's life treating you at this very moment?
Hiiii, nice to speak to you too! Life is actually strangely nice. I have a weird balance of having to do everything and nothing at the same time.
Here we are again, lockdown 2.0, what's a typical day in the life of Rachel Foxx?
I've still got quite a bit to do because I'm mid-campaign and mid releases. Every day is still quite different, if I'm not at home recording then I'm out shooting. There's no routine to my life which is both great and worrying.
Has the pandemic affected the way you usually make music?
In the beginning, definitely, and it really upset me, however since then it taught me to more be self-sufficient and get my DIY on.
Do you look up to anyone in the industry both stylistically and musically?
I love Sade, her music is classic and she's beautiful.
Your style gives off heavy Y2K vibes. Love it! What kind of music did you listen to growing up?
Thank you!! I love the 90s and 2000s. I listened to a lot of Usher, Donnell Jones, Floetry and Jon B growing up.
What's in store for you next? Can you let us in on any secrets?
My EP 🙂 'Fluorescent' out December 4th
FOLLOW
ELHIEST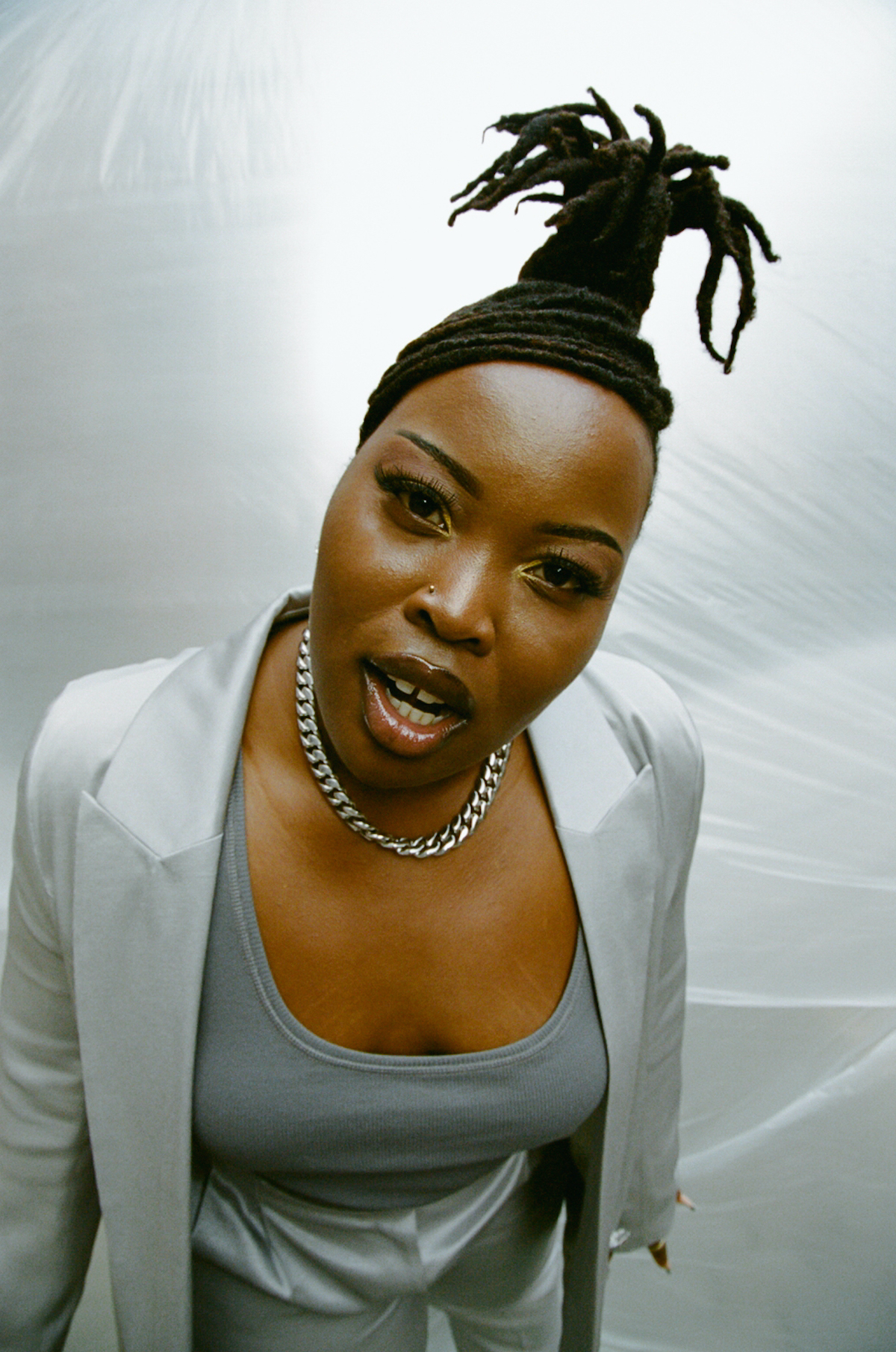 Full Look: River Island, Boots: ASOS
Hey Elheist. What's up?

All goody!
For those who may not know, may you briefly tell us about yourself?
Of course! I am an artist – learning, growing, and delivering. I would say I create for those who may feel alienated and can be seen as a "spirit animal" in a sense for all the wholesome goodies out there as well as myself. I love music and I love showcasing my passion. I sing, rap, produce, broadcast and to be honest do much more. There are layers to this.
Your style's quite bubbly and flamboyant too. Are there any key elements that are inevitable when styling yourself?

Thank you! It's an energy – you can't make it up. I dress according to how I may feel on any particular day. I love colours, textures and I love print. I'm a big girl so I look to fabrics that make me feel comfortable and free, whether they are vintage or the most current incredible designers out today.
What's the last song you downloaded to a playlist / your phone?

Ah, I have loads of songs on rotation right now. The most recent has to be Giggs ft Emeli Sandé – It's Hard. The Now or Never mixtape was such a surprise! We are blessed! This song is epic.
What does the word 'fashion' mean to you?

It 1000 per cent means expression.  My fashion is a conversation with self as well as with the streets. When I step out my thoughts and feelings are seen and felt in my clothing before I even get to speak! Fashion is a statement. It's culture. Present, past, and future all tied together.
Future plans. What can we expect for the future of Elheist?

More gifts and more shockers aha! Working on more music with some amazing people and some personal projects loading too.
FOLLOW
JAELA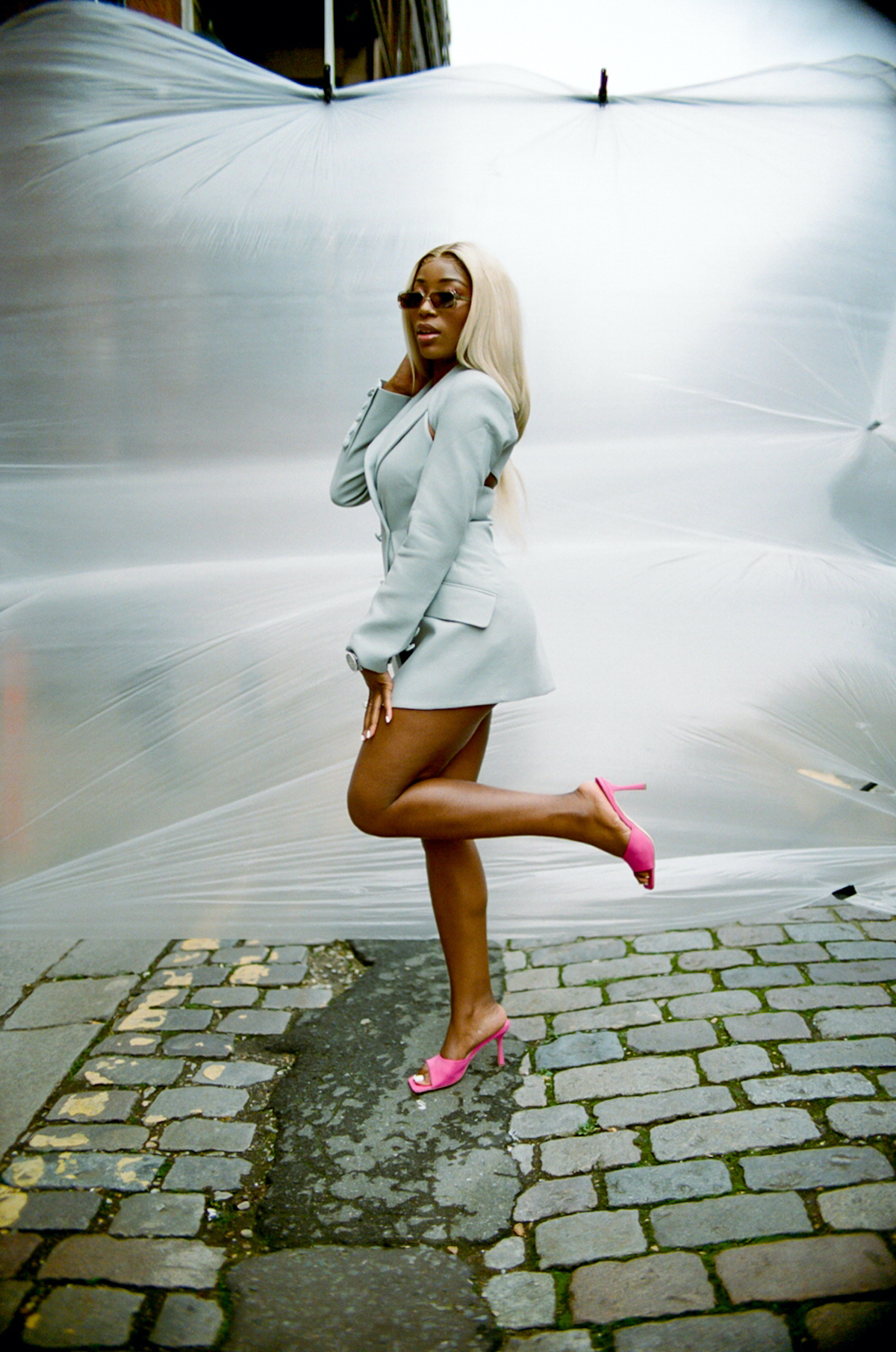 Sunglasses: Pawaka, Blazer: Materiel @ Browns Fashion, Shoes: Linzi
Hey Jaela, how's life in lockdown 2.0?

Life in lockdown actually hasn't been so bad, I'm already a homebody so not much has changed in my life, I'm the most creative when I'm left alone in my own bubble, I like my own company and can focus more like this then go to the studio when I need to record. The biggest downside for me is the gyms being closed I miss working out so much
For anyone who may not know, care to describe yourself and your sound?
I'm the funny light-hearted one who's super chilled and laid back. I'm all about good vibes and that reflects in my music, I want people to put my songs on when they want to turn up the mood and make themselves feel good that's why I make sure it's catchy and appealing to everyone not just a certain demographic. My sound is like a mix of singing and rap at the same time, you can call it melodic rap but It's definitely unique and got a cool and sexy vibe to it.
Is there anyone you earn inspiration from both stylistically and musically?
Yeah definitely, I find a lot of artist doing well right inspiring because that's eventually where I want to be, especially Artists that show versatility and can switch flows effortlessly my faves to do this right now are lil baby, Doja Cat, Tory Lanez, I feel like these artists have shown that they can dabble in any genre and still make it their own which is what I like to do too. Versatility is my key ingredients when making music i feel like that's how to really make your mark.
You seem like quite the natural when it comes to photoshoots. What's your favourite kinda thing to wear when it comes to being photographed?
Usually, you'll probably see me in the bare minimum lol. I like things that can show my figure. My day-to-day style is more boujee but casual, so you'll most likely see me in something that looks comfortable but it's gotta be sexy and well fitted, but for shoots, I like to go a little more all out and have more statement outfits like metallic bras and thigh-high boots.
If your life so far had to be expressed by one song, what's it going be?
Jhene Aiko – Spotless mind
Finally, what's in store for you next?
Well, I'm about to take off for real, been doing so much behind the scenes and I can't wait to start putting out the fire I've got in the vault. My first Ep titled "In the mood" will be dropping soon, also dropping the first single "kitty" this month, and once that's out it's only up from there.
FOLLOW
MEGA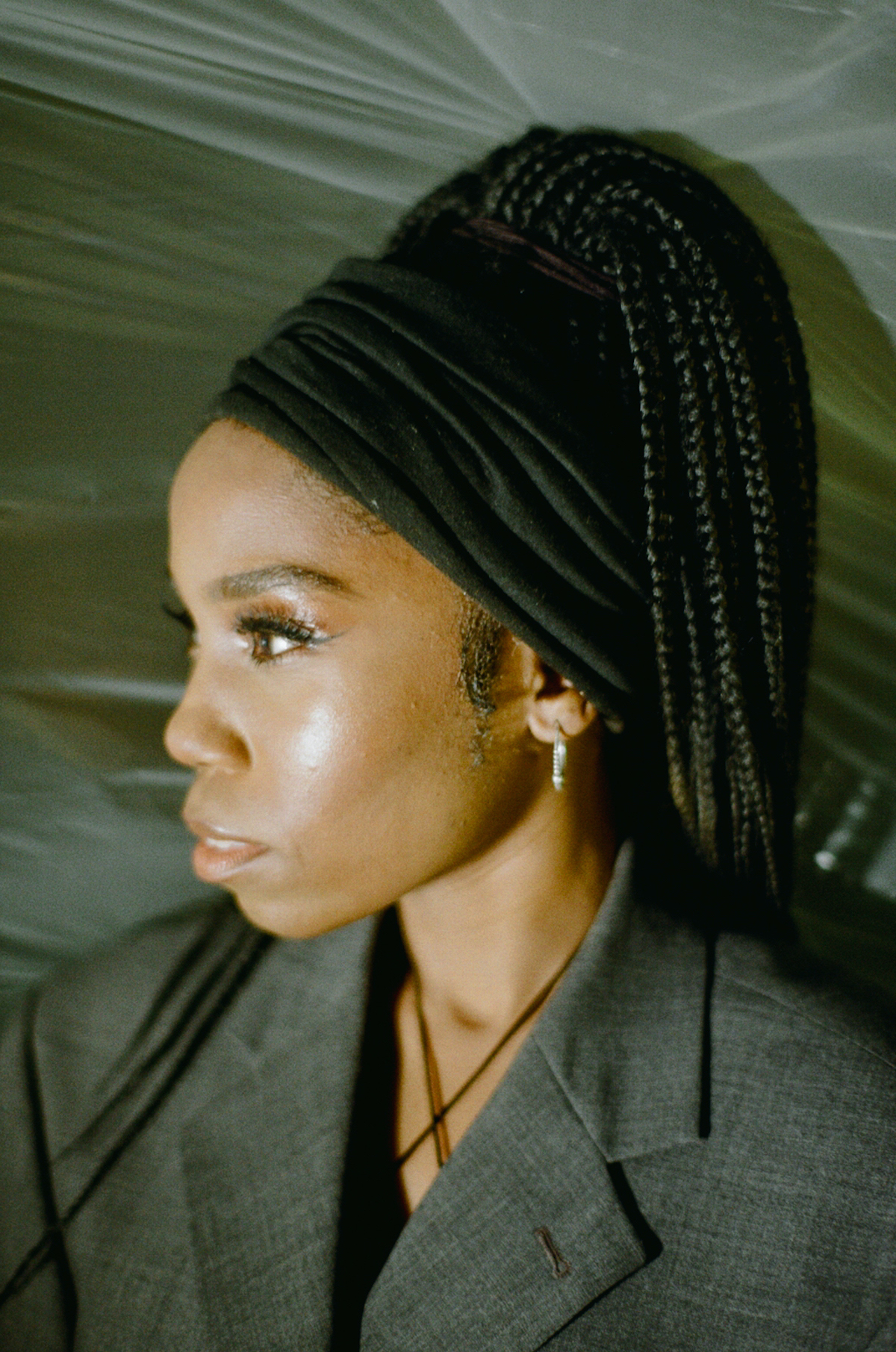 Suit: Sarah O Robinson 3 piece suit, Trousers: H&M trousers, Shoes: Public Desire
Mega, what's up? How's life?
Hey! I well thanks, life is cool but super disappointed to be entering another lockdown!
You've expressed that you create art from the heart. As an artist, how imperative is it for you to express emotion and reality throughout your sound?

I don't think I would be able to create music if I couldn't express myself in the way that I do, I have no idea what I would write about. A lot of my songs feel like letters I'm writing to myself and I think those letters also resonate with people because they share those experiences. I love that music allows me to connect with people I wouldn't necessarily connect with otherwise and I can only do that authentically by being completely honest and raw.
Congratulations. You're hitting millions on the streams right about now, how does that feel?

Surreal. When I released my first single 'Chariot' and hit my first 100 streams I was extremely joyful. To be over 5 million streams now is just so encouraging. It's amazing to know that people are actually connecting to my music, I just can't wait to give them more!
How would you describe your own style when it comes to fashion?

I would say edgy and sophisticated. I'm always open to experimenting and getting a little creative when it comes to fashion.
Lockdown 2.0. We meet again. Is there anything you aim to do in the second lockdown, now you've experienced it once before?

 I feel like the first lockdown was quite overwhelming and it felt like a period of adjustment, whereas now, I'm more focused on myself rather than the world around me. I'm taking more time to do things like painting, reading, working out etc; the things I would only dream of having the time to do before.
Is there anything we can keep our eyes peeled on for the time being?

YES! You can definitely expect to be hearing more music from me next month. Follow me on Spotify, Instagram and on YouTube for all the updates and releases.
FOLLOW
MORGAN MUNROE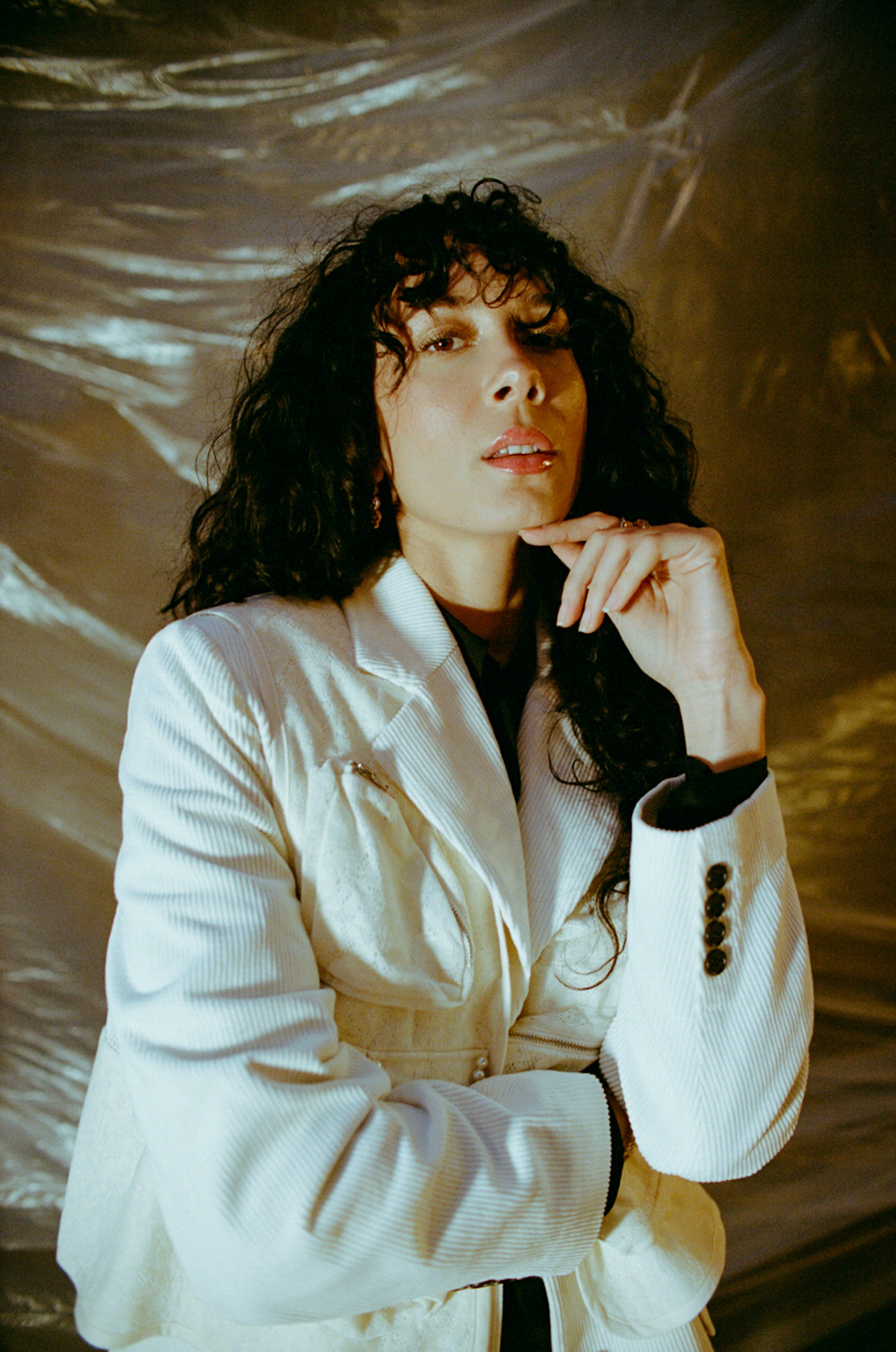 Suit: Uyooya, Shirt: H&M, Footwear: Dr Martens
Morgan, what's up? How's life treating you?
I'm good man life's treating me alright I can't complain.
You've Just dropped your debut EP 'Layers 0.5'. How does the music-making process work for you?
Well for this EP I had beats sent to me by producers and wrote all the songs at home, I like writing at home because I can take my time and fully be in my zone. I record my demo's at home while I write and then when I have the full song, harmonies, BV's and all I'll go to record final vocals at the studio.
Is there anyone you earn inspiration from both stylistically and musically?
Musically Frank Ocean, James Blake and Solange are my main inspirations, stylistically Solange as well and Rihanna.
Has there been a highlight to your career so far, if so, what has it been?
Got my first Radio 1 play the other day!
Growing up, what type of music were you exposed to? Did it have a direct influence on the sound you make today?
I think it has influenced the kind of music I make, I'm a 90's baby I grew up listening to a lot of RnB and hip-hop from that era, also a lot of UK garage. And I used to be obsessed with Mariah Carey, she deffo influenced the way I sing.
EP? Tick. What's next for you?
Making more music, working with more people!
FOLLOW