Los Angeles is a fashion Valhalla for men. Get an ESTA an explore this extravagant city for yourself.
When people talk fashion in America, New York is generally the city that sits at the top of most peoples' lists. And for good reason, New York has an absolutely staggering diversity in styles and brands, both budget and high-end. But in recent years, California is quickly aiming to eclipse that lofty position, and Los Angeles in particular is by all accounts just as boom of a fashion centre as New York. We've listed five of the top men's fashion stores in Los Angeles, so that all you need to do is get your ESTA visa in order and book a flight!
Preparations First: Getting an ESTA
A visit to Los Angeles, like any visit to the United States, requires a visa or an ESTA if you're not an American national. British travellers have the benefit of applying for an ESTA, which is an online travel permit. A visa requires you to visit the embassy for an interview, while an ESTA can be applied for entirely online. . All that is required is filling out the  application form and making the payment. The ESTA is then sent to you by e-mail, and automatically linked to your passport. All you then need to do at the airport is show your passport.
With that out of the way, let's go shopping!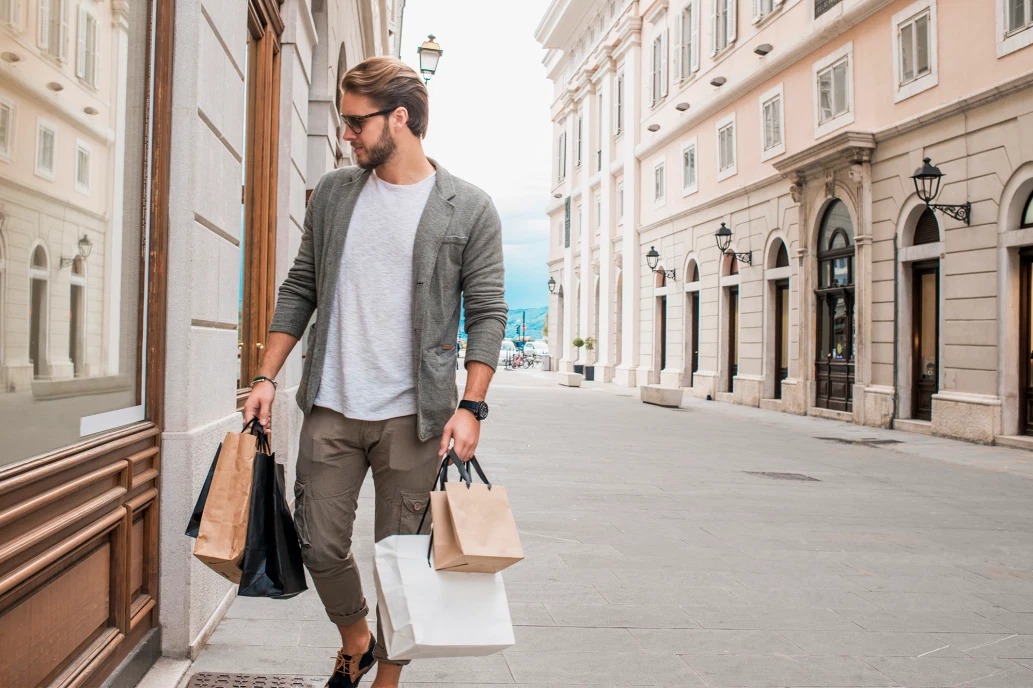 1. Just One Eye
Located at 915 N Sycamore Ave in West Hollywood, simply visiting this fairly discreet store is an experience in itself. You'll find the familiar names like Gucci or Calvin Klein, but surprisingly those aren't the main attractions of Just One Eye. The store has some truly astounding art works and collectibles, such as obscure concert clothes and limited-edition prints. But for most people, these are just to look at, since the prices can easily reach over 10,000 dollars. Just One Eye is the type of store where you can quickly forget that you came here for clothes. Thankfully, it also has lesser known brands which are much easier on your wallet.
2. Opening Ceremony
With major stores in both New York and Los Angeles, Opening Ceremony, located at 451 North La Cienega Boulevard, is a household name when it comes to men's fashion. The sprawling Los Angeles store offers a different experience compared to the original in New York. In the two floors, you'll find virtually every style you need, from flamboyant coloured shirts to fancy cool suits. The store is also known to host events such as barbeques and outdoor bazaars.
3. Dover Street Market
Few store brands can impact an area as heavily as Dover Street. It can change a rundown neighbourhood to a fashionable district virtually by itself. The opening of a new store in Los Angeles (606-608 Imperial Street) was therefore a major sign that this city was making a name for itself with regard to fashion. In this store you'll find an absurd amount of runway fashion like Prada, Balenciaga or Raf Simons. But it also has plenty of more obscure or underground brands, such as Brain Dead or Craig Green. As a bonus, it also has a beauty section, which will greatly appeal to those men who know a thing or two about skincare.
4. JCrew Mens Shop
Not too long ago, JCrew made the active decision to split their men's and women's stores, feeling that both styles merited a focused approach. As a result, their men's brand exploded in popularity. Here, you'll find a healthy collection of clothes for the contemporary down-to-earth man. It's a jack of all trades type of clothes shop, and finding what you're looking for is never too difficult at JCrew. JCrew can be found at 189 Grove Drive Space.
5. Union
No experience of Los Angeles' menswear stores is complete without a stop at Union, at 110 South La Brea Avenue. Union Los Angeles is an old-timer. It appeared in the city in 1991 and has since become one of the leaders in menswear in the entirety of the West Coast. Back when every store was focused on streetwear, Union proudly displayed high fashion. There is no separation of styles at Union. Streets mix with high-end fashion as freely as the intermingled nature of Los Angeles' diverse population, and has been one of the leading causes of the brand's long-standing success.