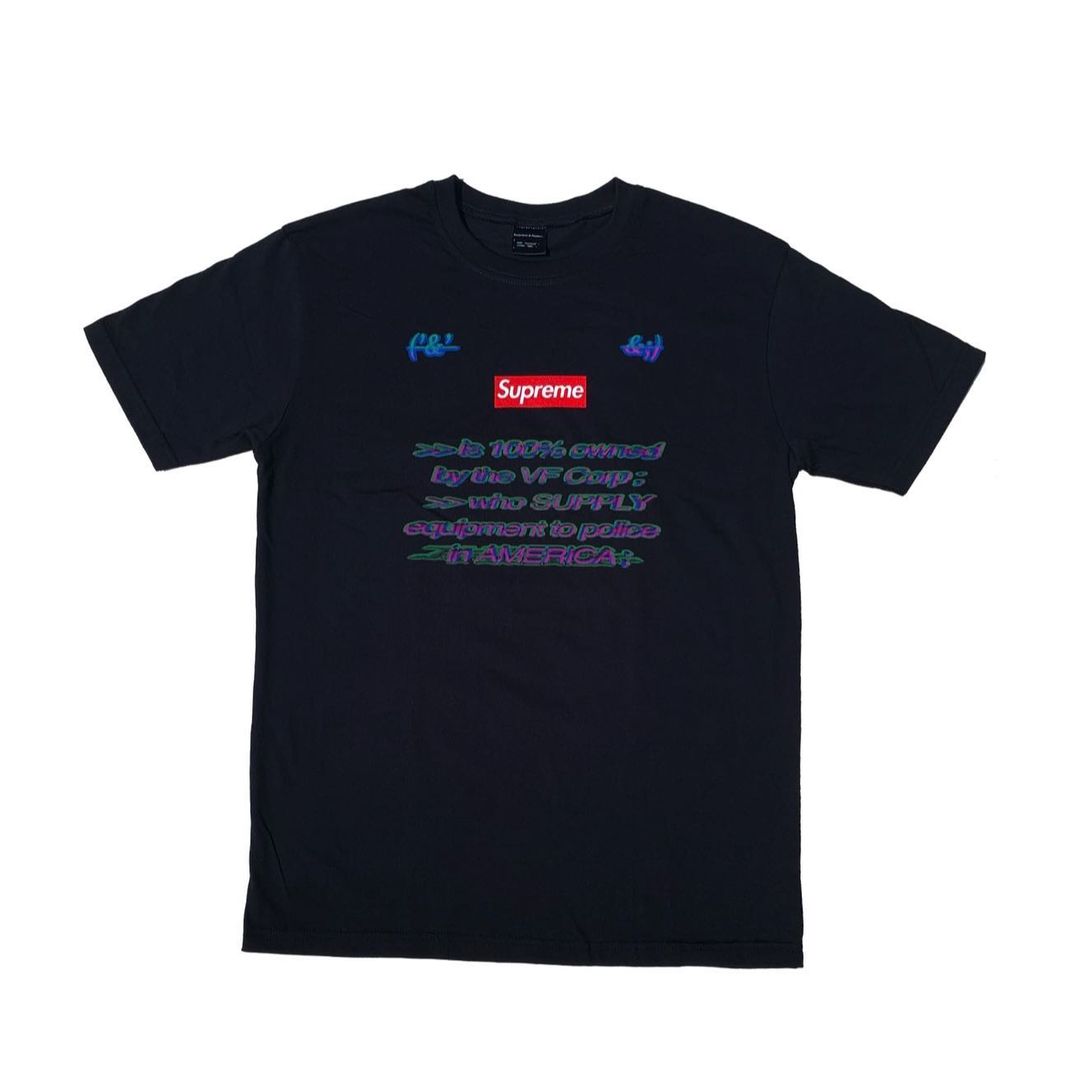 No, this isn't a real Supreme box logo T-shirt: it's a parody T-shirt made by an Australian streetwear brand called Everywhere and Nowhere (everywhereandnowhe.re). According to their Instagram posts,
"Supreme support Black Lives Matter and equality/justice despite the VF Corp owning Horace small who sell uniforms to law enforcement agencies in the US."
Everywhere and Nowhere alleges that Supreme has been connected to police brutality (again) and has taken aim at the hypocrisy of claiming to support the Black Lives Matter movement while remaining part of a conglomerate that also supplies uniforms and equipment to US police.
Some quick research shows that Supreme has indeed provided donations to various Black Lives Matter and community justice organisations. For example, in an Instagram post on 5 June 2020, the company announced that:
"The Black community has inspired and supported Supreme since day one. This week we will donate $500,000 between Black Lives Matter, Equal Justice Initiative, Campaign Zero and Black Futures Lab. We stand in solidarity with the fight for justice and equality and will continue to invest in the community."
This isn't the first time Supreme has been connected to law enforcement. Following the tragic death of George Floyd at the hands of police, Supreme's announcement of $500,000 in donations to various charities (see above) was met with similar claims. Commentators alleged that Supreme's major shareholder, the Carlyle Group, also owned Combined Systems Inc., a manufacturer of tear gas used by many US police departments. These allegations were later withdrawn on the grounds that the Carlyle Group no longer owned the manufacturer.
Now, however, Supreme is wholly owned by the VF Corporation, which really DOES currently donate and provide equipment to law enforcement across America through its subsidiary, Horace Small. Otherwise known as The Force, Horace Small supplies law enforcement uniforms that are 'Made for Heroes'. It has previously used Twitter to declare its 'unrelenting support for the uniform' and is 'proud to outfit those who commit their lives to protecting others'. The current Horace Small catalogue is even filled with images of police officers with weapons drawn
Supreme has always considered itself an anti-establishment, counter-culture brand, inspired by African American communities around the country. However, it now appears to be just another addition to the brand portfolio of a multinational corporation that profits from the suffering and persecution of those very communities.