A contemporary play with traditional techniques.
For Spring/Summer 2022, Qasimi has blended traditional craft techniques with functional elements borrowed from sportswear. It is a relationship that creates tension, as it shows an appreciation for both heritage and innovation. This juxtaposition can be seen within the collection, for example, in one look there is safeefah, a weave native to the Emirates, used on a denim jacket and styled with trousers made from a technical fabric and sneakers.
The traditional weave, which is created in collaboration with the IRTHI contemporary crafts council, is one of many examples where the brand has presented an appreciation for the cultures within the diverse MENASA (Middle East, North Africa & South Asia) regions. Many of the soft hues and necklines are inspired by the Indian subcontinent, while Islamic architecture serves as the reference for graphic elements within the clothing.
We caught up with the brand's creative director, Hoor Al-Qasimi, before the digitally presented show to discuss the importance of collaboration, keeping traditional craft techniques alive and being optimistic about the future. Read the interview below along with the Qasimi Spring/Summer 2022 collection.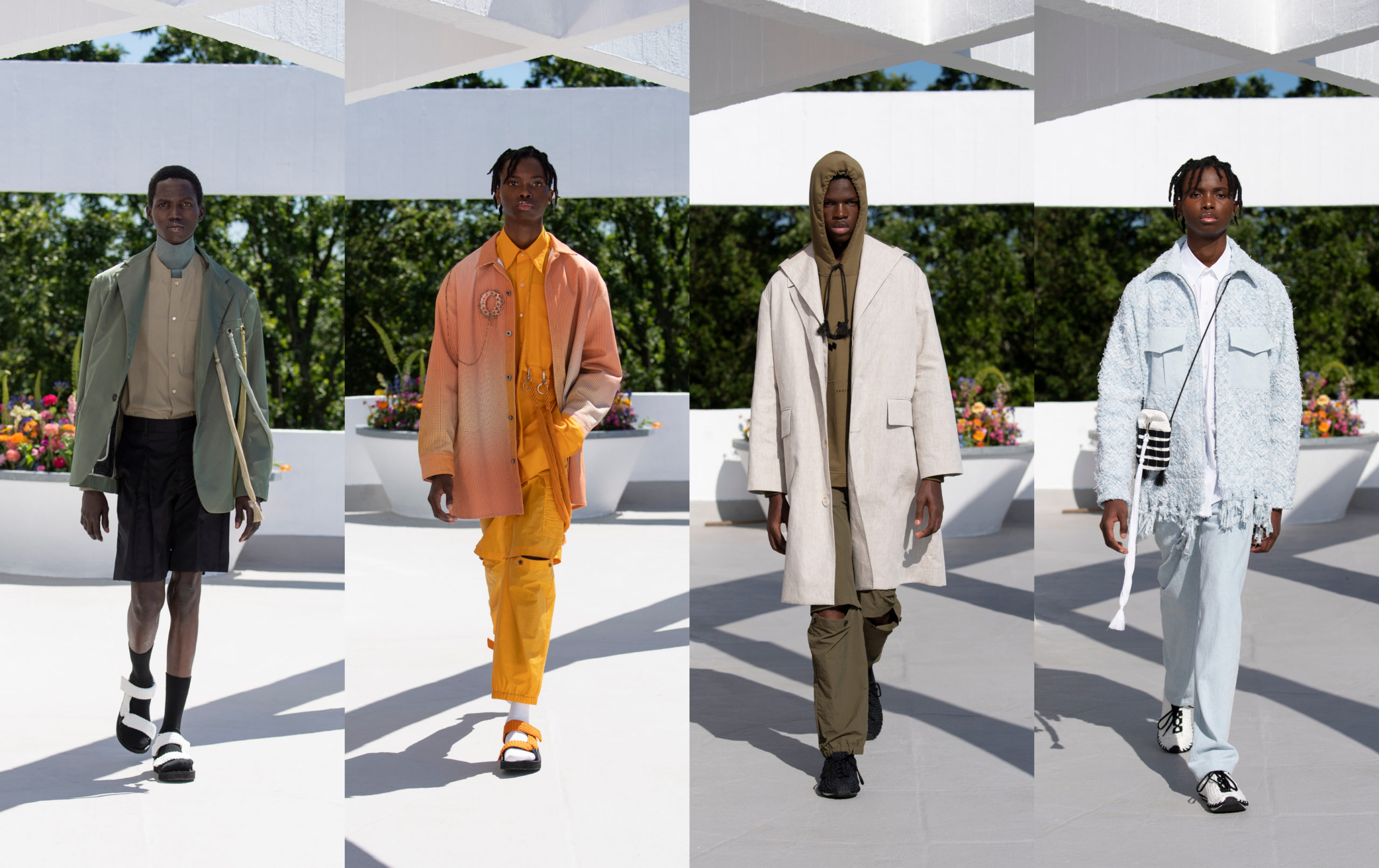 Can you tell me a bit about the new collection?
We really wanted to focus on collaborations because it's about empowering different craftsmen and women, working together with designers rather than doing things ourselves and competing with people who are experts in their field. We worked with the IRTHI contemporary crafts council, they bring traditional crafts into contemporary design. The council focuses on women empowerment, there are women training younger generations to continue their crafts and technique.
The jewellery collaboration is also really important for us. I met Zohra Rahman when was in Lahore in 2020. We have used some of the pieces from her collection, but we have produced a piece together which is used as a brooch or a pendant or an earing working with sustainable materials. She trains people to make jewellery as well.
Why is it so important to keep these traditional techniques alive?
With mass production and factories all over the world, you lose this idea of artisan and craftsmanship that's so beautiful and integral to what we're inspired by: different cultures. In certain cultures, like in Japan, you continue a craft until you die and you never reach perfection, so for us or any other designer to just copy a design doesn't give the original craft or technique the respect it deserves. People spend their whole life learning and producing these things so it's a type of respect, admiration and appreciation for the hard work and the craft and the beauty of their work. 
There's a poem by Adunis that features at the start of the press release for this collection and on the clothing, it talks about how nature can be renewed. Were you looking at how people are going to dress once everything returns to normality?
Yeah definitely, there's a sense of optimism but you can't also just forget all the despair that happens. In the poem, it's referencing the six-day war in 1967 so it's also quite extreme. It's really important to reference people from the Arab world, Adunis's poetry is very much looked up to, he's one of the most read living poets right now. We didn't only want to use it, we asked his permission and he was very happy with us taking that and using it also on the print of one of the t-shirts as well. The setting of the show also really helped this idea of coming into a beautiful space with a garden and flowers, so there is beauty and optimism for what everyone has been going through.
You look a lot at architecture, can you tell me about how that has been a reference for this collection?
We were looking at brutalist and modernist architecture but, at the same time, Islamic architecture. You can see a blend of both within the shapes, the structure that we continue to use. My brother's main pillars have always been military and architecture. On our mood board, one of the buildings has a certain weave that we created into some of our pieces.
How does this collection sit amongst your other collections?
I think the pillars continue, the shape of the oversized shirt from the last collection and the vest as well. The ikat print is something that we have been doing for a while but we really looked at artists like Tauba Auerbach and op-art to recreate these almost optical patterns that you can see.