Unknown T voices his self-development, his stance in Fashion and his temperament beyond being 'Unknown'.
"There's a different element to me now…"
The grounding of Unknown T's sound is inseparable from his roots. Teeming with social commentary, circumstantial experience, and the gritty realities of life, his music is a means for catharsis, a greater therapy than dialogue could ever be.
What lies beneath his publicised temperament is vaster than the Unknown. "Now that I have shown the growth, I want people to see the continuation of my journey."
In anticipation of releasing his second solo project 'Adolescence', Unknown T isn't afraid of showing his physical and emotional changes by means of rhythmic dexterity, in sync with his individualism that he is very much aware of.
In an exclusive interview for PAUSE's Digital Cover, Unknown T voices his self-development, his stance within Fashion and unveils that behind the masked façade of a rapper is a real comedian.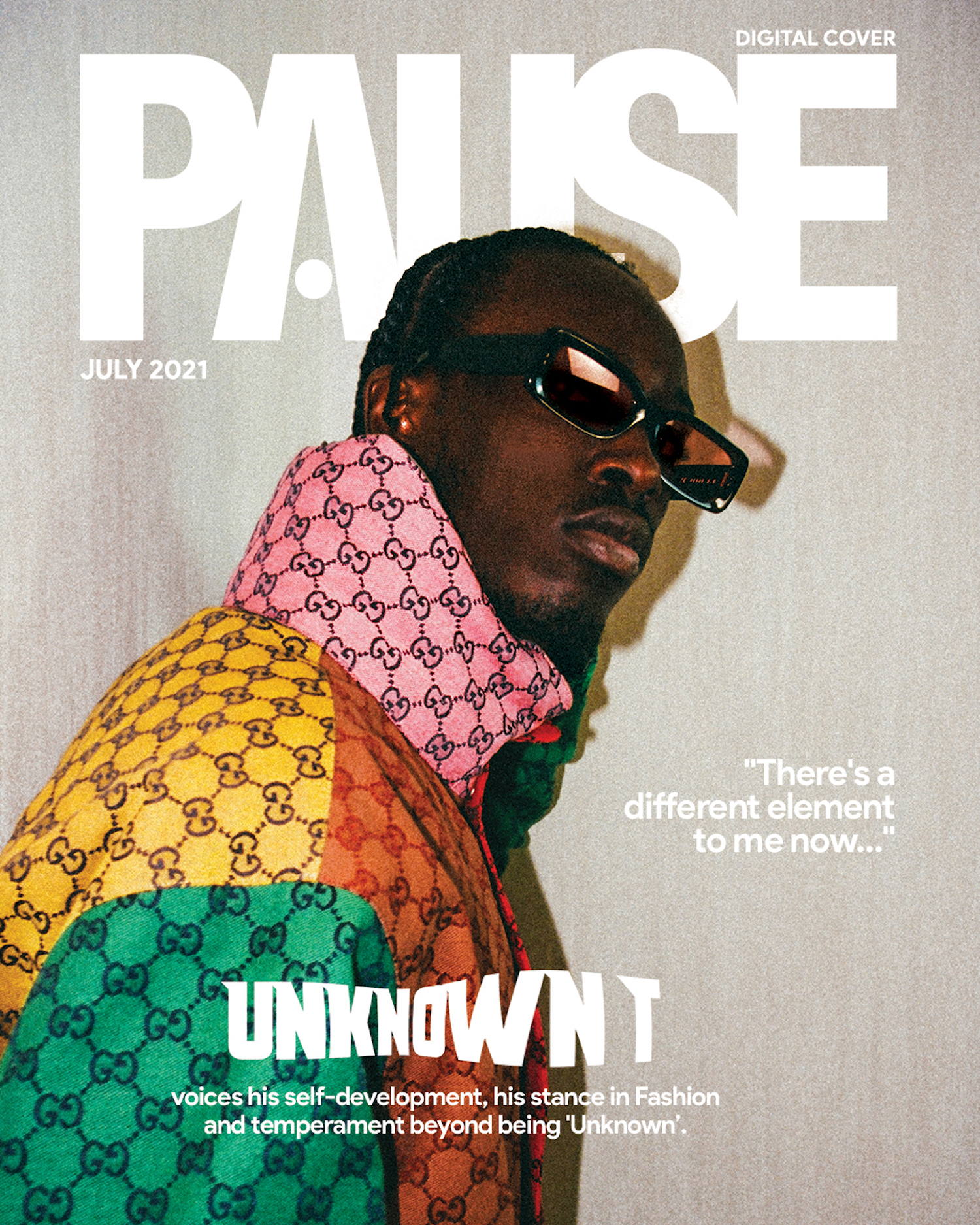 Glasses – AKILA, Jacket – Gucci
Unknown T. The man of the moment. PAUSE Magazine's cover boy. The Louis Vuitton, Paris Fashion Week trekker. A COLOURS show artiste. How would you summarise your relationship with 2021 so far?
Joyful. It's been joyful this year.
Do you believe in manifestation? Are you the affirm-your-dreams kinda' type?
I definitely have started to believe in it now. Like, I've come to notice that if you put your energy in the right way and believe in yourself, you can actually make what you want to happen. It's just about hard work, time, and patience.
You're approaching your birthday soon, as am I. I feel like 22 will be a golden year. Do you happen to have any presumptions?
Definitely trying to show a different element to me now. Now that I have shown the growth, I want [people] to see the continuation of my journey. It's a whole new chapter. Going into 22, it's going into adulthood properly now. We have to just enjoy it and resonate with it – I'm just thinking of how I can resonate with the people a bit more as well. I've noticed that there's a lot of eyes on the UK at the moment.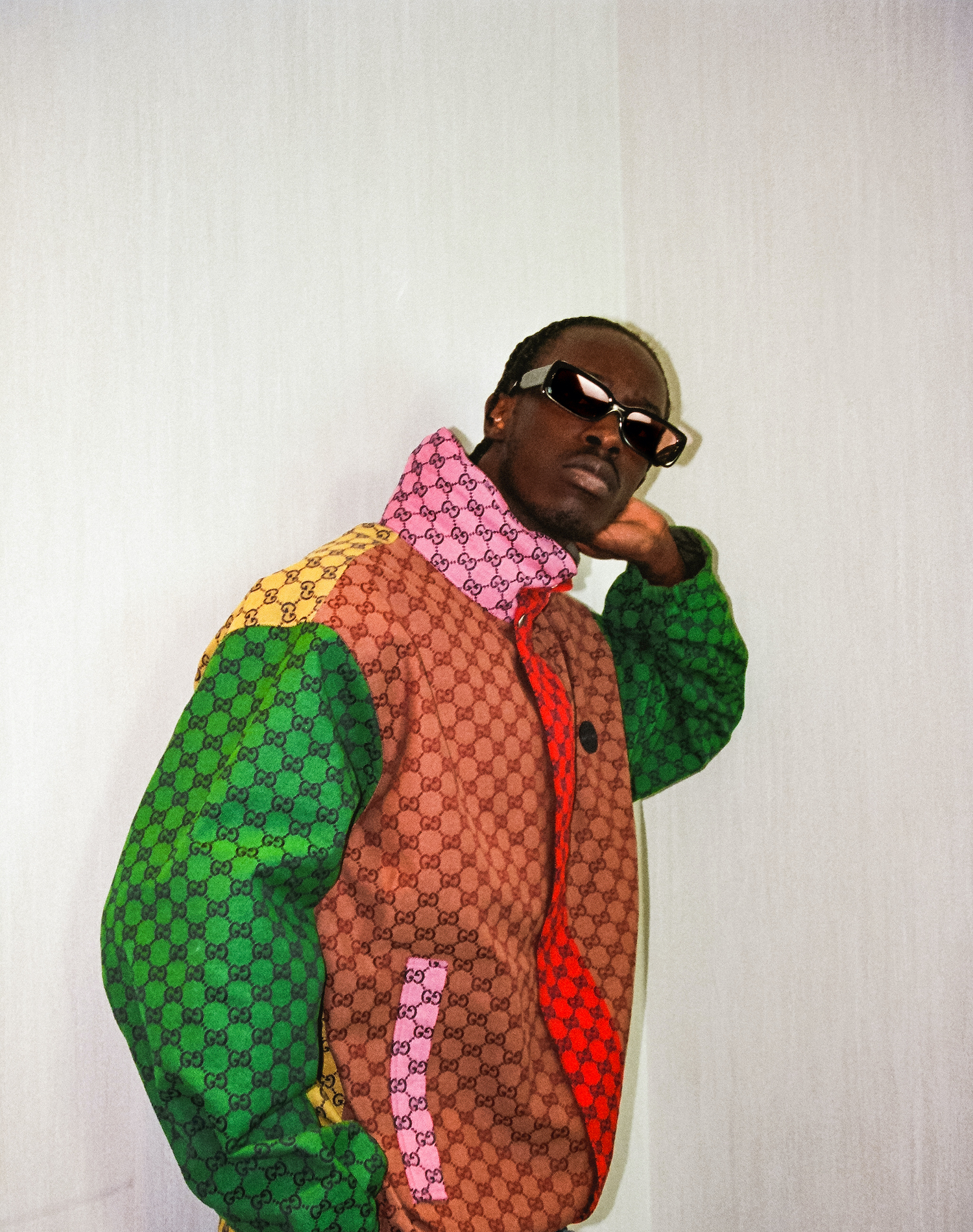 Glasses – Akila, Jacket – Gucci
Before we get into music, we must discuss Louis Vuitton's Spring/Summer Menswear collection by Virgil Abloh for Paris Fashion Week. How was that fulfilled?
Virgil [Abloh] is a real guy. He's a person who engaged with me through my music and that meant a lot to me. And of course, I made a punchline of him in WW2. I always showed him the appreciation back and he was showing me love, retweeting, posting and even adding my songs to his Off-White showcase. He was showing love to me – from the streets of where I am from- and that meant a lot. He's a person that really takes that to heart and tries to help a man that comes from the dirt and changes their life. It gave me a life changing opportunity.
During my absence from music after WW2, I was exploring photoshoots, advertising, and different campaigns. A lot of people within the fashion industry were commenting on my stance in photographs, the word was spreading and got back to Virgil, and he made it happen.
Glasses – Akila, Jacket – Dries Van Noten, Joggers – Dries Van Noten, Shoes – Prada
From what I've seen of Virgil, he's definitely in touch with the people. What do you feel that collection aimed to parade?
You know what? Virgil has a good eye. You see how there are people that stereotype me and the music I make? He wanted to dazzle the audience with a different perception, and he did that with the suit that I wore. He wanted to show a sparkling element. It still matched me, Unknown T, from the gloves to the LV Glasses yet he came with this futuristic approach and of course he had to fit it in with the collection. I was told they hand-embroidered those dazzles and it took three weeks. It was intricate.
In general, do you have a favourite article of clothing?
I do, myself, like Off-White. Recently though, Billionaire Boys have impressed me a lot. I have been realising a lot of people within the underground have been wearing Billionaire Boys. Also, I have a collection with Billionaire Boys and Places + Faces which is a part of my merchandise. [Places + Faces] are the sunglasses I always rock, and we even have sunglasses dropping with them.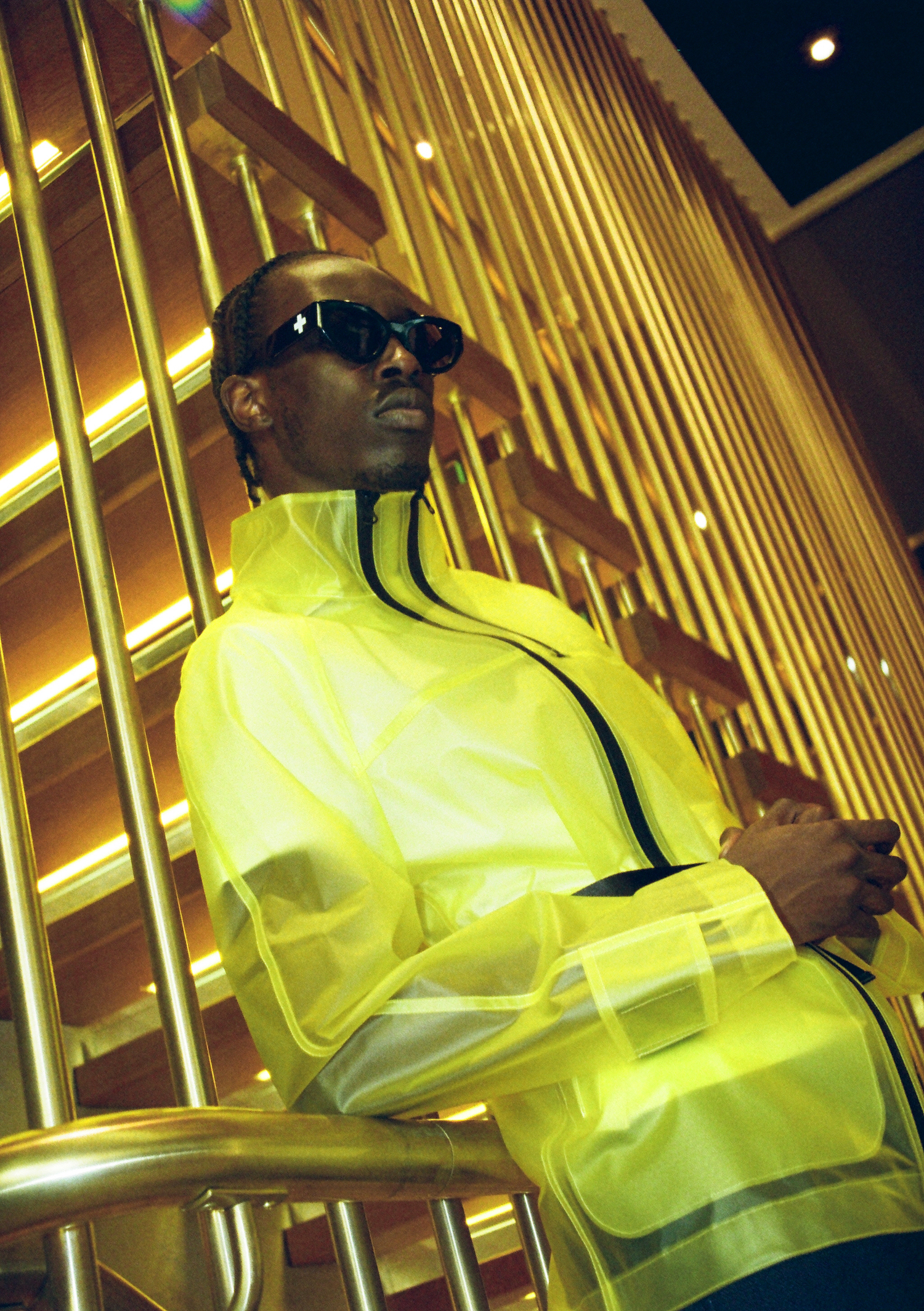 Jacket – helmut Lang (BrownsFashion), T-Shirt – helmut Lang (BrownsFashion), Trousers – Nicholas Daley (BrownsFashion), Shoes – Clark's
Do you think there are fashion groups within youth culture and society nowadays? If so, where do you place yourself when it comes to that?
Oooh, that's a good one. I do think there is. There's street fashion/streetwear, then there's also the Hype Beast. There's uprising streetwear. Trendy streetwear. Underground streetwear. I definitely class myself in the middle of Street and Hype Beast. I try and interlink those two worlds together. You know, the Travis-type of world.
Speaking of society – your music acts as a bridge of personal experiences and societal chronicles. If we look at your last mixtape 'Rise Above Hate' – it has quite the advisory title. So, how do you rise above hate?
You rise above hate by focusing on your passion. That's the first thing that comes to my chest so that's how I'm going to answer it. [The mixtape] was me ignoring the negativity, put all my energy into the positivity and that was the outcome.
Jacket – helmut Lang (BrownsFashion), T-Shirt – helmut Lang (BrownsFashion), Trousers – Nicholas Daley (BrownsFashion), Shoes – Clark's
Jacket – helmut Lang (BrownsFashion), T-Shirt – helmut Lang (BrownsFashion), Trousers – Nicholas Daley (BrownsFashion), Shoes – Clark's
So, moving past that stage of your life, you recently stated that 'Rise Above Hate' focused more on past trauma and that you have been able to overcome negativity to better yourself. For anyone able to resonate, there are certain things in life that are imperative to this growth – one being belief in a higher power. In the coming mixtape 'Adolescence' you pen down your association with Christianity, is this something that has developed through time or has religion always been present?
Religion has always been present and something I kept personal to myself. Recently, I've been thinking that now my music has reached a global level (which resonates with a lot of people) I had to be delicate. I thought to myself: "Hey, why not try something different? Why not try and speak about something personal to me but in my 'Unknown T' way?" and It worked.
What do you feel empowered by?
For me, it's the reactions around me. When I see that people are passionate and that they care about my art, it touches me. Especially, if it's by someone who I'd least expect it from or from someone who I wouldn't think would know about my music. On those random days where someone will speak to me about the impact of my music or have a passionate conversation with me about how I should keep sticking to it. I've got to keep doing it. My song could make someone else feel better in a day and it's those little things.
Sunglasses – GIGI Studios, Shirt – 3.Paradis, Trousers – 3.Paradis, Shoes – Clarks
So, surely it makes you feel better too.
It makes me feel better. It motivates me to keep on pushing for the people. As I keep progressing, it motivates people to work. One time, I was with my hairdresser and when I first met her, she told me when she listens to my music, it motivates her to work harder. To do more hair. To get more sales. It made me realise how my music has an effect on people and I have to think of the right ways to divert it. It's a mixture of the music and my character, it all counts.
It must be so revitalising to be able to document your personal growth through doing something you love
It's a beautiful feeling and it's a relief to even pass mistakes, or certain stages in life with valuable lessons, I can just talk all my pain and then once it's out – it's onto a next journey of life.
Music definitely plays as a form of therapy in terms of moving on from one stage in your life to another.
It's so crazy that you've said that. I even say in one of my songs. I haven't even gone to therapy since I have come out of prison, but music is in fact my therapy. That's what keeps me sane. That's crazy still.
I think the beautiful thing about music being a therapy, is that it's not applicable to the artist itself. Even me, a journalist, can feel something by listening or resonating with it. It's a universal feeling. So, let's look at Men's Health Week, something we just celebrated. With Mental health being such a prevalent subject within your creation, how important is truthfulness? Is there a line between lyrical narratives and reality?
I feel like it's important, to be honest with yourself and get your true emotions out on a song that you know will resonate with people. There has to be a fine line when it comes to being explicit – that's the way I perceive it – but in terms of truthfulness, so you can reflect on your growth, it's definitely important. That experience has to be balanced, per se.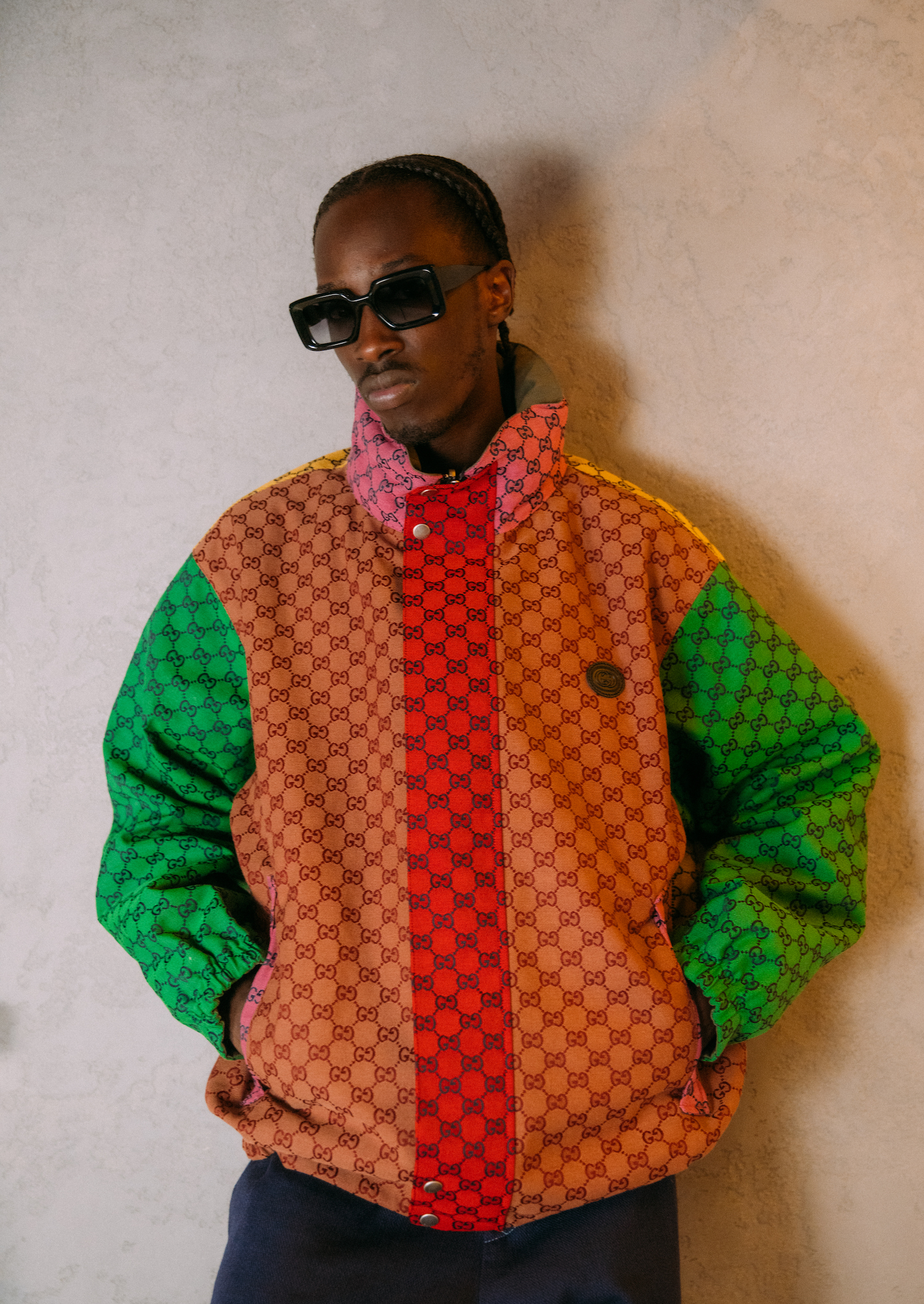 Glasses – GIGI Studios, Jacket – Gucci
Jacket – helmut Lang (BrownsFashion), T-Shirt – helmut Lang (BrownsFashion), Trousers – Nicholas Daley (BrownsFashion), Shoes – Clark's
Is there anything essential to your musical output?
Affection.
What would you say your signature trait in music is?
My signature trait is making sure that rhythmically, my flows bounce together. I want my rhythmic flow to match the rhyme pattern. In different tunes, I'll be doing the same flow but with different words and that's my element. The smoothness of it. The lyrics.
For someone who has listened to you since Homerton B, I think it's your courageous and passionate approach to music – one of my favourites being 2019's classic 'Throwback'. There are only a select few songs that can echo my past experiences as much as that did.
Thank you. 'Throwback' was a sensitive decision because at the time of 'Homerton B', I'm not sure if people can remember, but the tabloids and all these places, when people were trying to support me, they were trying to perceive it in this negative manner. I had to think to myself whether I wanted this to be a representation of myself and what type of song do I want to do next. It was a wild move, a risky decision, and a big transition. Long term, it paid off.
Aside from that, I'd be doing my northern ends a disservice by not clearing something up though: it's knock-a-door-run, not 'knock-down-ginger'.
I jumped on the bandwagon. I called it 'knock-down-ginger' but obviously, I heard it came from the gingerbread man. Wasn't he running away? Ha.
Back and staying on the subject of 'Homerton B' – notably the biggest track of 2018 and a Top 100 chart-hitter – it was released two days after your birthday. Was that intentional? Did you quite expect the aftermath?
It was intentional. I, honestly, didn't expect that aftermath. I did it on a 'f*ck-it' ting. I only did it thinking it was going to be the warmup to my career, but I didn't expect the raaar after it. I was surprised. It threw off my whole plans and I had to think about my next strategic step.
I read your latest single 'Goodums' draws inspiration from Tupac's 'Me and My Girlfriend'. What is your stance on US music at this very moment?
At this present moment, US music is rapidly growing back again. They have a new scenery of artists, new developments that are growing again. From what I'm seeing, they're bringing back their culture.
Sunglasses – Akila, Shirt – 3.Paradis, Trousers – 3.Paradis, Shoes – Clarks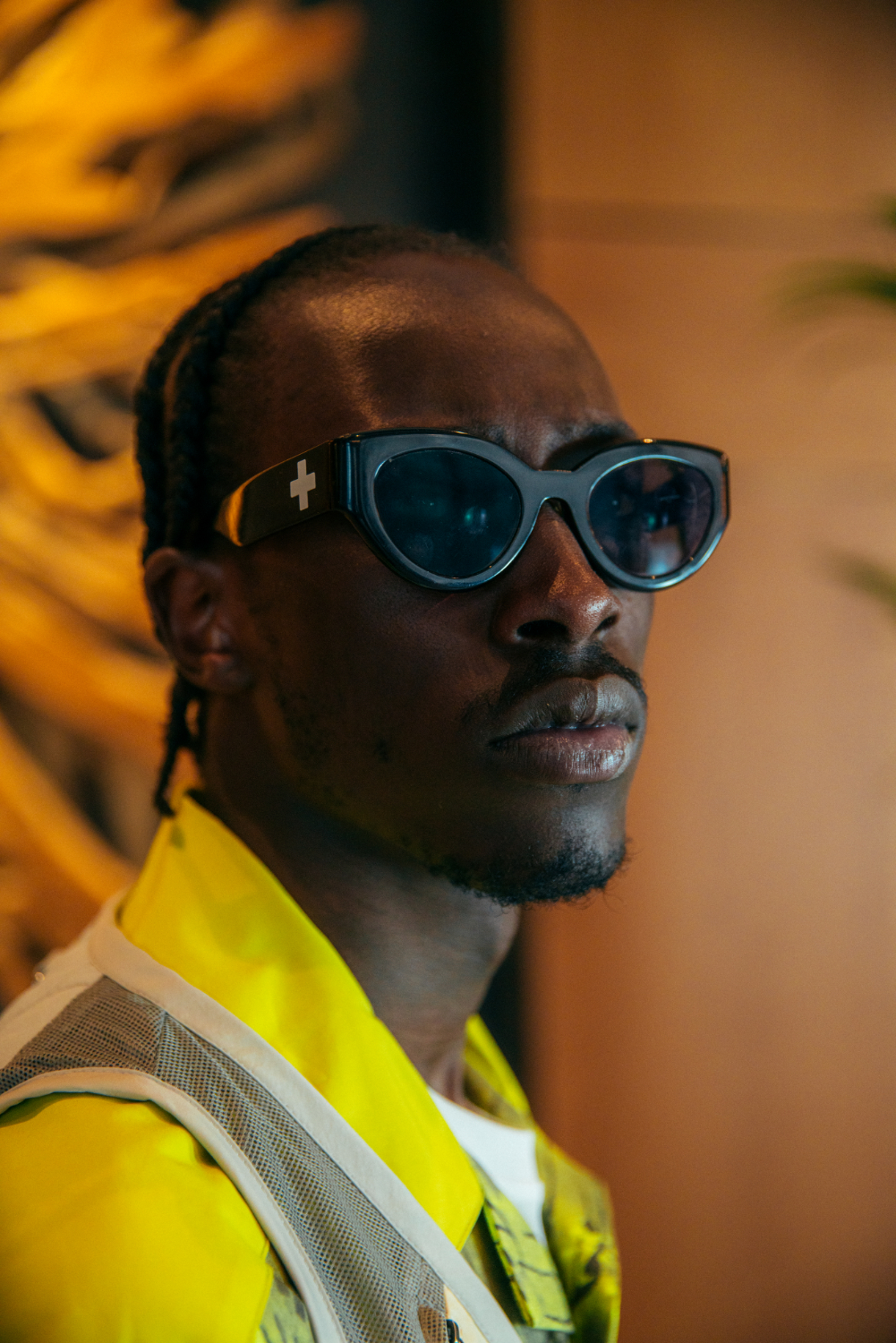 Jacket – helmut Lang (BrownsFashion), T-Shirt – helmut Lang (BrownsFashion),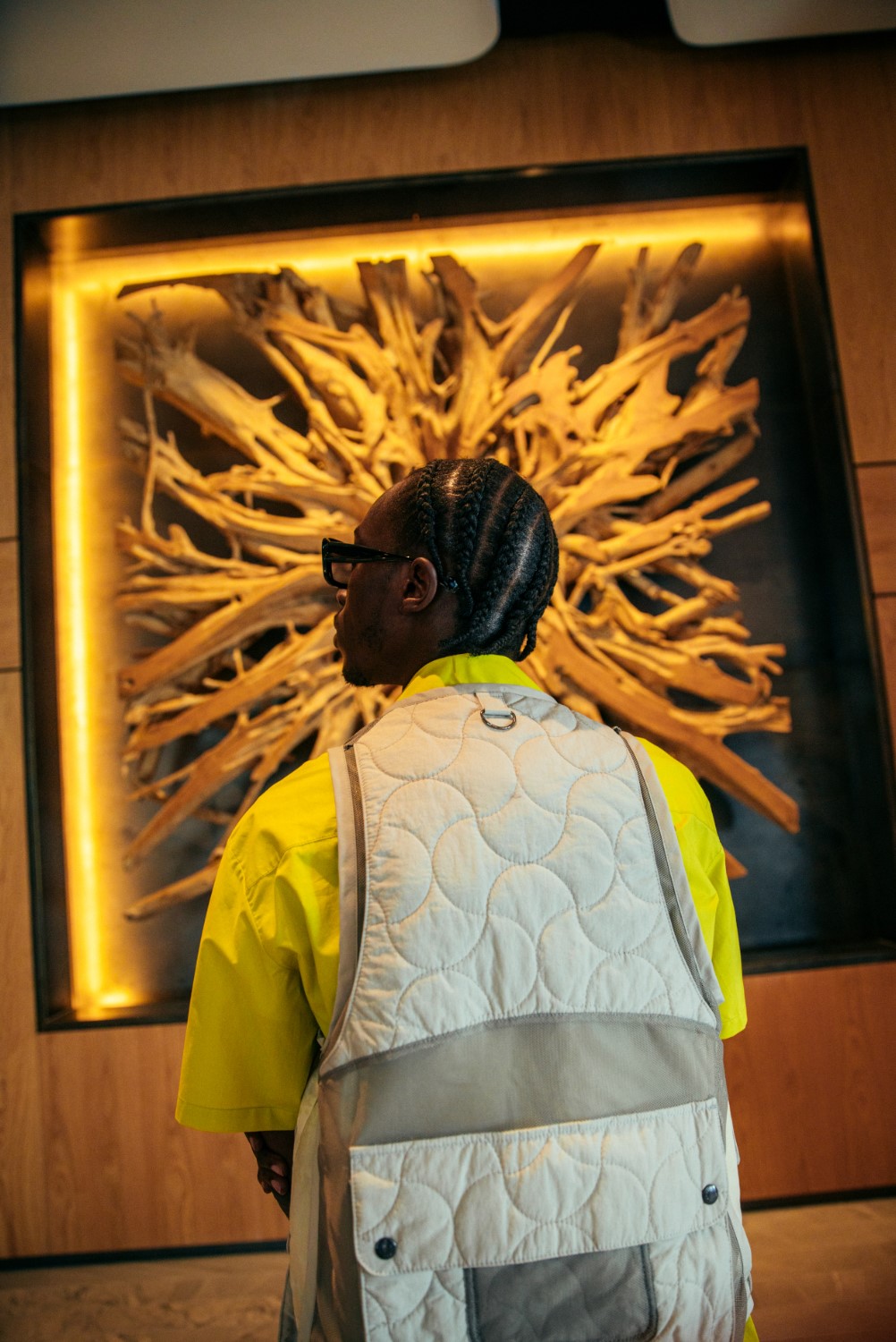 Shirt – Paria Farzaneh (BrownsFashion), Gillet- Nicholas Daley x Lavenham (BrownsFashion).
You've been engaging with a lot of Brooklyn drill artists too, the late Pop, Fivio – does it evoke a feeling of understanding when it comes to the New York and London sound?
Yeah, even the producers. I feel like there's an understanding. We have the same type of pain, but we have to understand their culture first. We have to understand their energy. When you actually get to communicate them and understand their lifestyle and their background, it helps.
Are state-side collaborations something we can ever expect?
Most definitely. Right now, I just want to wow everyone with myself. But most definitely in the future.
Finally, to draw our interview to a close – what is something you think people should know about you that perhaps we don't?
I'm a comedian behind the 'Unknown' you know. You know what? If I stopped music –
Actually, that's a question in itself. If you didn't do music, what would you do?
I'd jump on modelling. I feel like I could definitely get somewhere in the acting/entertainment bag. Somewhere. That would be lit.