Talks fashion, social media & keeping it real.
Golden Landis Von Jones aka 24KGoldn started his career without many fans from his hometown, The Bay in San Francisco, but found love & support through the internet. Growing up in a home where music was a blood vessel, 24KGoldn was destined to be a star.
24kGoldn signed a record deal at 17-years-old taking on full responsibility of his music career. He experienced pressure on becoming famous at a young age and learning on the way. With music collaborations with Future, Travis Barker, Iann Dior, Justin Bieber and more, 24KGoldn is surrounded by a storm of fame but keeps it authentic.
"I signed my record deal at 17. I was making adult decisions before I knew how to be an adult, and I'm still learning how to be an adult right now. I've got to be the CEO of my own company, which is a lot."
PAUSE caught up with 24kGoldn in Los Angeles to talk about his music career from 17 until now, being vulnerable yet authentic on social media as well as his purpose.
All Clothing: Marni, Jewelry: Crown Collection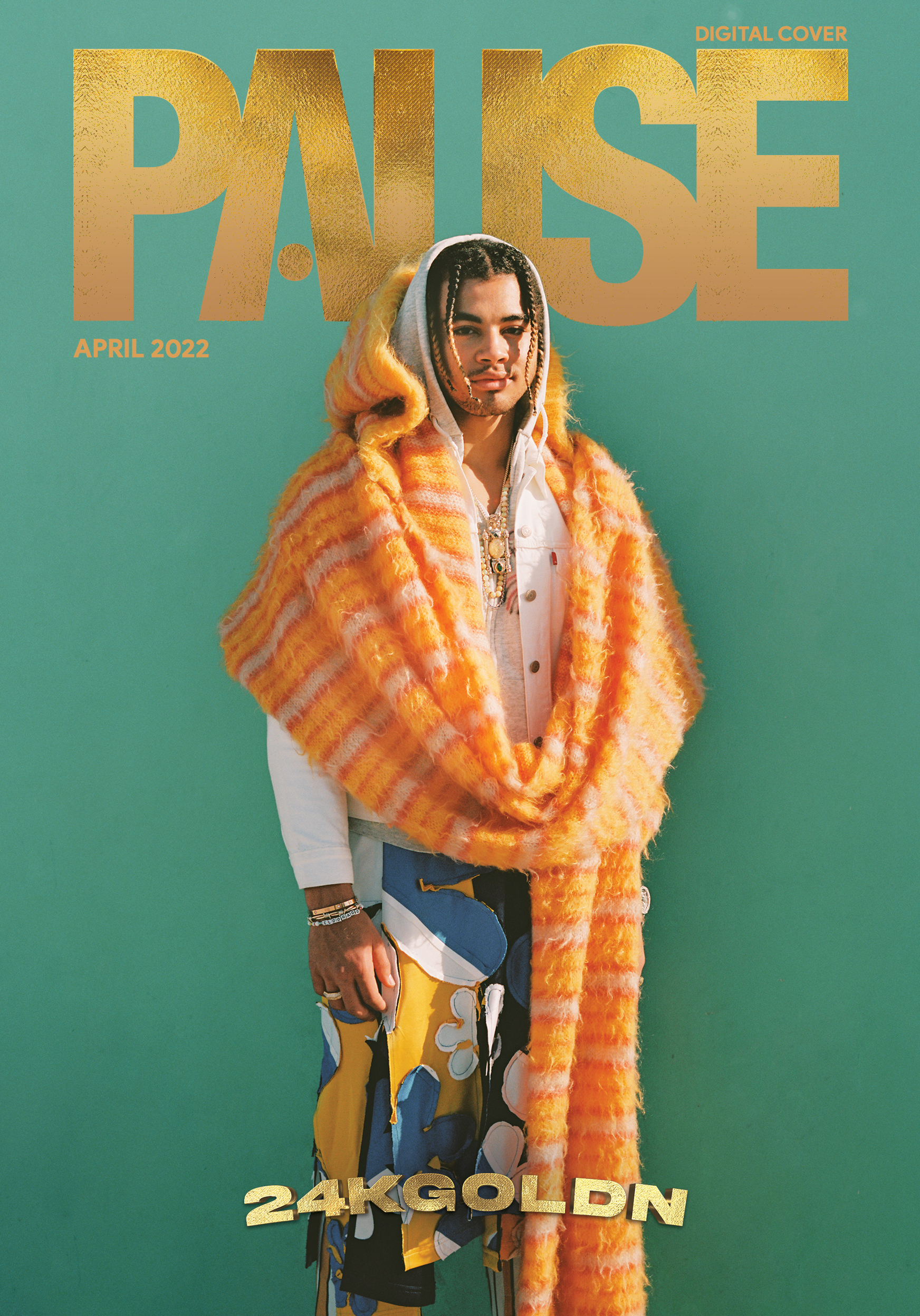 Do you know what's so funny? Your name is 24kGoldn, and I go by Johnson Gold.
And now, BOOM! We've got the Gold and the Goldn.
How did you come up with the name 24kGoldn?
So, my real name is Golden Landis Von Jones. It's on my birth certificate, driver's license, everything. My parents went crazy with that one. When I first started rapping, I was just Golden, nothing… it was just straight Golden. I put out a couple of songs and then I realised, like, 'Yo this sh*t is too hard to find." Like, if you wanted to go and look my music up and you just typed golden into Google, you're not going to find me on the first page. I'll probably be on like page 369! There's the Golden State Warriors, The Gold Rush… all this other sh*t that has golden in it, so I was like, I need to do something that sets myself apart, be distinct. I'm really into jewellery, so I learned that the purest form of gold is 24 carrot, 24K gold, it's 99.99% pure. I feel like me being an artist and making music is the purest form of myself, so 24kGoldn.
Tell me about the beginning. When did it click that you wanted to be a music artist and how old were you?
I was always interested in entertainment, I always liked modelling, acting… stuff like that. For some reason, I never gravitated towards wanting to be a singer, which is weird because it was my mum's dream job. My parents were always singing, I was surrounded by music. I went to Glide Memorial Church which was big on music. But I feel like the reason that I wasn't as open to it was because I wasn't confident in my voice at the time. Pre-puberty my sh*t was squeaking like a mother*cker! (laughs) So, I didn't want to sing in front of other people, I'd be a little shy about it… but then I did choir in middle school and I started messing around and free-styling on YouTube type beats. I just kind of learned to lean into my swag and my tone, and it got to a point where my friends were so tired of hearing me free-styling over these beats that they were like "Boy if you don't go and record that sh*t and put it out, what are you doing?!". So, my big bro Paperboy got me in the studio for the first time and helped me make my first song.
Were you scared to go into the studio for the first time?
By that point I was excited. I'd been waiting for it for a while and I didn't know where to start, so he really put me on track.
Through that journey, in the beginning, were there any struggles you faced?
Yeah, I think that right off the back there was a lack of acceptance from where I'm from. The Bay has a very specific type of sound and there's a lot of street sh*t. There's a particular type of music, type of production, and flows that are common in The Bay and if you don't sound like that, it can kind of confuse people a little bit. Now, The Bay is more open to different sounds and different people and styles, but back then if you didn't sound like SOB or E-40, or someone like that, you weren't going to get that type of love. I really had to seek out the people that were seeking out me. That meant going to different high schools and passing my music around there, it was performing at local shows and there were maybe ten people in the crowd, but if one person became a fan after that then that was a job well done for me. So, it was definitely difficult for that 'getting off the ground' stage. Just finding my people and my audience.
I guess sometimes many people tend to expect the people where we're from to support them, but it's always the strangers out there that are going to be the ones supporting you.
Yeah! It was the internet that really supported me the most. I did definitely, after a while, have a solid little fanbase in The Bay, but I remember getting my first DMs from people all across the country saying "Yo, I just found your sh*t on SoundCloud and it's dope. I'm watching you, keep it up." Then it started getting international and I'd be getting people from other countries who are f*cking with me… and that's what really blew my mind, how far and how fast something can spread on the internet.
Would you say that social media played a big part in your career?
Yeah, a huge part. Because I'm from San Francisco, I'm from The Bay, so we're very innovative and we're very tech-minded, we're very forward-thinking… so, if I'm sitting here thinking that the biggest form of communication now is the internet, Instagram, Twitter, SoundCloud, YouTube… I need to figure out how to use these platforms to spread my music everywhere. My mantra at that time was that "I know my music is good, I just need more people to hear it", and I realised that. So, I was finding every trick in the book to use the internet to my best advantage.
What was your fuel? What motivated you?
I don't know, it's weird because I was doing a lot of stuff in real life, as well as on the internet… and when I look back now, the amount of effort I put into my career versus how likely I thought it was going to work out did not match up. I knew it was possible to make it, I knew that other people had made it, blown up, or gone viral. I figured that if I believe that my music is better than theirs then I should be able to do the same thing. I didn't really take it seriously and realise this is what I wanted to do until right before I got into college. I actually got rejected from Stanford… I was planning on going to an Ivy League, or Ivy League equivalent school, and getting into economics or finance… something like that. Taking the corporate route, because that's the only way I'd seen people in The Bay get money. It was either that or getting street money. I was like "I ain't trying to go to jail", I wasn't going to make a career out of that, so let's take this corporate path. But when I was rejected from Stanford, I was like "f*ck it, let's take this music sh*t all the way" because that's what I really love to do the most.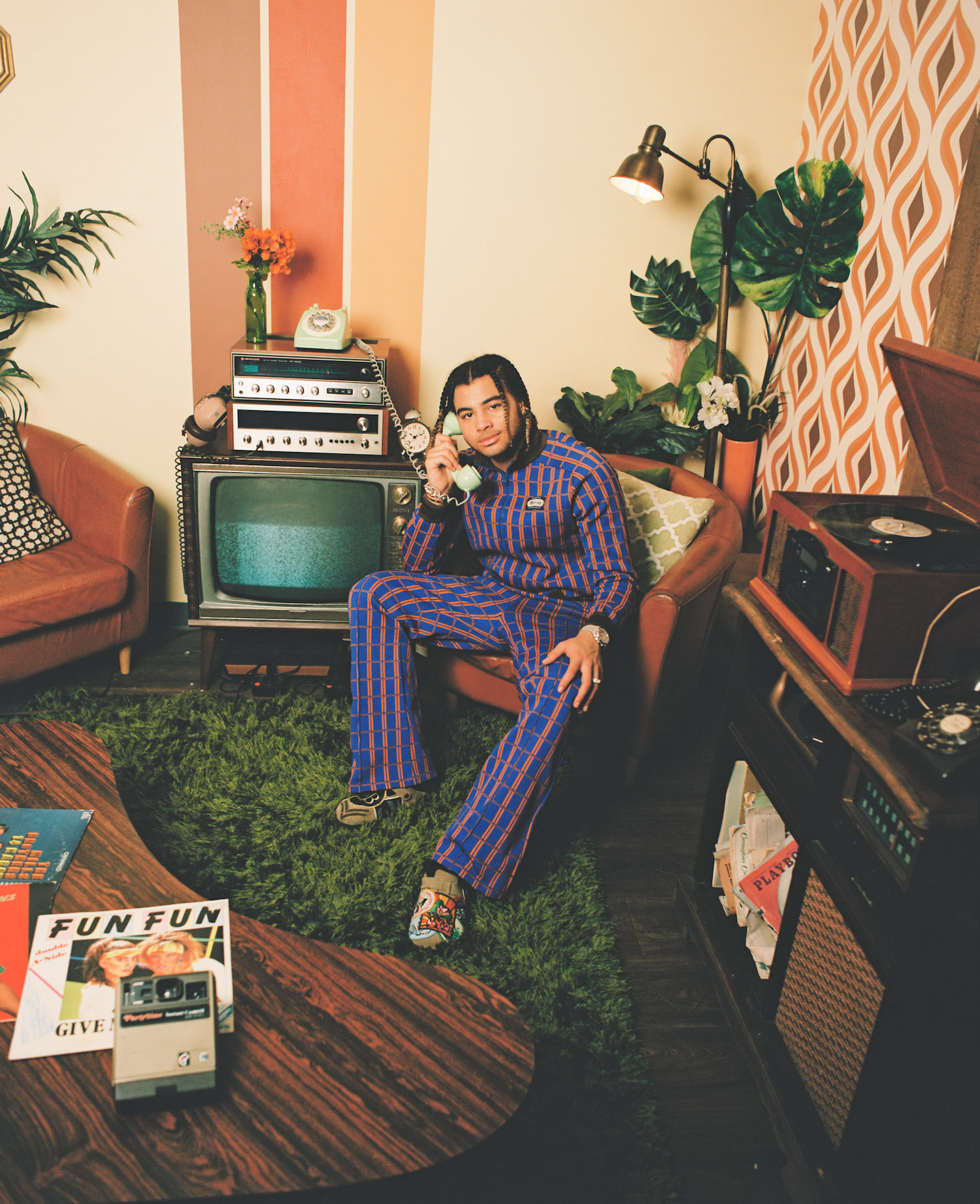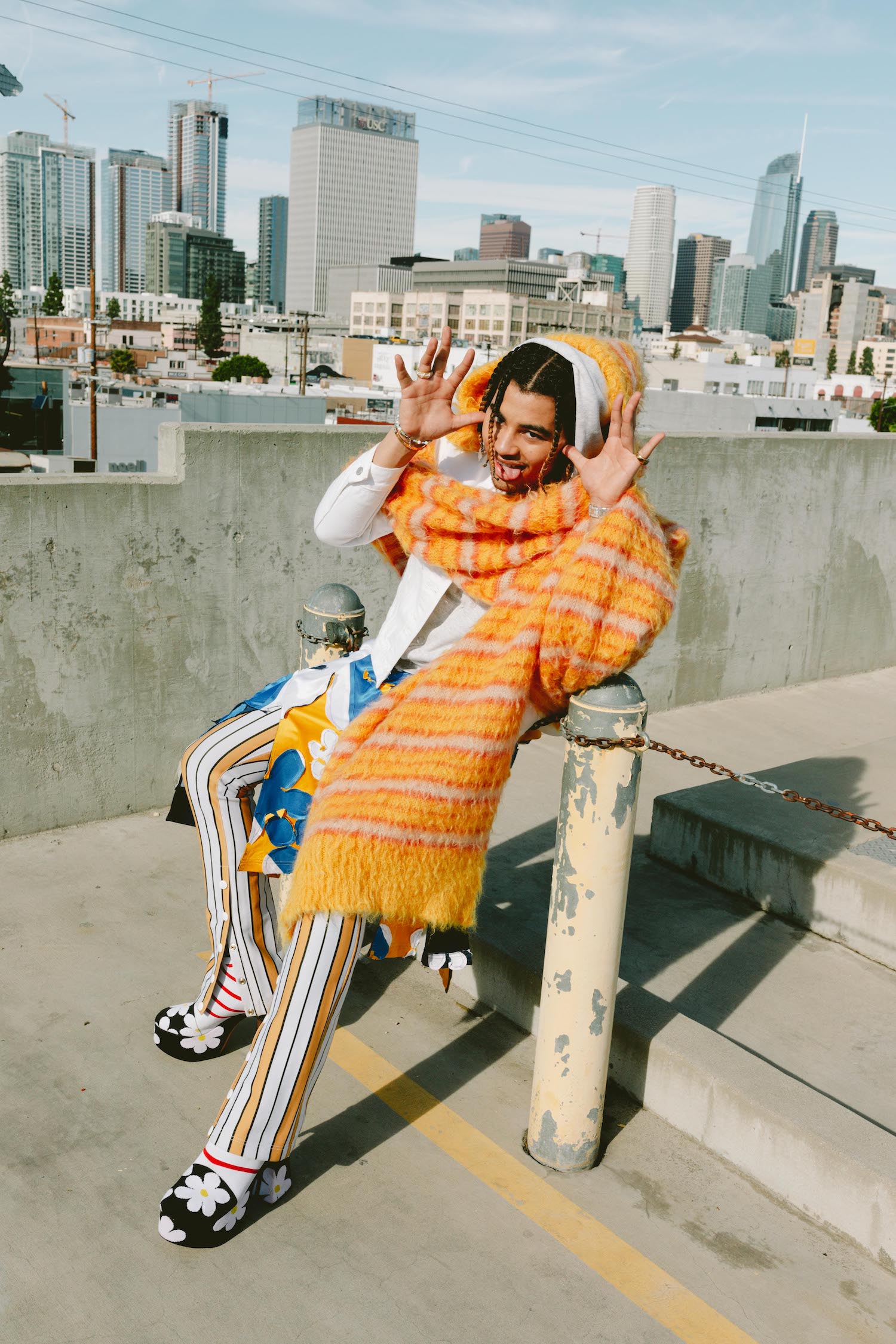 And that was your fuel?
Yeah. I think it was the rejection that made me go all in because I was with it before, but then that was my only option.
If there was no social media, how would you put your music out there?
I would just have to get a lot more creative… you know? Pulling up to schools and performing on top of a U-Haul truck or something like that. Doing stuff with the community. That's one thing that my big bro Paperboy, who put me in the studio the first time, really taught me how to do real-life marketing. Every event that we pulled up to, we had stickers, lollipops, posters, t-shirts, just giving sh*t out. His motto was "Whatever you give out, that's what you're going to get back. Times 5, times 10, times 20." He was very big on giving out swag, giving out game, giving out to people and creating that real-life connection. You could see somebody on the internet and be like, "That's cool", and then forget about it in a week. But if you meet somebody in real life and they make you feel something, you're never going to forget that.
That's very true. You mentioned on set that you used to use Tumblr. How would you compare social media then and now?
I don't know… one of the cool things about Tumblr was that it wasn't necessarily all about getting famous. Obviously, there were people that were Tumblr famous, but it wasn't because they were necessarily trying, it was just because they were curating dope sh*t and other people recognised that and wanted to see more of it. And it wasn't always their faces in front of it, it was just their tastes. That's what you were getting put on before… your taste. Nowadays, I feel like everyone on social media wants to be a celebrity and everybody's worried about their follower to following ratio, their engagement rates, or who's following them. "Do I have a blue check?". Bro, that sh*t doesn't even matter! You're in college as a f*cking anthropology major… you don't need to be famous! That's the biggest distinction between now and then. Everybody wants to be famous or thinks they're famous when in reality I guarantee you if 99% of those people knew what came with this lifestyle, they wouldn't want it or couldn't handle it.
Why would you say that they wouldn't want the lifestyle?
Because it's not always sweet. I mean, it's pretty f*cking cool I ain't going to lie. But there are a lot of problems that you have to deal with and a lot of stress and pressures that you don't deal with in other jobs. Human beings aren't meant to be famous and I stand by that. You're not meant to be perceived by millions of people, that's just something that never happened until the last ten, twenty, or thirty years. It was a lot more regional. People were known in their neighbourhoods, but to be perceived and judged on that large of a scale is kind of mind-boggling. It makes you grow up fast too, I mean I signed my record deal at 17. I was making adult decisions before I knew how to be an adult, and I'm still learning how to be an adult right now. I've got to be the CEO of my own company, which is a lot.
You had to learn how to be an adult really fast because of your career?
Yeah.
Do you feel like you've outgrown your adult life faster than those that went into college and are the same age as you?
No, I feel like I'm still growing up and I've still got a lot to learn. I've still got a long way to mature. It's like, because I have to make these decisions it's like I get a lot more experience, but I'm f*cking up too, you know? A lot of the things I'm doing, it's my first time doing it, and if you're working a regular job, you get training. First, you're an employee, then you're an assistant manager, then you're a manager, then you're the regional head. You kind of have a step by step of gaining more responsibility, whereas with my lifestyle it can kind of be thrust on you all at once or you can take the route that other people take which is delegating all responsibility to somebody else. But then you basically become dependent on them and you're a kid forever… you don't know how to wash your own laundry, you don't know how to make your own bed, you don't know how to do your taxes or talk to people. It's picking between two difficult choices, but with me being who I am, I want to be in control of my life and my own environment so I'm willing to pick that challenge rather than the challenge of having to rely on other people for everything.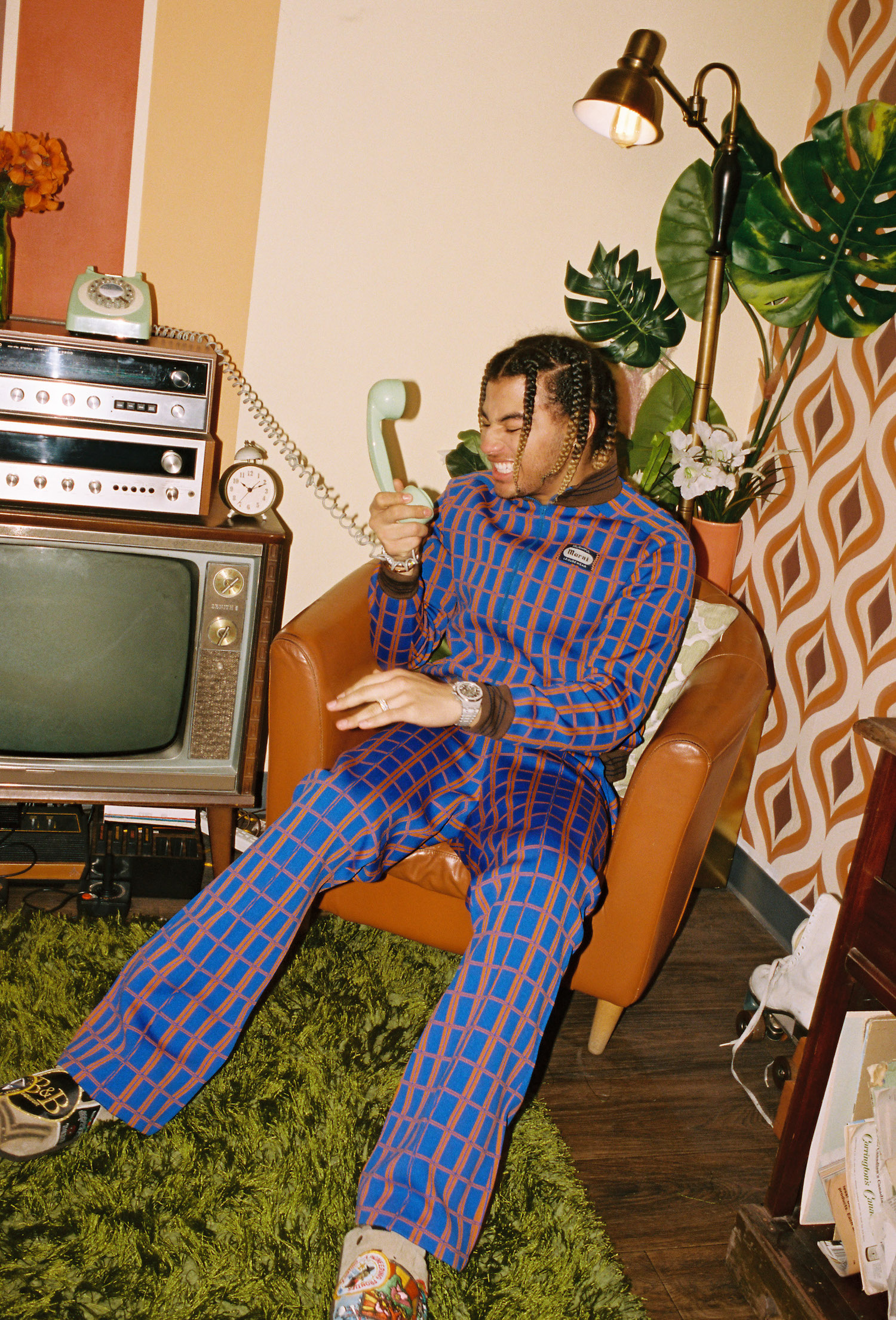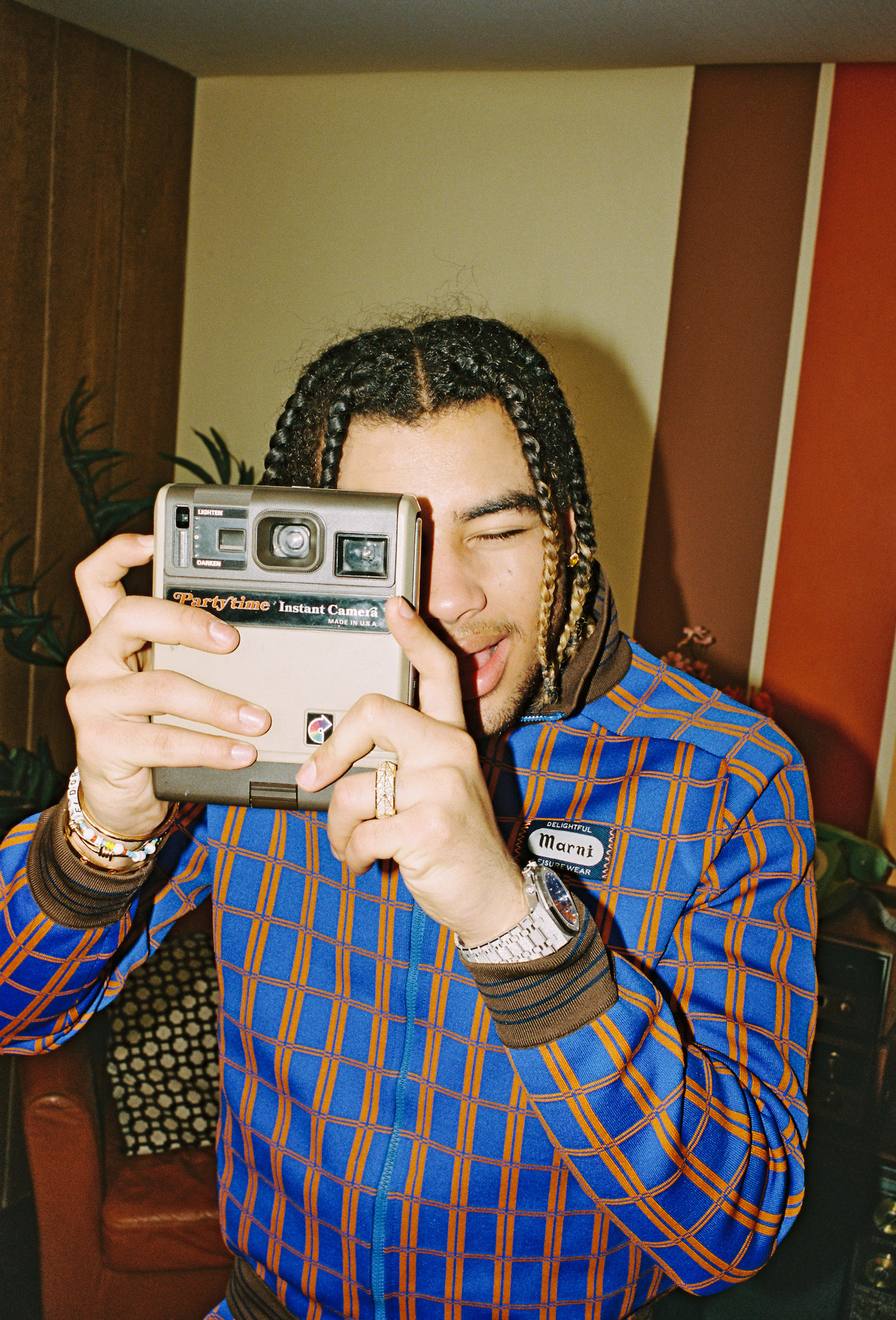 I hear you. And you moved from San Francisco to L.A. for your career, right?
Yeah.
Why L.A.?
Well, I got a full scholarship to USC. That's how I came to L.A. in the first place. I didn't get into Stanford, but I got into USC, which is still a really good school, and I got to be in the best city in the world to be an artist. If you do music, this is the place to be. I got to eat for free, I got to live for free in the dorm rooms, and got to learn some cool sh*t and meet some cool people in the meantime… I had a place to spread my music. It just made sense to me.
Your Creative Director, Be, said he met you in San Francisco back when you used to queue up for the Supreme store, right?
Nah, this is before the Supreme store existed out there. San Francisco is an interesting place because it's a major metropolis but it was always overlooked in terms of the culture… people didn't recognise how much influence The Bay has, or had, or how much interest there is in streetwear, the internet, and fashion culture. Bee (24KGoldn's Stylist) played a big role in bringing some of those instrumental and keystone brands at the time to pop-ups in the city. VLONE, Revenge x Storm, Nike Clot… and I would be at all of these pop-ups because that was my sh*t, that was the sh*t I was into. We just kept bumping into each other, bumping into each other, bumping into each other… and me, I'm a shameless mother*cker so I was always trying to plug my music anywhere I went. That's part of being that real-life person, that real-life marketer. He was always like, "Who is this kid? Is he just the most confident kid ever? Or does he just not know anything?!". So, I guess that intrigued him and we built a rapport off of that, always seeing each other outside.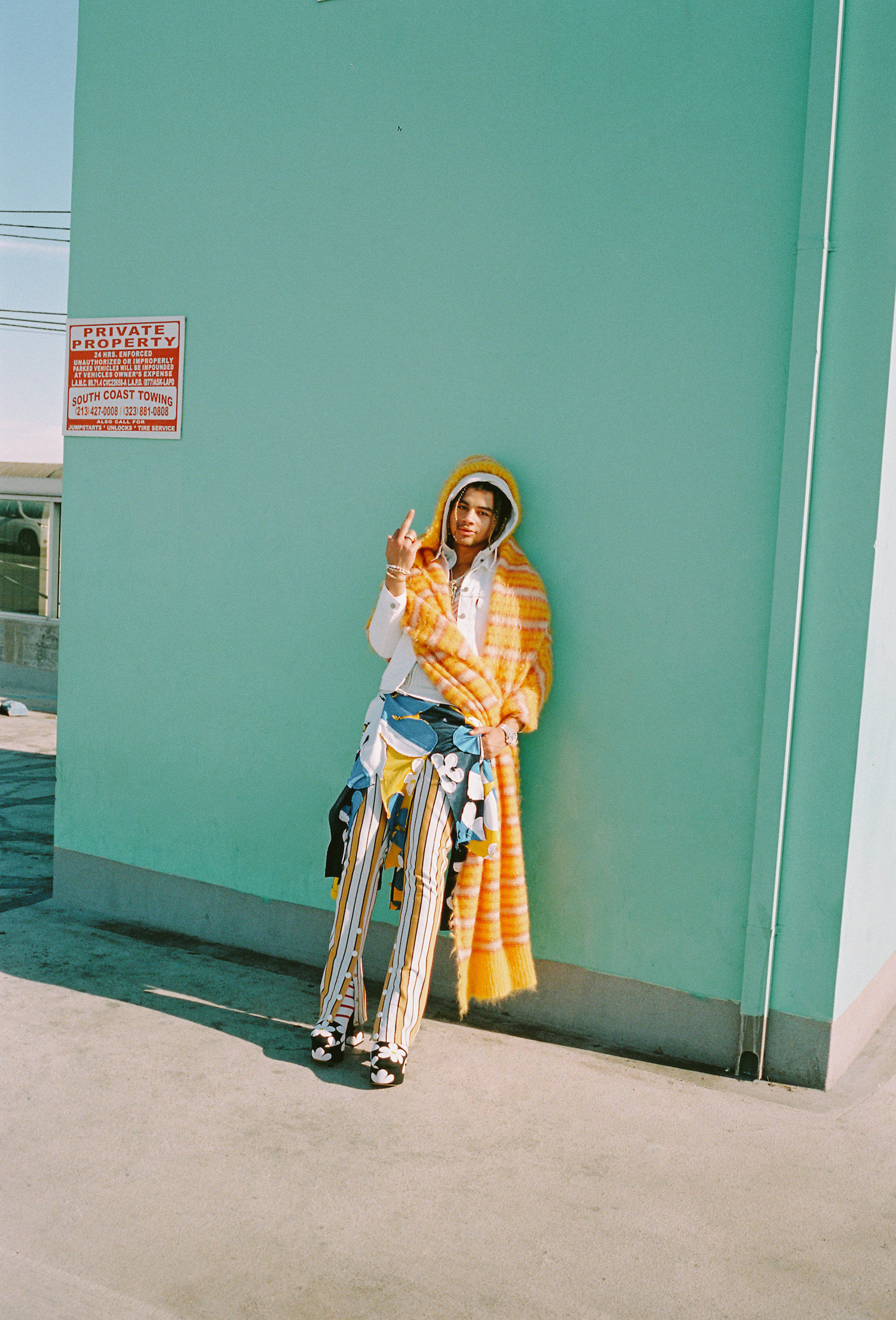 Would you say that you're still into the brands that you used to wear back then? And what brands are you into now?
I would say that my taste level has definitely levelled up as I've gotten older. I mean, before it was a lot of internet brands and honestly, they were solid for the time, but when everybody started to like something that makes me not like it anymore. I was wearing Supreme in 2014 and 2015, and by no means was I the first person to do it, but I was early on that wave before it was 2017/2018 and everybody and their mum was waiting in line for a box logo. I was wearing BAPE at that same time and VLONE, Off-White, VETEMENTS… all these things in 2014, 2015, 2016, 2017. It was a lot more of that stuff, but now that I'm getting older my tastes have matured. I'm into more of the classics, like Maison Margiela, or Black designers like Martine Rose and Pyer Moss and more experimental stuff, like the Rick Owens pieces, some of the Marni, some of the KAPITAL… big into Japanese stuff still. KAPITAL is still big for me, huge. I think that's just part of growing up and learning new things, seeing new brands, being exposed to new things for the first time.
Yeah! And how do you find what fits your style and vibe?
Just trying that sh*t out, you know! It kind of sucks because it's kind of hard for me to tell what I like in pictures, like I've really got to see this sh*t in real life and try it on for myself. I'm always taking chances and even if I don't step out in it, I might spend an hour putting together different outfits in the crib just to play with things and see what I really like.
Nice. When you first entered the music scene and your tracks were blowing up, do you think people in the industry feel threatened by you?
That's a question for them, sh*t! (laughs) I don't know. I don't know how people be feeling on the inside, I just know how I was feeling. I've definitely got a competitive streak so I've definitely had my fluctuations with ego and stuff like that, but through that process and that learning and the ups and downs, I realised that my only competition is myself. Am I being a better version of myself every day? Am I downloading the knowledge from the day before and updating it every morning? That's all that matters.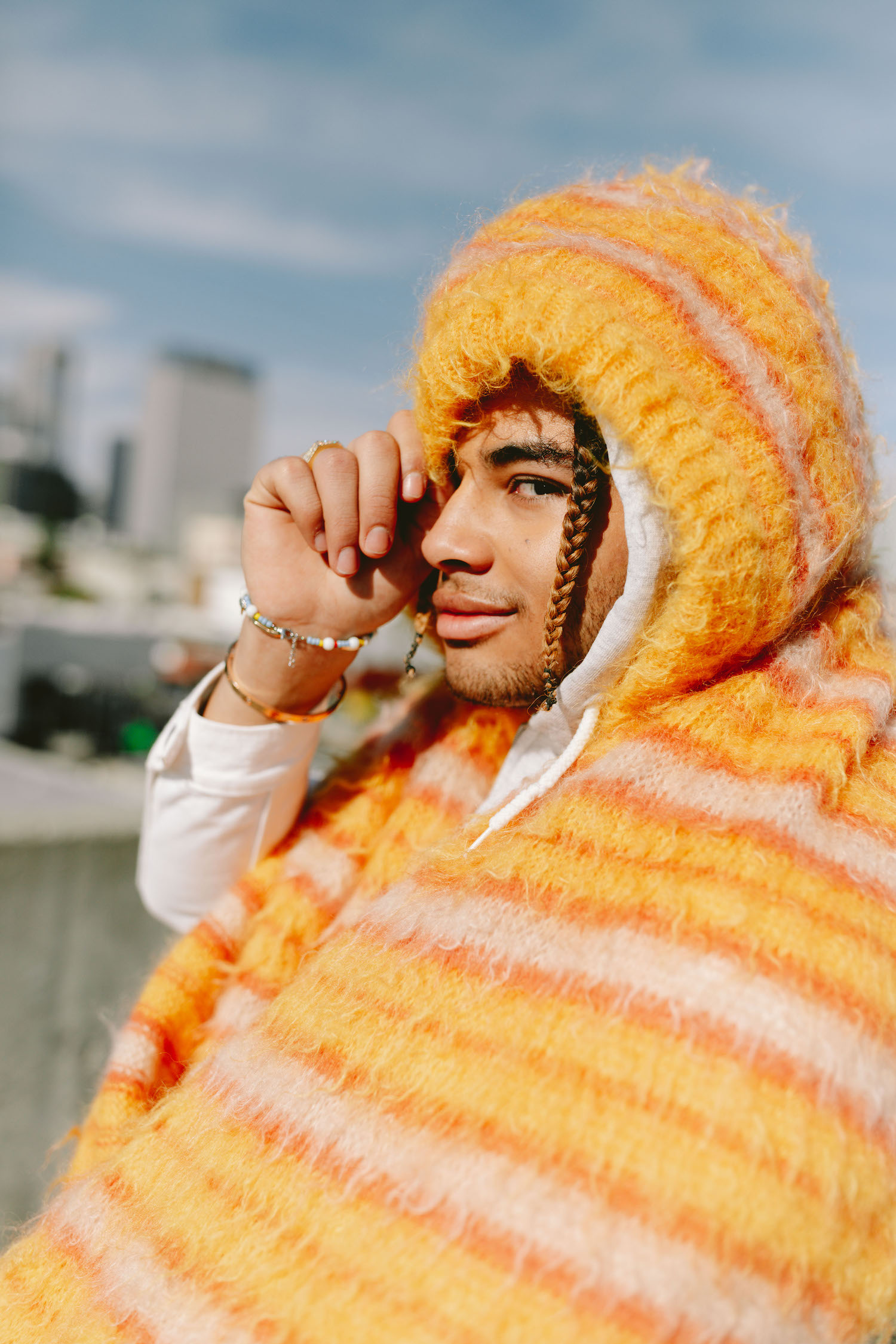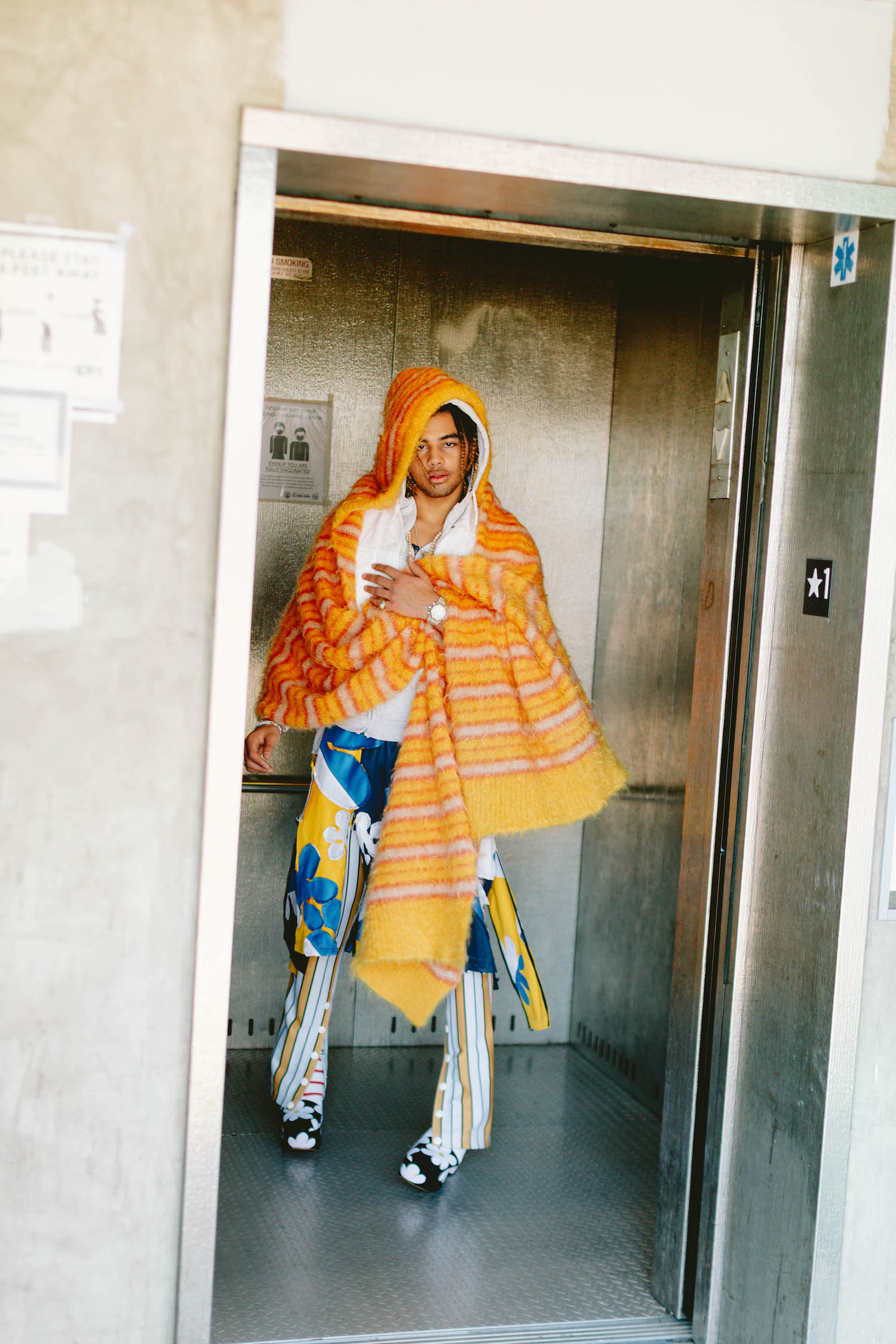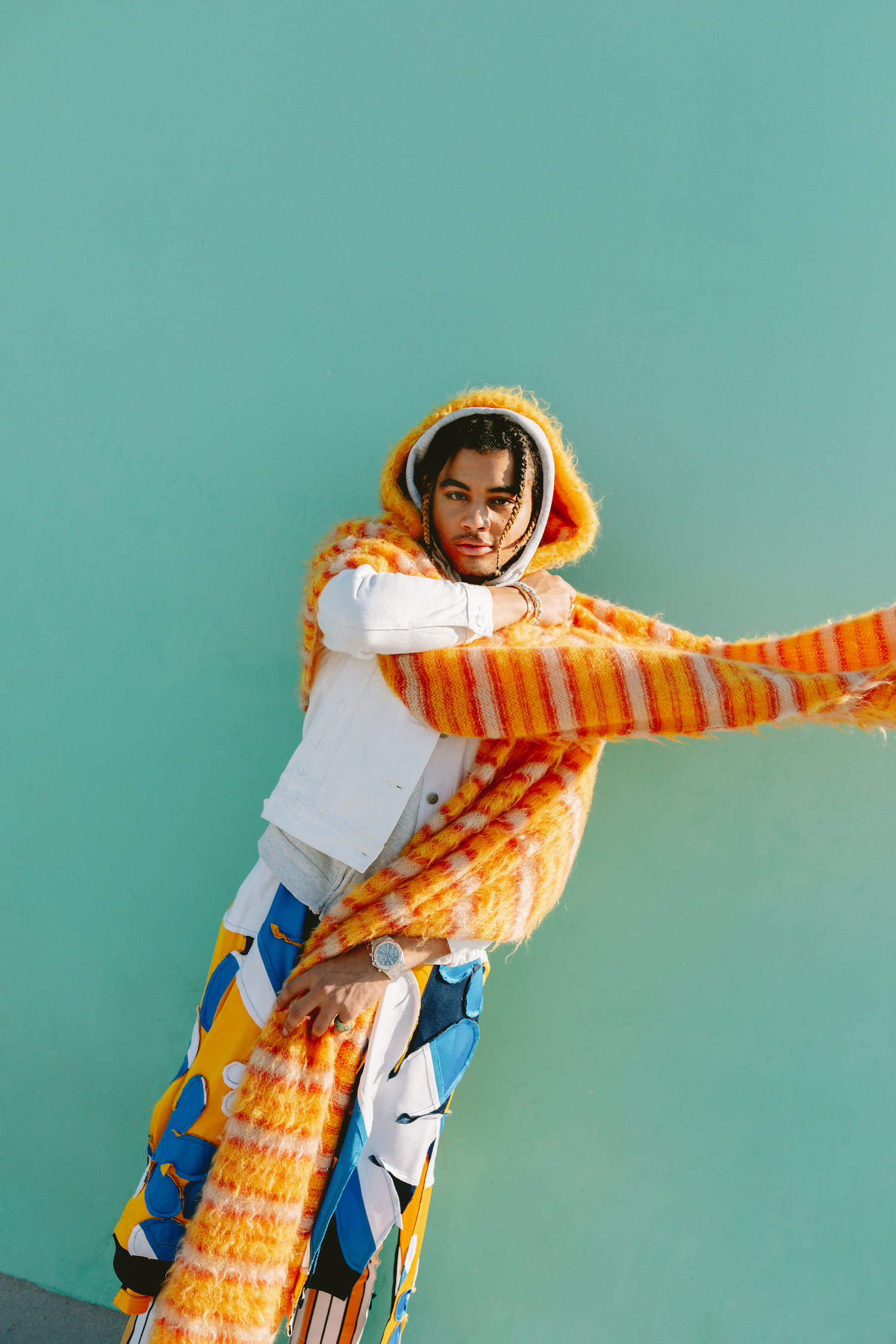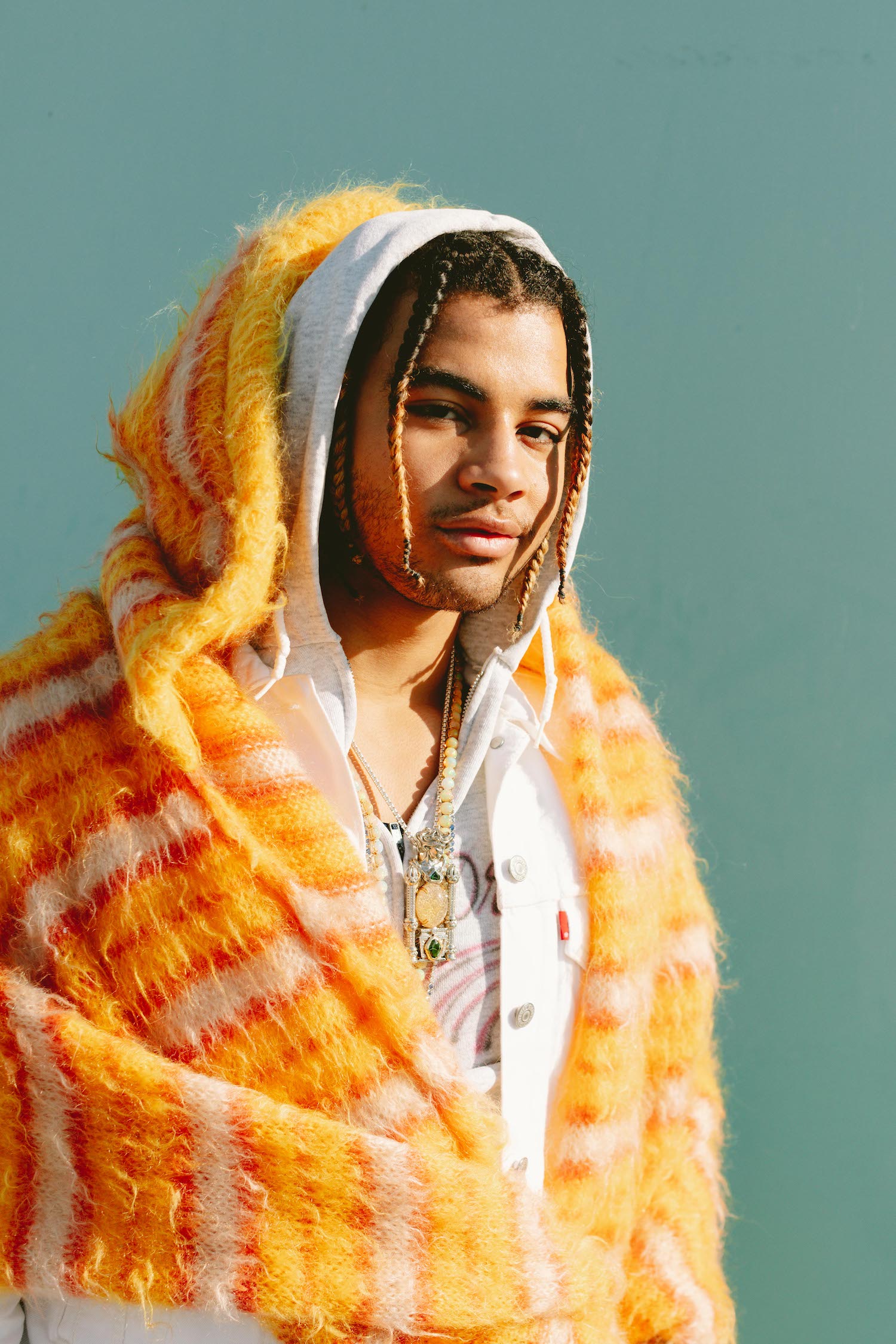 What do you try and get out to your audience on the other side when they're listening to your music?
I just want people to have fun. I want people to feel heard and I want them to know my lifestyle and if they can relate to it or aspire to it, that's f*cking cool to me. That's really cool to me. I just want people to feel like they're not alone. Whether in happiness or sadness.
How would you describe your music in one word?
I would describe it as experiential, not experimental, experiential… because every song is an experience. My music makes you feel things hopefully… as long as you feel things and you're not a sociopath out there! (laughs) Each song is an experience of mine that might relate to an experience of yours… it's a journey, it's an emotional experience.
I like how vulnerable you are on social media; you keep it real and let people know if you're having a bad day or a good day. At the end of the day, we're all human. What advice would you give to young people feeling the pressure of social media?
It's funny though, I used to not be like that at all. I could have the sh*ttiest day ever and I'll still post a picture and write a caption like everything was cool when it could be the exact opposite. After a while, I realised nobody wants to see that sh*t, nobody wants to see your perfect life all the time. Okay cool, now you're travelling and eating all this food, now you're getting money, f*cking b*tches, driving this Benz… okay cool. People can't relate to that and that just makes them feel bad. It actually makes people feel better seeing you being down bad if it's authentic because then they're like "Oh sh*t! I'm not the only one who feels this way" or "I'm not the only one who goes through it or has anxiety or has been depressed." I feel like that creates a connection, a kinship, and that's what we're all looking for at the end of the day… some sort of connection. That's why we listen to the things we listen to, why we watch the things that we watch, because it's building a connection. So, my advice out there is to anybody that is dealing with something, that perspective goes a long way. Speaking from experience, I know what it's like to run yourself into the ground just imagining different scenarios or realities and just imagining every single little way something could get f*cked up and your whole life is over. But 99% of the time, that sh*t never happens and it works itself out, and I think if you keep a positive attitude, keep in mind that things can be right, and that what if, instead of everything going wrong, everything went right? You'll be a lot happier and a lot less anxious.
I agree. What's your purpose?
I think my purpose is to make people take life a little less seriously.