What do you get when you cross Afrobeats with Reggae and Dancehall? Afro-Dancehall! The latest star to take on the mantle of spreading this sound to the world is Jonzing World's latest signee, Ruger! The singer-songwriter hails from Lagos, Nigeria and offers a refreshing take on African Popular Music. Ruger's distinctive look and catchy sounds have made him a fan favourite which can be seen with him topping the charts time and again since coming to the public's consciousness 7 month ago. Pause Magazine's Contributing Music Writer, Gracey Mae, sits down with the rising star to talk about his journey to fame and living his dream.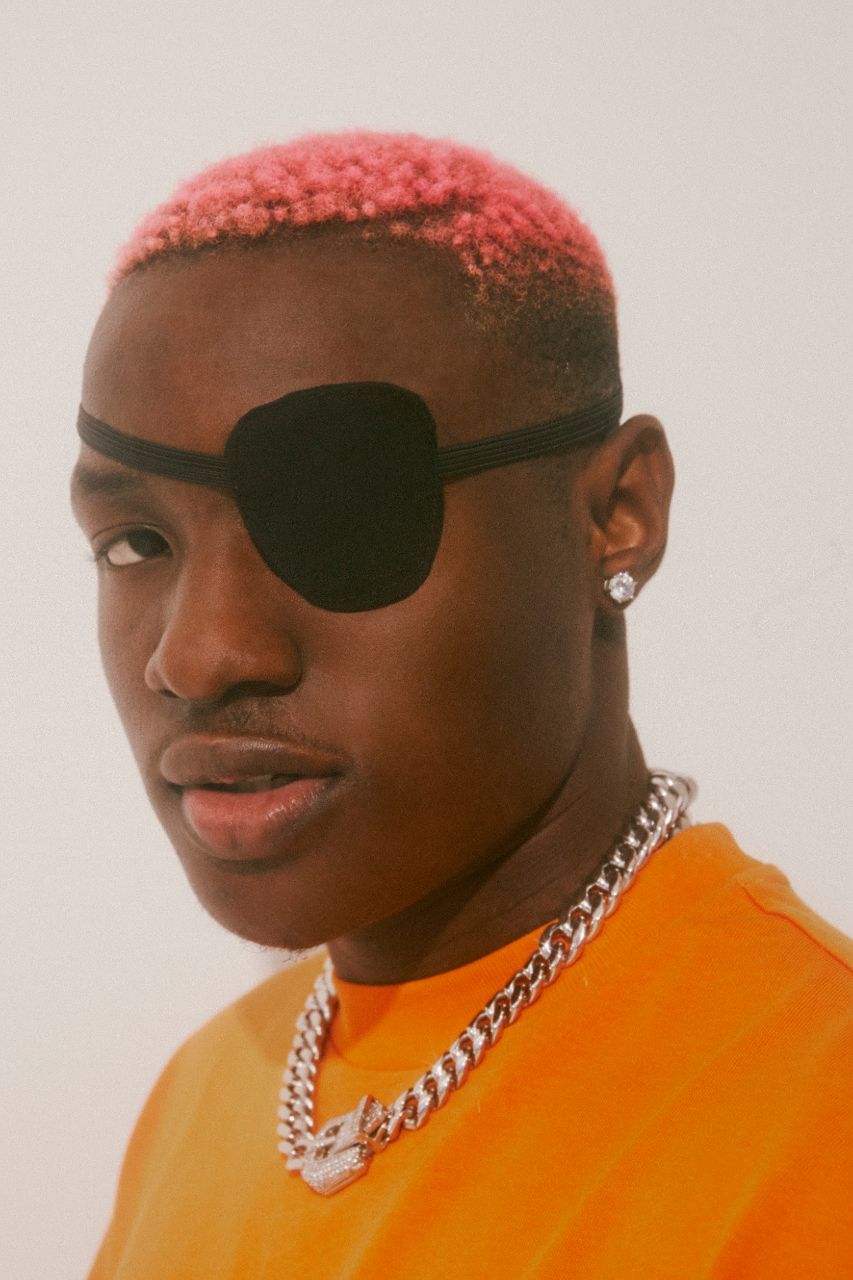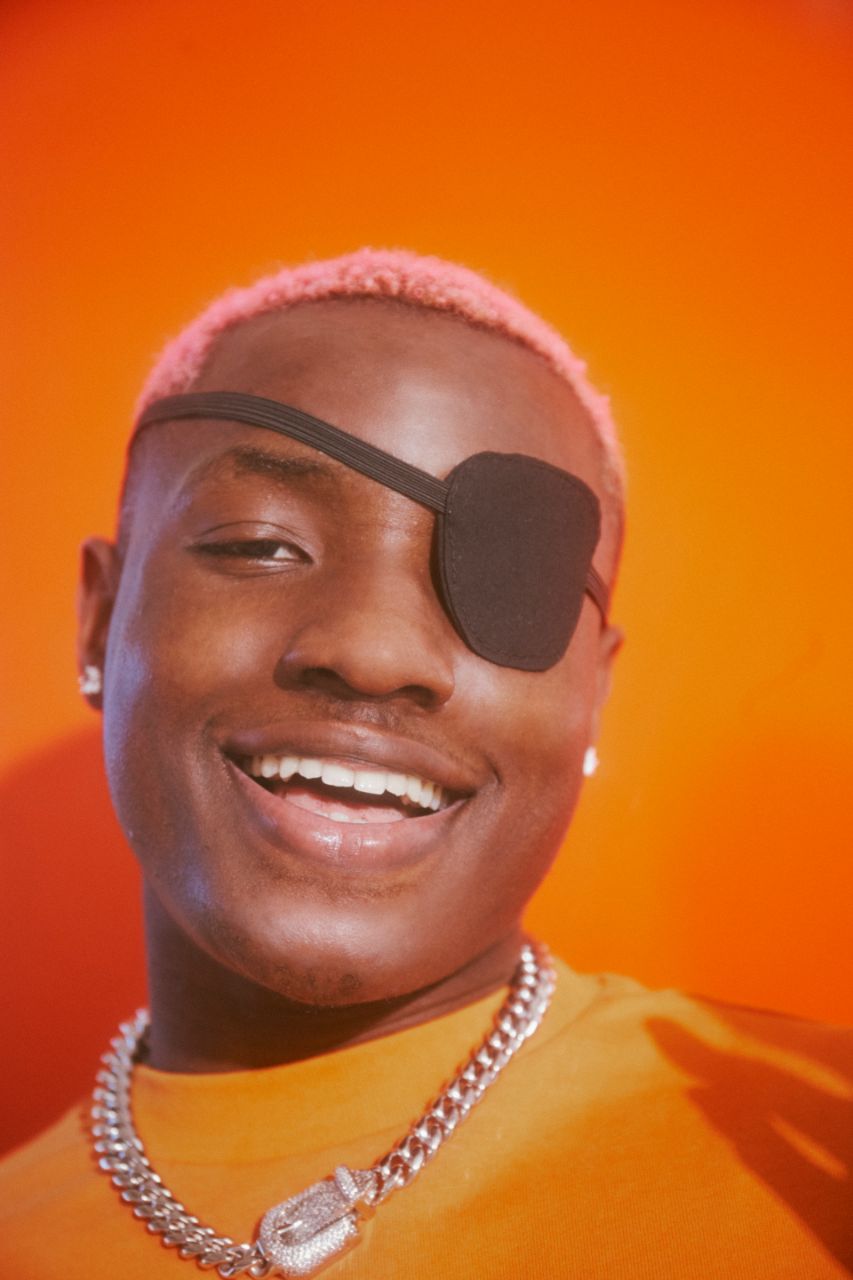 CREDIT: Feather Pendants Necklace // Lost Paradise Tee Shirt // Lazy Oaf Pants // DC Shoes
Hi Ruger. Welcome to Pause Magazine. How are you?
Good, it's always a pleasure. How you doing?
I'm doing good. Since you launched your career in January 2021, you've been number one on the album and single charts a few times! How are you feeling?
It's crazy man. I'm grateful to God, first of all. I always say, "I don't expect much from what I do" [so] it always comes as a shock anytime comes out big, you know. I'm grateful to everyone that has accepted it and digested it. It's doing good up in the charts and I'm so grateful. Thanks to everyone that's been supporting.  Thanks to my team; they've been pushing me. Thanks to my family. And thanks to RuNation, y'understand! So that's how it is. We're going higher from here. This is just the beginning.
Let's go back to the actual beginning! What age did you know that you were going to become a musician?
At the age of 16, that's when I knew that this is what I want to do.
Let's go back to the actual beginning! What age did you know that you were going to become a musician?
At the age of 16, that's when I knew that this is what I want to do.
Did you grow up playing any instruments? Did you sing in a school choir? Tell us how you got into music.
No! Never that, me in the school choir? [laughs] Nah, I didn't like showing off in school so nah, never that, but in church I used to sing. I used to play drums, you know. In school, I was on one type of guy. I couldn't show my face that type of arena [laughs]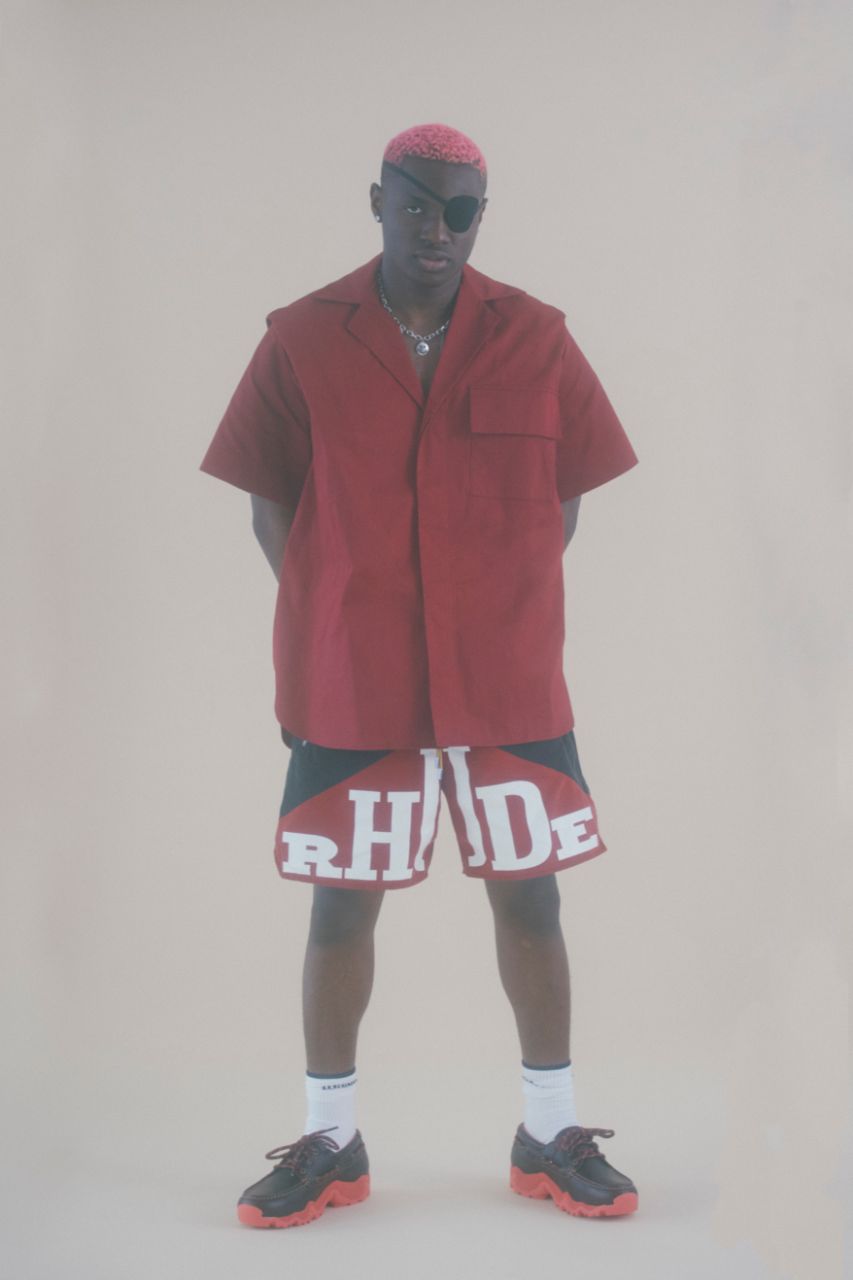 CREDIT: Bianca Saunders Shirt via Browns Fashion // Rhude Shorts via Browns Fashion // Timberland shoes

Who is Mikki Drey?
Oh my god. Where did you get that name from?
I don't know. That's why I'm asking you, who is Mikki Drey?
That's how we started, that was the beginning [laughs] That was beginning, that's the name the streets gave me back in the day. People in my hood, whenever they see me sing, they would say "Mikki Drey". Baby Drey on the mic" yeah yeah yeah…because my birth name is Michael. Y'understand? They like to called me that so I just took that and I was using it for a while but I'm Ruger now [laughs] Come on.
Now that you're Ruger, the rising star, why did you name yourself after a gun – isn't that pretty violent?
Just because… as I said (on my single Ruger) "Man I spit fire to da mic from day one". I should have said "I shoot fire…". That's the mistake I made but it's all good. That's how I do, on the mic,I just go hard every time. Even in my daily activities I go hard with everything I wanna do. If do anything, I just go hard with God backing me. I'm just this energetic person; I'm calm, I'm chilled but I'm still energetic when I have to be. That's how a gun is. A gun doesn't shoot by itself, you have to carry it.
Okay and you're carrying the heat, got it! Africa is hot right now but so is the Caribbean – you describe your sound as Afro-Dancehall. Who are your favourite three Reggae/Dancehall artists and why
Okay, my top three Reggae and Dancehall artist are Popcaan, Gyptian and Koffee. Yeah, definitely. Definitely Koffee. Well, I could mention a lot since you said three, that's the three I will give you. I have a lot that listen to that I jam every day.
And why?
First of all, if you go into my Pandemic EP you hear Bow, you hear the hard side of Ruger when I'm speaking real shit. I'm saying the real stuff and I'm speaking my mind, and how is tin he hard part. I make music based on my mood so when you see the hard part of Ruger, you know that I've got that from Popcaan. I listen to a lot of Popcaan and you know the way that he is, he goes in with everything that is happening, y'understand? Especially everything happening i in his environment in Jamaica. The government? He speaks about that too. When you see me speaking about myself, and the way I do my things, I'm in that Popcaan vibe. but when you're going to the soft side, talking about the ladies, and all that, you see the Gyption mood. From [sings] "Whine slow for me,
Tic toc for me, Baby you drop it like dat" or "Girl me haffi hold ya" That's where I draw my energy from. The Koffee because she has the modern energy. She has the new wave, she's just new so I like to listen to her and the way she writes and beats. I respect that; it's sweet and juicy.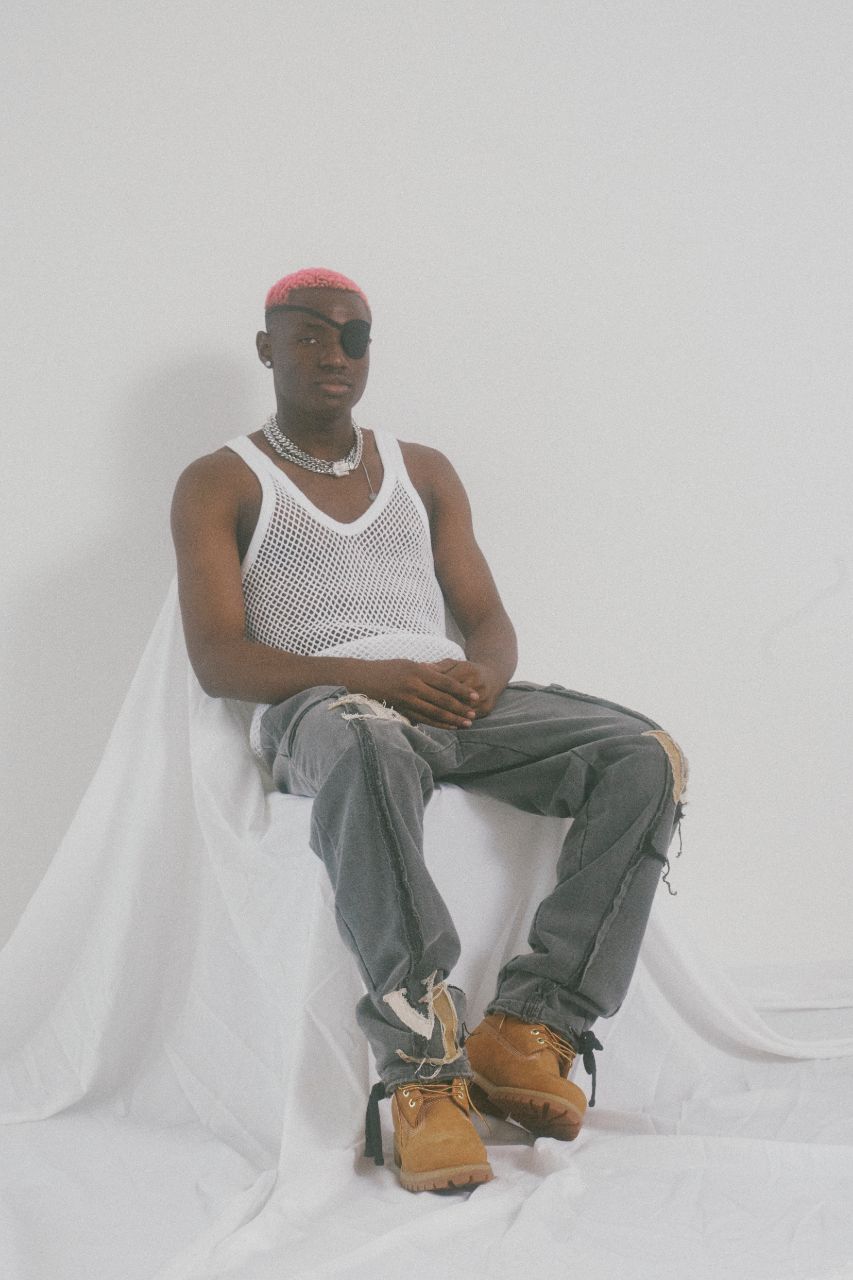 CREDIT: Chunky Charmz necklaces // Places + Faces Cardigan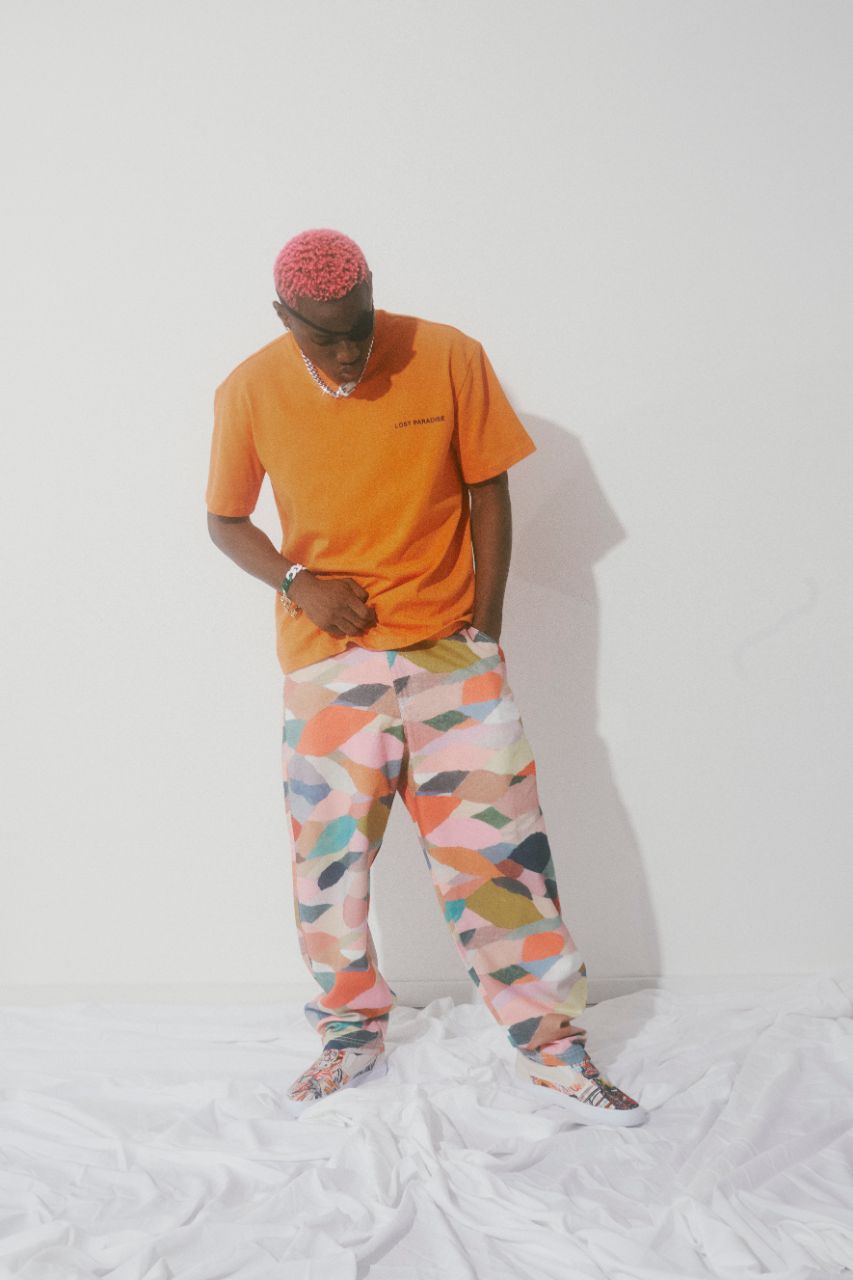 Not sweet and juicy [laughs] I love the fact that you named like a girl and two guys: giving us that equal opportunity. You're one of two guys signed to The Jonzing World. What's it like at the label and how did D'Prince, founder and CEO, find you?
Instagram! Thank God for the internet. Everything is easier these days. A lot of people come to my DMs and ask me "how did this happen?" – I really have a very good relationship with my fans and my people, I actually talk to them. I love my fans so much because they're the realest, y'understand. In the next five years, I want to build. I'm focusing on building a very strong fan base. If my fans don't die down, then I don't die down. That's the energy I want to build. So, most of them come and ask "How do you do it?" I just say "put yourself out there!" I go to people's pages and I don't see anything that you're doing so put yourself out there. I tell them "try to work and just put yourself out there". Show that you can do this thing! Sing. Dance…put it out there. With social media your page is at your disposal; you can do whatever you like with it. Just put it there. Then let God do His work. That's how D'Prince found me! I just started posting freestyles. It wasn't up to a year when I started doing that then he found me. I didn't send him the video. I didn't send him anything. I guess he was just scrolling through and he just found it. I'm grateful to God for that and I thank him so much for like taking me in and putting me on. Much respect. Nuff respect for D'Prince – bless!
Omoba! We hail thee. Now, I'm looking at you and you're giving us punk, streetwear, eyepatch, colourful hair, bling bling. As Pause is a fashion magazine, I have to ask who inspires your look?
My mood inspires my look.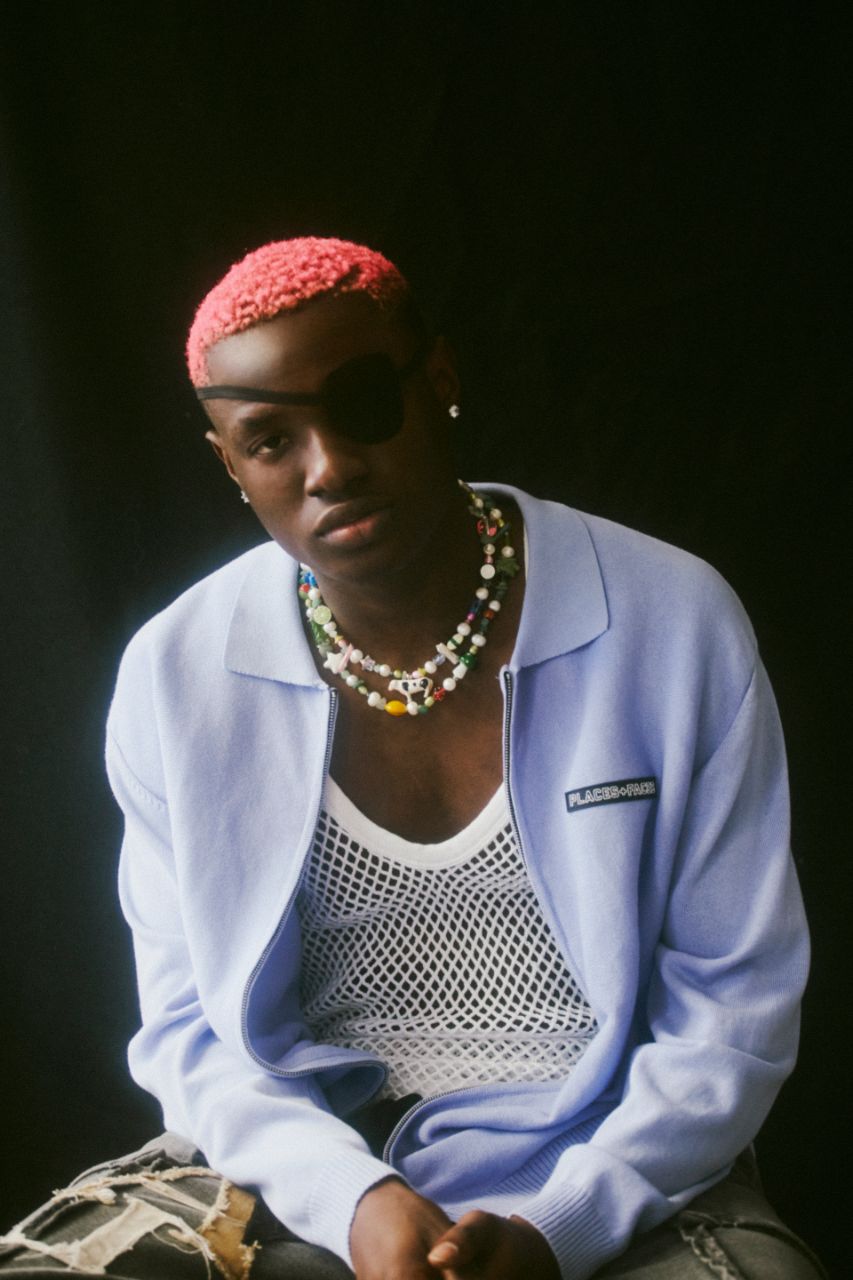 CREDIT: Feather Pendants necklaces // String Vest // Timberland Boots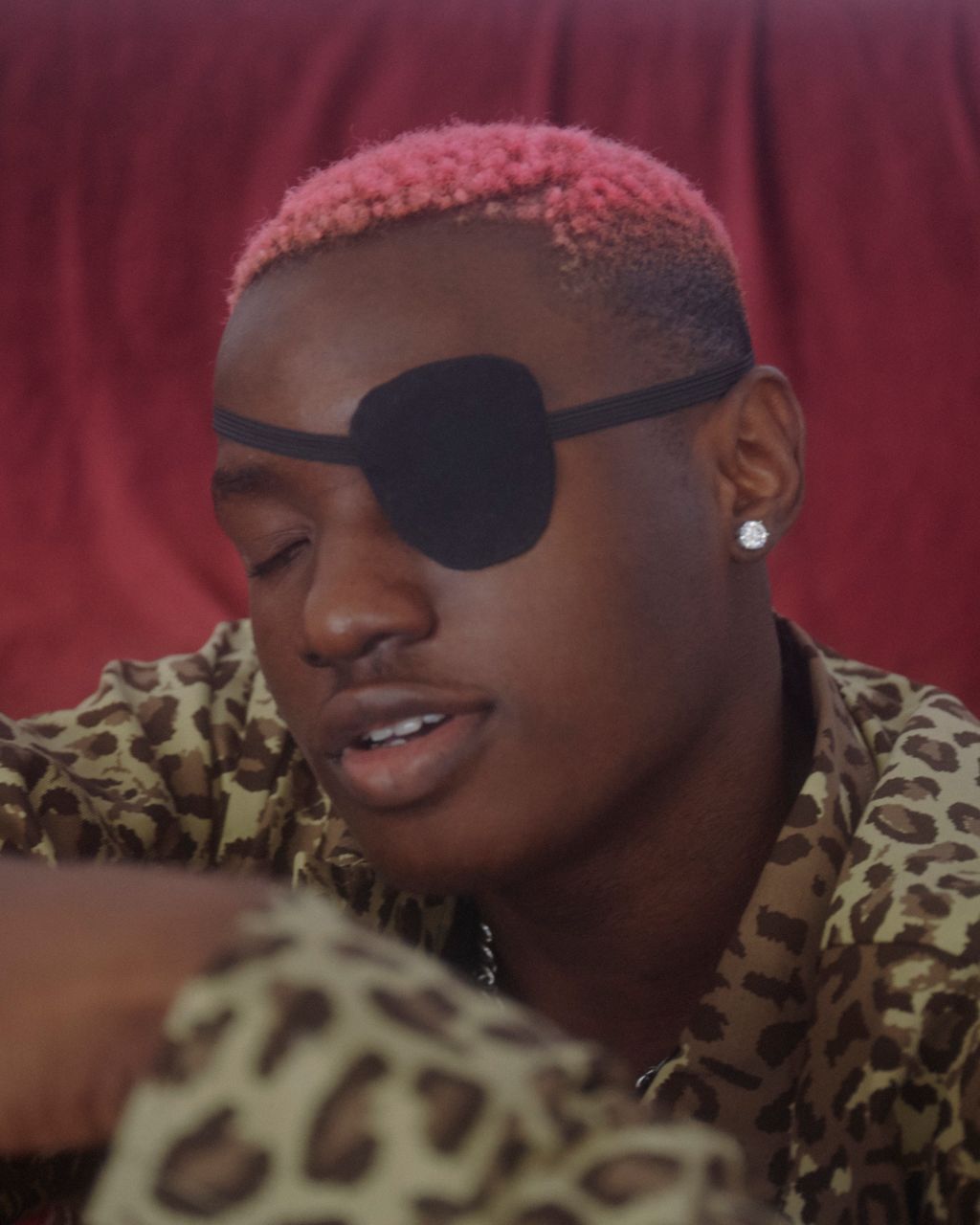 Your mood?
Definitely, in my house I can just be moving around with a towel [laughs] If  you see me with my boots, I'm not really in a good mood [laughs]. If you come to my room, I have a collection of boots! Hard boots, black… and all that kind of thing. Then you see the Airforce Ones, the Nikes and the Adidas, just for like smooth sailing,. But  if I know I'm going on a rough road for a rough ride, I gotta put my boots on! It's going hard.
Okay Puss in Poots but is there a person that you look at and think "his swag is point".
I don't know anybody that I look at to build my own type of fashion. I can't say I look at anybody. I just look at my wardrobe [laughs]
Is it @rugerofficial on all platforms?
Yes! @rugerofficial on all platforms. Thank you for helping me talk