"I want you to feel empowered, I want you to feel confident."
"Simple, but edgy." This seemingly self-explanatory mission status is much easier said than done, but coming off the back of Milan Fashion Week, Tokyo James once again proved why he is winning on all fronts. Taking each and every challenge head on, James' latest AW23' collection displayed all of the designer's strongsuits, from his distinct affection for intricate detailing to an eclectic utilisation of different fabrics, this range most definitely put the Nigerian-British designer's best foot forward. 
Tokyo James is no stranger to those that have been tapped into the fashion industry, with his firm hold on tailoring and dedication to speaking directly through his garments having stood the test of time. Rooted in his history with Nigeria, a cross-continental approach consistently provides a breath of fresh air, and with this Fall/Winter 2023 collection, James continues to be at the forefront of design and one of Africa's leading lights in fashion. Looking to solidify the brand's DNA, the leading menswear designer took some time with PAUSE to discuss his latest collection and break down the details of some key pieces.
Read it all below.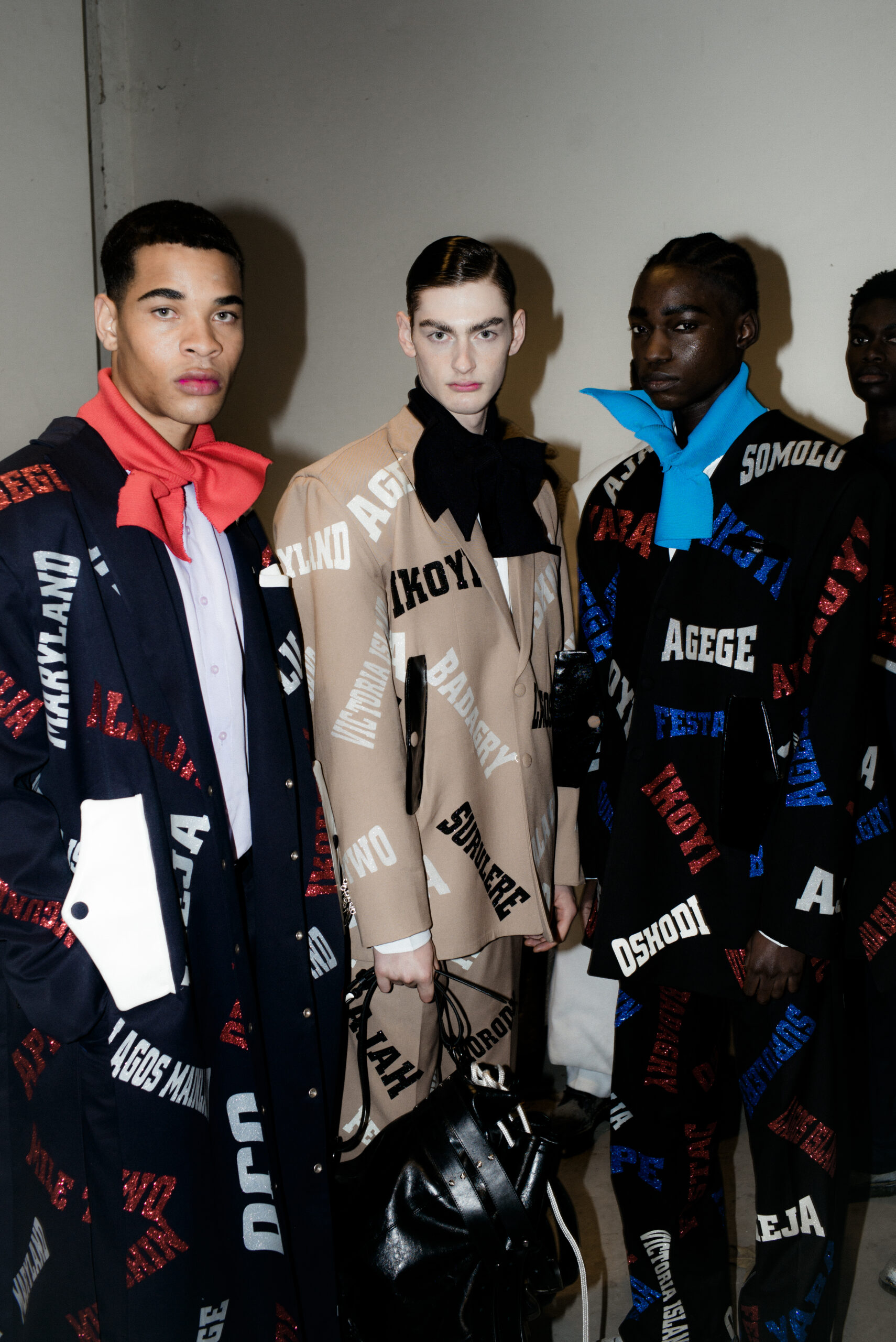 What was your first inspiration for your Autumn/Winter 2023 collection? When you were sitting down, getting the fabrics and trying to think how you were going to collate this together, what were some of the things that were inspiring you throughout creating the whole collection?
For me, it started off with an idea. I do a lot of people watching and it started with human interaction. I was in Joe & The Juice and I was watching how people interact with people and I was just noticing little differences when different people interact and when different people are in certain situations and everything like that. You can see the dynamics between people, and you can see in what settings and what capacity they kind of knew each other, whether they were professional or casual and what happened is I was noticing the way they also dressed and that's what arose by the name of the collection, 'Code Switch.' How we basically adapt ourselves to different environments within our everyday life in society in order for us to survive, and clothes now become the armour, they play a vital role in expressing or embodying a character that we want the world to perceive us as.
Why did you choose the name 'Code Switch' and how did you think of that?
It's like altering is wearing a mask, you're changing yourself to suit the environment or situation that you are in in order to protect yourself or to gain favour or not to gain favour or to protect yourself from the general world. We don't give our general selves to everyone, no matter how we say "Live 100% authentically." That's not a reality because sometimes a situation does not require the 100% authentic you.
In terms of dealing with 'Code Switch', how did you navigate the theme to find the channel vision during the design process? 
Basically, it started with fabrics because the clothes become an armour, so all that I thought about was coats and how to protect ourselves so that's why the collection is very heavy with coats. Those coats become the armour to protect your identity, to play a character, hence why you saw different coats. We had shearling coats, we had biker jackets, we had classic suits, we had suits that had words on them. That was basically how we interpreted it in order to get different fabrics and everything to create your identity.
Tell me about the zip detail you do, I guess that's a consistent thing you've done in previous collections as well and this has become some sort of identity for Tokyo James. Would you say this is a stamp of Tokyo James? And why did you decide with this collection to really go in even more than before?
As you said, it was, we wanted to reinforce some certain DNAs of the brand this season and that's why we decided to do the zip. We have other DNAs of the brand, but we focused it this season. Our seasons differ from season to season, but we wanted to bring something that was consistent across the board. What we do for summer is totally different than what we do for winter, so we just wanted that consistency and reinforcing one aspect of our DNA for people to identify.
Love that! When you were designing your first few pieces, I noticed you used denim as well; what was the most challenging part during the process?
Our original bag, the Ata Rodo is something that we've played around with a lot, that's for a more high-end scale. For this season we wanted to give something more reachable to the everyday, hence why we did the Ata Rodo in different fabrics. We also updated it into a kind of Ata Rodo duffle bag for everybody basically, it had our signature leather belt as the strap.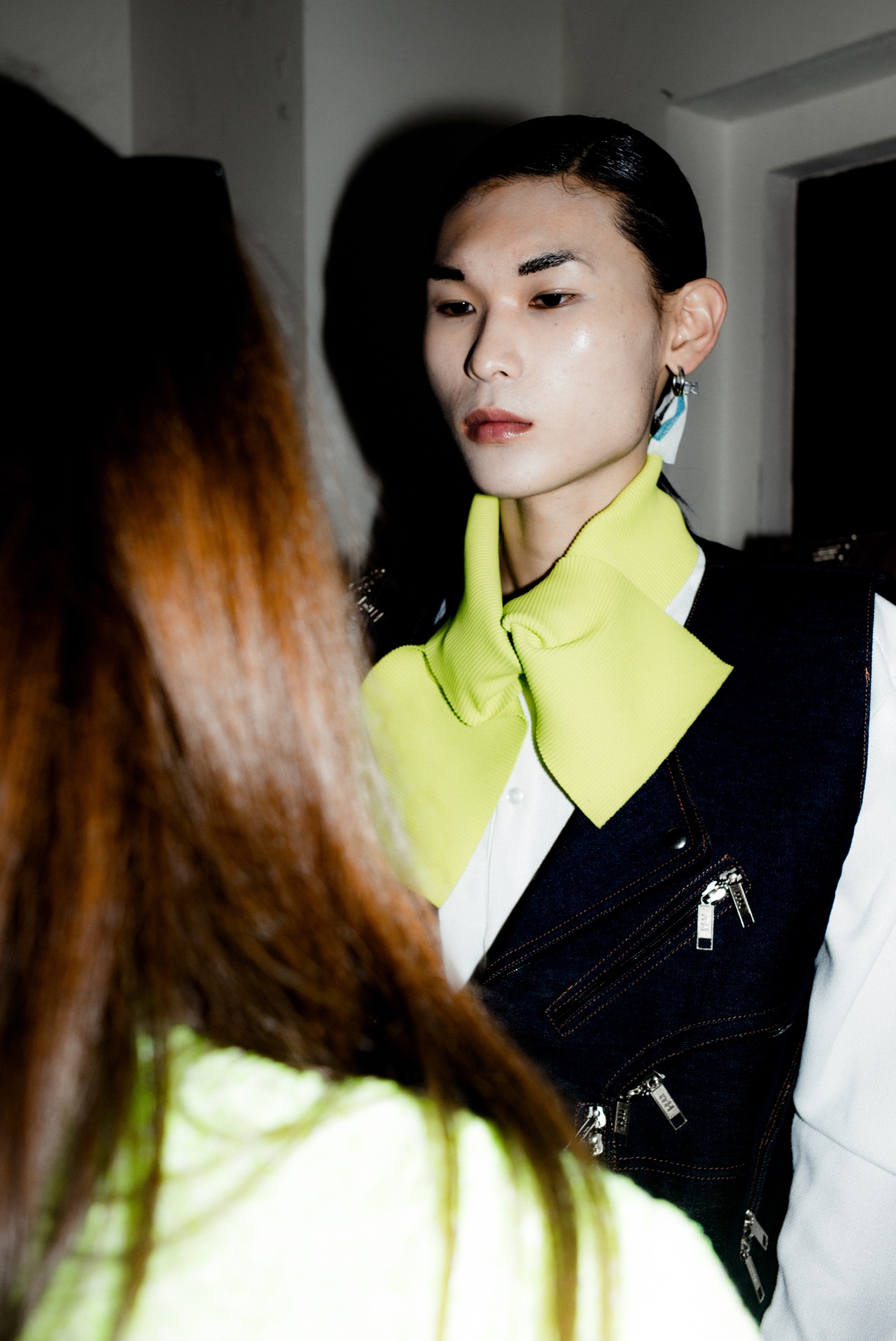 Tell us about some of the typography in the last few looks of your collection. What does 'African Juju' mean?
So basically, African Juju means African magic, it's just a terminology used within that part of the world, and it's taken a new spin because when people used to talk about Juju they thought about something negative, but it actually isn't. Then the other texts are areas within Lagos, very popular local areas within the city
In your collection you had a lot of scarves. Do you mind telling us more about these scarves in the collection? And why did you decide to do lots of scarves and different collars?
For us it was more of us reinventing the collar, most suit jackets will have a collar. I am a person that likes wearing a scarf by itself and sometimes I just like the scarf to hang around my neck so it was just about how we combine those two together, and that's what brought that concept together.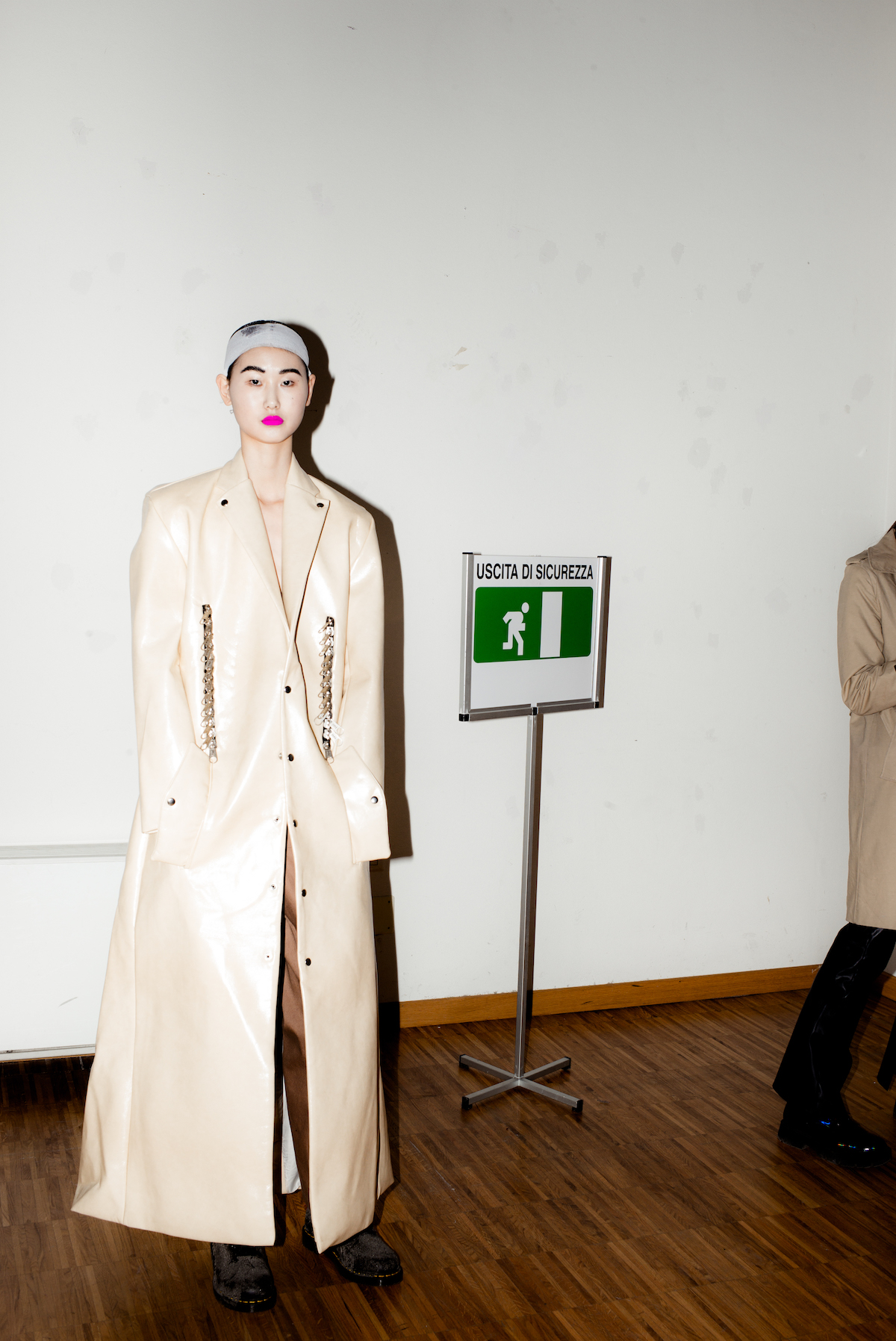 "We wanted to put our DNA in those fabrics."
So, you decided to fuse a scarf and a shirt together…?
And a scarf and a suit, like… "How do we fuse both of them together so they're forever attached?"
So, people can wear that both as a scarf and as a collar…?
Yes both, or you can just let the collar dangle!
A lot of jewellery is featured in this collection as well, do you mind talking a little bit more about that?
We had a collaboration with an amazing designer called Tesui and they did lapel pins and we thought that would be a nice extra touch because it was so heavily tailored. That would be an extra touch for us to bring something different, at least for our audience.
What do you want people to interpret when they take in your collection?
As you like to say, I always call it simplicity with edge. We want it to be something very simple but edgy at the same time.
How do you want your customer to feel once they have received that package from Tokyo James or they have gone to the store to try it on?
I would like to say… quality with edge! I want you to feel empowered, I want you to feel confident. Just all-round; feel empowered!
Why do you show at Milan Fashion Week?
It's an amazing place, an amazing city, and a great energy. Why wouldn't you show at Milan Fashion Week?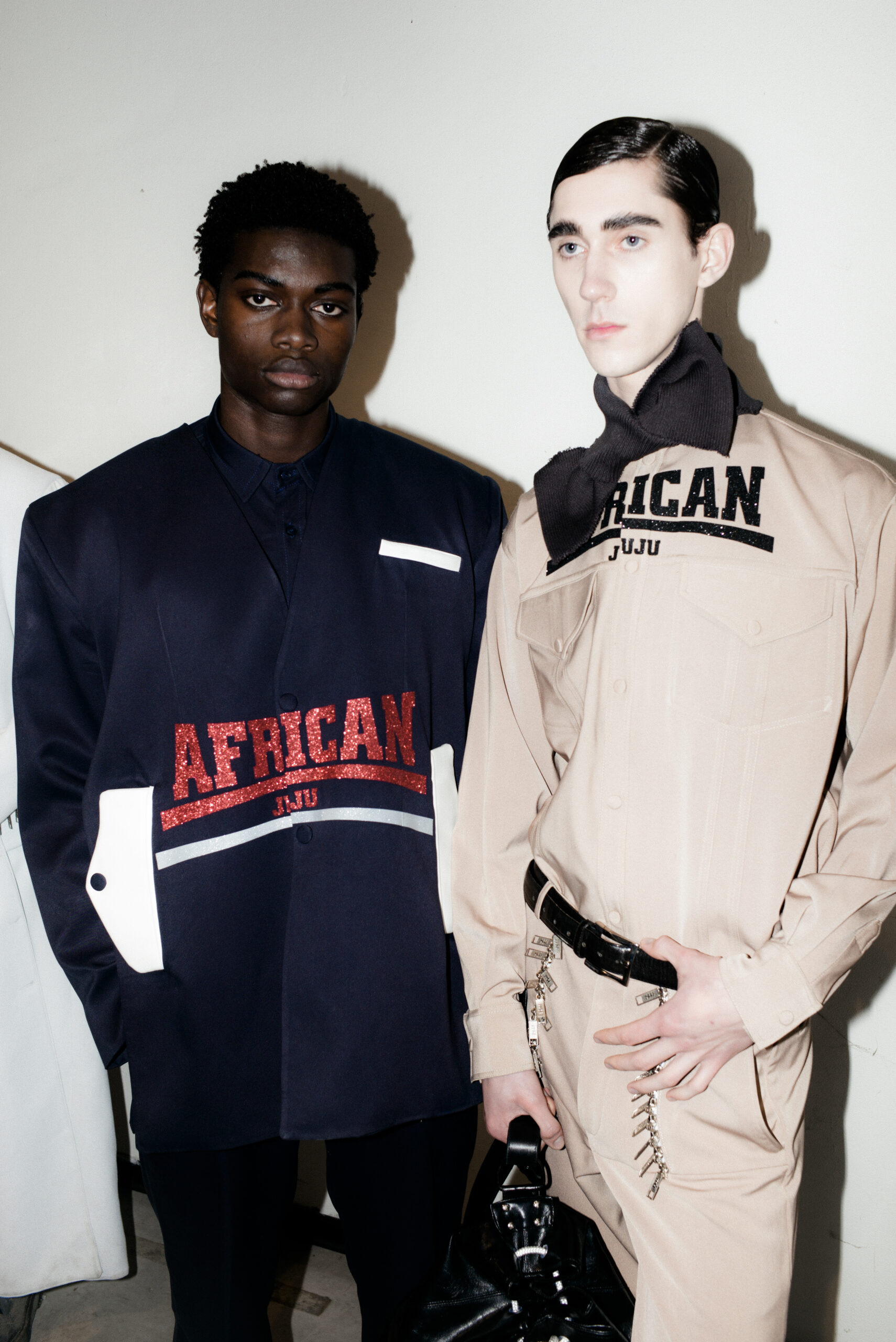 Take a closer look at some backstage imagery from Tokyo James' Fall/Winter 2023 collection show in Milan below: