Talks becoming vegan, mental health, Cottonwood 2, and working alongside family.
"Every time I look in the mirror, I see something new."
The introspective road of self-discovery is one that few are committed to embark on yet has the power to unveil one's true purpose and open the doors to greater self-knowledge, self-control, empathy, creativity, and self-esteem. NLE Choppa – his name being derived from the acronym of No Love Entertainment and his nickname from young – has been on an awakened journey of his own after his rapid rise to fame contradictorily left him at his lowest, despite racking up more than 3 billion streams and an array of accolades since he 'blew up' in 2018.
A shining star thrust into the spotlight from the moment he dropped his first ever track 'No Love Anthem', Choppa found himself with "all the wants" but was left without "any needs." After taking a moment away to reconnect with his inner self, the 'Shotta Flow' hitmaker returned from his brief hiatus early last year to mark the dawn of his new-found soul-searching era with his most personal record to date, Me vs. Me (2022).
Speaking to Choppa ahead of the release of the second instalment in his 'Cottonwood' series and his self-confessed "best body of work yet", it is clear to see that the artist in front of us is so much more than the tattoo-drenched cheeky chap that meets the eye. In fact, NLE Choppa is an inspirational, hyper-aware 20-year-old that has grown to understand his true purpose and one who's "so grateful" for all that he has accomplished.
There's an infectious aura of positivity in the room, regardless of his depleting energy tank, when we talk to Choppa at the climax of his brief-but-hectic stint in the English capital. We sit down and delve into everything from veganism, Cottonwood 2, and lifestyle changes, to haircuts, London fashion, and dream collaborations as we unearth the secrets behind achieving his current mindset and learn more about what's next for the Memphis icon.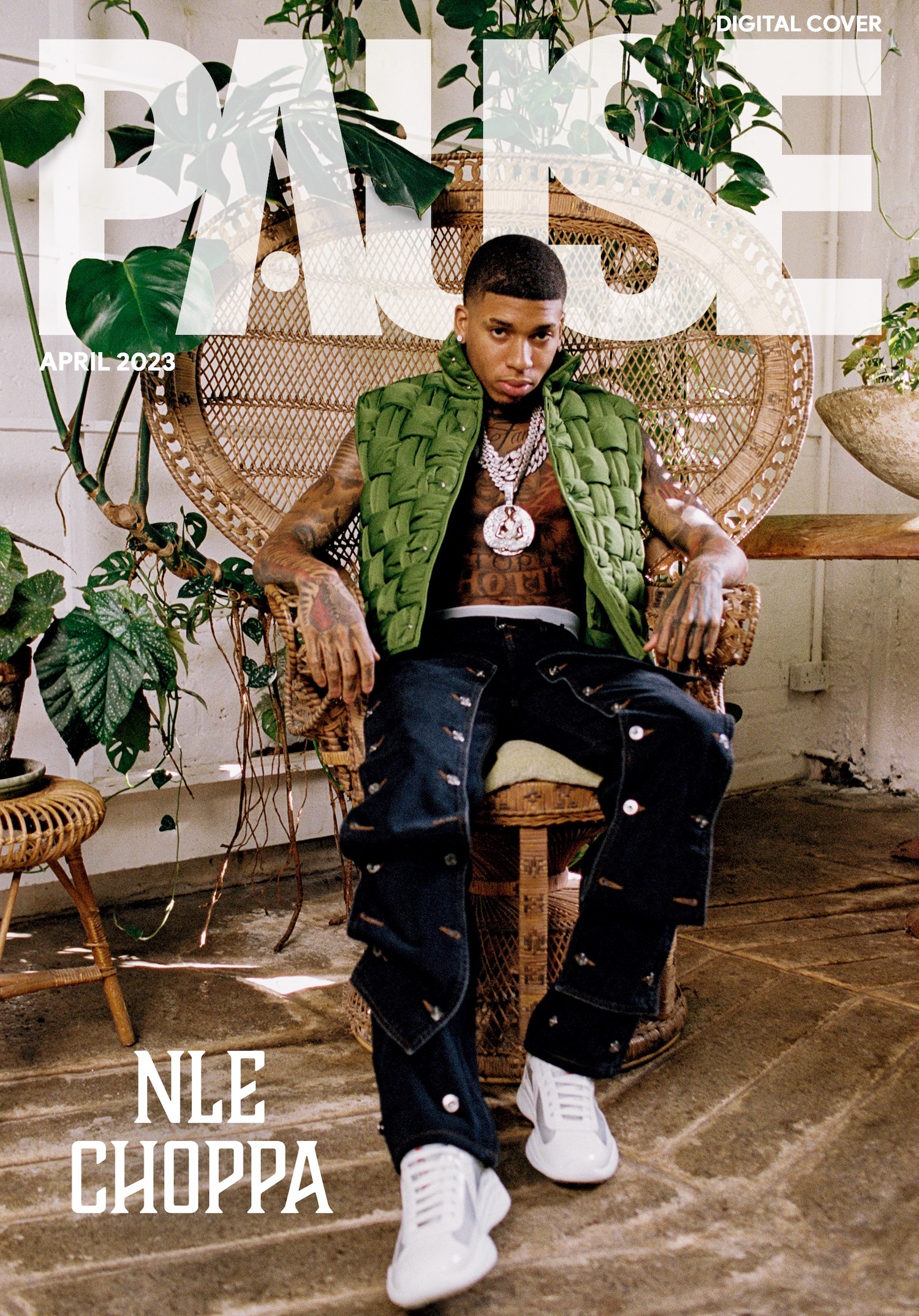 Gilet – Bottega Veneta (First Boutique), Jeans – Y Project, Trainers – Prada
Thank you so much for taking some time out of your day again to speak to us. I can imagine your schedule is pretty mad right now leading up to the album release!
So, tell me, at the very beginning you were into sports; when did the passion for music emerge?
I always had a passion for music, I always listened to music, I've always been a fan of the art of it. I got into it at around the age of 14/15 though. I started to use it as a therapy because I never really knew how to communicate my problems or communicate what I felt on the inside, so I started to bring it out. It was like a detox for me.
Were you doing that whilst you were doing sports or was that something that merged after?
I was kind of at the point of transitioning from sports to just wanting to do music.
When did you know this was the direction you wanted to go and take your career?
It was the first time I ever dropped. It was my very first song and it did like 100,000 views in a month, so I knew right then and there. I was 15 and I was like 'okay I can do something with it, I know I've got it'. I blew up a year later at 16.
Wow! So, blowing up at 16, going viral, gaining the traction, how did you cope with that?
I just tried to stay disciplined through the process, but you know, you're young and you've got everything coming at you, you kind of lose focus of going straight, which is life. It teaches you about being disciplined and staying on course so that nowadays when I've found the focus back, I know where not to go, I know where I won't go back to. But yeah, there was a lot of stuff coming to me at one time, it's hard to handle it at first but now I'm 4 years in I'm pretty expert at it.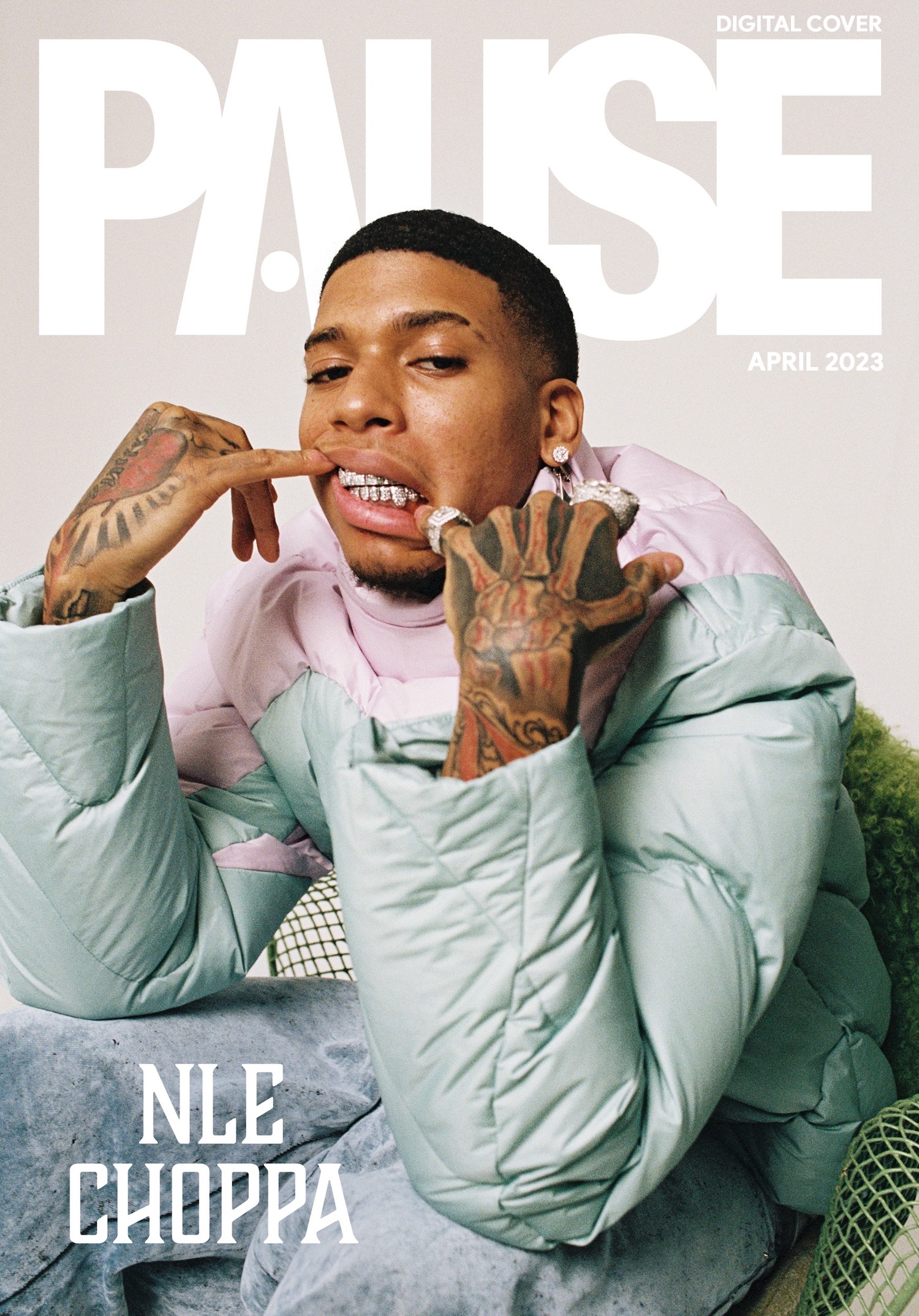 How did you come up with your name, NLE Choppa?
NLE, I named myself No Love. I was just dealing with stuff on the streets and with females at the time, so I called myself No Love, I branded myself as No Love Entertainment. Choppa is the nickname that my parents gave me.
I love how your mum is your manager, I feel like there's a family vibe around all of you. How important is it for anybody in their career to keep family around?
It's extremely important. You've never got to question who's got your percentage. Family is going to have it, not just our family, I feel like loyalty is what makes you family so whoever is loyal to you, whoever's been there through thick and thin, through the wet and the fry, that's who you pick to take life with.
During your career as you're getting older, you've transitioned as a human being; you're into positivity and you've become vegan. What struck you to flick the switch?
Just being at my lowest and knowing that I didn't like the feeling. I was at my lowest and knew I needed better in my life; I wanted better so then I started to work on myself every day and becoming a vegan was part of it. Stopping doing drugs, praying more, meditation, changing who I was hanging around with, all those things played a factor in who I am today.
What made you get to that point?
I was at my lowest.
Do you think it was maybe how you had to grow up so fast because you were thrown into the industry and rose to fame at an early age? Do you think that had an effect on helping you try to pause and stop to find yourself?
Yeah, that plays a part in it. I feel like more so of the matter is that I just had all the wants, I didn't have any needs, that's really what it was. I had everything I wanted but what I was needing, I was running away from.
What was it that you needed?
Love. Self-care. Self-love.
With your music, have you taken any changes as you've grown as a human?
Yeah, there are some changes, but I like to keep boundaries. If I do something positive, then I'll make a negative song just to balance it out. I'm a man of Yin & Yang, I don't like to be into just one thing too much because I feel like that starts to box you in and you start to overthink. If you learn how to balance it like every other human, then that's when things get lovely. That's when you mix heaven with earth.
How has your lifestyle change to veganism affected your fashion choices? Are you now more aware of sustainable brands and their design practices?
You know, a lot of my things are custom. I don't really wear too many name brand items. So, a lot of what I wear is custom-made.
That's the dream!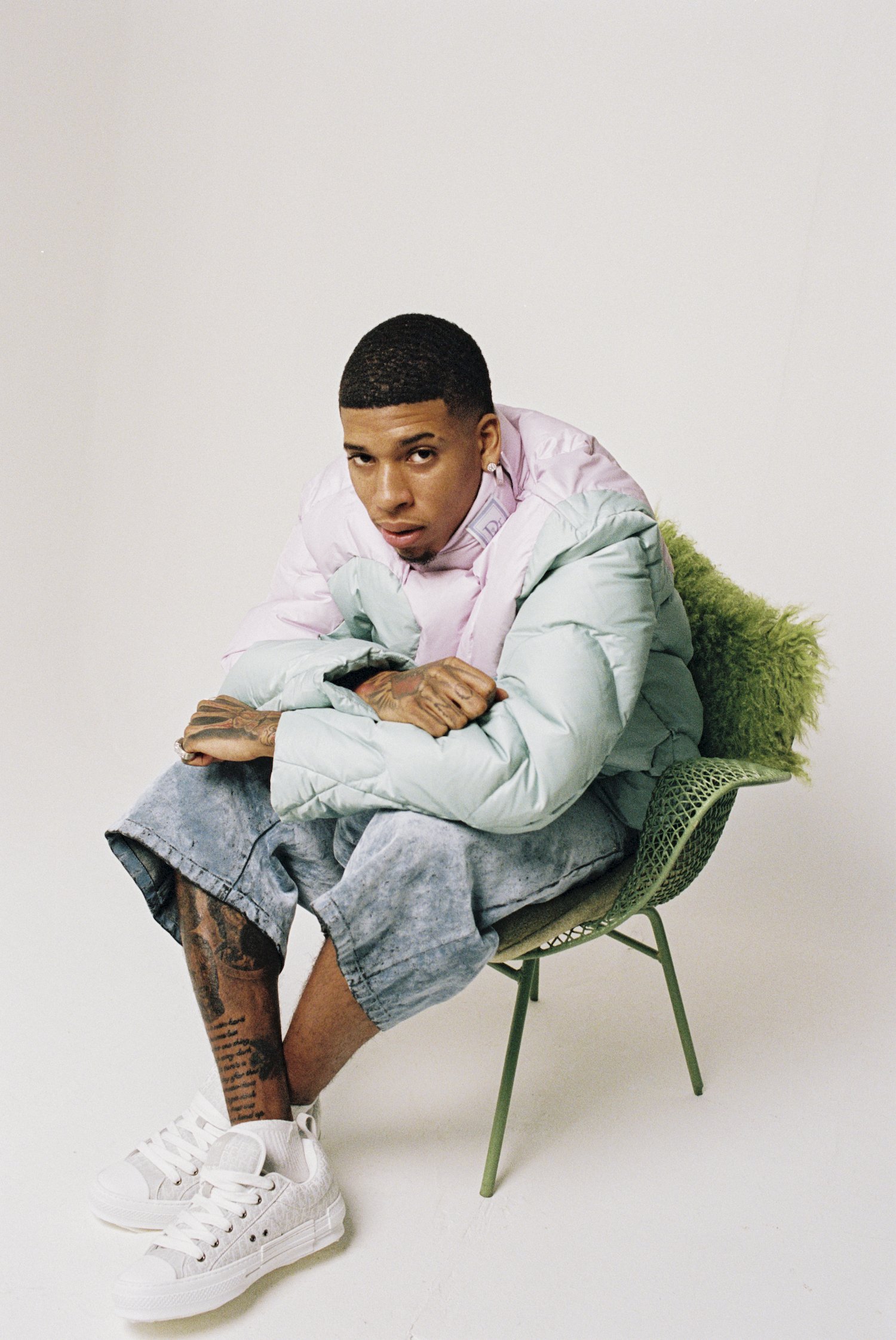 Jacket – Dior x ERL (First Boutique), Shorts – Dior x ERL (First Boutique), Trainers – Christian Dior (First Boutique)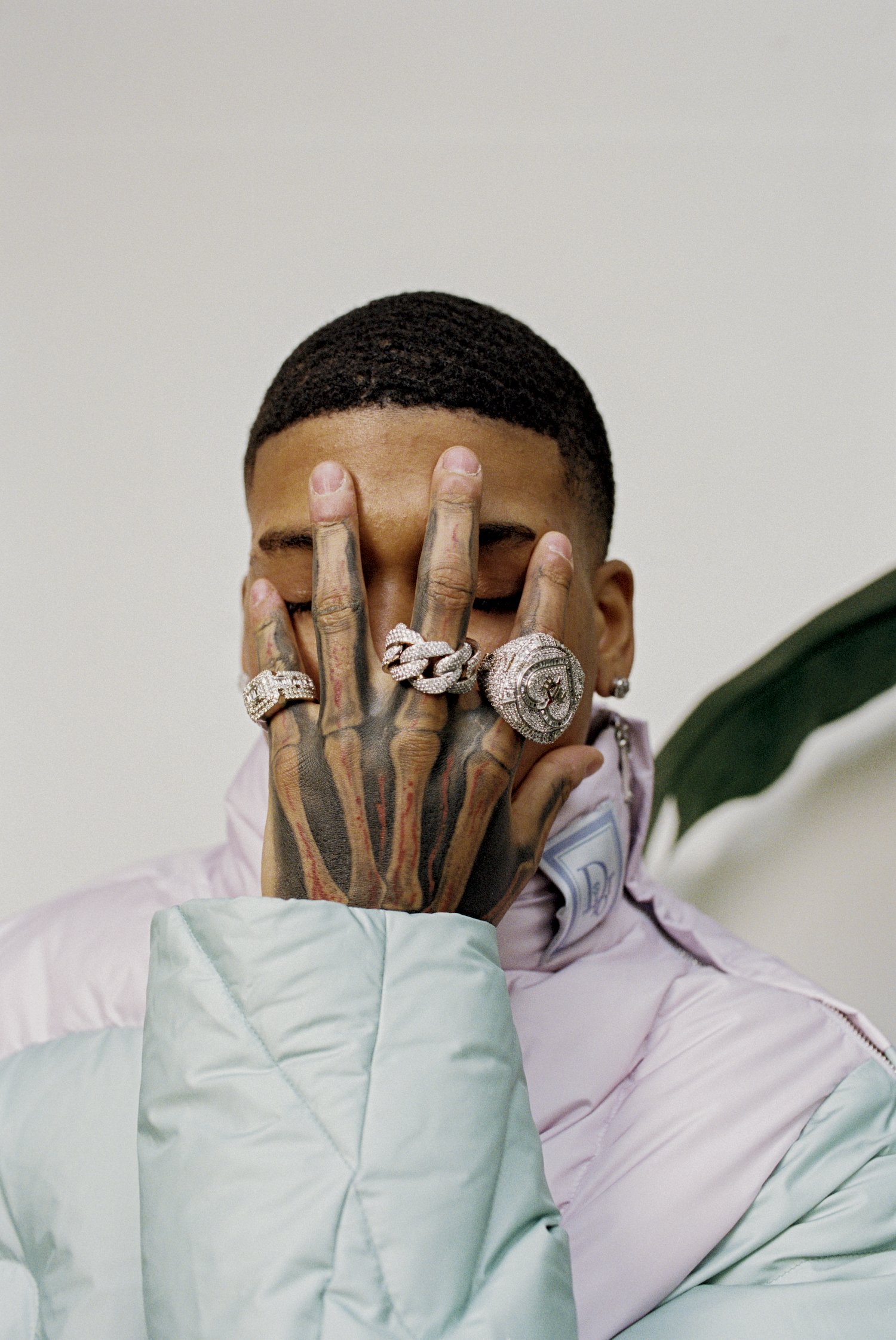 So, you shaved your famous dreads recently, what made you want to do this?
It pretty much represented the idea that something died and I'm ready for the new. I'm ready for the new level, letting them know that the battles within me, I stood up and overcame them. It's pretty much a representation of the idea that I'm detached from my old self and I'm ready to go into a new one.
How do you think your overall aesthetic has evolved with this new chapter in your life alongside the music?
It's changed a lot. Every time I look in the mirror, I see something new. I see a person that grew from the depths of the lows. It always inspires me to make sure that I'm doing things that always feel new, that don't feel repetitive. Just being able to be able to accept the new and wanting to do things that bring a type of freshness or a rebirth to the table as I'm working towards my evolution as a person.
In recent years it seems that more emphasis has been put on the image of an artist rather than solely the music, take Playboi Carti for example and his new gothic aesthetic, people are drawn to that as well as his sound. Is this ever a thought when you're stepping out on stage or creating the aesthetic of a new album? Or do you just let the music do the talking?
I pretty much let the music do the talking. I've been implementing things like dancers during my set to dance with me, those are the things I like to implement. Even live orchestral bands are something that I'm wanting to implement as well. So as far as me personally, aesthetic wise, I just want to show up and be the best version of me.
Coat – Krisjoy, Jeans – Bottega Veneta (First Boutique), Trainers – LiftOff Supply
You have an album dropping April 14th, tell us more about the record! What's involved, who have you collaborated with?
This album is going to be my best body of work yet, I've been working on it for a while now. I've got people like Lil Wayne on it, people like Polo G, and a lot of other features. It's a diverse album that can be played for any mood, whatever feeling you want to feel, it can play towards that. It's going to be my best body of work that I'm happy to release.
The album art for COTTONWOOD 2 I think really tells a lot about where you are at in your journey at this moment in time. You are surrounded by all your accolades, yet the only light/colour is you, your daughter, and the street you grew up in. Is this record you telling the world that you are doing this for the things you are most grateful for rather than pleasing others?
Yeah, pretty much. I've been very in tune with all the things that I've accomplished in a short time span. I'm showing gratitude to what really matters, like you said, where I come from, my daughter, and all the things that I've accomplished and I'm grateful for. That's what kept my character as a person, that's what kept me moving forward to be the best person I can be.
Amazing! How do you think that's influenced the sound of the record?
It's influenced it in a huge way because I'm so grateful for the work that I've done, I'm always looking for the new now. What new sounds can I implement? What's new can I bring to the table? With that being said, I've been branching off into different sounds that are more pleasing to my crowd, so it's just built versatility.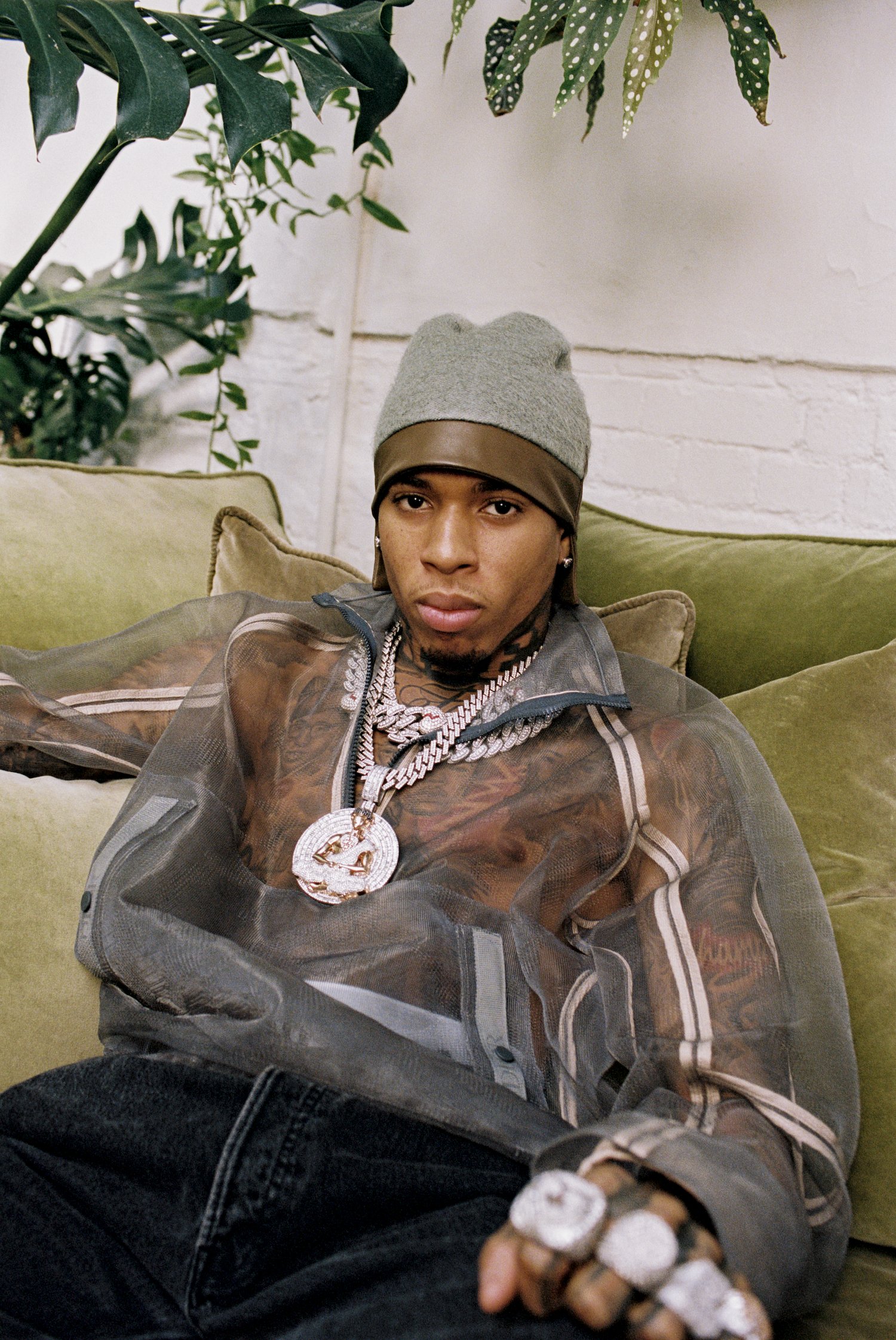 You've gone for a double denim look on the cover, was this outfit a conscious choice when shooting it or was it more just what you were vibing at the time?
It was pretty much just creating a matching outfit with me and my daughter.
Why did you decide to work with Russ Millions on this album?
That's who was messing with me. I've got a habit of messing with who's messing with me. I saw my big cousin and I met up with him through him.
Who else would you like to collaborate with in the UK?
I got a few people. I love Central Cee's music of course. I like Dave's music. I think there's one more person, oh yeah it was Russ, we've already got him!
I watched your episode on Kick Game before I even knew I was doing this interview and you mentioned your love for London and in particular the fashion over here. What is it about the London style that you vibe with so much and how would you say it differs to over in the states?
It's just so chill you know. In Europe, y'all pick up on fashion a lot quicker than America does. Just the simplest things of wearing a bally and a big hoodie, things like that are cool. Even just the designer brands, how many different brands are coming from the European side of the world. That's always something that I've been intrigued about.
So, just imagine all your clothes are falling into an incinerator and you can only save one piece from your wardrobe, what would be that holy grail item that you couldn't live without?
Some white Air Force 1's. I feel like Air Force 1's are the go-to. I wear them over designer shoes, Jordans, whatever you know. Air Force 1's are pretty much my thing.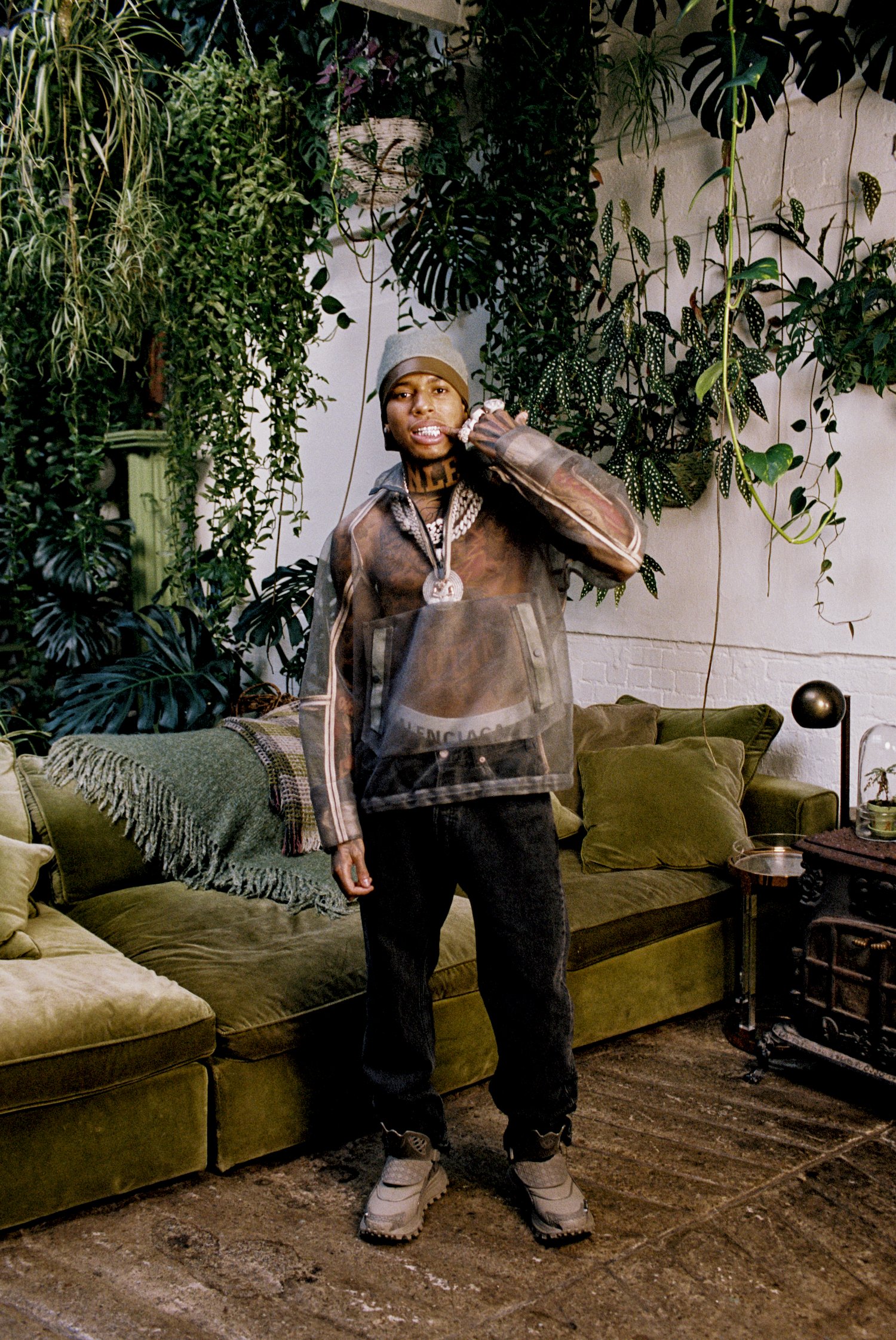 Jacket – Christian Dior, Jeans – Celine (First Boutique), Hat – Christian Dior, Boots – Christian Dior
You can't go wrong! They go with every item of clothing, even a suit.
Another quick one, best dressed rapper in the game?
I'm going to have to go with myself. I feel like nobody at the moment is seeing me currently. I've been stepping out, I've been giving a lot of looks lately, people are peeping!
Especially in your new video with Lil Wayne, both your outfits were giving! How many tattoos do you have?
I've lost count!
What do you think your next tattoo will be?
That's a great question, I don't know that either! Wherever life takes me.
You are a role model to the younger generation. What message would you give to those whether they're trying to get into music, acting, or sports with the fame arriving very quickly these days?
Just keep God first, stay true to you and stay destined. Once you've got those three things, you're destined for whatever.
And finally, what's next for NLE Choppa as you continue on your journey of self-discovery? What can we see from you next?
Man, just keep dropping music this year, just keep going hard. Movies on the big screen. Things to do with herbal medicine and holistic healing. Vegan food trucks, restaurants, or whatever. I'm doing it all.
You've got it all planned out. You won't have any time left in your day with all that going on!
Yeah, it's kind of hard to have time throughout the day but it's okay, it's a blessing.