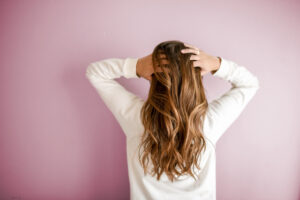 Are you prepared to turn heads with an eye-catching photoshoot look? Whether it's for an extra special event or just to express yourself, creating your statement hairstyle is the perfect way to stand out. But it can be dismaying if you don't understand how to pinpoint exactly what look you want and make it stay in place. Don't worry. To help you, we're here to give step-by-step styling tips and tricks so you'll love the results when it comes time for the big reveal. With these simple DIY hair styling techniques, you may create an elegant and vibrant photographic look. So let's get started.
Here are our top hair styling tips for a stunning photoshoot look:
Start with Clean, Detangled Hair
When it comes to hair maintenance, starting with a clean base is essential. To get the best results possible, using mild shampoo and conditioner to remove any product buildup from your hair is important. Once you've washed and conditioned, it's time to detangle your locks. Don't underestimate the power of a wide tooth comb. It's the perfect tool for gently working through any knots or tangles. By starting with clean, detangled hair, you'll set yourself up for a great hair day. 
Use Heat Styling Tools Carefully and Sparingly
We all adore a good hair day, and heat styling tools can sometimes help achieve that perfect look. However, it's important to recognise that these tools can be damaging if not used carefully and sparingly. That's why it's always a nice idea to use heat protectant spray before using any hair straightener or curling wand. With that said, if your photoshoot style requires a specific look and you want to use heat styling tools, just remember to do it wisely. 
Choose the Proper Products for Your Hair Type
It's difficult to choose a hair product from the many available. But getting the right stuff can give you amazing results – especially if you choose according to your type of mane! For dry and frizzy locks? Moisturising shampoo and conditioner will help tame them. Got fine strands instead? Reach for a lightweight volumiser like mousse or serum that won't weigh it all down. And when every hairstyle needs extra hold power on special occasions, hairspray is always here for ya'.
Create a Base Style to Build On
Getting a new 'do for your upcoming photoshoot? Before you dive into all the fun stuff like styling and creative colour, start by creating a base style. A craft that foundation layer with some elbow grease and tools such as round brushes or hair irons to hold up any desired look. Keep it in place with hairspray mousse or volumising spray – now you're ready to take on different styles and looks until you find just what fits you best.
Consider Adding Volume or Texture
Whether you admire the voluminous waves of a celebrity or your bestie's textured 'do, have you ever wondered how they get that look? The secret is in their styling techniques and products. We have tips for you if you're ready to take your hair game up with some catchy new styles. Adding volume and texture can instantly boost any 'style situation', making it easier than ever to be the rockstar you always knew was inside.  
Pin It Up and Lock it In Place
Looking fabulous doesn't mean spending hours in front of the mirror. With some handy bobby pins and snap clips, you can create show-stopping hairstyles that are quick and easy to achieve. Don't be afraid to experiment – try some elegant curls, bold braids or sleek updos and make them your own. Once you've got your look nailed, keep it in place with those trusty pins and clips. It's the perfect way to ensure you look effortlessly amazing all day.  
Finish With Hairspray for Long-Lasting Hold
Finishing off your styling routine with hairspray or a strong-hold product is necessary to ensure your hair stays put for your big photo shoot. All that exertion you put into creating the perfect look deserves to last the whole shoot. Just don't go overboard with the spritzing. A light mist is all you ought to keep everything in place without looking like you've got a shellac coating on your head. Trust us, a good hairspray is an investment that pays off in great hair days.
Conclusions
From using the right products to choosing a hairstyle that fits your face shape, you can use numerous DIY hair styling tips for an amazing photoshoot look. With dedication and practice, anyone can know how to style their hair like a professional. So why not give it a try? You never know what beautiful looks you might create with simple tools and techniques. Happy styling!