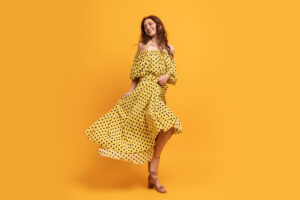 Are you excited about attending a special occasion but unsure what to wear? Choosing the right outfit can be daunting, especially when you want to make a lasting impression. This article will guide you through finding the perfect dress for special occasions. We will also touch upon the topic of plus size blouses for special occasions for those looking for stylish options. So, let's dive in and explore how you can rock your next special event.
Understanding the Occasion
Understanding the nature of the occasion is the first step in selecting the ideal attire. Is it a themed party, a casual get-together, or a black-tie affair? You may limit your choices and make sure you are dressed correctly by being aware of the dress code.
Embracing the Latest Trends
While timeless classics never go out of style, embracing the latest fashion trends is also fun. Stay updated with the trends in the fashion world to add a modern touch to your outfit. However, remember to choose trends that suit your style and make you feel confident.
Opting for Classic Styles
Classic styles are timeless and always a safe bet for special occasions. A little black dress, an elegant A-line gown, or a tailored sheath dress are examples of classic styles that exude sophistication and elegance. These dresses can be dressed up or down with the right accessories and are perfect for various occasions.
Selecting the Right Fabric
The fabric of your dress plays a crucial role in both comfort and style. Opt for fabrics that are suitable for the weather and the occasion. Flowy chiffon, luxurious silk, or structured satin can elevate the look of your dress and ensure you feel comfortable throughout the event.
Exploring Color Options
The color of your dress can make a bold statement or complement your complexion. Consider the theme of the event, your personal preferences, and the colors that suit you best. Bold and vibrant hues can add excitement, while neutral tones and pastels create an elegant and sophisticated look.
Accessorizing for Impact
Accessories can elevate your outfit and add a personal touch. Choose statement pieces that complement your dress, such as a statement necklace, sparkling earrings, or a stylish clutch. Do not add too many accessories to your attire; instead, find a balance. Allow your accessories to complete your appearance rather than draw attention to themselves.
Taking Care of Your Dress
Once you've found the perfect dress, taking proper care of it is essential. Read the care instructions on the label and follow them to ensure your dress stays in pristine condition. Proper storage, gentle cleaning, and handling will help you preserve your dress for future special occasions.
Finding the Perfect Fit
When shopping for plus size blouses, prioritize finding the perfect fit. Look for blouses that accentuate your curves and provide a comfortable and flattering silhouette. Pay attention to the neckline, sleeve length, and waist definition to find the right fit for your body shape.
Styling Tips for Plus Size Blouses
To rock your plus size blouse for a special occasion, consider these styling tips:
Pair your blouse with well-fitted pants or a skirt that complements the blouse's style.
Play with accessories like belts or statement jewelry to add flair to your outfit.
Choose colors and prints that suit your complexion and personal style.
Experiment with different sleeve lengths and necklines to find the most flattering options.
Where to Shop
Explore various shopping options when searching for the perfect dress or plus-size blouse. Visit local boutiques, and department stores, or browse online retailers specializing in special occasion wear. Remember to read customer reviews, check size charts, and ensure a reliable return/exchange policy before purchasing.
Conclusion
Finding the perfect outfit for a special occasion can be an exciting journey. You can create a memorable look by understanding the occasion, considering your body type, embracing trends, and taking care of your dress. Plus-size blouses offer stylish options for those looking to celebrate their curves. Remember to shop within your budget, pay attention to fit, and accessorize to make a statement. With these tips, you'll be ready to shine at any special event.