Athletic-driven brand Astrid Andersen continues to slay.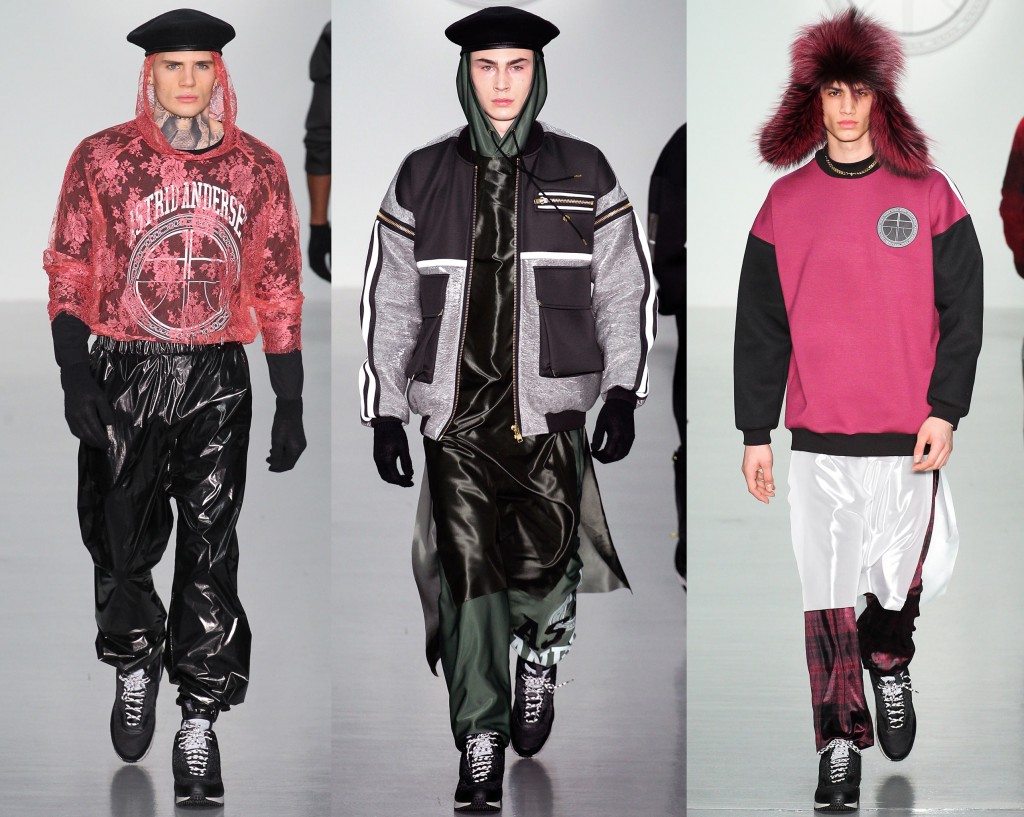 Astrid Andersen showcased sports luxe with a '90s throwback,  remaking urban classics with a modern day twist for Autumn/Winter 2015 at LCM. As always, conceptual streetwear is what comes to mind with Astrid Andersen's latest Offering. There is still an ever present sportswear foundation but as always, Andersen's playful use of colours, materials and cuts makes it a far cry from the usual active gear.
All models are laced up in Nike Air's with the majority teaming the kicks with the metallic, high shine materials reminiscent of black bags and ordinary fleece jogging bottoms that hung loose around the leg with tight cuffed ankles. The urban look run throughout with matching sweaters to create full tracksuits looks. Astrid's feminine detailing is still prominent with pink full lace hoodies, middle eastern styled berets and trims. The mellow androgyny that Astrid manages to tap into each season creates this bold aesthetic that is still arguably street ready. It's in this sexual ambiguity that her appeal lies. However although still evident, things seemed to have died down without losing that energy. There was a pink explosion and a slight militant feel to some of the pieces with the berets on top of hoodies. The colours ran from black white and grey gradients to maroon, dark pinks, red and a deep forest green.
Overall, though slightly less striking in regards to what we usually get from Astrid Andersen, the collection was consistent and developed upon previous season.