RnB performer was spotted wearing a comfy outfit.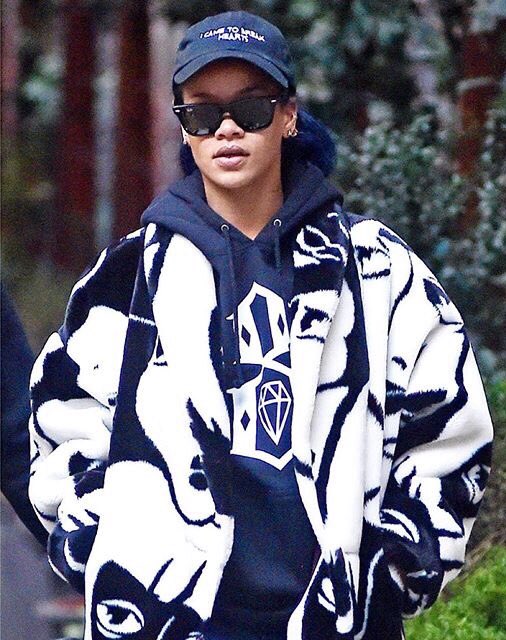 When RnB performer Rihanna decides to go for a hoodie, she opts for the comfy and noticeable one. Spotted in the streets, the singer styled a navy Standard Logo Sweater from streetwear label Rebel8 with an oversize white and blue coat. The sweater, that you can find in the menswear section of Rebel8's e-shop or at Attitude Clothing Online, is also available in black and in a grey model for an outfit twist.
There is one thing to know about Christmas gifts lists. First thing first, you need to make two.
Of course the first one gathers all the small attentions and surprises you want to buy to your family, your closest friends and your (really) close colleagues. The other list, the best one, the most important one, the endless one is for you. We at PAUSE strongly believe that one should treat themselves with one or two special Christmas gifts to celebrate this exhausting and long year. What you should write on the card? "From me, to me".
1 – You've been working hard this year.

2 – You're satisfied with your professional and personal life.

3 – You haven't lied – except to this friend about where you actually buy your new sweater.

4 – You haven't gossiped – except about this friend who can't help but asking where you buy your clothes.

5 – You haven't cheated – except this time when you cut the queue in the H&M x Balmain collection launch.

Exposed!
6 – You've been to the gym – yes, those three times between February and April 2015 actually count.

7 – You finally have a good excuse to buy this jacket you have been chasing for months.

8 – You know that at least you won't be disappointed.
9 – And if you are, you know who you can blame it on…

10 – You can spend even more time gift wrapping.
11 – You can put your gifts under the tree and fake a secret admirer.
12 – And Instagram your "abundance of gifts", just like everyone does. 

#christmas #xmas #abundance #presents #gift #treat #yo #self#blessed #loved #happy #santa #celebrate #secretadmirer #iloveme #imeantheyloveme #happybirthdayjesus