Champion re-lives it's 90's era prime in patriotic patterning and throwback colour palettes.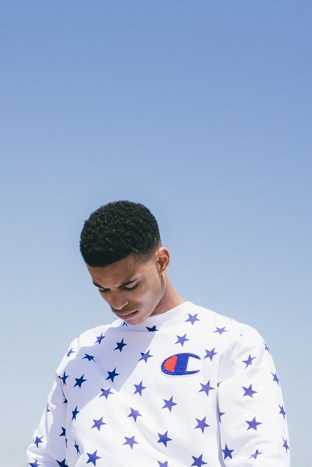 Over a number of years, Champion has tactically distanced its self from the generic sportswear manufacturer it once was. It is clear that the label is aiming to gain a strong foothold in the fashion world, and establish its self as a brand that goes beyond the realm of simple gym-wear. Piggybacking off a string of collaborations with famed streetwear imprints Supreme, Stüssy and Undefeated, Champion has made the right decision in going solo for this spring, producing an array of surprising and striking pieces for their SS'16 lookbook.
This time around, Champion's collection oozes with American spirit, showcasing the free and boundless expanse that America is paired with: the countries valued love for sport and competition. The garments mirror these themes, layered with the soft pastel coloured and nostalgic patterned background, these merge perfectly with Champions new branding and message. The collections re-introduces its audience to classic sportswear cuts and silhouettes; signature sweatshirts, joggers, t-shirts, jackets and accessories brazen with star spangled motif's and flag influences. Making use of its patented Reverse Weave technology, a system that produces higher yields of high quality cotton, the garments offered in this collection are far from shabby, guaranteed to last years of activity without shrinking or stretching.
Item's displayed from the lookbook are available for purchase in select retailers in March 2016; mark your calendars!