Vetements, the 'it' brand of 2016 present their SS17 collection.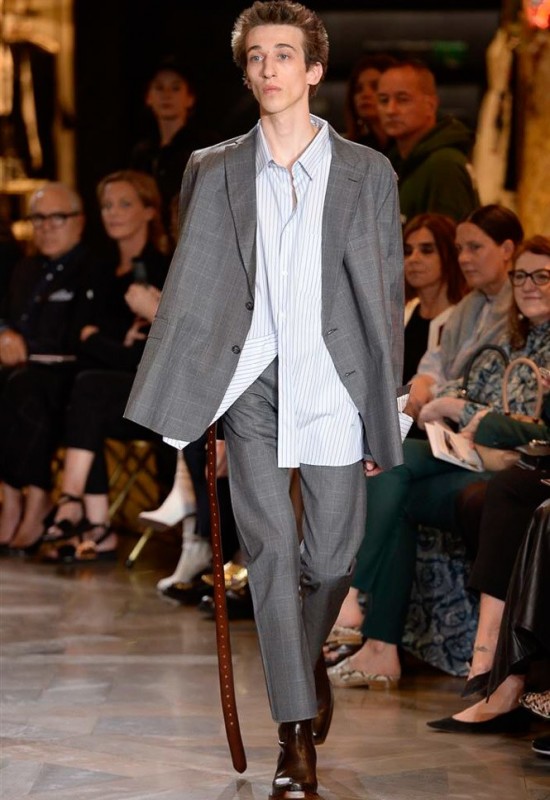 Demna Gvasalia unveiled his Spring/Summer 2017 show in the very Parisian high-end department store, before an A-list only guest-list. Vetements, his brainchild, has become increasingly popular over the course of 2016, whether its through their clever association with the DHL vans that we can't help but chuckle at or their refreshing new take on Champion's brand logo. Their SS17 collection, which premiered at Paris Fashion Week, was an incredible tribute to the trend of over-sized clothing and provided an unconventional approach to traditional tailoring. It featured a range of luxe fabrics, pinstriped shirt detailing and velvet trousers as well as leather jackets and hot pants. A collection truly encouraging of taking risks and experimenting with boundaries.
Was Vetements trying to recreate a golden age of street styles and trends and get away from this "cool kid" status? A look at the other 17 collaborations would rather imply a deconstruction and a shift in the label's direction. Indeed, Vetements featured Manolo Blahnik, Dr Martens, Levis' washed out denims, Reebok and Brioni in a series of eclectic and exaggerated oversize silhouettes. The collection also featured double denim, textured jumpsuits and beige trousers reminiscent of the days of Saved By The Bell. There were no limitations, silhouettes were extremely exaggerated and even track jackets are given an entirely fresh approach as they strut down the runway, paired with a number of leather thigh high boots, alongside female models in sheer ruffled dresses and hooded jumpsuits. A collection not to be missed.
View the full Vetements Spring/Summer 2017 Collection during Couture Fashion Week below: