It's no secret that men like dressing black clothing. According to the retail analyst Edited, the most popular color in menswear in 2015 was black as it attained 32 % of total clothing sales. As we can see, this tendency hasn`t changed since then. Classy all black outfits are cool and timeless. All black is one of the universal fashion styles because the black color in fashion has been traditionally associated with elegance, sophistication and even mystery.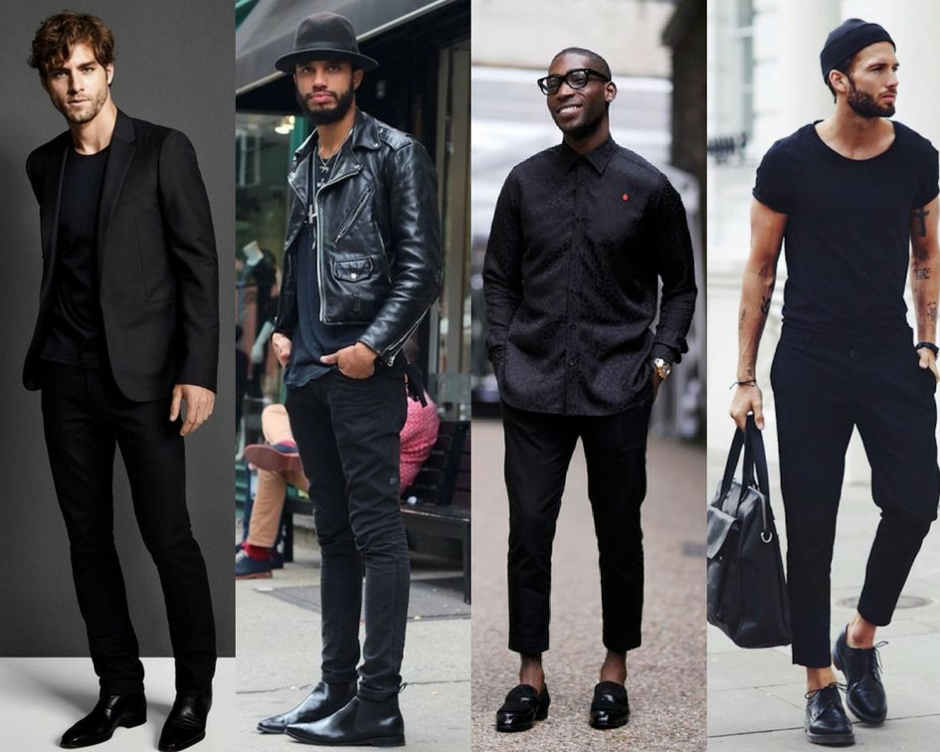 Black is a staple in any man`s wardrobe as black is sexy, black is seductive, black is masculine and black goes with everything… By the way, it can make amazing and chic both smart style and formal wear.
Guys wearing all black can be stylish, but you can, in fact, wear black "badly". So black is a great color but it comes with a few challenges that must be kept in mind.  Here you`ll find some important tips that every man should follow when it comes to the blacks in his wardrobe.
Take a closer look at wool
If you love black, you must love wool. Wool fabrics are commonly a deeper black than those made of cotton, thus, wool holds the dye a lot better than cotton. When you`re going to buy one more black piece of clothing pay your attention to the trousers, suits and sweaters made of wool to get the deepest black. Besides, wool doesn't fade like cotton does over time and it would be better to pay up for wool if you like wearing in black often.
Be cautious with cotton
If you prefer cotton, it would be better to buy not 100 percent cotton clothing items, but the pieces that have a touch of Libra in them. This syntactic fiber helps cotton hold the dye better and not to fade so quickly.
Mix textures and fabrics
One of the most important things when it comes to black clothes like here InkProfy is mixing textures and fabrics to look less like you're wearing a uniform. The best way to dress in black is to mix in textured or detailed things with the smooth and generic pieces. For example, a plain wool sweater with striped pants or a vertically striped wool sweater, plain black jeans combined with leather boots will always look trendy and dashing.
Learn to match shades of black
When you match an all black outfit be careful as shades of black differ, regardless of the fabrics. Never match the black clothing item with a purple cast and the black piece with a brown cast. You might find these differences are subtle but you should know that they're important. Under the daylight they can be very noticeable and such look won't be great. Try to check your blacks under the proper lighting and wear the same cast of your black pieces.
Retire black when it starts to fade
Be ready to say goodbye to your black pieces when they become gray because faded and tattered items look weird.
Some additional fashion tips for black guys:
necessarily add contrast to your blacks to break up your outfit;
don't play with bright hues;
use slightly lighter shades of monochrome for your accessories like watches, hats, or scarves.