Talks UK Garage music, GRM Daily's Rated Award, and his collaborations
Meet Steel Banglez, London based music producer who has been making waves in the music industry for over 12 years. He started making beats on Fruity Loops, made hits behind the scenes, today Steel Banglez is putting his brand out there. We at PAUSE met up with Banglez to discuss his beginnings, GRM Daily's Rated Award, countless collaborations plus how he met MIST and MoStack.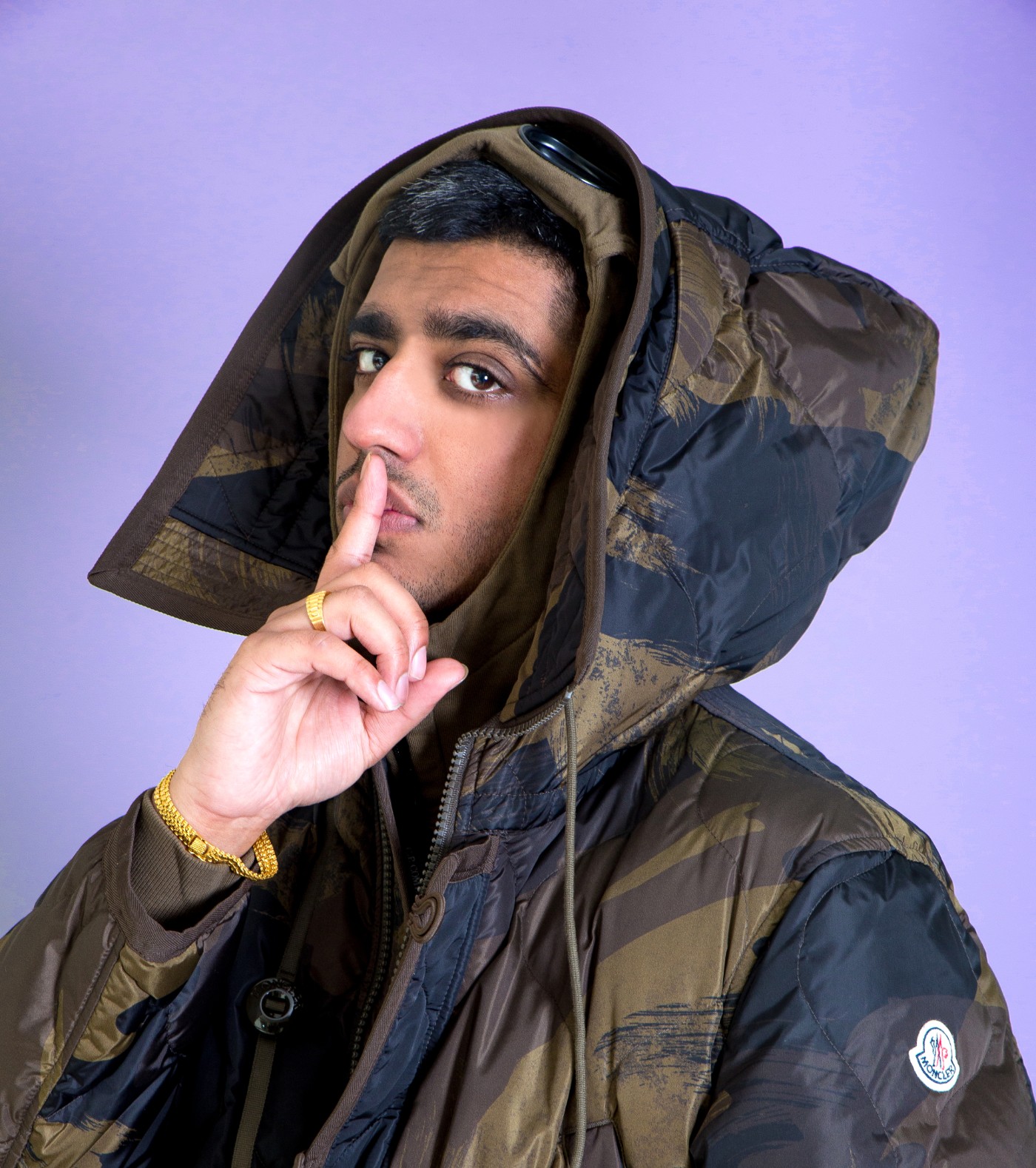 Jacket: Moncler @ Flannels
So tell us about the beginning, when and where were you when you started getting into music. How did you first get into producing and who were some of the first artists you worked with?
Well I grew up in Forest Gate East London and I had a musical mum and dad but around 13 years old my older brother started DJing so I started DJing, and eventually I got onto a pirate radio station called Mystic FM and at 13 I had my own show. As for artists my next door neighbour was D Double E, who is a grime legend and really the first person to start putting out that grime sound and understanding the culture so that's where it all started for me, in Forest Gate in the N.A.S.T.Y Crew and Roll Deep era.
But yeah I started as a DJ but then got into production through my teacher who was at Forest Gate School called Miss Konan she gave me Fruity Loops, the program that I still use today. It changed my life, I love it, she will be there on my wedding day!
Yeah, I remember Fruity Loops!
There used to be E DJ some other one Cubase but I just liked Fruity Loops because you could get a cracked version the rest you had to buy but I was broke!
I couldn't afford it so I just downloaded a cracked version of Fruity Loops on some torrent site and started producing from there
But how did you get yourself out there as a producer?
D Double E was the first person who I really worked with who was a big MC at the time.
And how did you guys work together?
Well because he was my next door neighbour and we both grew up in Forest Gate and we're from the same estate and he used to take me to all the shows and Lord of the Mics and Eskimo dances back in the day and I was proper young like I wasn't meant to be in the raves but I would go with double anyway as he would show me the ways and I was just fascinated by this culture that was emerging and I was like yeah this is going to be massive. The thing that crept into my head was really that I need to start producing and not just DJing and that's when I started really studying the bigger producers in America like Timberland and Dr. Dre so I could understand how they thought and their methods so yeah that's how I really got the first song with D Double E.
Jacket: Valentino @ Flannels, Hoodie: AllSaints
Top & Bottoms: CP Company @ Flannels, Sneakers: Adidas
Was it difficult reaching out to established artists in the beginning?
Fortunate enough for me at that time when I was 14 it was cool because I was with D Double I really had a pass because he was the guy at that era who was just killing pirate radio and shutting down raves so I would be seen with him and I would say that I had a beat, they would respect that and then when they heard the music they would respect me even more. So that's what lead to my second song coming out at 14 with Big H on the DVD called Practice Hours and I think it was DJ targets from Roll Depp's DVD and Big H somehow got my CD which I must have given to someone, and everyone was there you know, the Meridian crew at the time, Skepta was there before BBK, everyone was there and Big H was freestyling there, it was one of the most legendary freestyles but it was before I had a tag [name].
How did your upbringing define your style and sound?
Well it was mixing UK garage because I grew up in an era of Grime that was just starting but UK garage was popular in the clubs and because my older brother would DJ in the clubs he would have all the latest UK Garage records and that was such feel good music, but when I was at my friend's I would hear grime or like early Dipset, D Block, and all that early Kalashnikov. But that's what inspired my sound today because for years I was just trying to get into clubs but then I eventually realised that Garage music is a British sound and makes people feel good so if I were to slow it down put it in a rap form and make rappers rap over it and put vocals in the back, that feeling would give a similar sound to Garage music and that it would work because essentially it's the beat that is doing the work. So that's how I found my sound but it took 12 years to get to this point.
Who would you like to collaborate with in 2018 and is there anyone in the US you would like to work with?
I would like to work with SZA. There should be something in the pipeline with Yxng Bane. Also Nipsey Hussle as he is like one of my favourite rappers today. I've been in the Studio with Justin Bieber for 4 days as well so hopefully something comes from that. I was on the Summer Sixteen tour bus as well and I did some tracks with Metro and Future so something will hopefully come from that.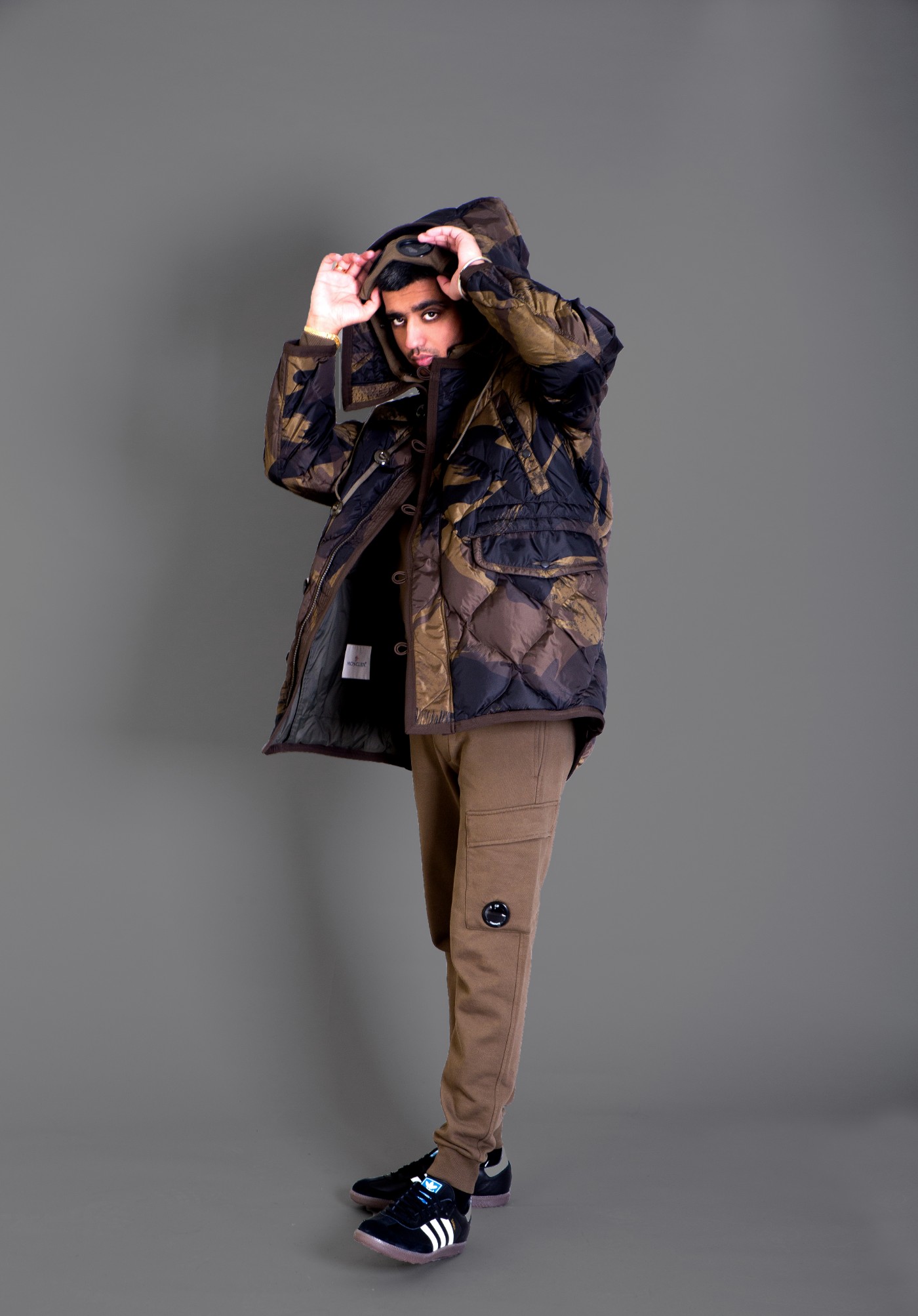 Jacket: Moncler, Tracksuit: CP Company, Sneakers: Adidas
So really you have been transitioning from producing in the UK to the US.
Yeah, I'm a hustler man. I hustle, I meet people, I stay in contact and I connect the dots and end up in mad places. I think it will get easier to connect with people in the US because I've got a studio and a new business venture over there. It's called 'Gifted Music' which is my record label but all the Americans that come into the UK come to this club at Tate and there's a music studio there and I'm their number one priority producer so when they come over to the party they come to the studio as well. That's how I met Justin Bieber.
So what's been the best projects you have worked on this year?
The project for J Hus, Fisher Man, I wish there was a music video for that song because it was a legendary moment. Arguably the three biggest artists in that genre working together and there are no visuals for it. Also making Screw and Brew with SEVAQK and Zeph Ellis for High Street kid that was a good project, and even just working on my own projects and finally establishing myself as a producer by releasing my first single money which had Abra Cadabra, MIST, MoStack and Highly and then a couple of weeks releasing Bad that had Yungen, MoStack, Not3s and Mr Eazi, that's probably what I most proud of this year, getting my own label, getting signed, making my own music, developing my branding and getting some respect and recognition from other producers.
How important is it for producers to gain as much recognition as artists?
Will we live in a world where everything is a brand don't even think that your Instagram isn't a brand because it is you branding yourself so if you're a quiet producer and you have no tag and you haven't got swag or a mad logo or a weird mysterious trait then it's very hard for the world to see you because we live in a visual world. You have to put yourself out there, even though I didn't really want to put myself out there because I'm not that kind of guy but I realised after spending time with Metro Boomin and producers from Atlanta that you need to brand yourself, and looking at them it clearly works as they are feeding their families. Plus doing that gets the DJ bookings, free clothes, freebies and shit. Furthermore, thanks to that my mum doesn't get the bus any more, I retired my mum so thank god I came out!
My whole life changed because of me and MIST and what we did with the sound and what we brought to the UK rap scene. You know I was in depression for many years, one of the reasons being that I used to work with an artist called Cashtastic and he got deported and it was like a dark place after that in my life when I was looking for artists, I got real claustrophobic as well.
How did you meet MIST and MoStack?
I heard MoStack in my studio and it made me think cause I caught him early, like super early so I hit him up on Twitter and he came through and made his first mixtape called Gangster with Banter and that whole project was executive reproduced by myself and it started really popping. Then I heard about MIST on the New Year's Eve of 2015 going into 2016 my cousin came down from Leicester and he was always playing me people from up north and me being ignorant guy I was, I was telling him to turn it off because I'm from London, but when I then heard MIST saying Asian words I was like, jackpot, because I realised no rapper in the UK had incorporated such a massive community into their music and as like this guy has done it. I learned that from going to American and seeing the Mexicans and the black Americans connect with each other to help their cultures grow, and I found that in MIST and I, so I was like oh shit it's going to pop off! I was like I'm Asian and I know how to throw a couple sounds that could make Asian people feel a little bit more love. So yeah that was the turning point of my career when met MIST and MoStack it was that magic.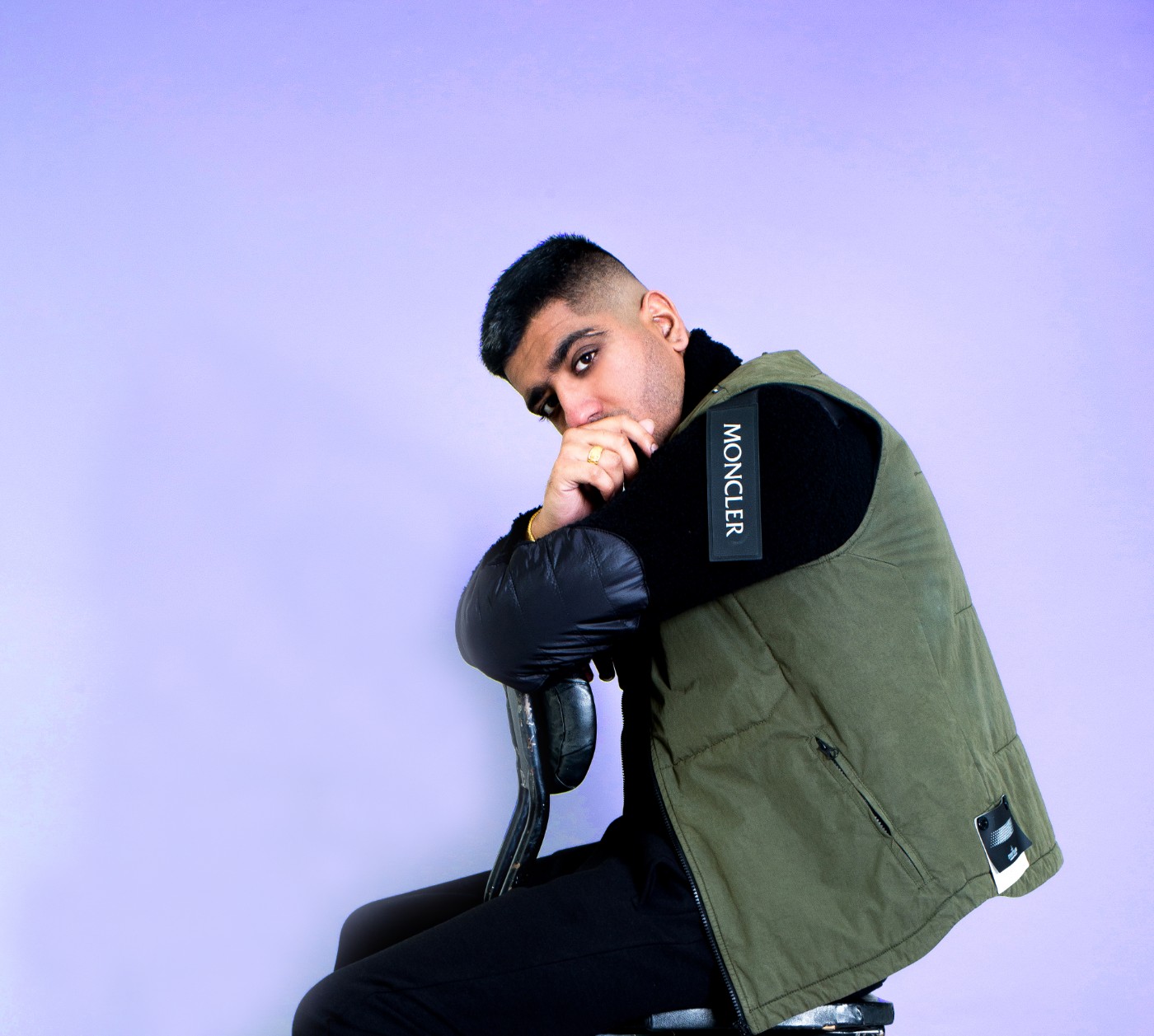 Black Top: Moncler @ Browns Fashion, Vest: Stone Island @ Browns Fashion, Joggers: AllSaints
Let's talk about you winning producer of the year for GRM Daily's Rated Award.
It's funny because I actually left that award show you know cause I was so sure I wasn't going to win!
Wait so you are at the Awards but you left because you didn't think you were going to win? Why did you think that?
Well because every time I do great things I feel like the industry never recognised me, like I'm only here today because I put myself here today, unlike some other certain people you know. So I thought they were just going to make someone else pop off on my hype. I know what I have done and so do other people and I say that humbly. I have never been a bragger so I was like I know someone somewhere will set it up, I have always been set up until the MoStack point, and people are just not loyal and shit, so I was like f*ck this I'm dippin [leaving] out. That and I get very claustrophobic when I spend too much time with too many people. I was in prison for three years and now I don't like spending time with too many people. Even in the studio, I'm either on my own or around 2 or 3 other bodies max. If I'm around loads of people I can get nervous and I'm like f*ck this I'm out of here. My paranoia also has a part to play as well as it makes me like, I don't like this, I don't like bare of people around me, I'm all quiet, I'm always the kind of person to be in my own head so sometimes I even find it hard to speak to people because I'm always in the studio. I came out the prison cell and went straight into the studio for 10 years and I think it's had an effect on me.
But the fact that I won says my fan base is real and the votes are real, it's not a lie, people have seen my work and are now appreciating it. Afterwards, I just went back home and my mum was sleeping so I put the award on her table and went back to the studio and kept it moving…
So you and Fredo are cooking something up at the moment?
Yeah, we have done three songs at the moment the Bangers some are coming on MIST's project.
Looking back on 2017, what are you most proud of?
My favourite song this year was No Words by Dave and MoStack, that's what I'm most proud of this year.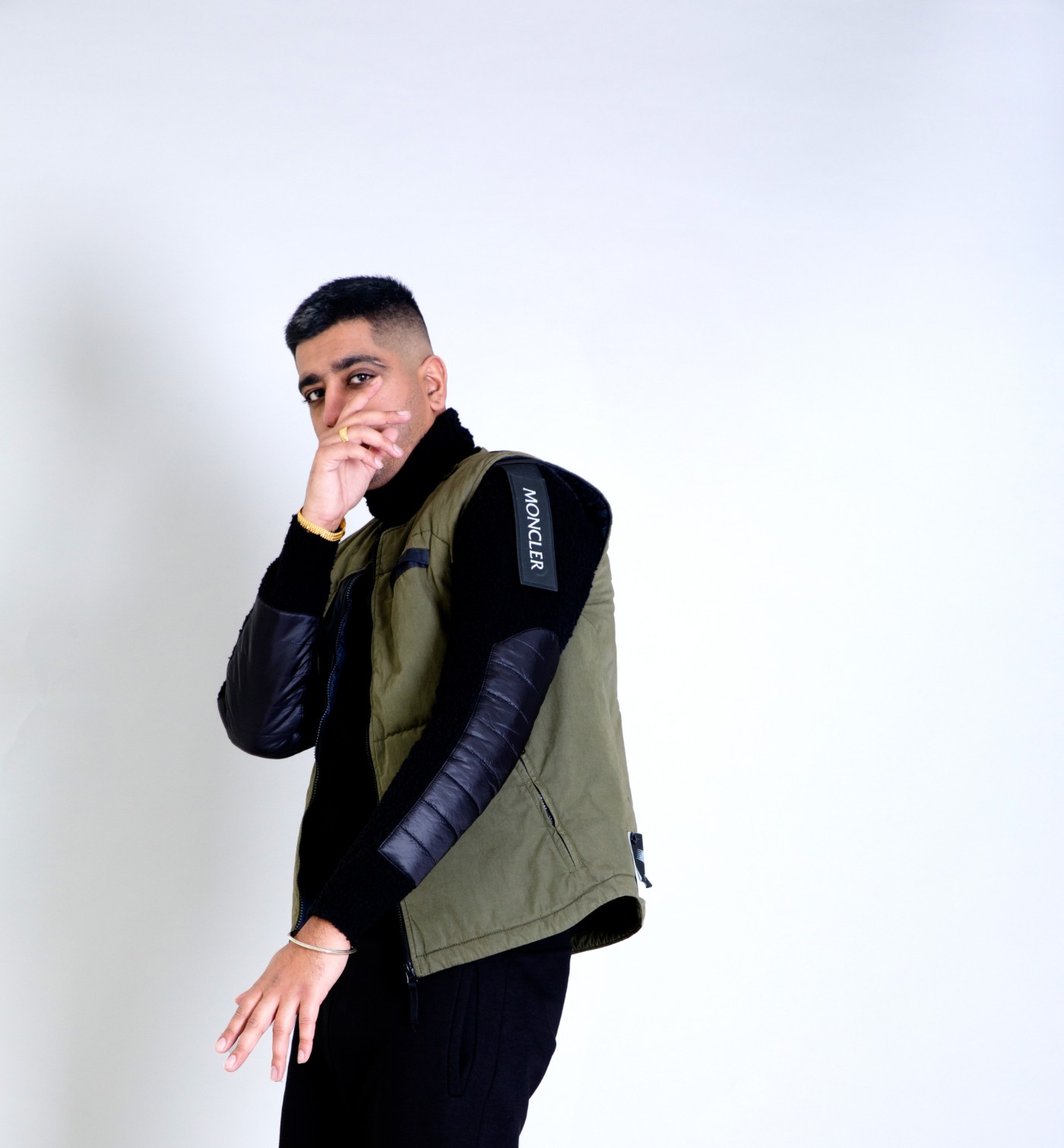 What can we expect from you in 2018?
I've got a project coming with literally everyone. MISTS's EP is coming and I executively produced that and there are some mad collabs on there. There are also a few more singles from me. Obviously, Fredo's project is coming. I will also just be furthering my own record label at Warner Brothers which by the way is the first UK rap label on Warner Brothers as they usually focus on Rock so we kind of made history there! Also, I have a publishing company so we will be signing producers and artists the right way and aiming for expansion.
You know I'm just trying to secure everything because nothing lasts forever, so I'm trying to plant everything right now so it's around me for the long run.