Depending on the effect you want to produce and the look you're going for, and the event you are wearing it to, Men's kilt is a great way to draw attention to your outfit and stand out in the crowd. With the assistance of appropriate accessories, you can definitely make the kilt look classy if you wear it confidently.
When wearing it, it is important to feel proud and confident accepting it as a versatile part of your wardrobe because, at the end of the day, every outfit combination you choose will be determined by your attitude and the way you wear the outfit, your body posture, and of course your smile while wearing the outfit in an event. Your big smile determines how perfect your outfit is; it is what makes you stand out.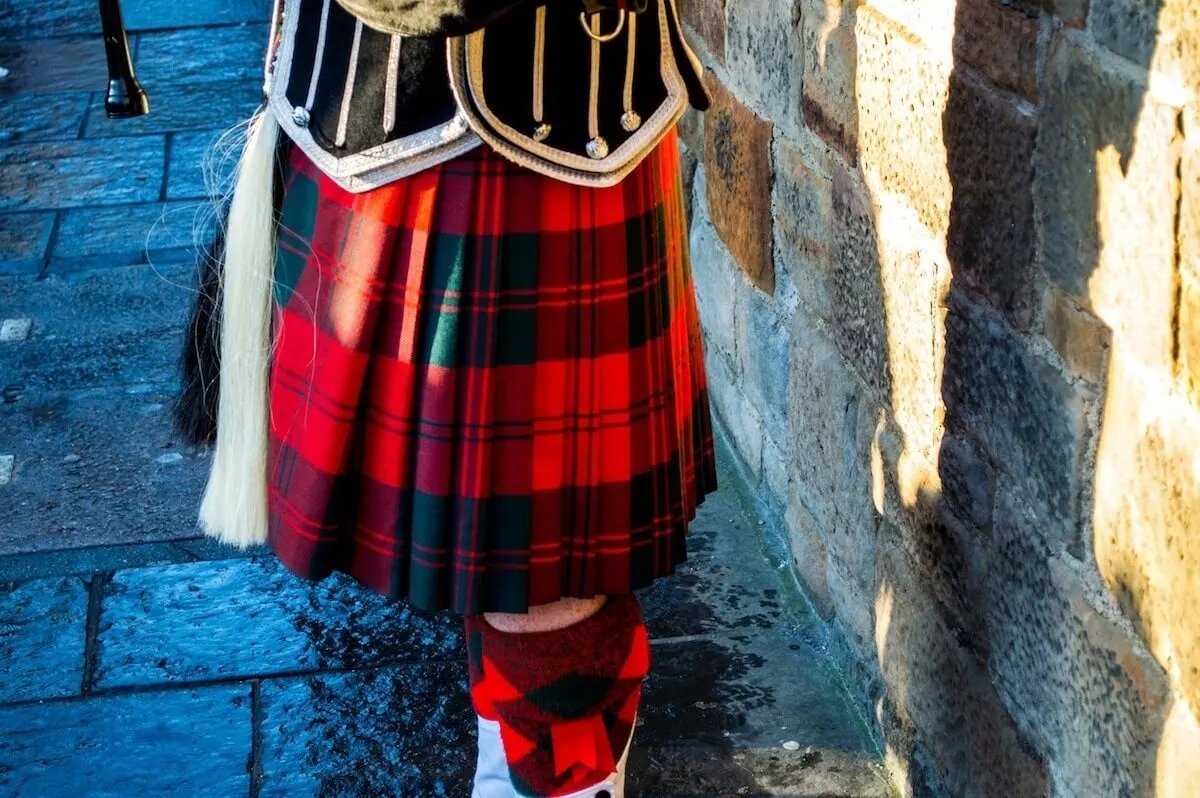 Choosing the right Material!
The typical kilt pattern is called tartan, and it consists of vertical and horizontal crisscrossed lines. Regarding the material, kilts were specifically made of wool back in the days, but nowadays, due to the influence of popular culture, weather, and ever expanding and growing fashion styles there is a lot of experimenting with different materials.
Different types of kilts with different materials
1. The standard tartan utility kilts
Made from heavy-weight cotton. suitable for any event being comfortable and durable
2. AAR men's kilt
Made with Poly Viscose with side leather belting and completely pleated back making it comfortable enough to wear in casual events.
3. Versatta Traditional Tartan Kilt
Made from top quality wool to help you keep your legs warm in winters and hence it's winter-friendly and perfect for formal events if accessorized appropriately.
4. Traditional highland tartan utility kilt
This traditional tartan utility kilt is stretchable and is made with 5% spandex to ensure no matter where you're wearing it, your kilt is going to match your movements. It has pockets, buttons, and the traditional waist-snatching side belt making it perfect for formal events like weddings. It also comes in several different attractive colors.
5. COS recycled polyamide quilted kilt
Made from a mix of recycled materials, this gives your kilt outfit a modern upgrade with a padded finish and belt buckle closure. It's designed with clean-cut edges and subtle stitching with all-over quilting. You can choose where to wear it according to your comfortability as it's suitable for any occasion.
6. Modern Utility Kilt aka Cargo Kilts
Utility Kilts are the modern version of kilts that have cargo pockets. It is made from heavy-duty cotton and is designed for rough and tough jobs.
What colors of tartan to choose for a kilt?
When it comes to colors, you can choose from a variety of colors since tartan is an easy pattern to combine with every color as per your likings. Mixing and matching different materials and colors is allowed as long as the outfit is appropriately accessorized. Usually, the tartan colors include a combination of three following variations: red, white, green, blue, and black. Some of the looks that can steal the show include the following color combinations:
● Green tartan kilt with a red shirt
● Yellow tartan kilt with a black shirt
● Red tartan kilt with a yellow shirt
Green tartan kilt with the Red Shirt
The Red and green color scheme brings out the best in each other and takes the game of your outfit to the next level. so, the outfit will appear very vibrant and attractive when these two are worn together. Try styling it with monochromatic leather belts and shoes for an additional touch of classiness.
Yellow Tartan kilt with the black shirt
This is a color combination that will elevate your traditional style. This time, instead of going with classic black accessories, try pairing the outfit with yellow accessories for a change, you won't regret your decision. You can choose black brogues to maintain the elegance of the outfit.
Red Tartan Kilt and Yellow Shirt
The unusual combination of these two colors will take your kilt look to some other level. The colors are so rich and dominant that you don't even have to accessorize the outfit at all. A yellow turtleneck tucked into a red tartan kilt is all you need to outshine all other outfits.
How to wear the kilt to formal events like a wedding?
Weddings are the most formal events so If you decide to go for a kilt to wear in a wedding, make sure it's elevated in terms of elegance with a blazer or a suit jacket (Poly Viscose or prince argyll) and a dress shirt underneath. If the blazer or jacket is black or navy blue, the shirt can be in some light color such as white, beige, pastel pink, and even light blue. On the other hand, if the suit is light grey or light brown, opt for a darker shirt. The beautiful A-line design of the kilt can emphasize the sleek design of the formal garment such as a blazer.
Accessorizing a kilt for Events!
Fly plaid and brooches
Brooches are stylish, beautifully crafted, and used to add weight to the flap of your kilt to keep it closed, the brooches add some personality to your look and add even more style to your tartan, utility, or hybrid kilt.
Tartan ties and bows
Tartan ties and bows can fit with any kilt or formal wear, being an extremely versatile accessory to subtly show off your heritage and Scottish pride while giving an extra formal twist to your outfit.
Kilt hose and brogues
Brogues are the most sophisticated and formal footwear to go with kilts as they are the most in-style and high-quality option
Kilt pins and flashes
Go for the kilt pins and flashes to look ultra-stylish chic the next you wear a kilt as they come in a wide variety and a great way to accessorize your outfit.
Conclusion
Wearing an appropriate kilt can make you stand out in any event if you pair it up with accurate accessories and choose the right vibrant colors that are eye-catching. Whichever kilt type and whatever color combination and accessories you choose to wear, wear confidence along with it so no one can ever stop you from looking all classy and handsome.
I hope I helped you choose your kilt for your next event. If you've read it thoroughly Trust me, you are all set to grab all the attention and limelight with the kilt outfits when you pair them with accurate colors and accessories.