"You have to be your own uniqueness and when you create that, everything becomes special."
HS Vintage, formed by brand partners Eli Smith and Henry Yorke some four years ago, continues to add fuel to the flame of Ghana's ongoing creative inferno as African pioneers continue to pave the way for up-and-coming talent in various creative scenes. Tackling the 'Fast Fashion' and wastage crisis head on, Smith and Yorke's HS Vintage, which was born out of Ghana's capital city Accra, looks to redefine what vintage fashion means to people, and ultimately, what it looks like.
Being two of the most prominent thrifters in Ghana, the dynamic duo had a chat with PAUSE to discuss the history of their partnership, the ongoing climate crisis and how it's impacting Ghana as a whole, as well as what HS Vintage brings to the table with their 'Lead The Charge' campaign.
Check it all out below.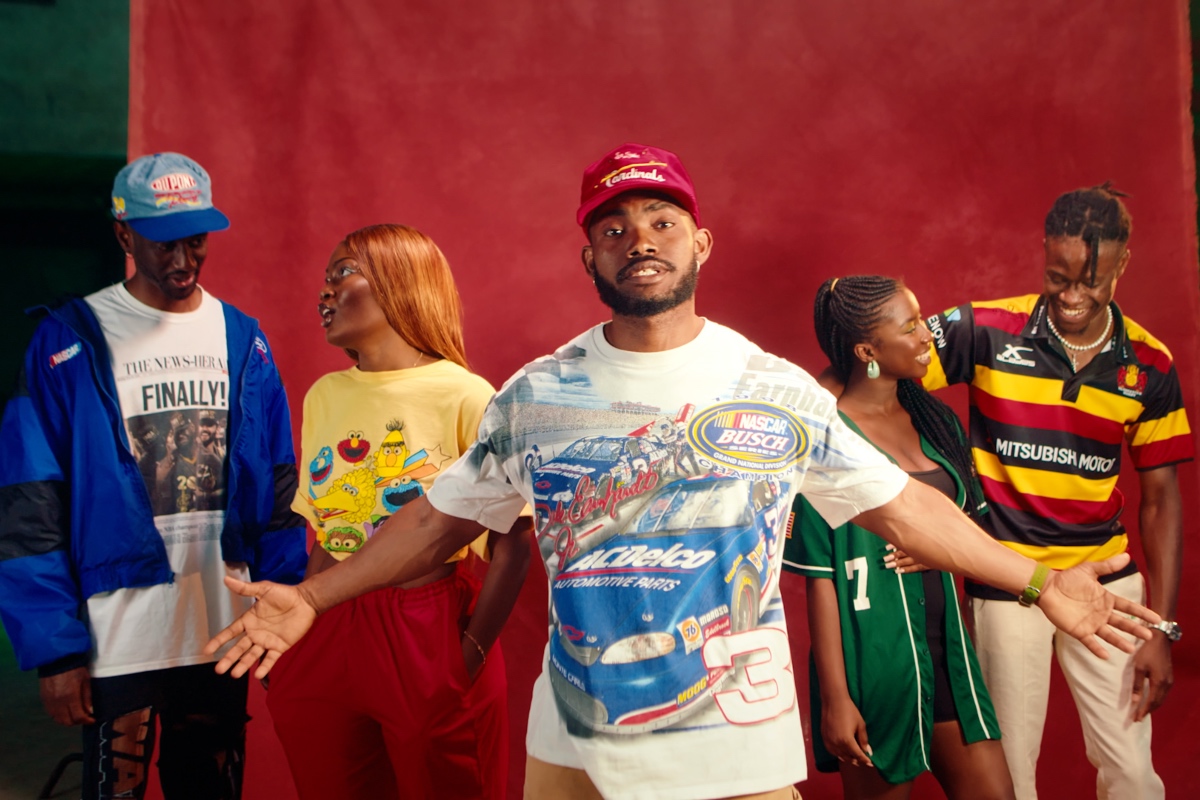 First off, how does it feel to launch your own website? I can imagine a lot of effort went into that whole process. How's that process going?
(Eli): I'd say that it's pretty good, given the whole response of the campaign. In terms of the website, it didn't really take that long. We just had to take pictures for the inventory, but the general response for the campaign has been great. 
(Henry): It feels like we moved from Instagram to an actual website!
Tell us about your come up and how you guys became partners. What role did the Ghanaian vintage scene play in all of it? 
(Henry): Well, I met him (Eli) through a mutual friend, he was wearing these vintage pants. We were talking about how vintage fashion and how when you wear it, it brings fashion and streetstyle together. Eli started putting me on and we did our research… and then we came up with how we can also make something from what he was talking about. That's basically it.
Tell us about the Ghanaian vintage scene right now and what you see for it going forward. Do you think there's a lot of space for vintage fashion to grow in Ghana? 
(Eli): When we first started, which was around four years ago, there were always vintage markets but nobody was creating the items that we were creating, so it was much easier to source them. As the years progress, it's getting bigger, but I still feel like it's just the beginning of how everyone looks at vintage because usually it's not as accessible as fast fashion, especially in Ghana and Africa. So, I would say it's just the beginning. 
When did you see that Ghana had an up-and-coming streetwear scene? Was it always there? Or were there particular people leading the way? 
(Henry): When I first met Kofi (Eli), the mutual friend that I had already had a streetwear brand, so it's always been there. It's something that we've always been into, fashion in particular. 
Have you got any reference points? People that you looked up to world-wide or in Ghana?
(Henry): Way back we used to look up to Sean Wotherspoon, mostly. He's been into vintage clothes for a while and I would always go onto his YouTube channel. As time went by, I started looking into other vintage sellers that were also doing very well. We started picking up tips and researching what to buy and the things that you should actually show off on your YouTube and videos on Instagram. You can get these items in Ghana as well, so we just ran with it and tried to show people what we can do and what they can wear.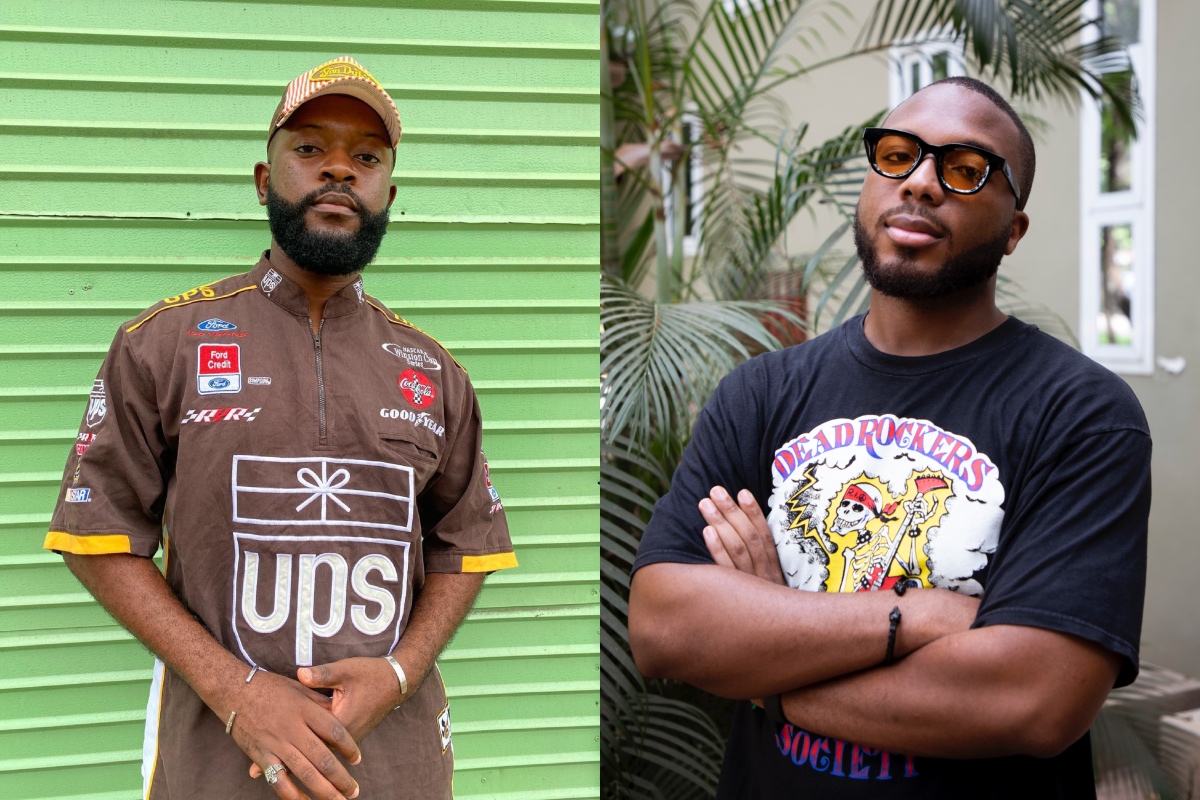 Henry Yorke (pictured left) and Eli Smith (picture right) of HS Vintage.
In your experience, especially considering how far into your journey you are now, what are some do's and don'ts of starting your own vintage clothing brand? What are some stumbling blocks?
(Eli): Don't really go for what is popular at the moment, I would say. I think if you're actually into clothing, you should pick what you usually like first; pick out something like you're picking it for yourself. That's what I'd say for the do's. In terms of the don'ts, always make sure that you're as detailed as possible with what you're selling because a lot of people don't describe the items to a tee, like whether it's faded or not. I would say that you should always take good pictures of your clothes and be consistent. That's the most important thing: consistency. Whatever you have, always be consistent with it. You have to be sure that you have content all of the time. 
(Henry): You should always establish and know that the customer is always right, just give them exactly what they want. I think it's also good to befriend other thrifters who are also in the game, because you don't know what you can get from them and you can collaborate with them as well. 
When you guys started, did you have any pieces that you gravitated towards?
(Eli): When we first started we went for band and work t-shirts, Metallica especially.
(Henry): Iron Maiden as well! But for now, we're looking into other stuff like Anime t-shirts.
(Eli): Mostly archive pieces, stuff from back in the day.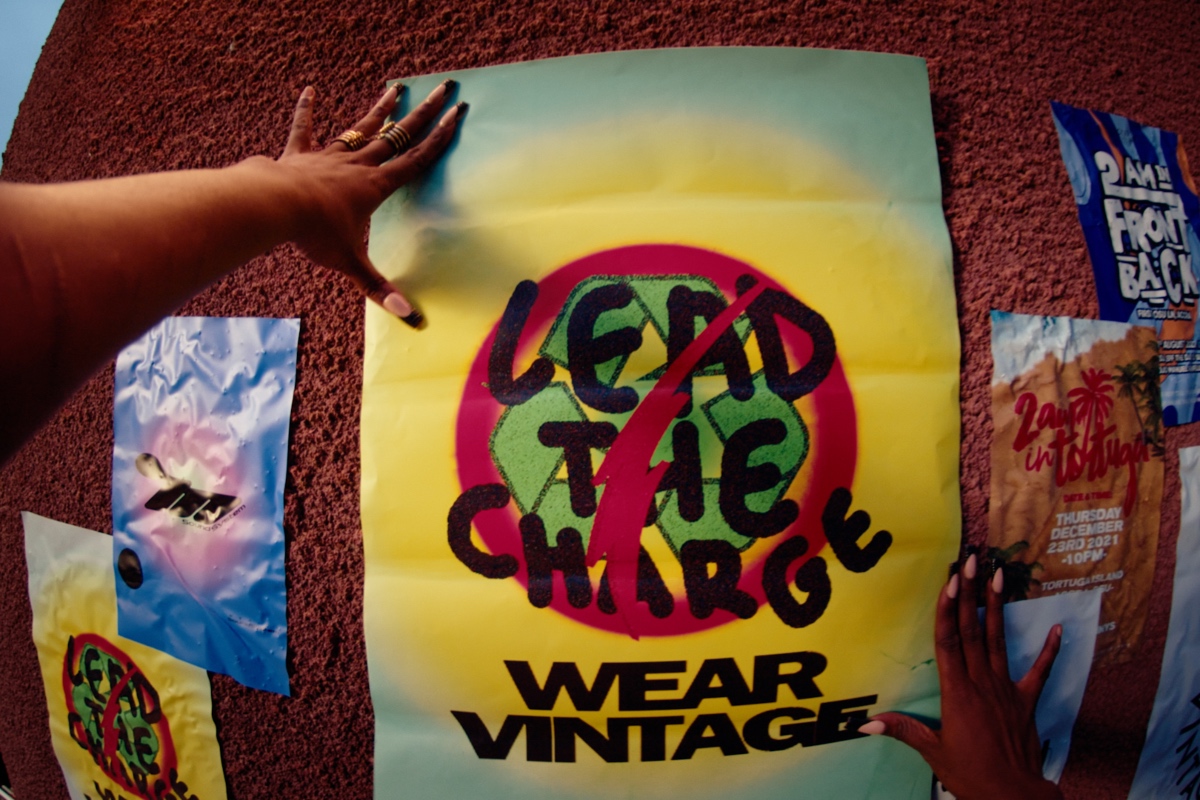 Tapping into what HS Vintage is all about, what does your 'Lead The Charge' campaign represent? I know you launched that recently. With this being your debut campaign, do you see this as a presentation of your brand ethos?
(Eli): 'Lead The Charge' is basically representing the community that wants to do their own thing and create their own path. The campaign that we launched recently features people who are trailblazers in their own industries. We have iPhone DJ, who does actually DJ from an iPhone… that's his specialty! He's actually in the UK and doing very well. We also had one of the most popular people in Accra at the moment, his name is Kojo. We had our friend Darkor, who is actually doing bikinis. I think she was the first to take bikinis in Ghana to the next level.
(Henry): We also have one of our friends who is into good vintage glasses, a stylist who did a very good job as well. 
(Eli): The whole idea of the campaign is to make people not only standout in their own way by wearing vintage, but to make them feel like they're pushing their own path and that they don't need to succumb to what everyone else is doing. 
(Henry): You have to be your own uniqueness and when you create that, everything becomes special and different for you and everybody that sees what you're doing. 
Definitely… it sounds like you're covering a lot of bases. Discussing vintage clothing as a whole, it's seen as being a more environmentally-friendly alternative to fast fashion, which you've spoken on as being quite big in Ghana. What does HS Vintage do to combat the environmental issues that come along with the vintage clothing trade?
(Eli): So, where we source our items from in this market town, which is part of Accra, is one of the largest areas of local waste, especially clothes. It is where different countries send their second-hand clothes and 40% is going to waste. We came about in order to tap into that and make people embrace pre-owned clothing because, back in the day when we started, people preferred fast fashion because it was new. I feel like we made people know that vintage clothing is cool. 
(Henry): Me, as someone who also likes to style clothes, used this opportunity to show people you can actually wear vintage clothes and look the same as somebody who is wearing a fast fashion outfit. You just have to make sure that you know how to rock the clothes, which is something that we're doing. It's all about putting these things together and letting people know exactly what vintage clothes look like and how to go about things as well. 
Speaking more about vintage clothing, are there any time periods that you lean towards? Or is it more about whatever takes your eye?
(Henry): It's mainly whatever takes our eye. We go to the markets and just get the best stuff. If we see something and Eli is there to do the research… we just get it then and there! 
What does timeless fashion mean to you guys and HS Vintage?
(Eli): I would say timeless fashion is more about not conforming to what is popular and what is a trend. It also boils down to the items we source themselves because it's vintage, you can find it from any timeline down to the 1980s. With vintage, it's timeless… you can find something that you'll never find again. It'll probably be the only one from its time period. It boils down to the people as well, because you don't need to follow trends and follow everybody: just do what you like. 
(Henry): It also boils down to what we're talking about in 'Lead The Charge', which is doing what you need to be doing in your own way, finding your own uniqueness, and coming up with something that you specifically like. 
What can fashion fans expect from HS Vintage going forward? I've read recently that you want to move into other areas of Africa… are there any other specific areas of Africa that you're targeting at the moment?
(Henry): Nigeria we're coming, live! 
(Eli): Nigeria has a big market. 
(Henry): Lots of people have been telling us that we have to go there as well, so. I would also say South Africa. I've seen a couple of artists in South Africa wearing a lot of vintage clothes so I think that they would like that. 
(Eli): I would say West Africa, neighbouring countries around here like Côte d'Ivoire and Togo.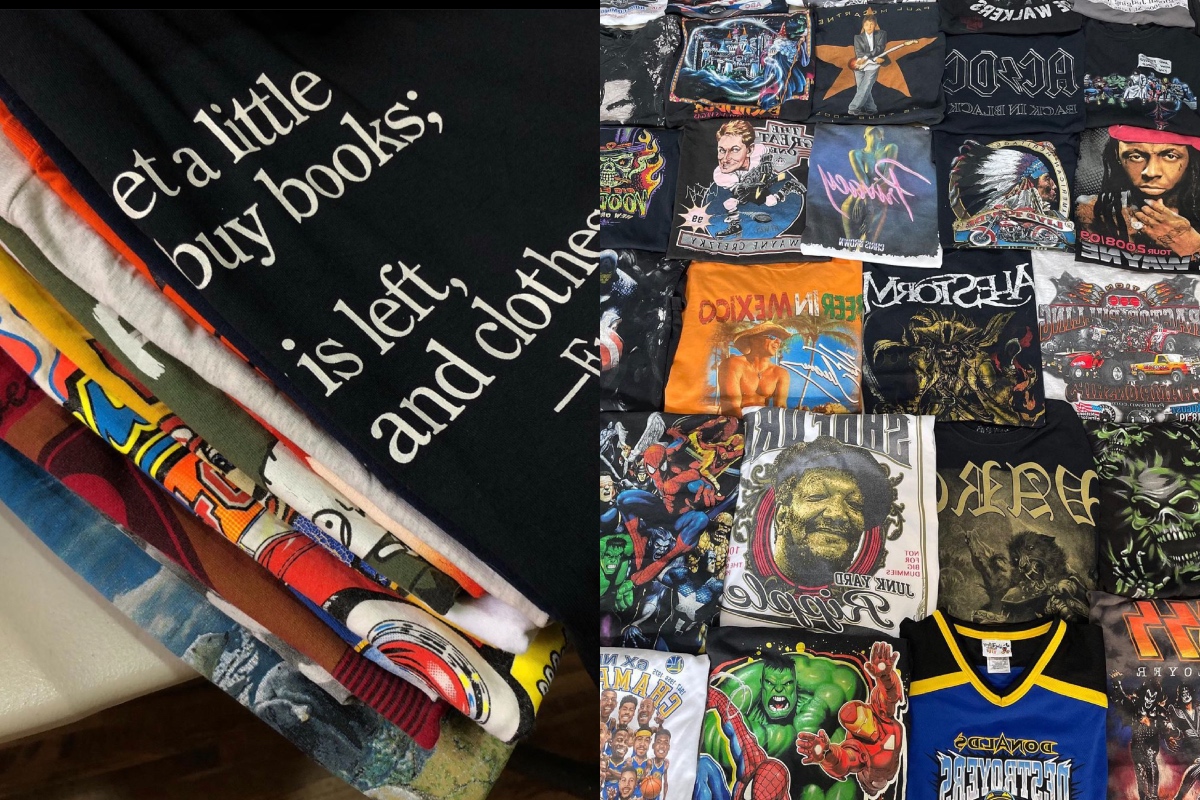 I also wanted to talk about moving forward with vintage fashion globally and in Africa too. What do you think are some important steps that need to be taken to get people taking about and embracing vintage clothing more?
(Eli): It boils down to our content, so we're creating lookbooks for our TikTok and social content. There are guys who are just on the social media side of things to find ways to show people how to wear vintage. With fast fashion, they already have models that are wearing the clothes, so we'll make it look like that. We also have events in Ghana that a lot of people come to wearing vintage, so, we have themed parties around vintage, like Y2K. We've also partnered with certain brands that push the sustainability agenda for us. 
Are there any creatives in Ghana- or further afield- that you would like to work with?
(Henry): Yeah! There are lots of people that we want to work with. 
(Eli): Six!
(Henry): Yes, actually Six! That's just in Ghana. We're going to look at Nigeria, we're going to work with some other artists like Santi, PrettyBoy Dior… and last but not least, Sean Wotherspoon. So, if he actually gets to see this, we'd like to work with him! 
Where do you see yourselves and HS Vintage in 10 years time?
(Eli): Everywhere! 
(Henry): Global!
Follow HS Vintage on Instagram and check out their new 'Lead The Charge' campaign on their website now.