The return of fashion month.
Although it was not without its fair share of digital presentations, fashion month officially returned to the fashion capitals over this past month. Excessive street style, huge fashion spectacles and late-night afterparties filled with celebrities were all back on the menu in the streets of New York, London, Milan and Paris.
This season, brands were presenting their spring/summer 2021 collections. With menswear shows having been shown across June and July, with limited IRL moments, the long-awaited buzz around fashion month had returned and the industry was back to travelling to its old stomping grounds.
Check out our roundup of the latest fashion month below.
Balenciaga Broke The Internet
Has the red carpet replaced the fashion show? Balenciaga thinks so.
As guests arrived at the venue for Balenciaga's show they were met by a crowd of screaming fans and paparazzi who bombarded them with a shower of camera flashes. Mimicking the feeling of being famous for faceless fashion editors and a part of everyday life for celebrities like Offset, Lewis Hamilton and Elliot Page, this entrance turned out to be the fashion show. A roster of the brand's regular models, famous faces and even creative director Demna Gavasalia were wearing the new collection and as it was being shot on the red carpet.
Seated in a cinema, and having just realised that they had already witnessed the fashion show that they had arrived for, guests were shown a Simpsons episode which was created in collaboration with the luxury fashion house. Once again, Gvasalia's ability to create a fashion spectacle that is simultaneously subversive and approachable was on full display.
The 10-minute episode presented a humorous, self-deprecating look at the fashion world which allowed everyone in on the joke. As expected, social media was quickly flooded with coverage of this unexpected collaboration.
Fendace Blends Classic Iconography
No doubt influenced by the streetwear scene and labels such as Palace and Supreme having a liberal approach to collaborations, high fashion brands have realised the power of unity. After receiving Gucci X Balenciaga earlier this year, this season we got Fendi X Versace.
Although they are both not calling it a collaboration (with Gucciaga being a "hack" and Fendace being a "swap") the principle remains very similar.
This "swap" saw Donatella Versace design a collection for Fendi, whilst Kim Jones designed a collection for Versace, both of which were then shown together. It was defined by a remixing of signature iconography, with Versace's gold Barocco prints being met by Fendi's iconic "double F" monogram print.
The novelty of seeing two of the most recognisable logos meshed together does not look as though it will fade any time soon and the collection has quickly sparked a lot of debate. What can be agreed on by most is the commercial viability of this collection, it is something we will be seeing a lot of once it hits stores.
Cardi-B Shuts Down Paris
While headlines were being made on the runway, Cardi-B was busy creating her own in the Parisian streets. The musician did not hold back with her street style whilst attending shows and exploring the French capital this season.
Being styled by Kolin Carter, a New York-based Fashion Editor and stylist who has worked with the artist for some time, she kicked off Paris Fashion Week by attending the Thierry Mugler exhibition at Paris Musée des Arts Décoratifs. Wearing a look from the designer's 1995 Haute Couture Fall/Winter Collection, a red sequined dress with matching gloves and a flowing cape with a sculptural feather attachment that surrounded the artist's head set the tone for the rest of her time in Paris.
After this followed a torrent of avant-garde looks. There was more vintage Mugler in the form of a short black corseted dress, a golden Schiaparelli mask with black goggles, a long black leather Richard Quinn jacket covered in metal spikes, a Balenciaga jacket with fantasised tabloid magazine covers printed all over and a large dome-shaped black hat that covered half of her face, an all-green Richard Quinn ensemble from his latest collection equipped with a frilly headpiece and Bottega Veneta sunglasses.
This season, Cardi-B established herself in being one of the most exciting celebrity dressers. We couldn't keep our eyes off her.
View this post on Instagram
PHOTO CREDIT: @iamcardib // @tomasherold
Fashion East Delivers Once Again
An incubator of talent, Fashion East once again presented the next generation of designers on its London catwalk. This season the designers who showed were Maximilian, Chet Lo, Jawara Alleyne, Goom Heo and HRH.
A running theme of skimpy and sexy looks could be found across the collection's, a possible response to London's nightlife being back in full swing, which started from the off with Maximilian who opened the show. In his third and final year as part of fashion east, this was the designer's first runway show after the pandemic put a halt to fashion shows. Bringing a mixture of playfulness, sensuality and glamour, the collection saw the designer continue to build on his signature look which has brought him much acclaim.
Second in line was Fashion East newcomer Chet Lo. The designer, who has already dressed Kylie Jenner, presented his signature spiked fabric on everything from figure-hugging dresses to sandals and oversized handbags. Jamaican-Caymanian designer Jawara Alleyne then experimented with draping, gender roles and proportions in his second Fashion East collection where he says his focus was on having fun.
Moving back to Korea after almost a decade in London, Goom Heo also seemed in a playful mood when creating her collection. Presenting a victorian ruffle collar in red, layered over a blue sleeveless hood and a white and black bib tucked into tight shorts, the final look of the collection encapsulated the disorder and freedom which the clothes presented. Closing proceedings, Hannah from HRH was inspired by swimwear, tackling the subject through a Y2K lens. Complete with oversized sunglasses, bright hues and bejewelled detailing, the early-2000s nostalgia was unmissable.
To go into the intricacies of each designer in this roundup is an impossible task, however, it is clear that the names in this year's Fashion East show are ones to watch out for.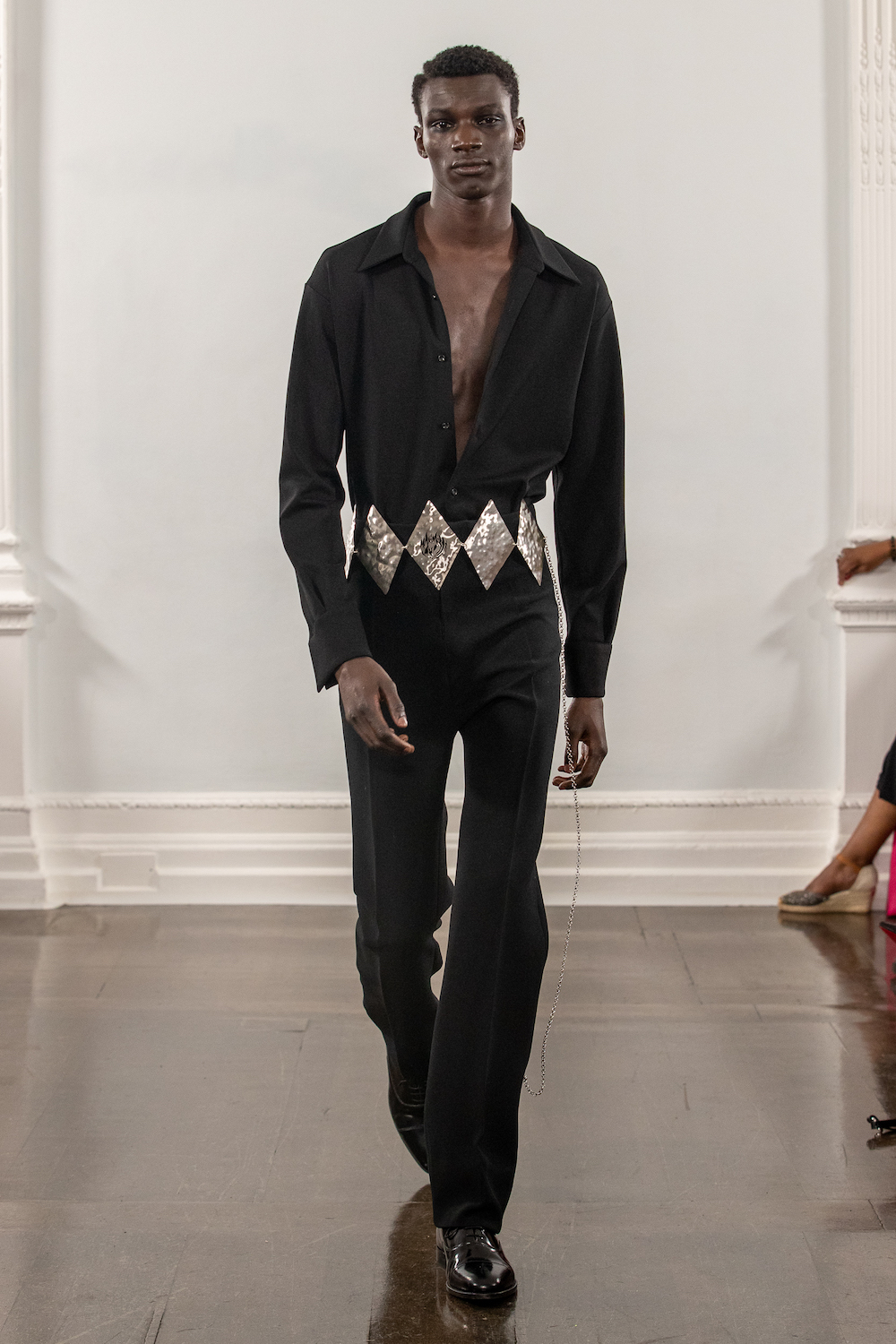 PHOTO CREDIT: Fashion East
Telfar TV Takes Over
Having started this roundup with Balenciaga subverting the usual fashion show etiquette, we are going to end with Telfar doing the same thing. In New York, the label which has reached cult status amongst its customers opened up with a mock press conference that announced both a new bag and television channel.
The off-schedule event featured the likes of A$AP Ferg, Leila Weinraub and Kandis Williams sitting on the panel that played out in a chaotic manner typical of the brand.
The television channel is described through an Instagram post by Telfar as, "An experiment in the UN-OWNED aka UNKNOWN aka FREE. Consider what happens when you launch a channel without content and ask people to help make it?" As we wait to see the various forms that this experiment could take, for now, the channel is allowing customers to scan a code that directs them to the website where they can buy the label's signature and highly popular bags. This includes its duffle bag, which was also unveiled at the event.
View this post on Instagram