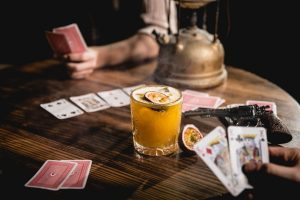 With most of our events and trips to East and Central, I was surprised to get an invite to a new concept bar on the King's Road. From the team behind the hit bar Alcotraz, Moonshine Saloon transports you to the Wild West.
You are required to BYOB (bring your own booze), but it's all part of the fun as you have to sneak it in. Don't worry if you are heading there straight from work, they will have you kitted out in hats and Cowboy gear so workmates don't think you have gone mad when you leave the office.
You get immersed into the storyline as soon as you walk in so be ready to think on your feet. I was the son of a Native American Chief who was travelling and looking for new business opportunities. With my sidekick Little Joe, we pitched taking Moonshine across water to the West Indies.
The Saloon's expert Mixologist take your spirits and don't tell you what you will be served. It could be a familiar classic or something he has created with his home made syrups. I could taste my vodka in the first glass that went down so easy. Turns out it was a banana split where he had included very subtle syrups of vanilla, strawberry and banana.
You don't sit still for too long in this venue. However, I would hate to give it away so check out for yourself.
Running til 25th August 2018
Wednesday – Friday from 6:15pm-10:15pm Saturday from 12:15pm-11:00pm
Bookings can be made online: https://www.moonshinesaloon.com/bookings
Or on Design My Night : https://www.designmynight.com/london/whats-on/food-drink/moonshine- saloon-western-cocktail-bar?t=tickets
Booking fee: £33.99 (includes 4 cocktails from brought drink of choice + 1.45 hours inside Saloon)
Instagram: moonshinesaloon – Facebook: MoonshineSaloonLondon Address: 535 Kings Road, Chelsea, London, SW10 0SZ