Life in Lockdown, Inspiration, Collaborators & more
"When they talk on my name, I want it to be all respect."
In 2014, YG dropped his debut [multi-platinum] album 'My Krazy Life'. 6 years down the line and the Compton-native continues to embody the realities of street culture and personal experiences through his uniquely woven sound. His newest album 'My Life 4HUNNID' regenerates his unswerving ability to deliver yet another navel-gazing body of work.
It's often said that to become a respected artist, one must follow a certain trajectory. Remaining at the core of modern-day rap and stripped-down G Funk, YG, born Keenon Jackson, aims to leave a legacy behind of remembrance and pure respect.
Ahead of the release of his latest album, PAUSE Magazine caught up with YG to discuss the prophecy behind his music, long-term goals, and most of all, the importance of authenticity.
Read the exclusive interview below.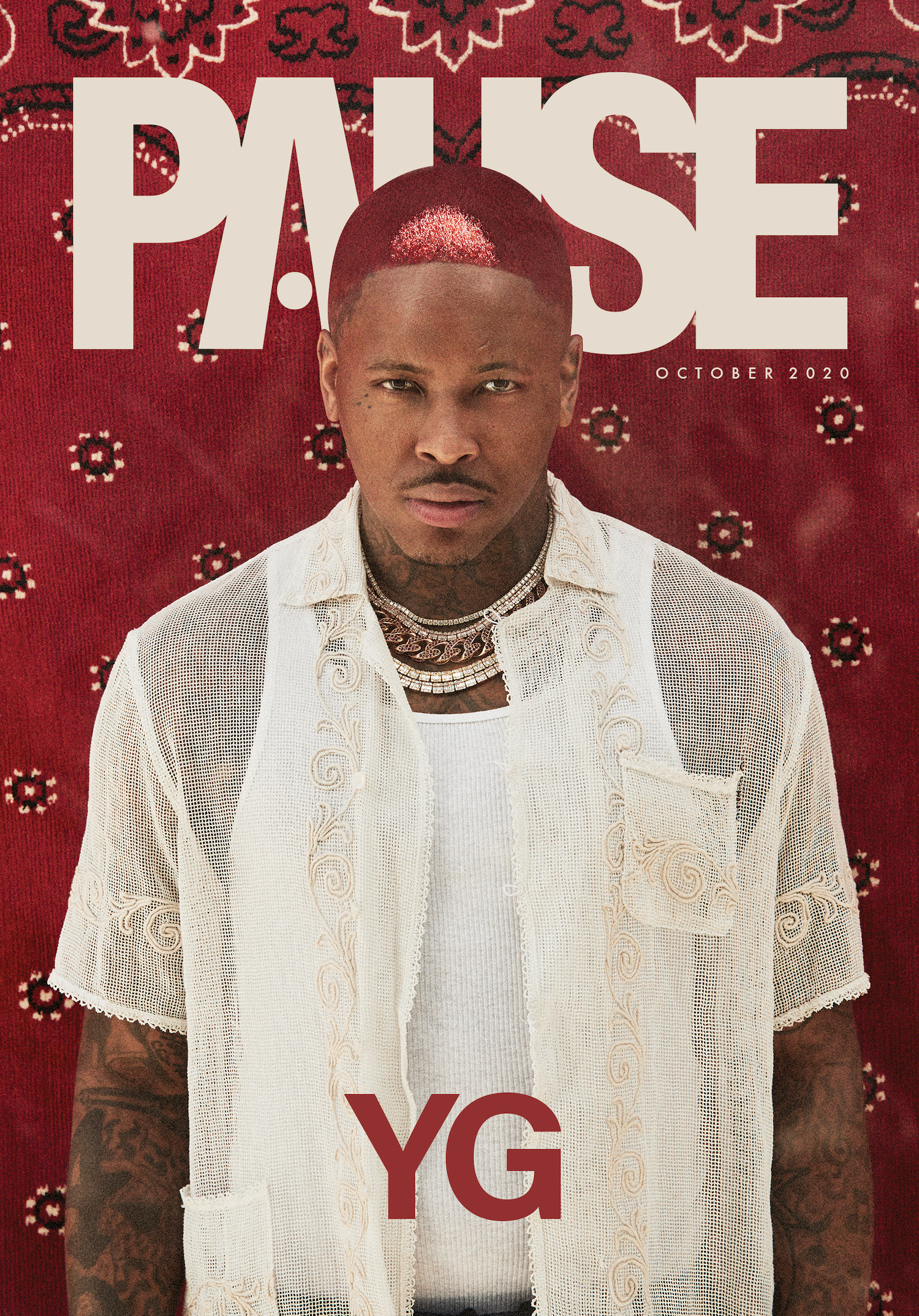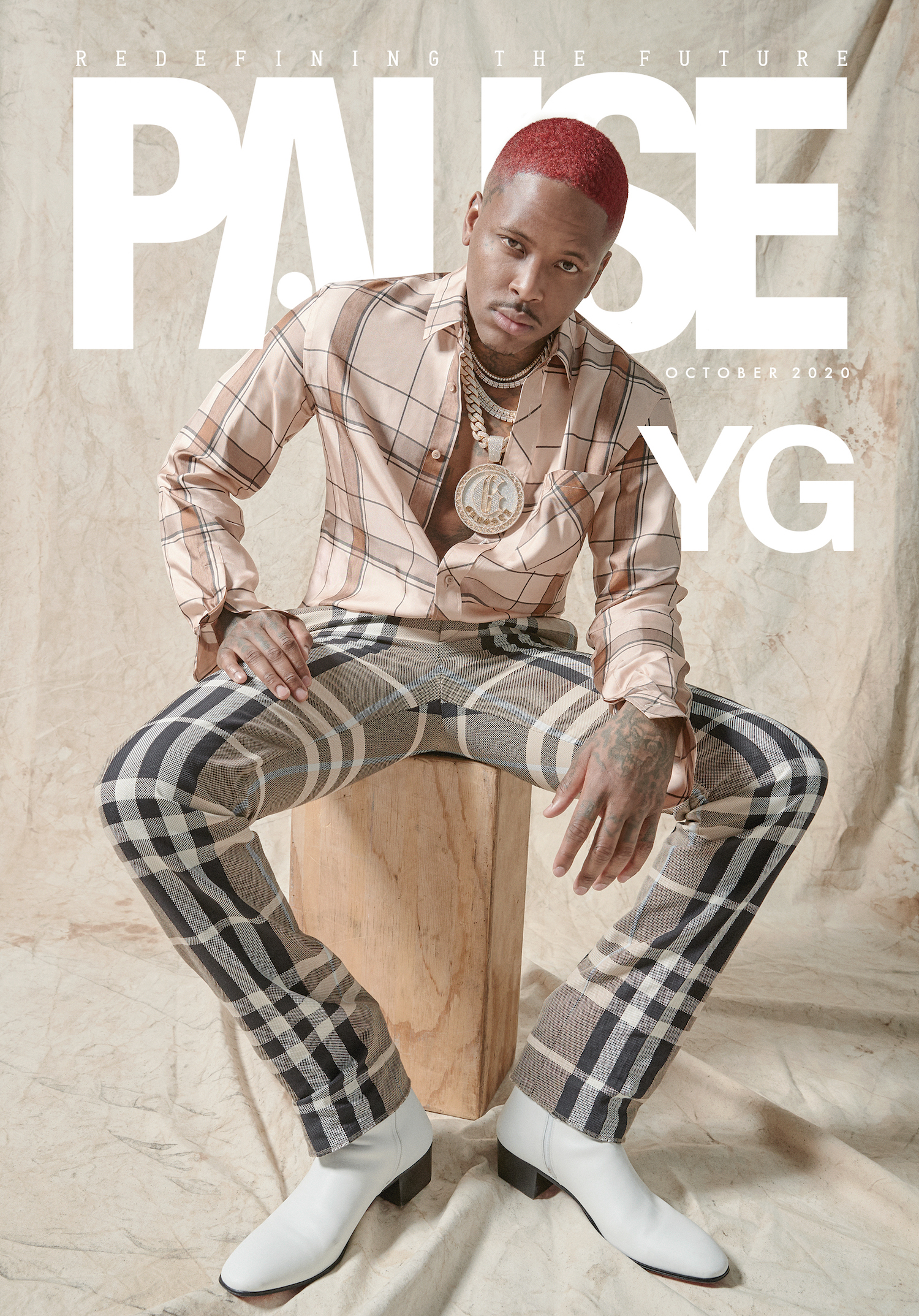 Before we get into all thing's music, fashion, life, you know how it goes, I want to take the time out to ask how life is treating you at this very moment?
Life is treating me how it's treating everybody else, f*cked up! This sh*t is nuts.
Seeing as we're still pretty much going through this whole pandemic thing. What's a typical day in the life of YG?
A typical day in the life of YG. During this pandemic, it's a whole lot of tequila and drinking. Trying to catch a vibe, trying to create a vibe, and family stuff. YG, normally, is an outside type of person, that's just my life. I think life really plays on being outside but COVID got it shut down real soon. It's cool though, we gotta make it work.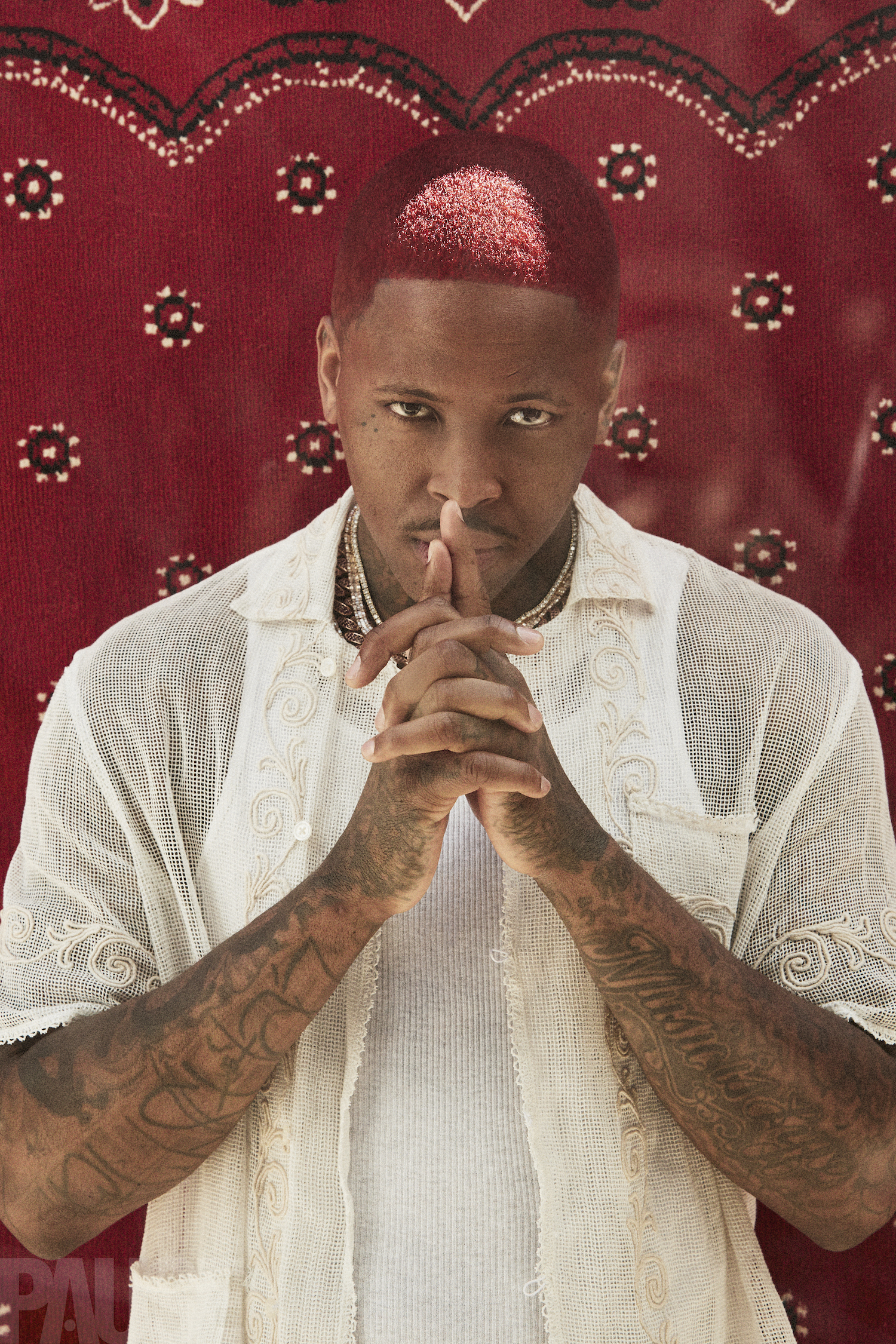 There's no doubt you're a busy man. Being a father, a musician, a brand owner, non-profit organisation owner, an actor, the list goes on… how do you manage to keep a good life-work balance?
It's just life. Some people wake up and go to school or work, go to the gym, workout, that's their life. This is just my life. My situation. I just do it.
On the subject of your many talents, you've surpassed a decade in the game, standing confidently at the forefront of West Coast rap.
2014 saw you express what life was like with 'My Krazy Life', 6 years later and you're back to paint a picture of what 'My Life 4HUNNID' is like. It's almost as if your music documents each chapter, a sonic chronicle if you like. Talk us through the creative process.
Yeah, so like… when I create albums, when I'm in my bag, when I'm feeling good, I want to create a body of work that represents a time. In 'My Krazy Life' I did that. With this album, I think I did that too. The album, the songs, they're talking about real sh*t. They're talking about things that are happening right now.
Jacket: NICOMEDE, Top: Hanes, Pants: VALELIVES, Jewelry: Artist's Own
You recently said that your music is a result of the situations you've come out of. If we take it back to previous studio albums which encapsulate your art of storytelling, reality, and experience – what type of situation did you find yourself in, prior to this new album?
[It explores] the last year of my life. I'm out on bail, I'm moving around, the police are on me. I can't even sleep at night because I'm thinking "what if I'm going to wake up to the police in my house?" You know?
This album is another one of those albums where I'm giving the people a piece of me. When you create classic music and you rap with how you want to, I just try to do that with every chance I get.
I'm glad that you mentioned the reality of your music. The interlude of the album 'Traumatised' is particularly tangible when it comes to portraying realities of your life. It features your daughter Harmony recollecting what happened when the Police put a gun to both you and your family.
'My Life 4HUNNID' explores themes of vulnerability, specifically in tracks 'Laugh Now, Kry Later', 'War Scars', and 'Thug Kry'. Do you feel as if you have a responsibility as such a big artist to expose the harsh complexities of what it's like living in Black America?
Oh yeah, you know I represent the streets. So, like, that comes with being from the streets and being a people's person. When things go on, it's up to us to pull out a platform at a high level to bring eyeballs to the situation. Every chance I get, whenever I feel like 'damn, I gotta do my part', I do that. That's something that does come about with my lil' title.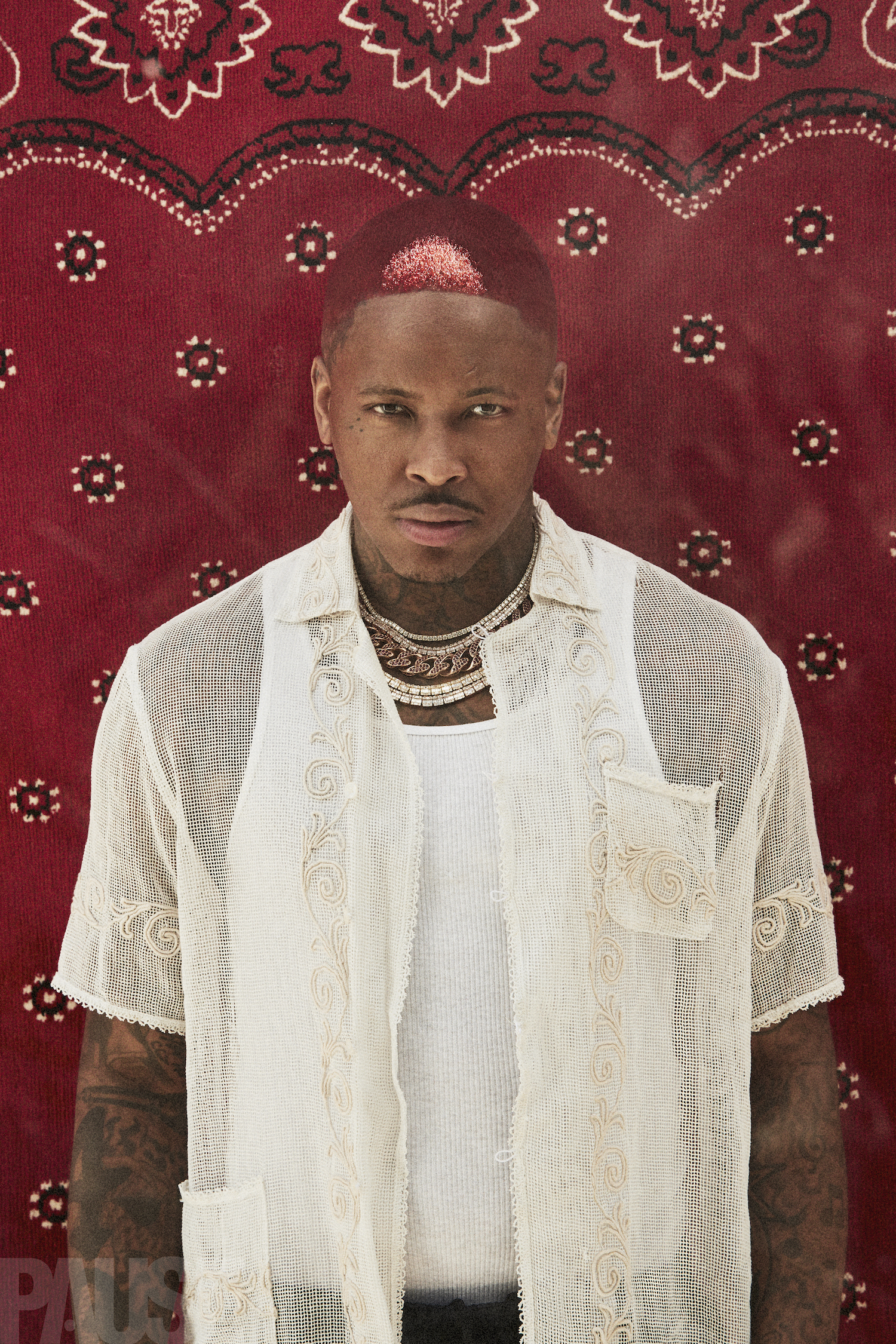 Top: BODE, Jewellery: Artist's Own
One thing that has remained inevitable throughout your career is your Cali roots and the homage you pay to it. Would you consider yourself as a product of your surroundings?
I mean that's all I know. It's where I grew up, it's what I see every day. Everybody in the world wants to be out here. They like our girls, they like our swag, our culture and lifestyle.
When you grow, and you know that, you always feel some type of way from being from out here. It's lit! I speak of highly of that, I think highly of that, and you're always going to get those vibes in my heart.
If we look back, west coast rap dominated the mid-1990s, however, you're one of the few that are still able to timelessly blend the nostalgia that comes with G-funk beats and lethal lyricism. Is there anyone in particular who made an impact on you or inspired you growing up?
Yeah. I'd say Tupac, Snoop Dogg, Lil Wayne, Biggie, those were my main ones.
Jacket: Nahmias, Top: Hanes, Pants: VALELIVES, Boots: Saint Laurent
It's often said that the best moments are determined by the chemistry between the producer and artist, is this the case when you're working alongside some of your long-term friends and collaborators?
The relationship between an artist and the producer is very important. The producer creates the music, so like, when you work with somebody you know whether it's over the internet, you lock in with somebody. For a reason, for a purpose,  the chemistry and vibes are very important. If the energy is right, it's going to be great. If the energy isn't right, it isn't going to be great.
What other producers do you have on the album?
Franchise – he did Laugh Now Kry Later, and my main producer is Swish 4HUNNID. He got five or six tracks on the tape.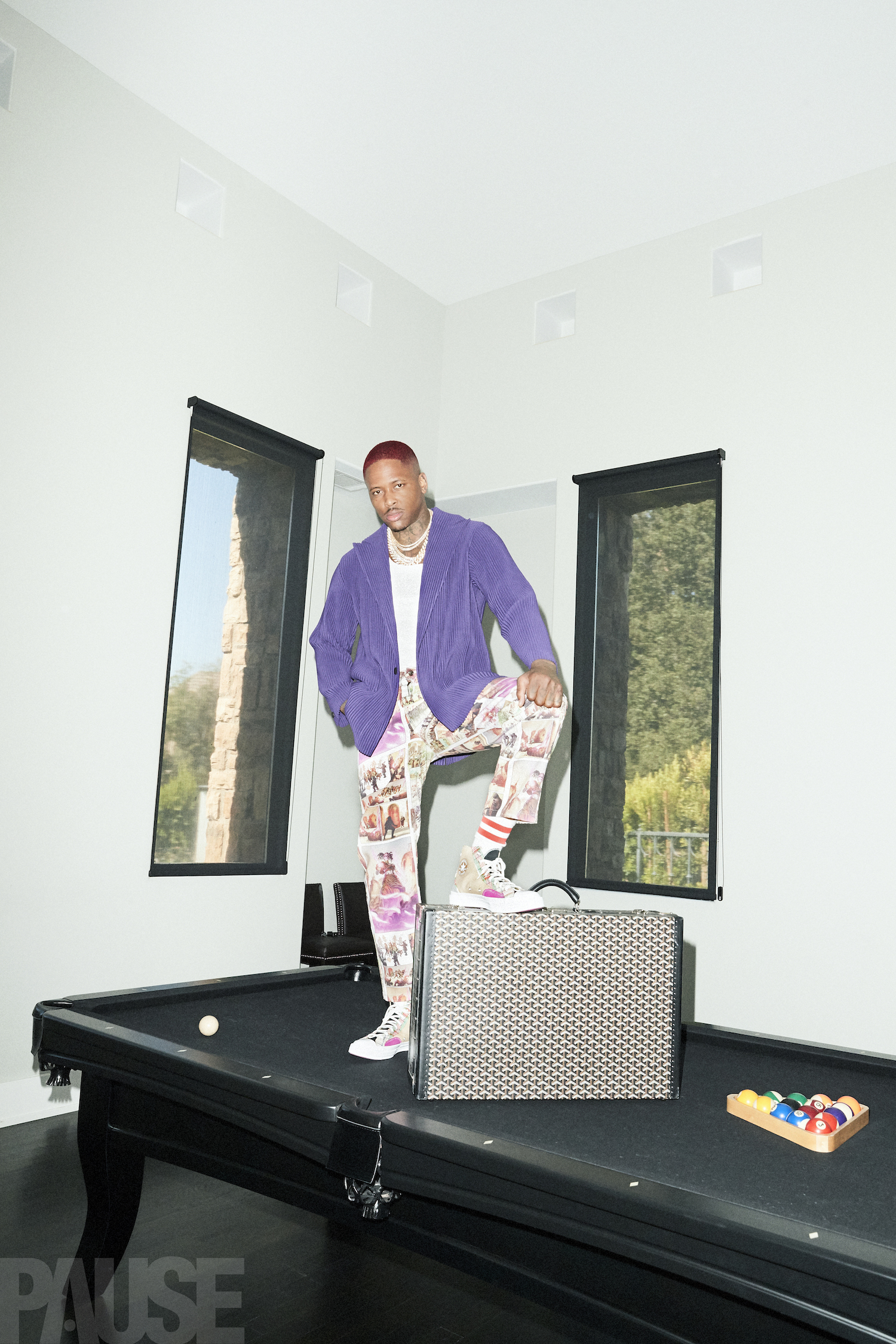 Top: Jacket: ISSEY MIYAKE, Top: Hanes, Pants: DAILY PAPER, Shoes: Converse, Jewellery: Artist's Own
Talking about collaborators, your fashion label 4HUNNID also dropped a capsule featuring the brand Matte. From du-rags to bikinis, you name it, it's there. What was the vision when it came to that particular link up?
We were on some cultural sh*t. We wanted people to be talking, we wanted to f*ck the streets up. [Matte] is a female brand and she'd never collaborated with a male. I knew of her because she was hanging with some of my homies. I was like "Yo, man… let's do something".
We're young black people. On some black sh*t. We did that, from that.
When we first started talking about it, it was when everything with Breonna Taylor and George Floyd had cracked off. That was what was going on in the world. So, when we were kickin' it, hanging, and I was like we need to do a collab, and we did.
Let's get onto 4HUNNID the label. It consists of bold logos, red and black silhouettes, the aesthetic embodies authentic, gritty, Cali streetwear. What were your main purposes when it came to the release of merchandise?
My brand is something I've been thinking about for a long time, I grew up watching the greats. Like Jay-Z, you know. He created his own brand. I wanted to do sh*t like that. I always had that in the back of my mind, even whilst doing music. Then it became that point in time to start pushing so I spent some time, doing homework – studying that world, that space.
I came and I launched it in 2016. The goal was to build a brand that is bigger than me, that can be there long after me, for my kids, so when I get way older, I want my daughters to be head of my company. That type of stuff.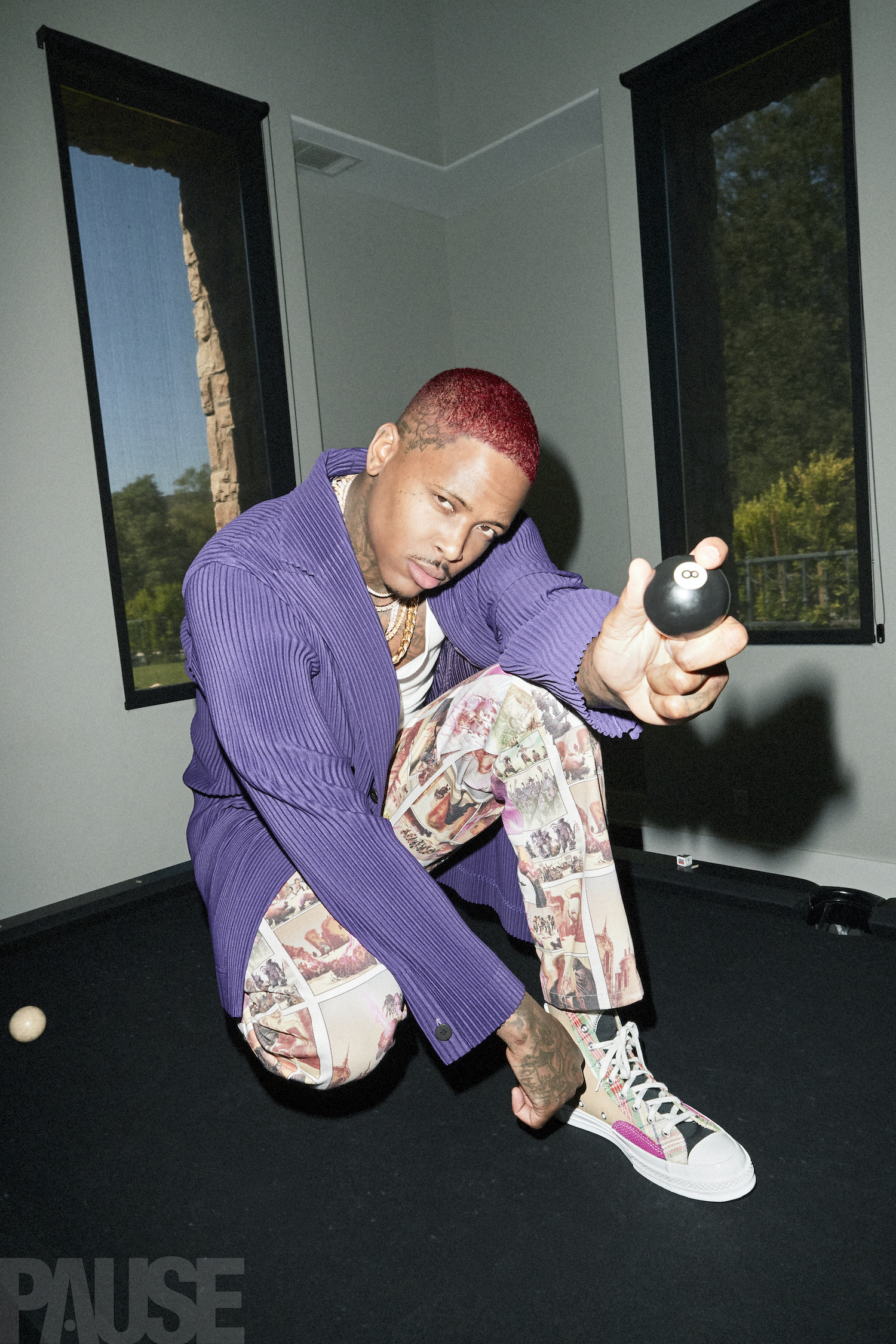 I'm glad you mentioned that. I mean, the late Nipsey Hussle was your mentor, it was obvious he had a big impact on you too. Tell us a little more about the relationship you both had…
Everybody knows the relationship we had. That's my brother, that's big bro. Mentor status.
Hussle left such a respected legacy and mark on earth. A worldly inspiration. I guess that's kind of what we all want in our lifetime, to be remembered as someone so influential. In all aspects of your life, what message do you try and leave behind as a legacy?
I want to leave something real. That's something about Nip, that's all he talked about. Legacy. He helped me get on that same path. I want to leave a highly respected mark. Full of respect. When they talk on my name, I want it to be all respect. I want them to be like "he did big sh*t".
Everybody likes to put me in a box like: "oh, you're a gang member", because I make the type of music I make, but my music be reaching the fans. I don't give a f*ck, people like to judge because of colour and I just deal with it but in the back of my head. I'm like that's cool but when people speak on my name, I just want respect.
My goal is to leave behind a respected legacy so when my kids get older, and they start learning the history, what their daddy did, I want them to be proud. You know how everybody has a movie in remembrance, like the NWA movie. I gotta have a movie when I'm older or when I pass away, later on in life, yeah, I want that YG movie.
Took the words out of my mouth. Post-My Life 4HUNNID, what else do you have in store? Movies? Collaborations in store?
I'm working on a lot of stuff. I'm writing movies, and scripts, and stuff like that.
Sounds good. Let's be real, it wouldn't be a YG interview if the bandana talk didn't come up. It seems to be the most sought-after question – will you ever share your bandana secrets to the world?
Uh, I mean it's regular ha! I don't even know how to explain it. I just wear the bandana. I do it the gang way.
And one more thing – if you were to describe your life in one word, without the use of 4HUNNID and suwoop, what would it be?
Rollercoaster. Yeah, a roller-coaster. Ya dig.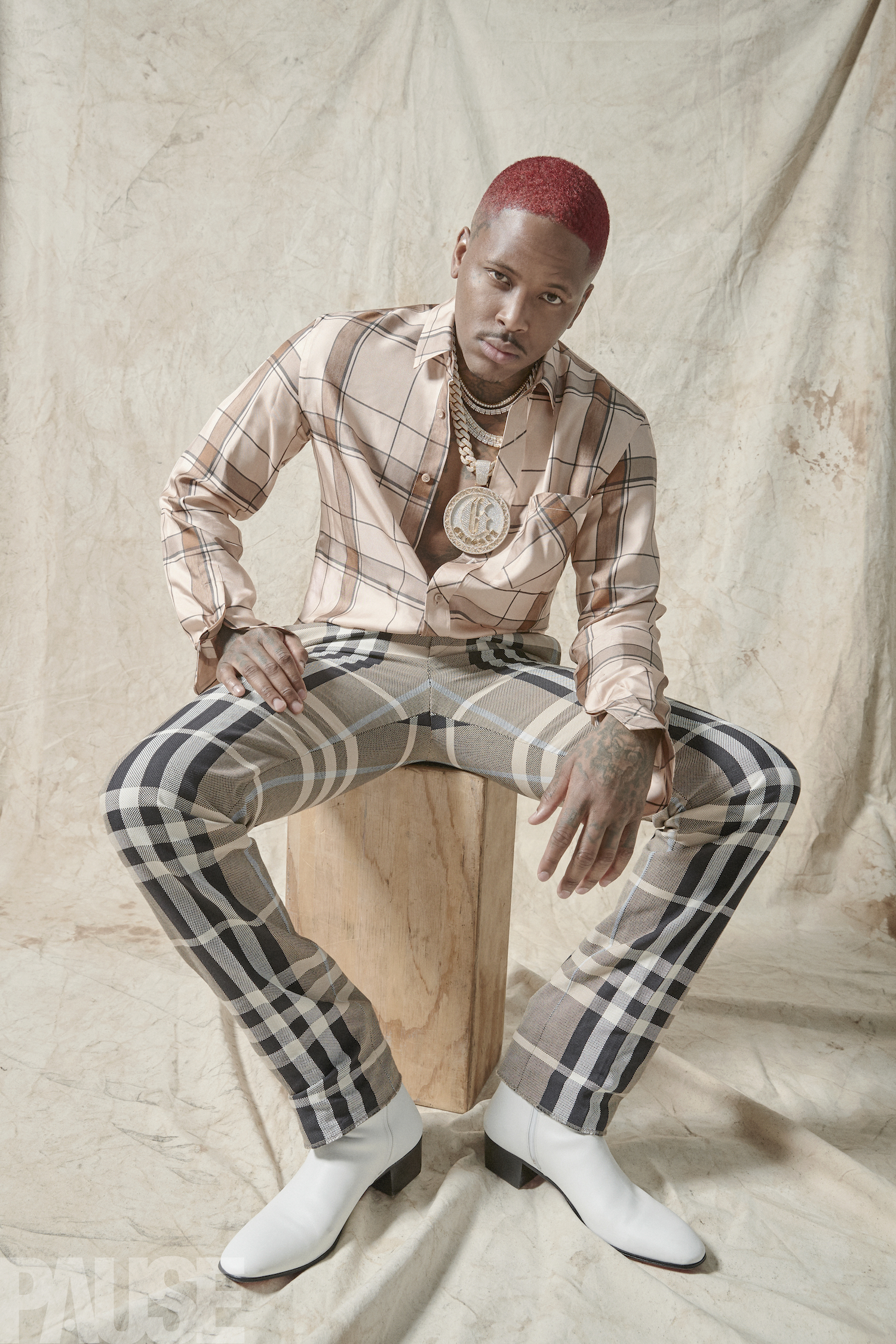 Top: BURBERRY, Pants: BURBERRY, Boots: Christian Louboutin, Jewellery: Artist's Own
I want to personally say a thank you for being the soundtrack to my high school days and I can't wait to see the response the album gets.
Aye Amal, I appreciate that. I f*ck with that. I hope I can be the soundtrack to your life and not just high school. I appreciate that, so thank you.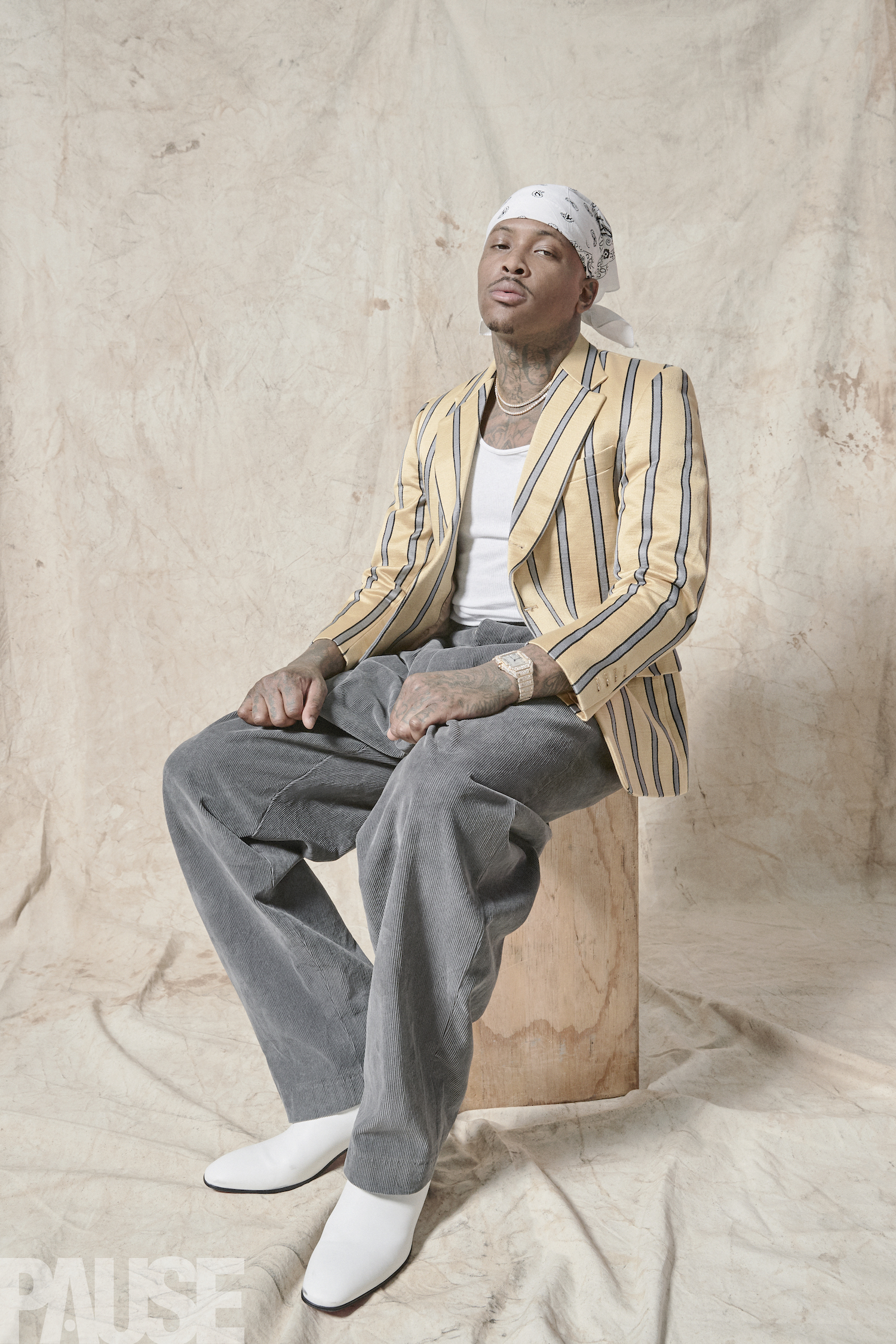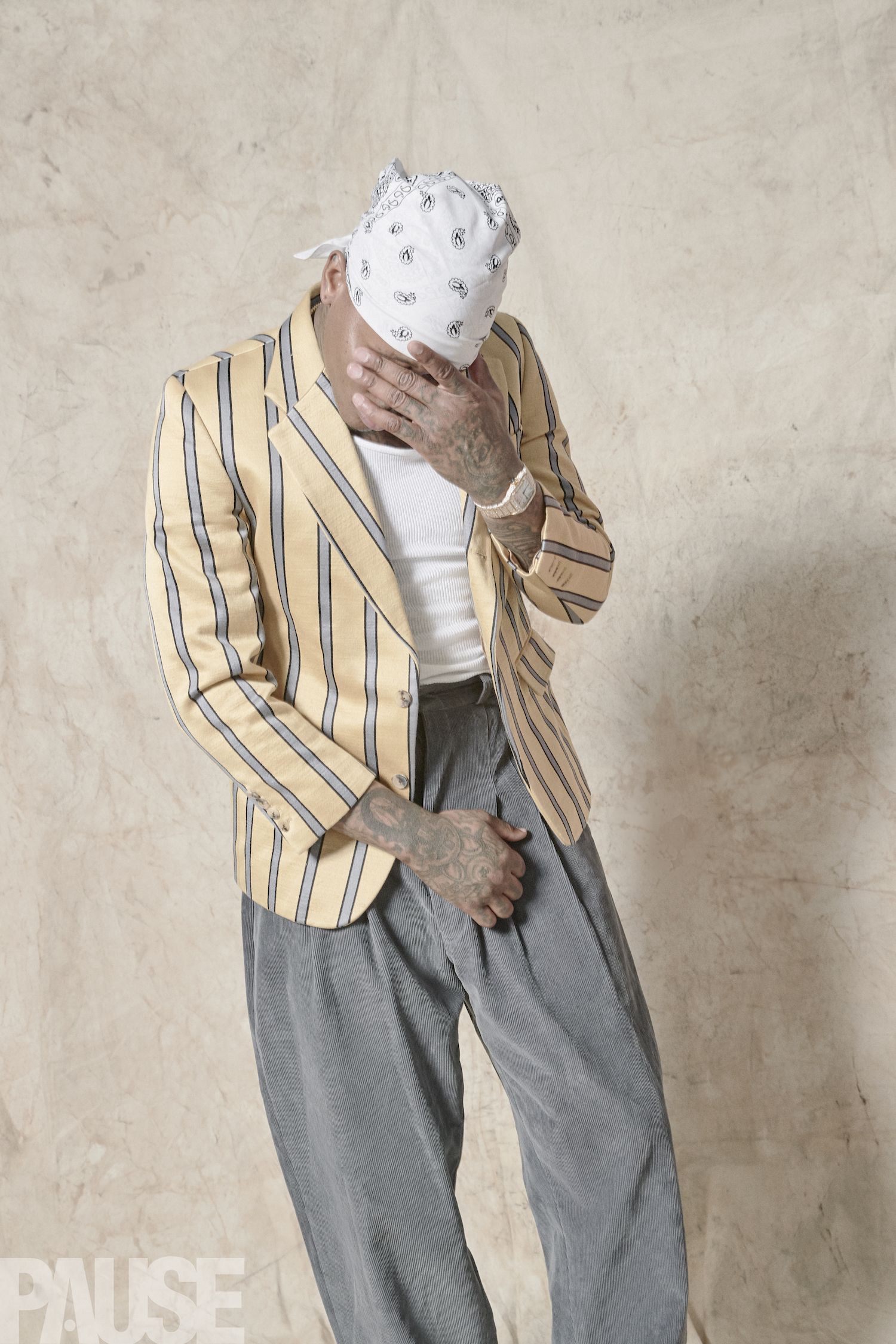 Top: Hanes, Pants: Filling Pieces, Boots: Christian Louboutin, Jewellery: Artist's Own