The beautiful thing about watches, aside from the many intricacies and details watchmakers spend years designing, developing and then perfecting, is that there really is an option for everyone.
No matter your style, preference, needs and importantly, budget, you can quite easily find a watch to meet it all. And thanks to the many online watch shops available today, you can browse, compare and choose the right one in your own time and from the comfort of your own home.
So, whether you're looking to splash some cash on a top of the range timepiece to add to a growing collection, or are simply looking for something functional, convenient, affordable and perfect for everyday wear, you certainly won't be short of choice.
To help you in your search, we've narrowed some options down from one of the most well known watchmakers around – Oris.
The Swiss manufacturer's history began in 1904, and since this time it has been producing some iconic luxury watches, affording the brand its renowned reputation and desirable image. As well as having time and experience on its side, the brand has been known to reinvent and innovate in order to keep up with changing times, whether that be consumers' styles or economic statuses, for example.
Today, Oris is the maker of fine mechanical watches. And having built strong ties within the world of motorsport, diving, aviation and popular culture over its many years in production, the brand has created both mass market models and exclusive timepieces suitable for various wearers' needs and budgets.
So, with all that in mind, here are 10 of our favourite watches for every budget from Oris…
Oris Divers Carl Brashear Calibre 401 – £3,350
Oris Williams FW41 – £3,230
Oris Force Recon GMT – £2,500 – £3,000
Oris Aquis Date Calibre 400 – £2,700
Oris Audi Sport Limited Edition – £2,750
Oris Frank Sinatra Chronograph – £1,600
Oris Rectangular Date Bob Dylan – £1,600
Oris Big Crown ProPilot Big Date – £1,350
Oris Artelier Date – £1,350
Oris Classic Date Leather Strap – £900
1. Oris Divers Carl Brashear Calibre 401
Price: £3,350
The priciest watch on the list is also one of its newest models from Oris. The watch is the first to be powered by the brand's innovative 401 calibre, boasting an impressive five day power reserve and coming with a 10 year warranty.
Since 2015, Oris has partnered with the Carl Brashear Foundation, a non-profit organisation set up to honour and carry on the legacy of the U.S. Navy Master Diver. With two previous models made in collaboration with the Foundation, the most recent solidifies the brand's stance on history and humanitarianism and is certainly drumming up excitement among watch collectors around the world.
Although limited to just 2,000 models, and likely to fetch a nice return on investment in the years to come, there is a unique reason why collectors may want to hold onto their Carl Brashear Calibre 401. As the watch is made from a bronze composition, it will react with the oxygen in the air over time and take on new appearances. And while collectors like to keep their luxury timepieces intact under usual circumstances, it is said that this model will become a visual chronicle of your unique life as its wearer.
Key features:
Powered by Oris' calibre 401
Five day power reserve
10 year warranty
Bronze case
Water resistant up to 100m
2. Oris Williams FW41
Price: £3,230
Next on the list is the Oris Williams FW41, another limited edition timepiece that is this time restricted to just 401 models. This watch marks the 41st season of the Williams F1 racing team, which the brand has had a strong and successful partnership with for many years.
The model represents both brands perfectly, exhibiting the renowned Swiss luxury watchmaking of Oris, and the bold aesthetic of recognisable Williams race cars.
Key features:
44mm carbon fibre and black DLC coated titanium case
Chronograph functionality
Date window
Powered by Oris 774 automatic winding movement
Black rubber bracelet
3. Oris Force Recon GMT
Price: £2,500 – £3,000
The high desirability and limited availability of this particular model makes it difficult to come across often, but when you do, you can expect prices to vary and fluctuate within the higher price range of what is typical for Oris watches.
The watch is made in collaboration with the United States Marine Corps Force Reconnaissance, meeting the strict requirements of elite US Special Forces companies. Therefore, the Oris Force Recon GMT is one of the best professional diving watches on the market.
Key features:
Generous 49mm case designed for wearer comfort and safety
Water resistant up to 1,000m
Luminous hands for high legibility in low-light environments
Black ceramic bezel
Screw down crown
GMT function
4. Oris Audi Sport Limited Edition II
Price: £2,750
The Oris Audi Sport collection is another reminder of the brand's involvement in the world of motorsport. This limited edition model is also proof of its commitment to innovation and style.
Although on the higher side of the mid-range market, wearers are sure to be impressed by this watch thanks to its many functions and design features.
Key features:
Black titanium case
Black leather strap with hand stitched detailing
Tachymeter markings on bezel
Water resistant up to 100m
38 hour power reserve
Date window
5. Oris Aquis Date Calibre 400
Price: £2,700
Another recent model from Oris is the Aquis Date Calibre 400 model. Prior to the release of the 401 calibre, this innovative powering was all the range among watch lovers and until the 401 becomes more widely used, this won't change.
The 400 calibre affords the watch a number of benefits with regards to power, longevity and style, making it the ideal everyday wristwatch at a mid-range price point.
Key features:
Five day power reserve
10 year warranty
Improved reliability, durability and precision due to a reinvented bearing system and anti-magnetic escapement
Stylish blue dial
Sleek steel case and bracelet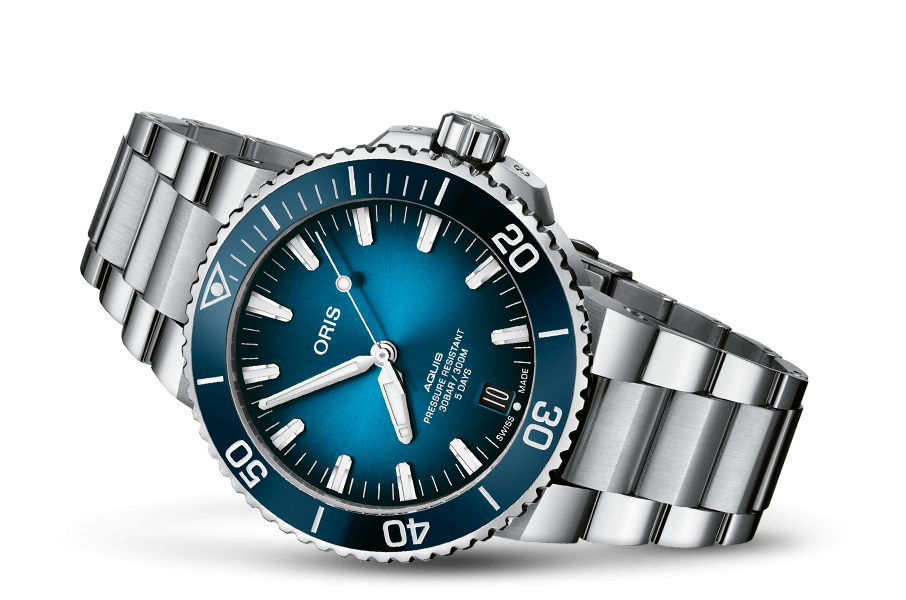 6. Oris Frank Sinatra Chronograph
Price: £1,600
This special edition watch was released in 2012, celebrating the life of the late and great Frank Sinatra. For fans of the musician and watch collectors, the model was a certified favourite, selling out in speed at first release. It's often that you can find the watch being resold for a mid-range price point and thanks to its history and functionality, you'll certainly be getting a good deal if you decide to go ahead.
Key features:
42mm diameter case
Stainless steel bracelet, bezel and case
Water resistant up to 30m
Large blue Arabic numeral hour markers
42 hour power reserve
Chronograph functionality
Date window
7. Oris Rectangular Date Bob Dylan
Price: £1,600
Another watch that honours the life of a legend, is this Date Bob Dylan model. While its origins add to its uniqueness, what really sets this watch apart from others by the brand is its rectangular shape.
Released in 2009, the model is limited to just 3,000 models, each of which originally came in a special edition box with a Hohner Marine Band Harmonica – the instrument the legend is best known for playing.
Key features:
Powered with a caliber 733 Sellita SW 200-1 Swiss-movement
Rectangular case and bezel
Black leather bracelet
Bob Dylan signature at 6 o'clock
Outline of Bob Dylan on caseback
Date window
8. Oris Big Crown ProPilot Big Date
Price: £1,350
On the slightly more affordable side of the spectrum is the Oris Big Crown ProPilot Big Date. The model is from the renowned Big Crown family, which encompasses a quality range of aviation watches.
Available in a variety of styles, 23 to be exact, wearers can be certain to find one that meets their needs and preferences.
Key features:
Available with steel, leather or fabric bracelet
Variety of dial colours and combinations available
41mm diameter case
Date window
Water resistant up to 100m
9. Oris Artelier Date
Price: £1,350
Simple and sleek perfectly describes this particular model by Oris. The Artelier collection boasts the brand's commitment to heritage and innovation, and exhibits a renowned range of dress watches that are suitable for all types of occasions, no matter how formal.
Available on the lower end of the luxury price scale, this watch proves you do not have to break the bank to find an impressive timepiece.
Key features:
Minimal dial with subtle pattern
Sleek hour markers
Date window
Stainless steel case
Steel or leather bracelet options
10. Oris Classic Date Leather Strap
Price: £900
The most affordable model on our list is the Classic Date Leather Strap watch by Oris. For anyone looking for a stylish and functional timepiece that is ideal for everyday wear, this model is sure to meet your requirements.
And despite a more affordable price tag, this watch is fitted with an impressive selection of features that by no means slip Swiss luxury standards.
Key features:
42mm diameter case
Finely patterned dial
Engraved roman numerals and hour markers
Date window
Water resistant up to 50m
So, there you have it – an Oris watch for just about every budget and requirement. This list is proof that luxury can be done on your terms and thanks to the Swiss manufacturer and its extensive collection of watches, you really don't have to compromise quality, no matter how much you're willing to part ways with.