Gucci never disappoints.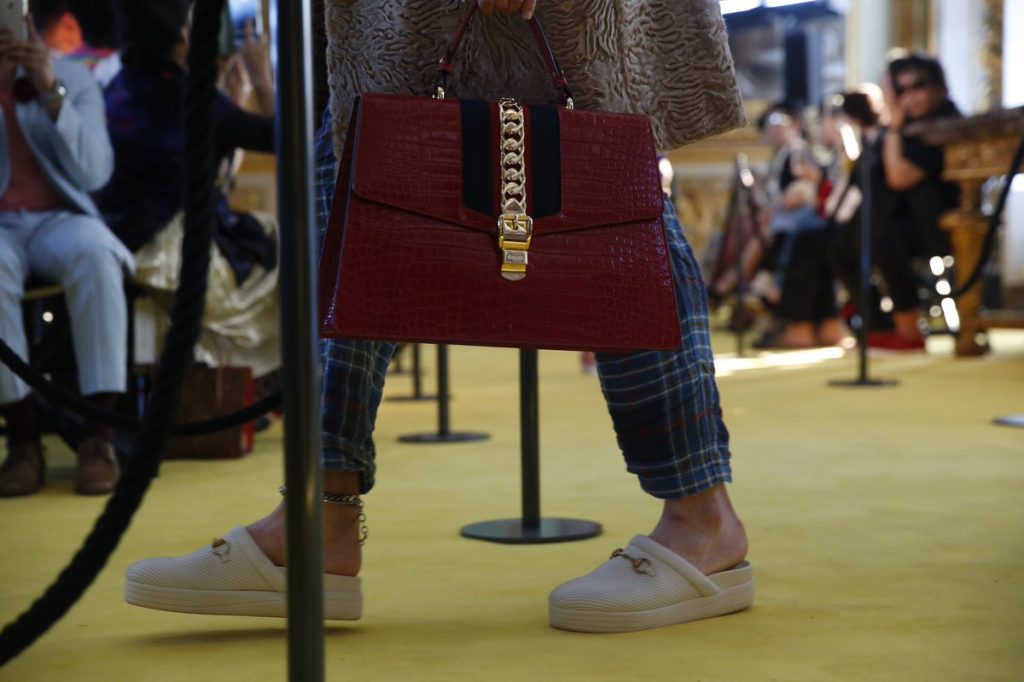 Alessandro Michele couldn't get the Parthenon, so he settled for the Palazzo Pitti.
Gucci's 2018 Resort Collection marched all 115 of its Italianate looks through the ultra-exclusive Renaissance palace on Monday. Models sported shimmering tiaras with silver lyres and gold wreathed necklaces as they walked to the sound of a woman plucking the strings of a harp behind them. The collection moved through time, transcending from 60's psychedelic printed palazzo pantsuits to 70's capes and coats. From "Guccy" slogans to GG logo printed high socks paired with loafers,  Michele incorporated a diverse set of 44 menswear looks into this season's show.
While the sprawling chateau conjured an air of luxury, Michele often cut the atmosphere with more casual garments, sending men to march the runway in denim jackets, mesh t-shirts and oversized jeans.
Gucci's creative genius delivered a sundry of cuts, fabrics and moods this season. His masterful vision of the brand has allowed him to play with Gucci's traditional aesthetic. Difficult as it was, we've selected 10 of our favourite menswear looks from Alessandro Michele's latest collection. Our selections are diverse as the show was, ranging widely from showstopping floral anorak jackets and short shorts to modern suits paired with GG printed fanny packs.
Sit back, "Guccify Yourself" and continue on to enjoy our top 10 menswear looks from Gucci's 2018 Resort show.
---
10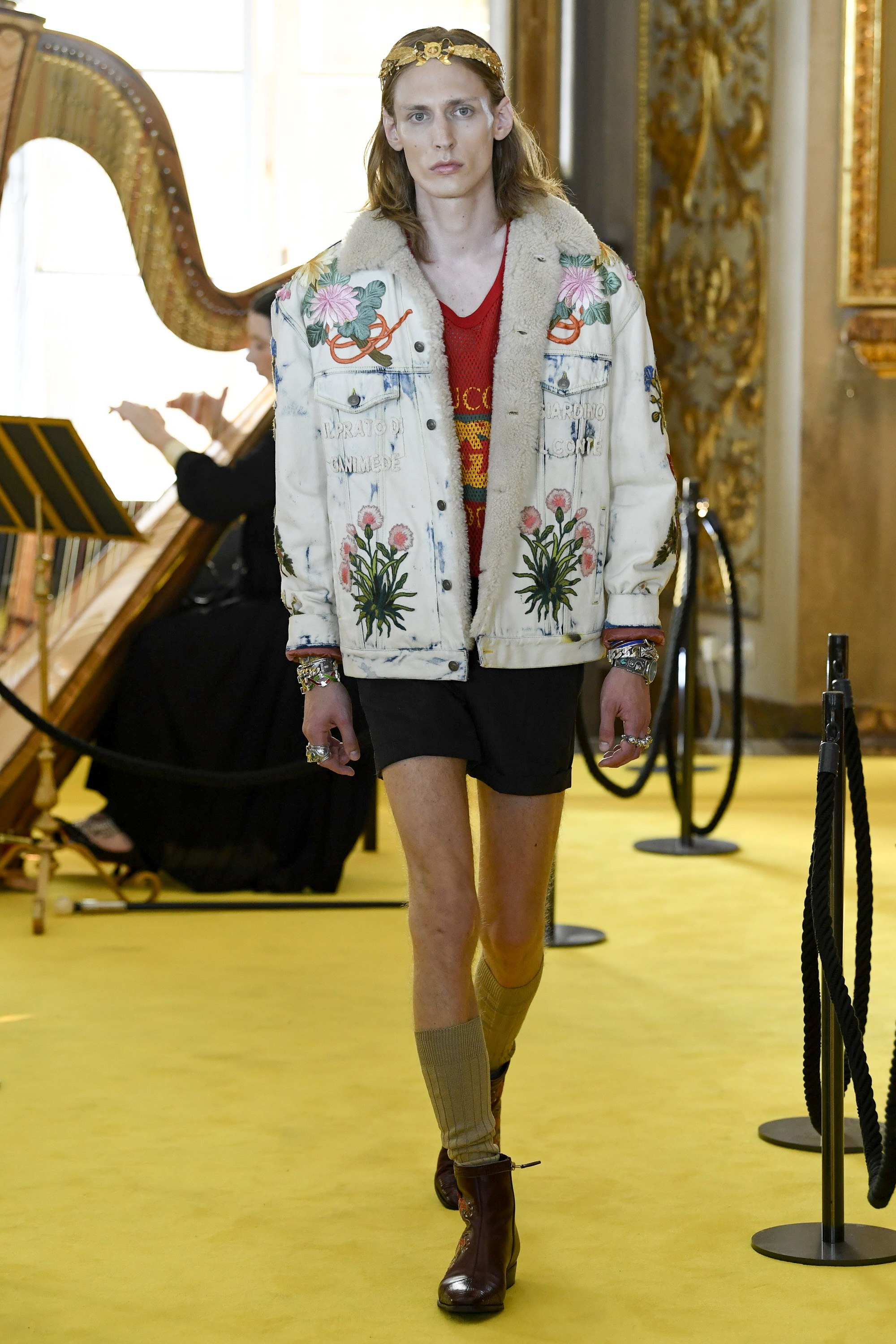 Gucci is one of the world's leading luxury brands. Naturally, it also happens to be one of the more expensive ones. But what we can always expect from the genius behind the brand is consistency. While you may be used to seeing loud prints and slim cuts from Gucci, high fashion and streetwear came together here to bring forth a look worth a passionate nod. Everyone loves a good denim jacket. It's a staple piece you can bring out whenever you want to dress down a pair of slim trousers. This acid wash jacket paired with the pop of red mesh underneath works perfectly for a streetwear look. And the heavily stacked jewellery…well, what's Gucci without opulence?
---
9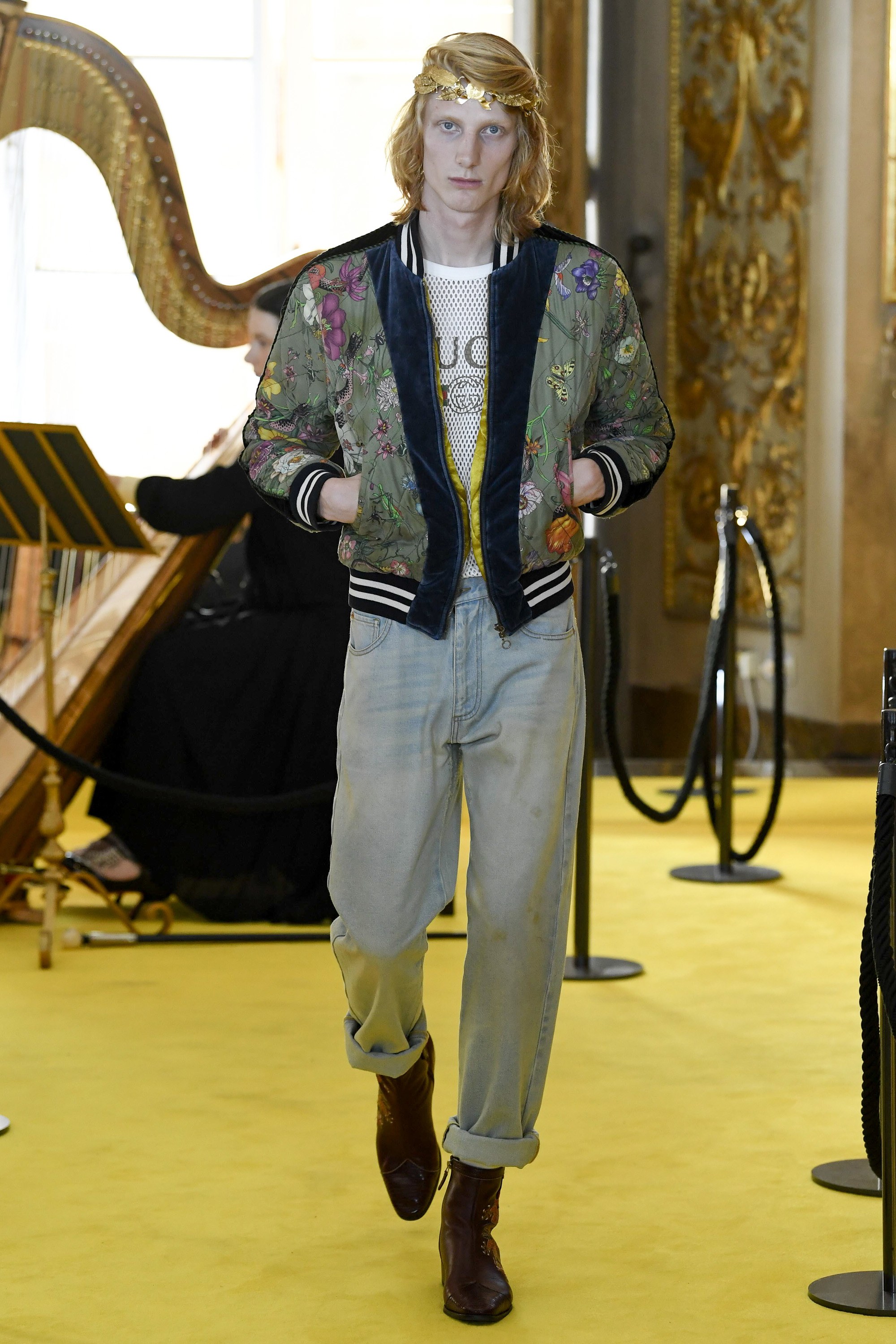 Yes, the mesh t-shirt makes a comeback from the last look, but in white. In fact, it surfaces three times throughout the collection, the perfect piece for throwing on underneath a simple jacket for a pop of inconspicuous Italian luxury. Michele paired this quilted floral bomber with some washed out, baggy jeans, simulating a high-fashion-meets-thrift-store kind of vibe. Switch these brown leather boots out for a crisp sneaker for an expensive street look.
---
8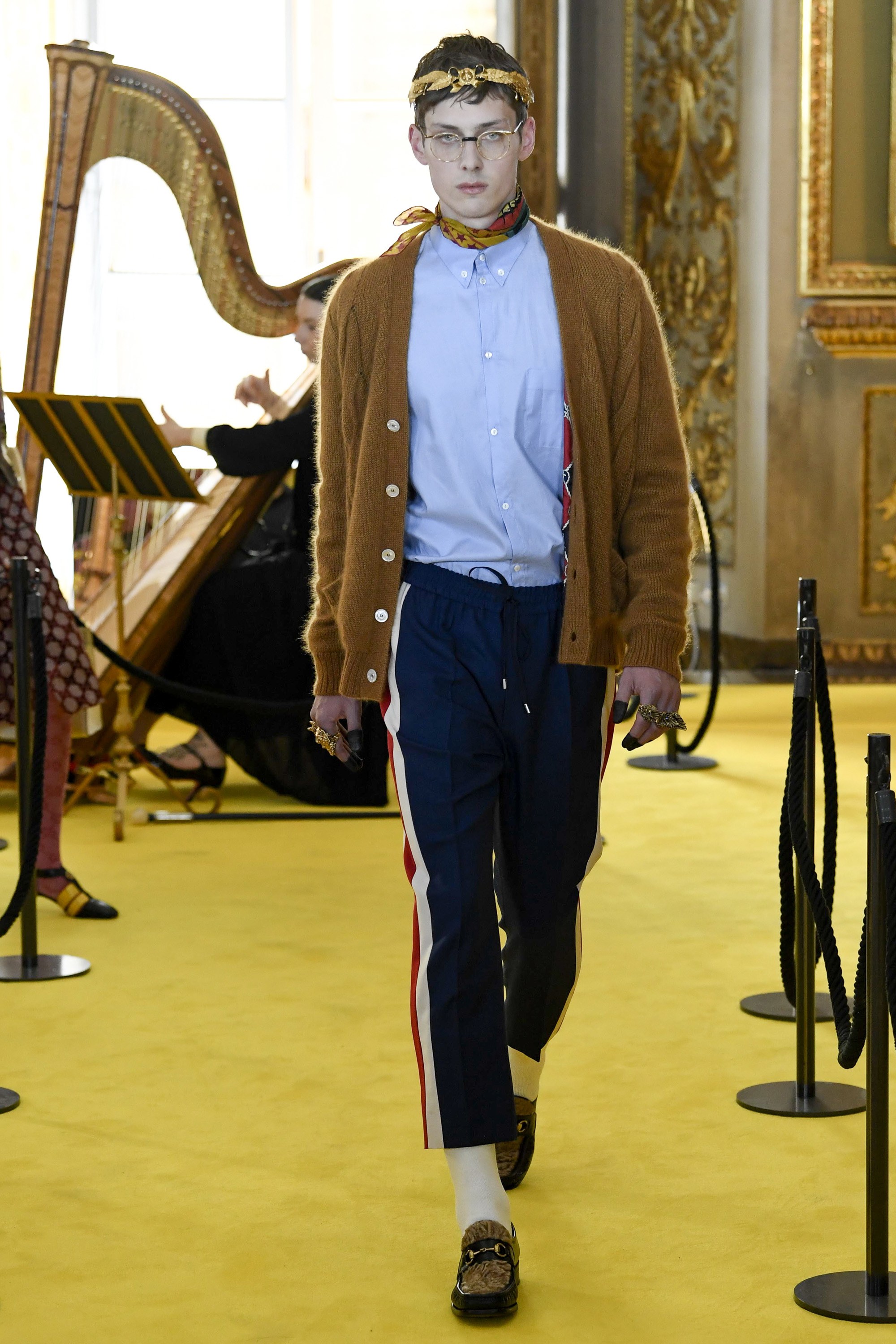 The trackpant-trouser has suddenly made a return to the fashion world, dominating shows like Gosha Rubchinskiy. The athletic chic pants in this look are perfect, with the long red and white stripe running straight down the side and stopping suddenly, cropped above a pair of signature Gucci loafers. As per usual, the outfit was paired with heavy jewellery, with winged golden rings adorning each of the model's (black-tipped?) fingers. We can see ourselves in these pants. Can't you?
---
7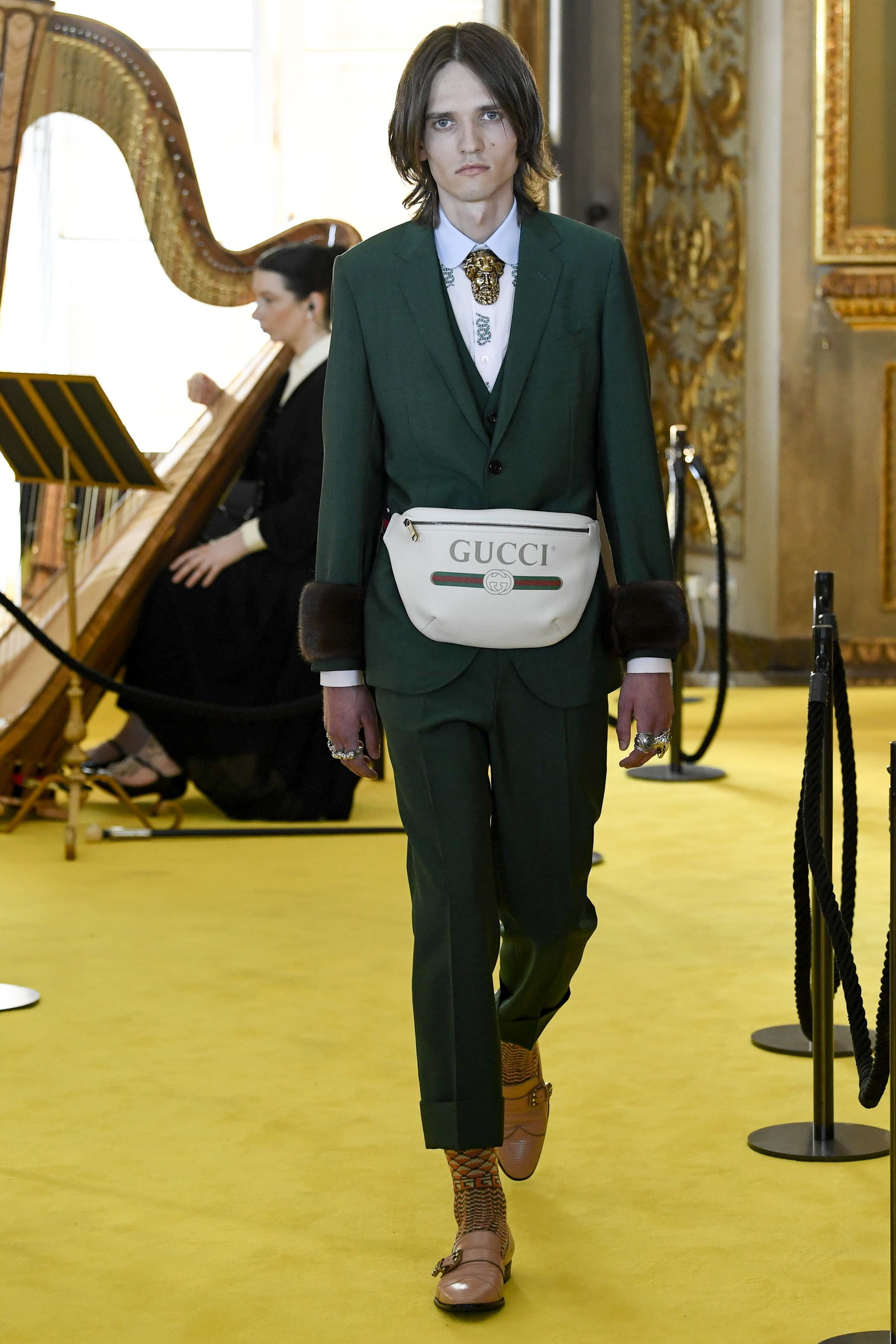 What is there not to love about this classic Gucci look? Michele paired this forest green three-piece suit with some buckled loafers and quirky socks. The shirt underneath the suit jacket is decorated with the coiled snake logo, assumedly repeated across the entire garment and clasped at the collar with a gold broach. The entire look is as modern as it is traditional, a nod to Gucci's history of signature slim cut silhouettes interrupted only by the oversized white leather fanny pack sitting on the model's waist.
---
6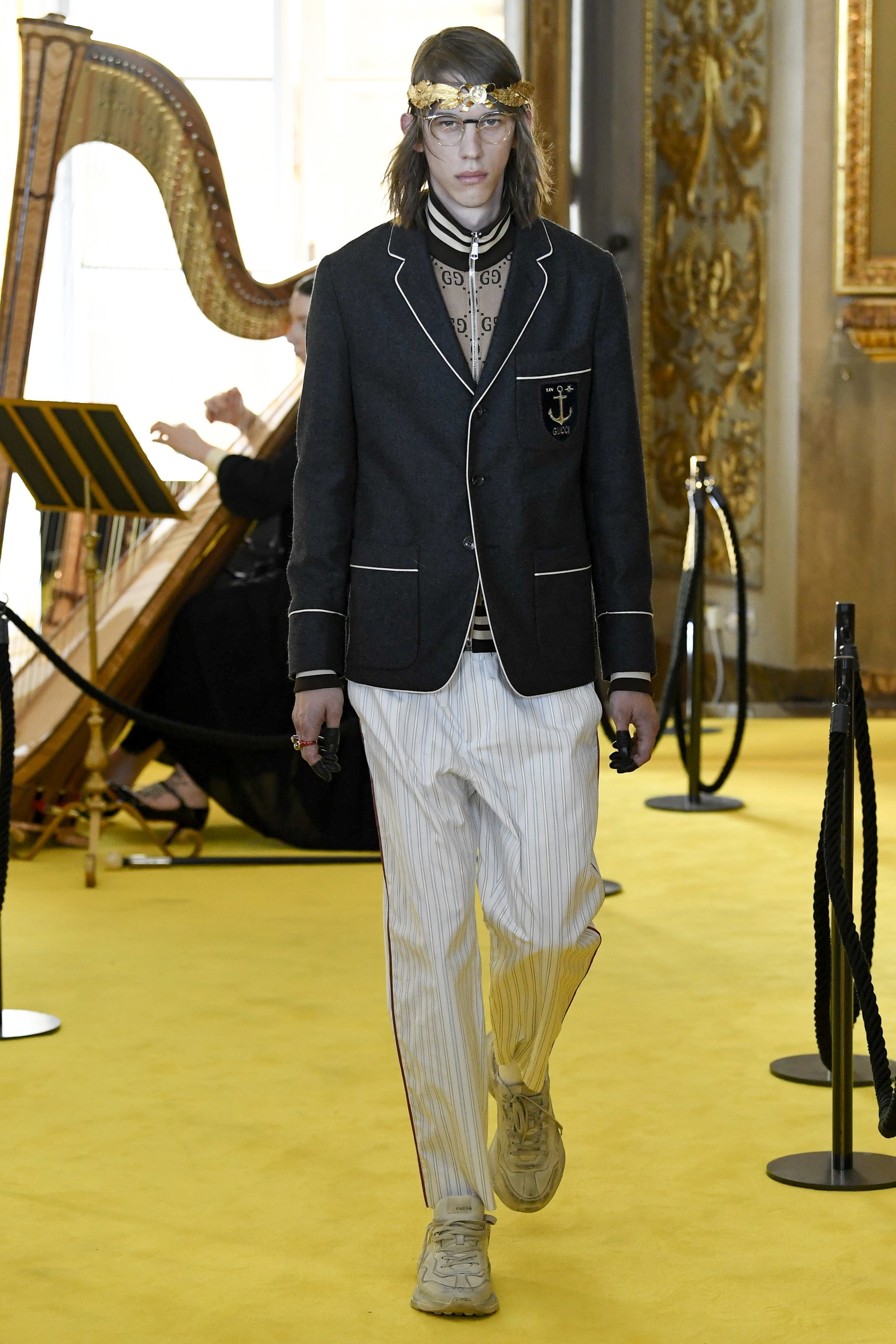 Look at these sneakers! Gucci's revision of its clean style is a shoe in the same direction as Balenciaga's iconic AW17 sneakers. The stained leather effect spreads across the upper, to the laces and all the way down to the sole, the word "GUCCI" scrawled off-centre on the tongue of the sneaker. This whole look is off-kilter, and we love it. Michele's pairing of a sailor's coat with a GG logo zip jacket, nerdy spectacles and these off-white trousers is a departure from what we usually expect from Gucci, but it works. Could Michele be foreshadowing a possibility of Gucci jumping on the ugly trend?
---
5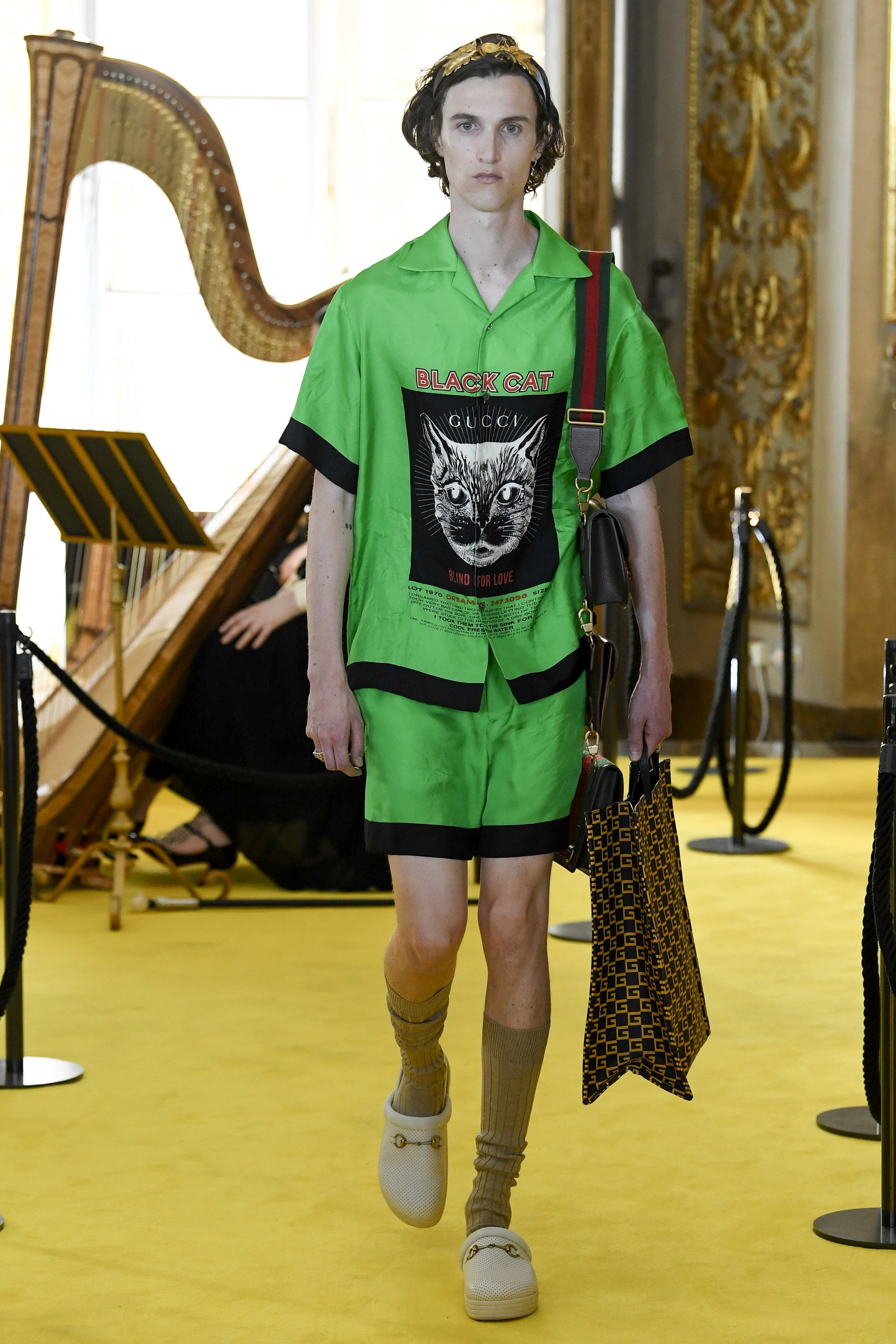 Michele really stuck to his guns this collection with the pairing of his moniker loafers and high socks. For this look, the creative genius paired it with a funky emerald green set. The top is a revere collar, short sleeved shirt with the words "Blind for Love" emblazoned underneath a photo of a black cat. The lustrous bright green set was accessorized with a quadruple bag look, complete with a gold wreath holding back the model's hair. If you're looking to stand out and survive the summer weather, this is the perfect look for you.
---
4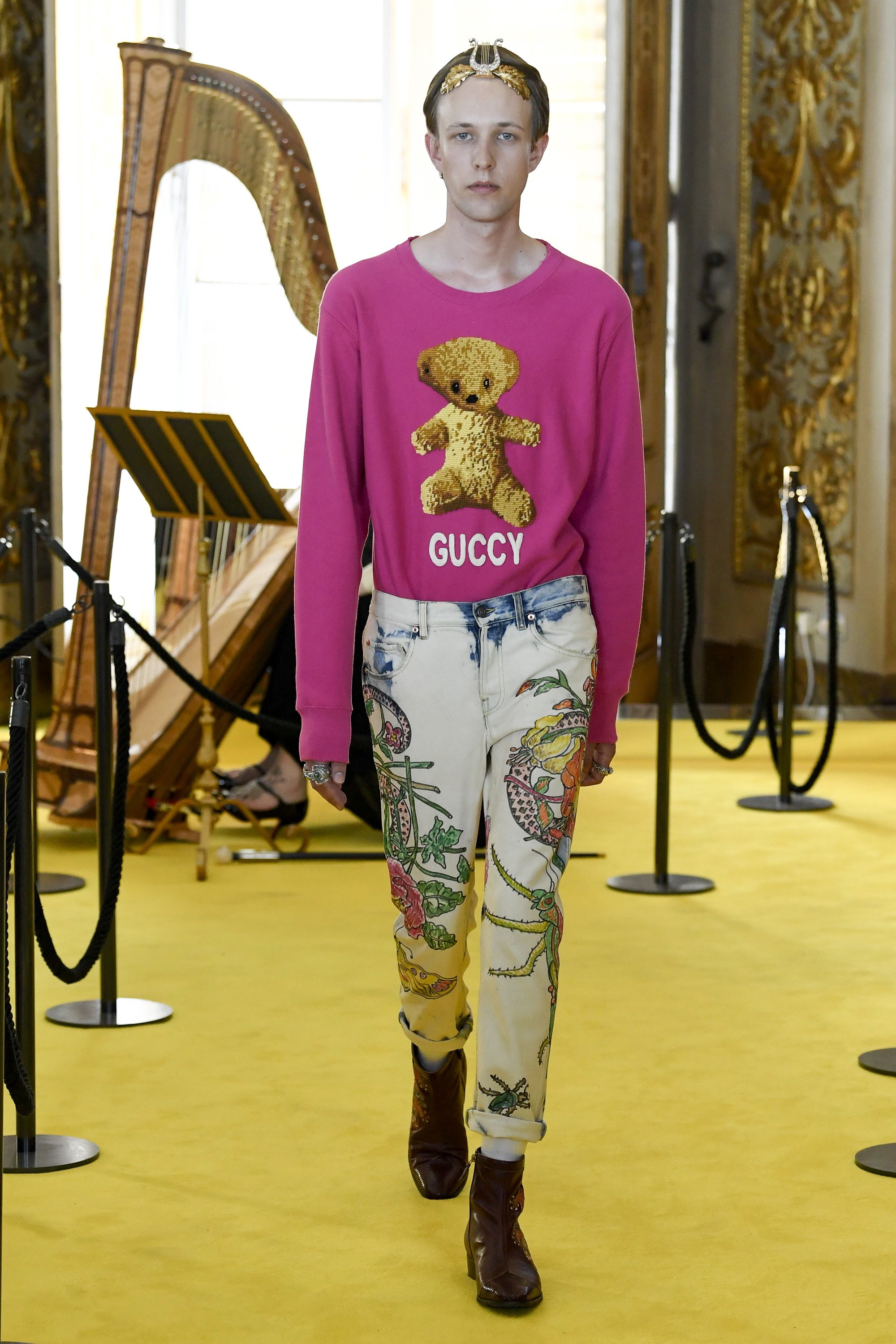 Gucci has been coming all the way through with these graphic t-shirts lately. Its catchy sayings and parodical images are a testament to the brand's way of making fashion fun. This fuchsia "Guccy" teddy bear sweater is a top favourite, nodding to the "Guccify Yourself" tee worn by Michele when he closed the show and accepted his applause. These acid wash jeans are decorated with childlike drawings of flowers and insects. We can totally see ASAP Rocky making an appearance in these, especially given his love for Gucci. He might not pair it with the same headband pictured here, but don't quote us on that one.
---
3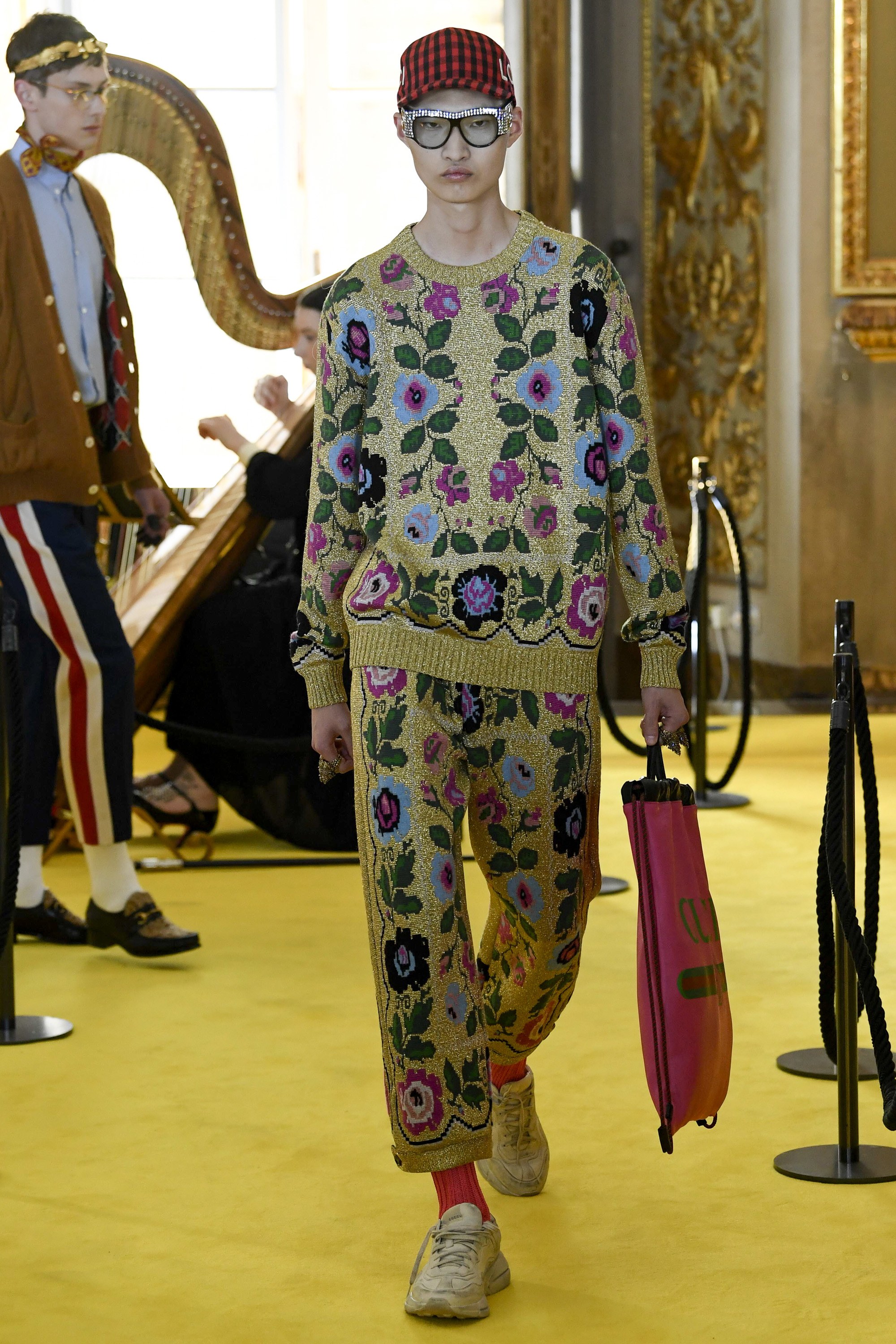 If you watched the show, you know this was a showstopper. We're all about sets here, and this shimmering gold sweater-trouser set paired with the ugly sneakers and handbag makes this one of our top 3 looks from the show. The symmetry of the pattern is perfection, a stark contrast with the sullied, chunky white sneakers that tie the outfit together perfectly. Between the pretentiousness of the diamond encrusted shades and the red socks peaking out from the crop of the pants, Gucci continues to subtly nod to their quiet work on the ugly aesthetic. Needless to say, we love this look.
---
2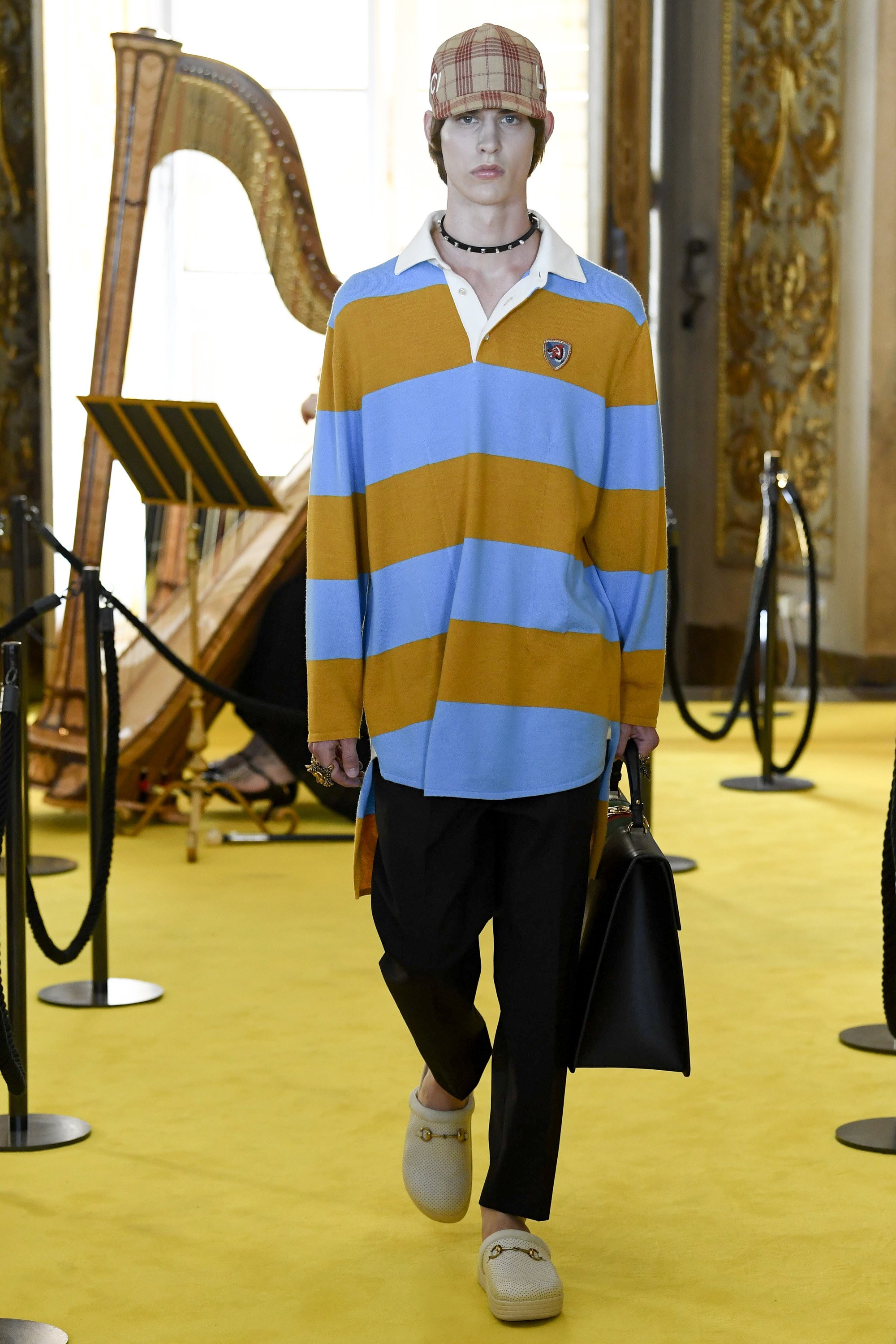 Stripes never really go out of style. And for Gucci, neither does pairing colours together that aren't at all analogous but somehow seem to work perfectly. This oversized polo seems like a nod to ASAP Rocky's previous GUESS Originals capsule collection, the asymmetrical hem at the back making the fit of the shirt perfect for a streetwear kind of outfit. The accessorizing of the massive leather Gucci bag is perfect for this look.
---
1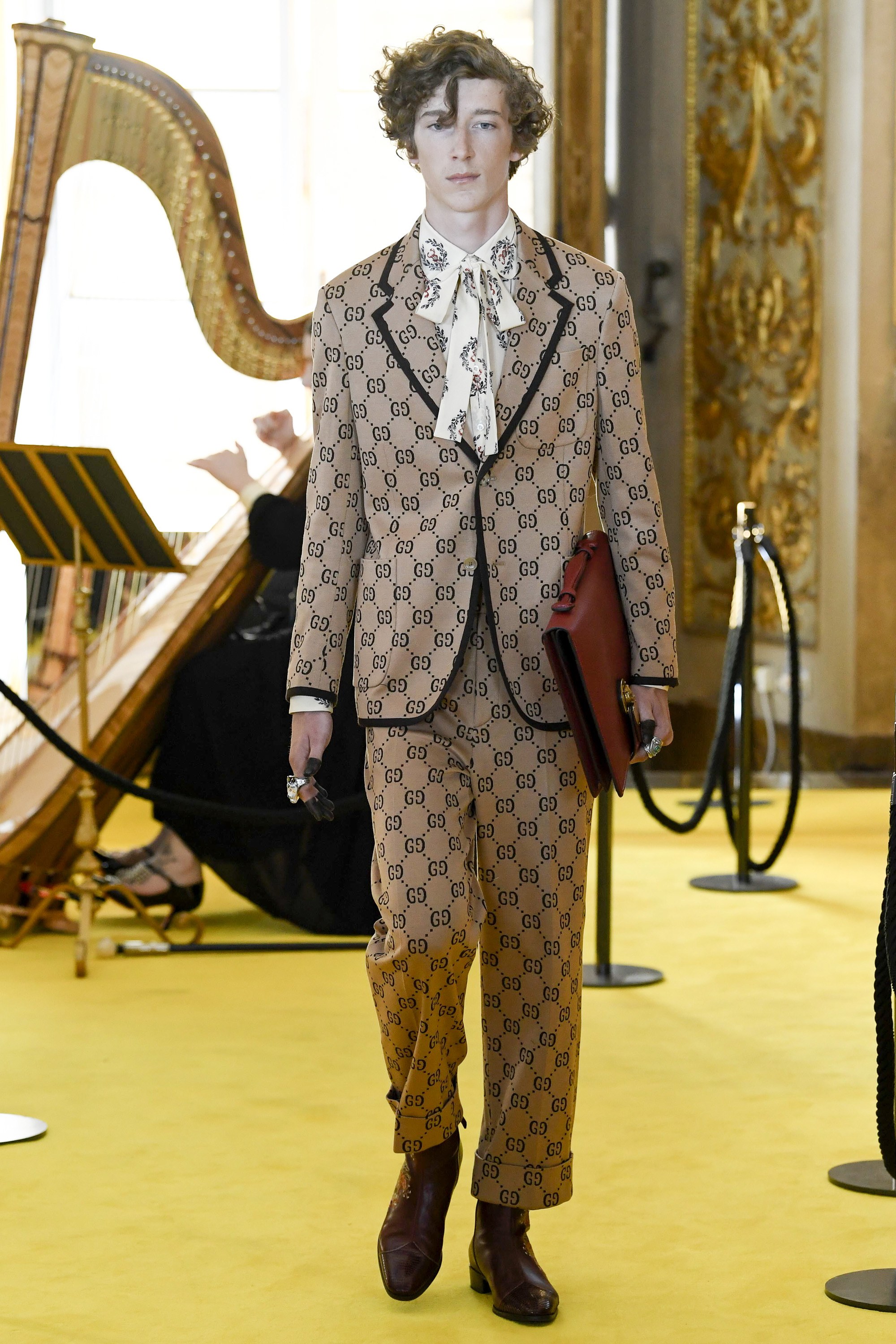 Deconstruct this outfit in your head and think about how wearable it becomes. You could pair the bowed shirt with a pair of oversized jeans for a complacent chicness. Or you could take these statement trousers and wear them with a simple top for a posted up street fit. You could even just wear the whole suit for a dramatic entrance at a party or event boujie enough to permit such garments. The mirrored GG logo is repeated across the entire suit, borderline obnoxious in its braggadocious pattern. Paired with the brown messenger bag, the look is classic, a tride and true Gucci statement. But taken apart, this becomes the perfect way to stunt.