UO SS18, Exclusively on PAUSE.
Urban Outfitters Menswear reveals its Spring/Summer 2018 lookbook, taking a new direction into 2018. Menswear Design Manager, Will Anstee, shares with PAUSE about the trends, brands, and direction for UO in the new year.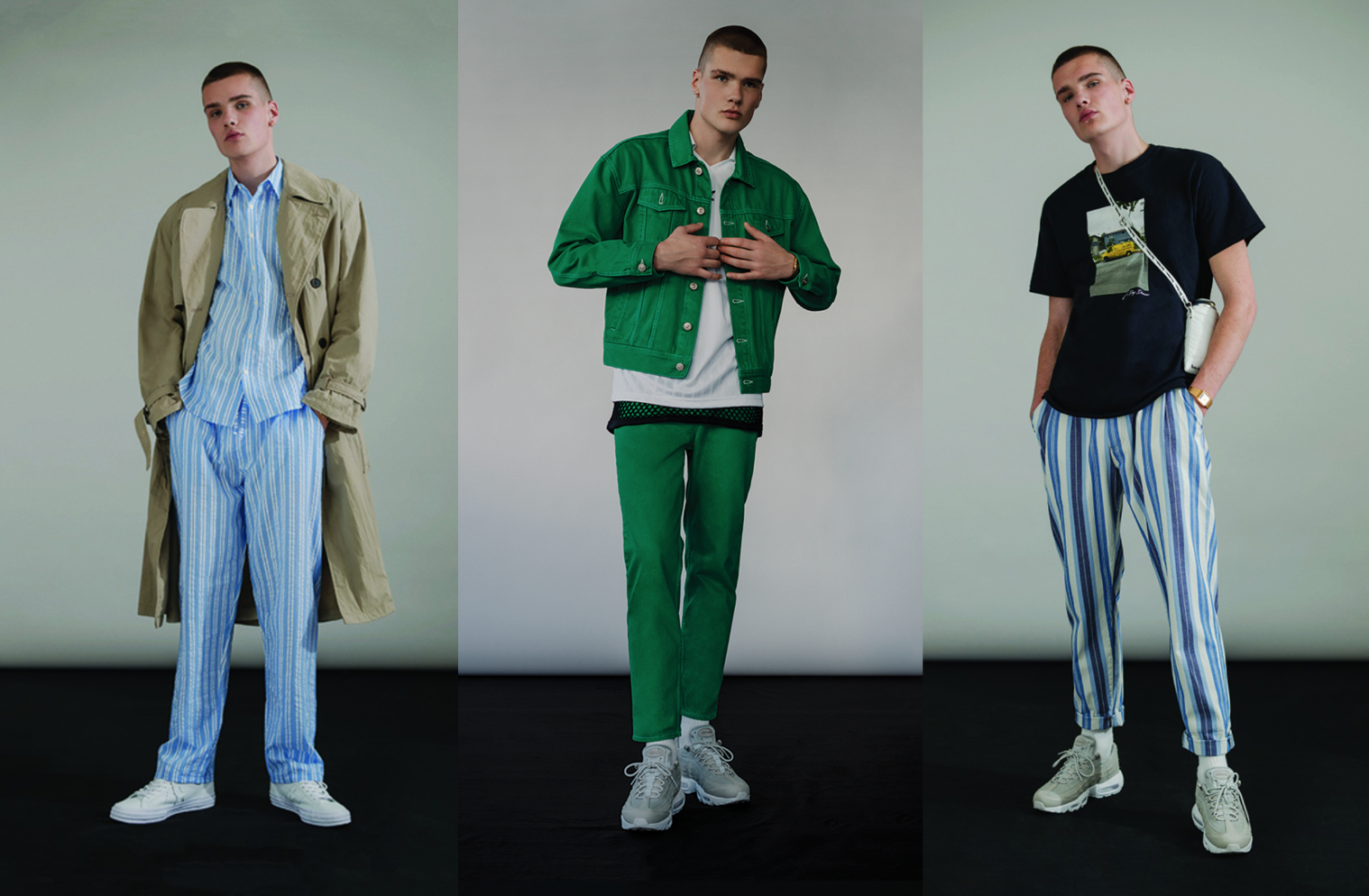 Tell us about Spring/Summer 2018? What is the new direction for UO?
The idea right from the beginning was to turn everything on its head and pursue something new, so that's what we've done.
We used unexpected fabrics and put them into the perfect summer shapes. For example, 80's runners made in banker's chalk stripes or tartan flannels, as well as PJ's worn with a nylon trench, for those days when you pop out for a pint of milk and end up going "out, out!"
Our 'Dad' denim now comes doubled up and in colours. Jackets, jeans and shorts in pop brights and naturals too, as well as the introduction of contrast stitching. Also did anyone mention cord? All of these things can be categorised under the term "Team Wrong", the simple explanation of this is "things that sound wrong, but look so right", a mantra that has stayed with us all the way.
What are some of the emerging trends for SS18? 
Sportswear styled with tailoring – think trouser pleats with a track top or boxy shirting with short shorts. Pairs/matching is a big deal too – we have floral vacation shirts paired with matching shorts. Unisex suiting continues at Urban, with future his and hers sets on the way, and not to forget the return of the polo in key colours, stripes and varying silhouettes.
What brands will be appearing at UO for SS18? 
Tommy Jeans is still key, as is Champion with our reverse weave collaboration in exclusive colours. New brands that we are excited about are Lacoste and an exclusive collaboration with Guess, and we continue with an exciting Korean edit for top stores.  We also have UO exclusive drops from Liam Hodges, Christopher Shannon and Bobby Abley during men's fashion week in January and we are happy to introduce, Bowery (NY) Jungles & Dertbag (LA) and Funtime (Europe) into our premium graphics tier. To finish, we have our Calvin Klein edit, with its Raf influence becoming more and more apparent.
Tell us about some of your 5 favourite pieces for SS18?
The Seersucker Suit
Lacoste polo
Tartan sportz short
Pleated Jean
Any of our printed tees….
What does Urban Outfitters stand for within menswear? 
Lots of choice under one roof. & Have fun and don't over think it….