Talks career, mindset and future
From Lincolnshire to Paris…
Starting from a young age, Eddie Wailes eschewed the traditional education route in favour of hands-on experience to cut his teeth in the fashion industry. Progressively discovering the ins and outs of what it took to run a business, he soon began to apply this to his own resale ventures and has since steadily, and organically, seen nothing but success. PAUSE took the time to sit down with the young entrepreneur to talk inspiration, the resale business and his take on the current fashion landscape.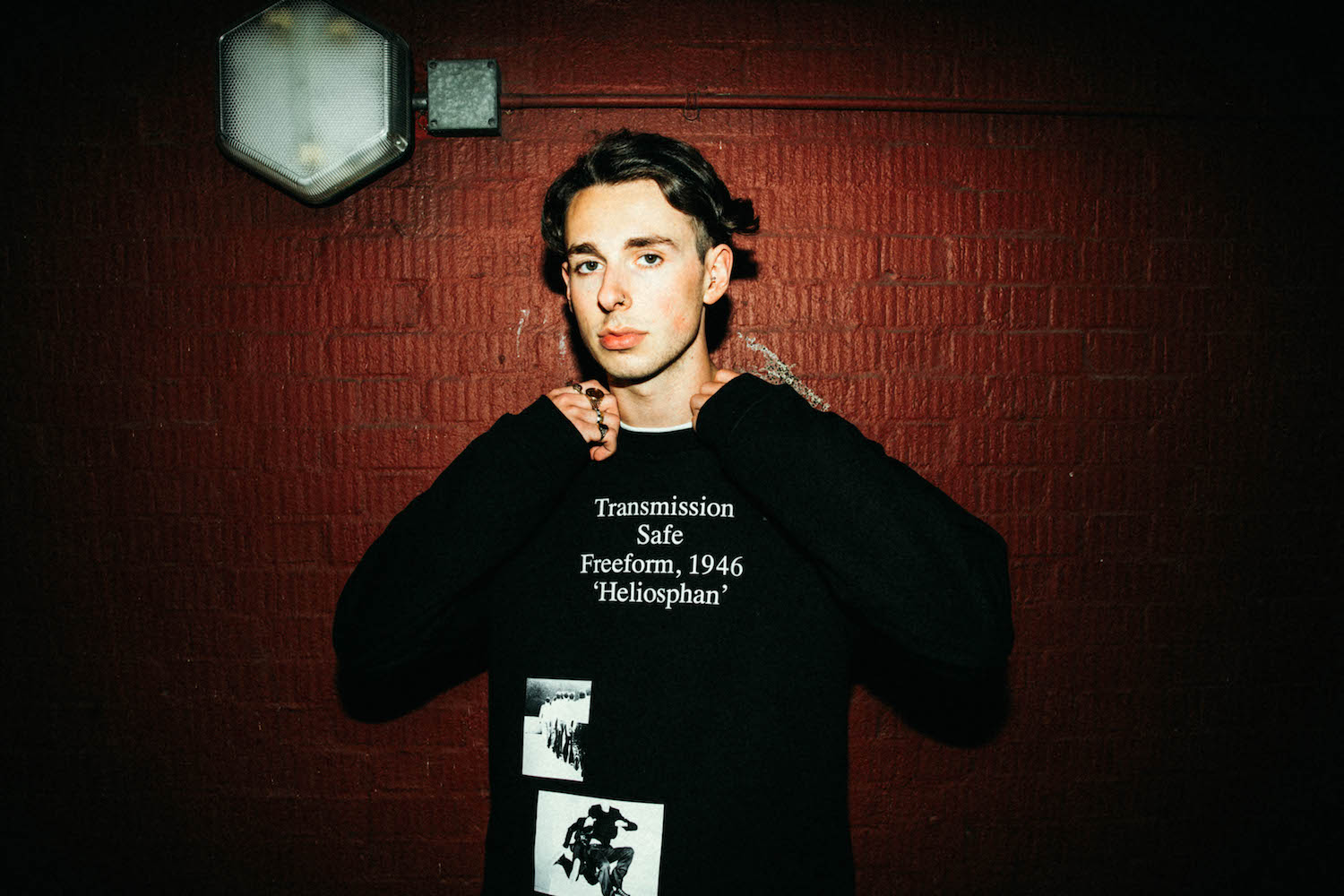 Raf Simons X Storm: Sweater, Balenciaga: Trousers, Trainers: Air Force
Tell us who you are, where you're from and what you do for a living.
I'm Eddie, 20. From just out of London. I buy, source and sell designer clothes and items for a living, which was my passion and hobby that turned into my daily job. I have a background in suit tailoring, which involved buying, marketing and all aspects of running a business which is what ultimately led me to start my own.
You seem to collect both vintage and current designer pieces, tell us how you shop?
I'm a selective shopper, I tend to mix vintage and new season closely, often integrating the two. Vintage Gucci is my all time favourite. I get more out of finding rare and unusual pieces than paying for new season, but I tend to find the balance in-between. I'll never pay retail, unless its an investment item.
What's the key to buying something great that's 10 years old?
Nothing brand new will ever hold as much character as a piece that is a decade old. It really depends on what you're buying. Over a year ago I came across a made to measure Gucci monogram suit from the 1990's. The original owner from Paris had it made for himself in the Old Bond Street Gucci store by one of Tom Ford's assistant tailors, only wearing it once to his wedding.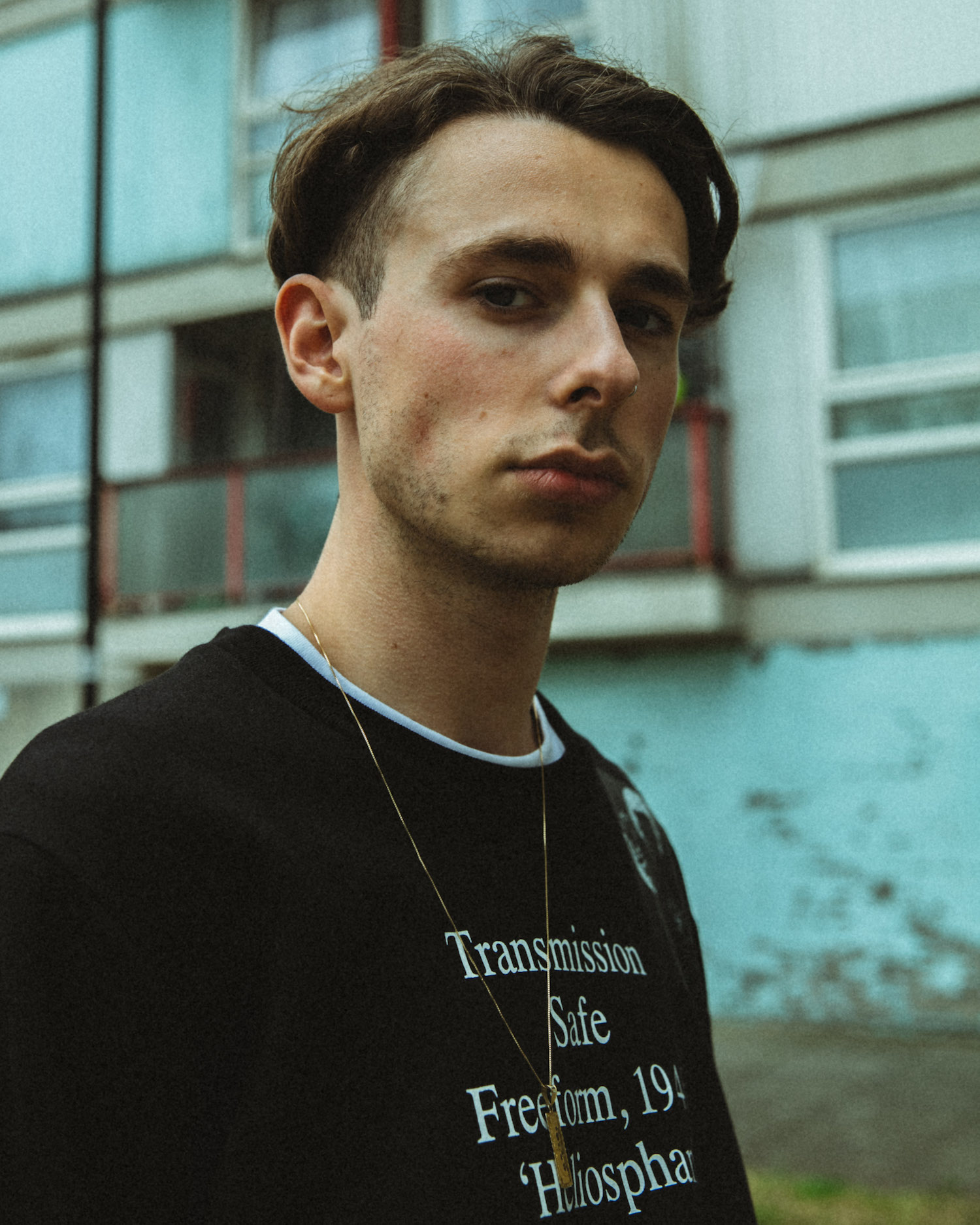 Why didn't you decide to go to uni?
I was going to go for fashion marketing but I don't think that would have expressed what I wanted to do.
Is that what you wanted to study?
Yeah, I think so, but I ended up doing that within working in tailoring, so I was working in that for a year and a half and I was doing the buying, the marketing, everything, even the accounting and running the shop. So I realised what it actually took to run a business so I applied that, the basis of what I learnt into what I do now by myself, and I don't think I would have learnt that at uni, because it's not actually running a business from uni you just get taught it, I prefer to learn through the real world.
Do you feel like your generation now, people you've grown up with,  are a bit more business minded? If we're looking at 10 years before, it was completely different, what everybody knew was to get a job, work 9 – 5, but the generation we live in today is completely different to the generation then. Do you feel like everyone is business minded and where does that come from?
I think it comes from people around their social environment in London, if I didn't hang around in London and certain people I wouldn't have been influenced to kind of go on to what I'm doing and I don't think that's what uni can teach you when you're in those kinds of situations about managing money or being in debt. Before I was even considering going into uni I was £4000 down, got a bit carried away and spent some of my parent's money so I needed a way to pull it back and it actually became something more than to make money, because I was actually passionate about it.
What did you do?
I was literally running around 3 jobs at once and then started sourcing and selling, because I had to kind of find a new market that wasn't Supreme or streetwear because I wasn't really interested in that anymore.
Raf Simon's: Jacket, Balenciaga: Trousers, Trainers: Air Force
 Gucci: Bowling Shirt, Gucci: Trousers
So did you start of reselling Supreme?
I got thrifty when I was at college 2 or 3 years ago, my lunch break I found a Gucci bag for like £5 and that was the first thing I ever sold and I realised there was actually a profit in it. After that, I just went out to find suppliers in bulk, like LV, authentic Gucci and just make sure to have different aspects covered, but now I also do jewellery, Rolex's and that privately.
At such a young age even, how did you even think how am I going to find Gucci or LV suppliers?
It sounds stupid but I spent a lot of time on Google researching, there was another guy doing it at a similar time called Ollie Purnell, basically all his stock is from Japan.
Because they don't really believe that another person should own what someone else owned before, their soul belongs to it, so it's all put into wholesale out there and you can buy it in bulk but it's quite hard to find a supplier who will send it to you because their trading laws are quite strict out there.
Me and Ely went to Japan and the amount of the stuff out there is insane, like old CDG, I started getting inspired and dressing kind of different, like the scene out there is very different to London. No one is in high street stuff, everyone lived and breathed it, even people who weren't interested in fashion were dressed smartly.
Where did your fashion sense come from, living in Lincolnshire where did it all stem from?
I'm the only person in my town, like completely, that is it. So I get some funny looks walking about in a Gucci shirt, but people my age all follow me on Instagram and just look at me strangely.
It all stemmed from that Gucci suit I got, of course like that was so fun to wear but after working in tailoring and kind of experimenting with dressing a bit smarter but then incorporating the smarter aspects of streetwear and high fashion it all kind of brought it together, but living in Lincolnshire's literally nothing.
Around 4 or 5 years ago I used to BMX every day, like that was my hobby and I just used to wear straight Dickies and Vans and that's still what I wear now, even though I might have a Balenciaga jumper on, I'm always wearing Vans, I don't believe you have to be dressed head to toe in it to give off the look that you want to.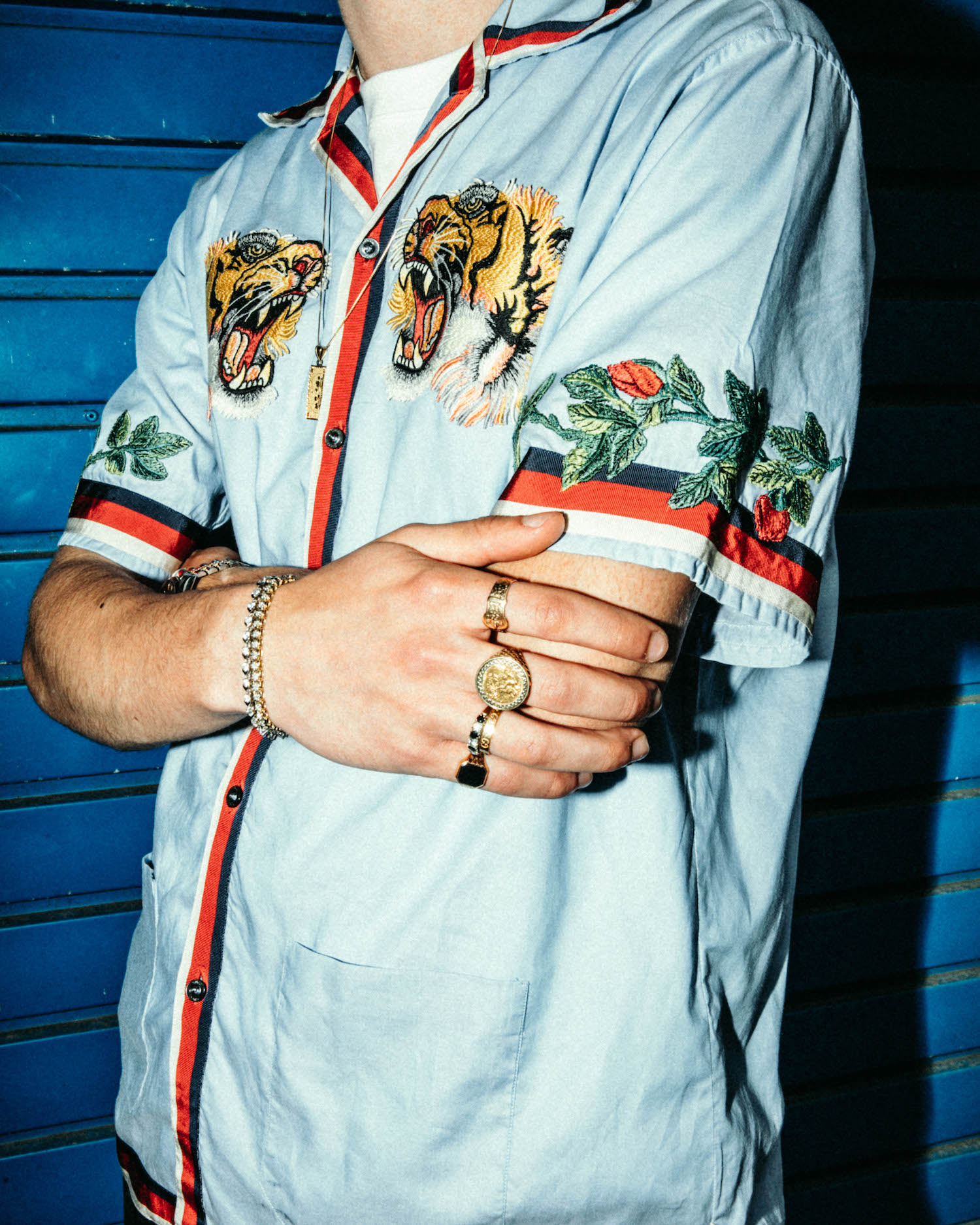 Do you think Instagram has somehow made the youth more business minded?
Yeah, I think so. It's kind of moulded a lot of youth to become business minded.
I just think there's a lot of pressure from the outside world on social media being like you have to rush and you have to rush, every day, the first thing you probably do when you wake up is check your phone. Seeing someone that's further on than you makes you feel you should be doing that, I'm only 20 and I need always need to realise I'm doing it at my own pace.
Getting back to style, describe the most stylish menswear outfit of 2018.
To me, menswear this year has been a whirlwind. From Virgil heading to LV, to Kim Jones going to Dior, its been hard to keep up. One trend that I've really appreciated is the abundance of suits on the runway as well as in street style, especially eye-catching pieces like silk blazers, patterned trousers and matching sets. Raf Simons nailed it in his Spring 2019 collection, so that to me is the most stylish menswear outfit of 2018 – the elevated suit.
You seem to have grown up so fast. How have you matured?
In our Instagram generation, many people will buy certain clothing for the purpose only of attention and likes. Not just Supreme – but even high end. Dropping £1000's on an outfit doesn't necessarily justify style. There's no wrong in that, but finding the balance without being quickly labelled is hard.
Sometimes styling something expensive with Vans (for example), annoys some. But it's not about being head to toe, it's about making it your own.
 

Balenciaga: T-shirt, Balenciaga: Denim, Gucci: Trousers 
Do you think style can be bought?
It's a controversial subject, some of the most respected public figures in youth fashion are known for their forward-thinking strategies of promoting how to create great outfits on a budget. I justify expensive pieces through investment, quality and cut.
Do those you keep the company of seem to have a similar taste in fashion to you?
I'd say that most of my close friends all have very distinct styles. My best friend @elykong, for example, has a completely different aesthetic to mine – but when it comes down to it, that's really what I love the most. We share the same interests, but make it our own.
What is one common style mistake that you see too often?
Stop tucking your trousers into your socks, c'mon no one likes that.
Talk us through your opinion of bootleg products, what is your opinion on counterfeit culture in general and how does this impact your business?
There's a big difference between a straight counterfeit and 'Bootleg'. I've worn bootleg pieces such as a 90's Gucci monogram sweater, and considering Michele is doing a retake on bootlegs this season, there's nothing wrong with it.
A big part of my business is helping people to distinguish real from fake – I don't support the counterfeit business at all. I justify my business through honesty.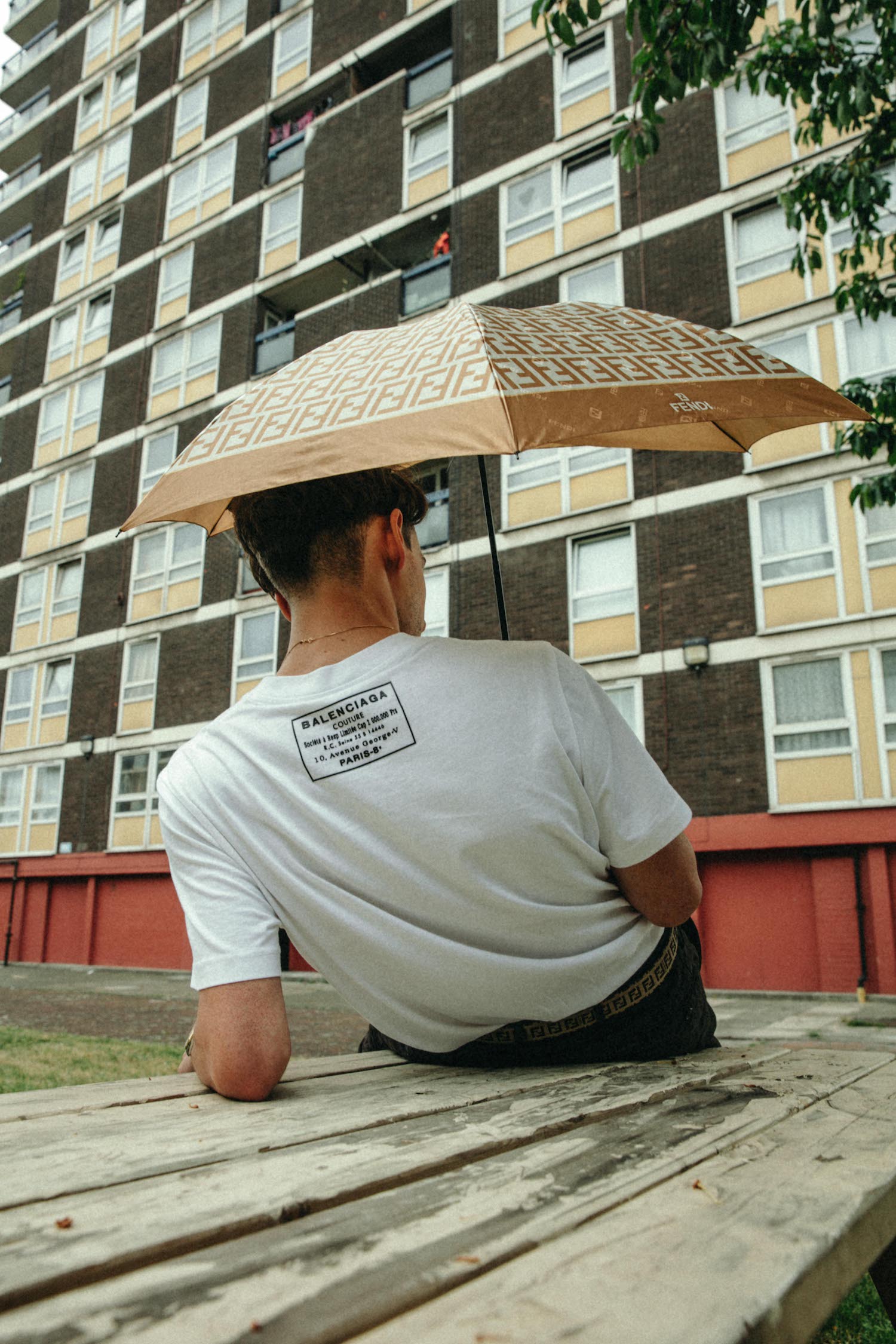 Raf Simons: T-shirt, Alyx: Backpack, Gucci: Trouser, Trainers: Air Force 
Where would you like to take what you do as a business, buying stock and reselling it, what's your future plans?
Well my future plan for this year that I've actually gone and met was doing pop up shops, I did one in Paris over fashion week and loads of people came through, whether they knew who I was or not they got to see all this stuff, and especially French women are like "Is this real LV?" and I was like yeah it's really cheap.
My goal back then was to see it actually bring it into person and actually meet people by it, but for the future, I was going to go get a job in the industry but I feel like I'm just carrying on at my own pace with it, but I think it's kind of limiting what I do to a certain extent.
The only way of taking it further would be to get a shop but I don't really want the overhead, especially in London or it wouldn't really succeed where I am. Maybe like selling to certain people like rappers that kind of thing, or maybe building a further collection where I don't sell a lot of it and really dig in deep and finding certain pieces that are very rare and start to do styling. That would be good when I can start earning money on alongside the passion, rather than going to put a piece just to sell it, because I'd rather get more from it than just money as it is a passion.
These days we have so many influencers, and now it's becoming a bit flooded. With you, it's much more natural in terms of how you put your outfits together and you've just got a natural flow about you and your Instagram. What advice would you give to a lot of people that lose themselves in a way, when they get to a point where they're doing things and it's obviously for money or for a few clicks?
Basically to make it on Instagram now you have to do something that provokes a certain trend of what's relevant and even if that's not them, a lot of people will go out and do it, but you have to, a certain extent, incorporate that with yourself and if people can relate to you in a certain way, they will follow you.
I know I don't put a lot of my personal side on Instagram and it's mainly just business or outfits but it's actually the life I live, like I'm always travelling, none of it's for show. A lot of people try and live a fake lifestyle over Instagram like "Ah look at this look at this" but if you're really yourself, it won't necessarily push you faster, but if you are yourself on Instagram it will grow slowly.
Ely: To a certain extent a lot of people when they come to Instagram they just see the other peoples likes they don't think what goes behind it, they'll be like "I've got to buy that Supreme because that gets loads of likes" and then they post it and they get 43 likes on it and they're like "what am I doing wrong?" They don't realise you got to get background, angles, right person, right time, it's a lot of factors that go into it and people think it's super easy and stuff like that, that's why a lot of people get sucked into it and they just get upset with it or whatever because they think it's going to be easy to jump straight into it and be the best. It's a n ego thing, people think they're the don and they think if they do what everyone else is doing they'll be a bigger don, it doesn't work like that.
What is unique about London's style compared to other major cities in the world?
London, in my opinion, is one of the biggest cities for streetwear. You can get a lot of inspiration. My evolution of style definitely had a big impact from socialising in London, however, London isn't always ahead. I visited Japan last December, and it definitely changed and widened my perspective on how I dress. If you're planning a trip, make Japan a priority.
A lot of people today gain their style inspiration from Instagram, where do you get yours?
I prefer to take my inspiration directly, I'm focusing this year on travelling. Covering Canada, Hong Kong, Japan and Korea. Of cause Instagram is a valuable tool for inspiration. But travelling and taking inspiration from other cultures and meeting new people in the industry gives me my motivation, as opposed to purely social media.
Which designer brand are you currently feeling right now and why?
With Demna joining Balenciaga, it has changed the whole face of fashion, integrating streetwear with high fashion. In terms of pieces and styling, Balenciaga does it for me. But I don't often agree on paying retail, so I'll make sure to get a discount.
What are the key items in your wardrobe that defy seasons?
During winter my Stone Island metal shell jacket rarely comes off, considering its nearly as old as me, and it's still doing well. In summer, it has to be a classic Gucci bowling shirt.
What's the most expensive thing you've bought?
Damn, well after my first pop-up shop in Paris over fashion week earlier this January went down well, I bought my first Rolex. Seeing it more as a personal benchmark of achievement rather than something to show off, the price isn't so relevant to me.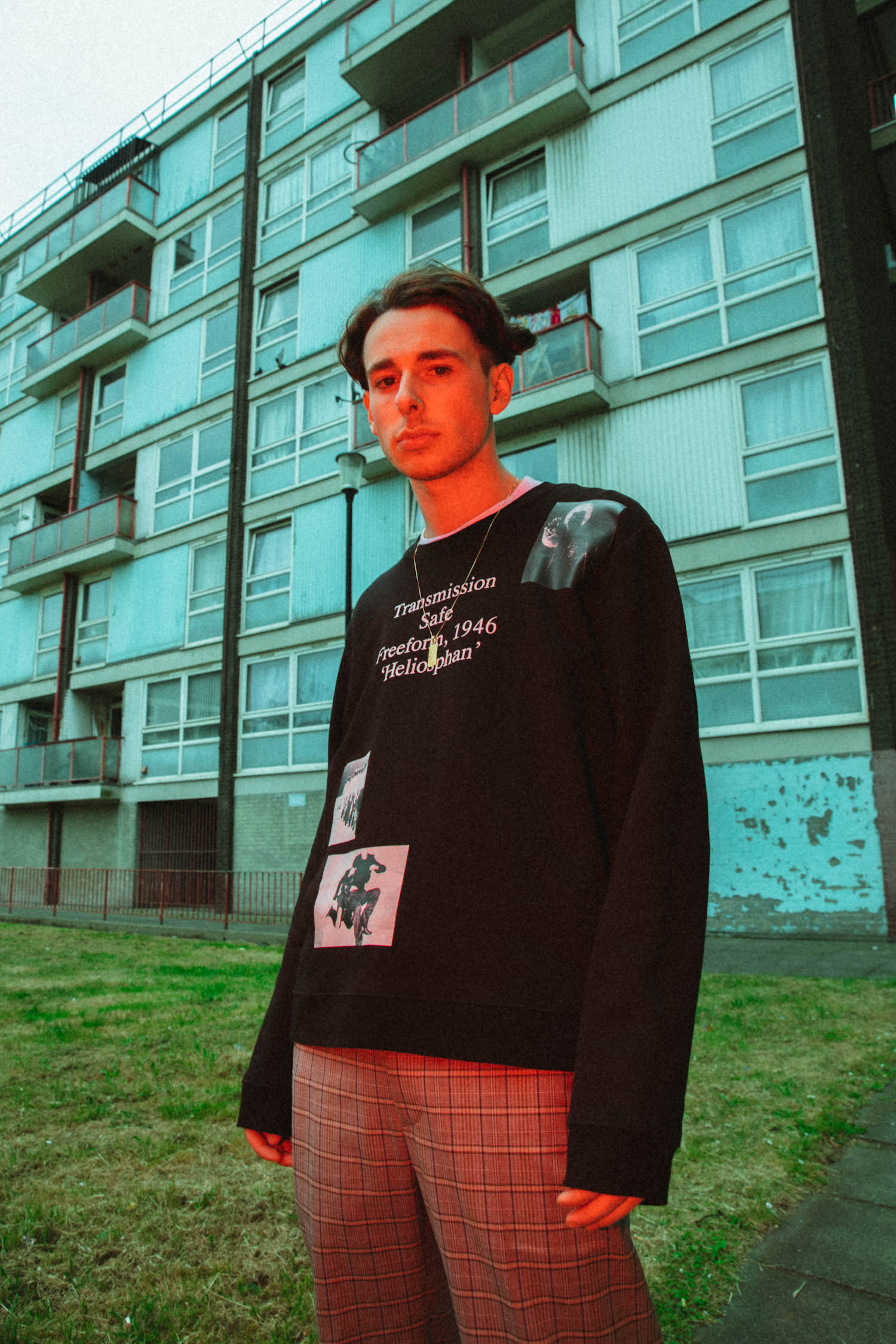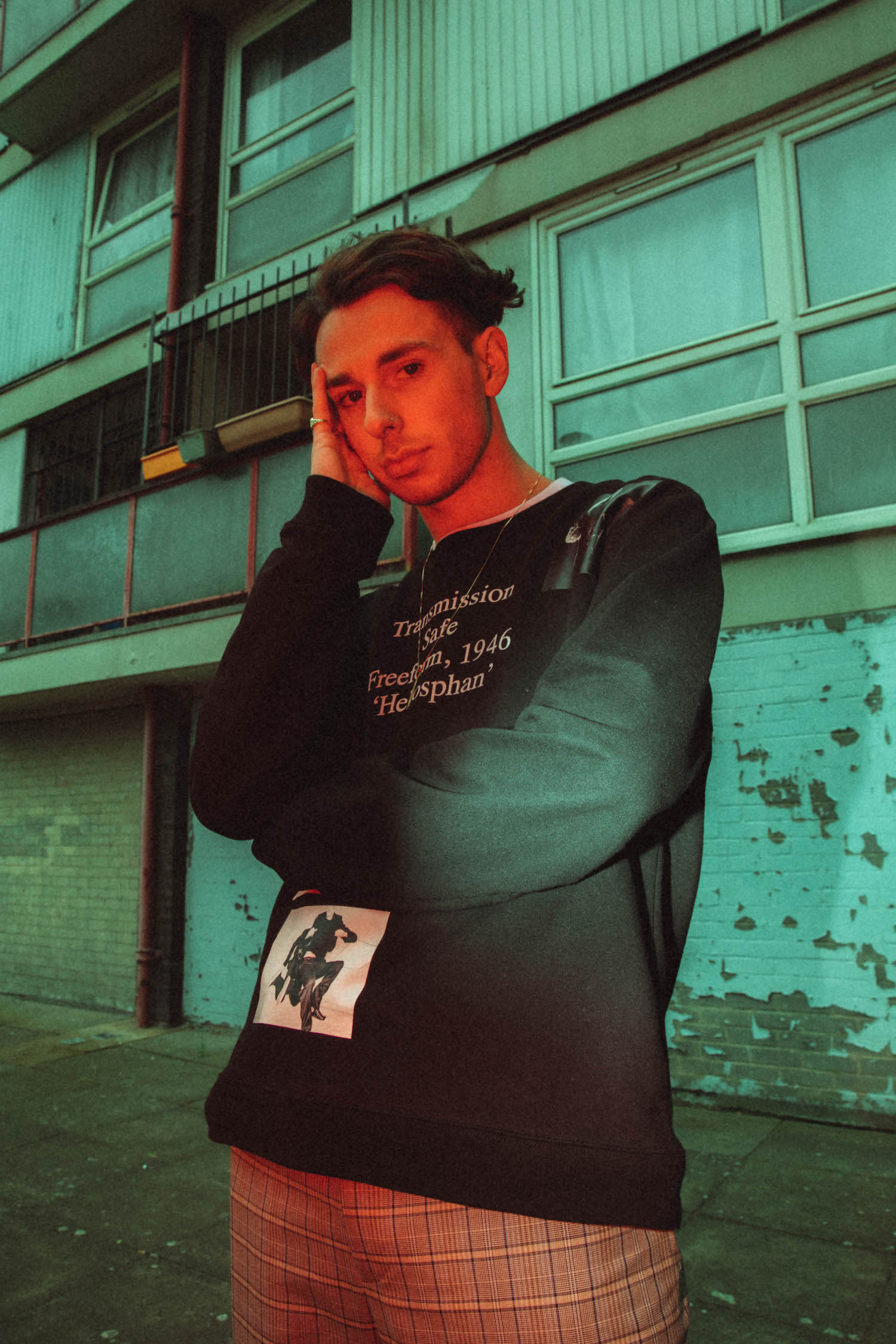 Any final thoughts on the being successful in the reselling business?
The reselling business has now become saturated, with now a lot of younger kids realising through social media they can make quick money. Especially within streetwear, which has caused a decline in demand in the market. After my interest in streetwear, I saw a market in high fashion goods. Back then this wasn't covered, and over the years I have become knowledgeable considering the authenticity of items.
To be successful I believe you have to be knowledgeable and passionate about what you're dealing with, and not just do it for the money if you're in it for the long term.
How have you used social media as a platform for your business?
From running Facebook groups for selling high end, it was a wise move starting my own website. With it comes more of a personal connection with your buyers, and I've evolved my business by making it more related to me. I've used social media to push events such as pop-up shops, having done one in Paris and recently Amsterdam. Meeting people in person, that's what it's really all about when it comes down to it.
When running into someone in far away in Asia that purchased something off my website and seeing how happy they were does a lot for me, knowing that you've had a positive impact on someone.