Discusses his beginnings in music, creative process, and favourite brands.
Making noise on the charts
21-year-old artist Yxng Bane is the coolest emerging artist to watch out for, reaching the top 40 for his single Rihanna, Yxng Bane is on his way up. After releasing his single Bestie with Yungen, Yxng Bane has been unnoticed. We at PAUSE sat down with Yxng Bane to discuss his dream collaborations, beginnings in music, favourite brands and why he put 'X' in his name.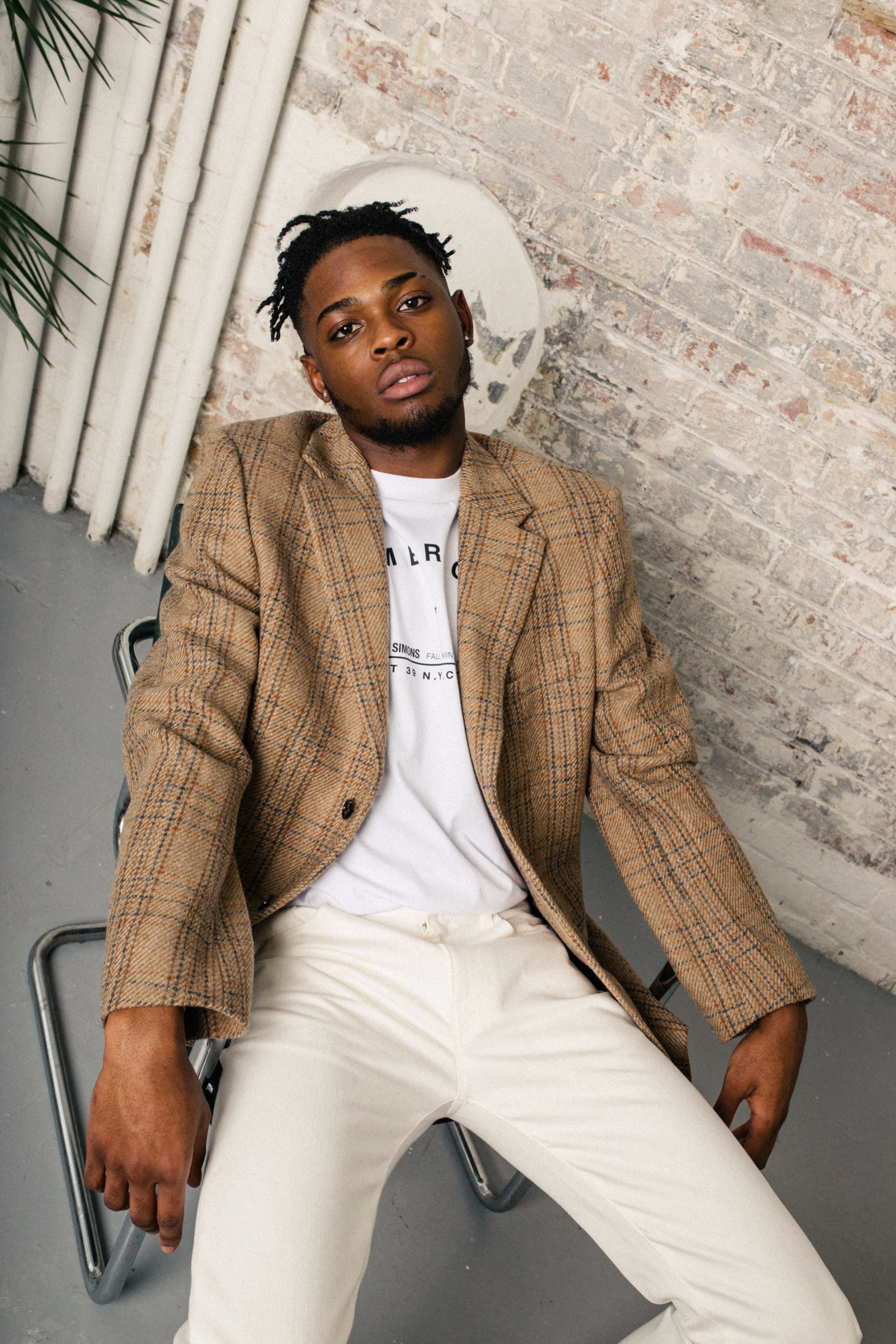 Blazer, Tee, Denim Jeans: Raf Simons @ Browns Fashion, Sneakers: Raf Simons
Why did you put the 'X' in 'Yxng'?
I was just being spontaneous you know, there was actually no specific reason behind it. I was just being creative and spontaneous. At that time I just wanted to be different, after I think I just started to develop a reason behind it, it was like a goodbye to the past. It was a new beginning and I think the 'x' symbolises that. I'm not young anymore. I'm still young, but I'm not young in my mind, so we spell it differently.
How old are you?
21. Just turned 21.
What age did you start making music?
Music has always been a part of my life, growing up it was always in my household. My brother used to listen to R. Kelly. I remember buying my first album 50 Cent – Get Rich Or Die Trying, so it's always been in my life. I had piano lessons for 2 or 3 years when I was 8, after that I stopped. Last year, it's been a year since I've been doing music, I remember the first studio session I wasn't even meant to record anything. My bredrins [friends] had a session and I went there, I was just chilling and at the end of the session they played an instrumental, I liked it and I took it and that was my first track. [Full Moon, his first EP]
T-Shirt: Helmut Lang @ Flannels
When you started, was you rapping at first?
Yeah, well I've been rapping and singing since the beginning. It's old school but it's like the attention span of the people, now obviously it's a lot more people paying attention. They started paying attention from 'Fine Wine' so then all they know is 'Fine Wine', Shape Of You and Juice And Power which is singing, they don't know my other tracks.
How important was Soundcloud to you when your career started?
Soundcloud played a big, massive [part in it]. I didn't have anything on YouTube at first and I remember I played it on SoundCloud and I had a million plays in 6 months on my first SoundCloud page.
What do you think is more powerful, SoundCloud or YouTube?
They're both strong and they both give you the chance to do both. If you look at Nav he was just a Soundcloud artist, and Partynextdoor too and when they hit YouTube it's made them even bigger. These platforms are there for us to use to make ourselves bigger. It's not like one is better than another, they all do the same job.
Who or what inspires your creative process?
A lot of my inspirations I'm around every day, my parents, my little sister, it might be a woman in my life. It could be anything at that specific moment or what happened yesterday so going into the studio was just about talking about what you've been through. I'm just inspired by life really.
Who would you like to collaborate with?
In the future, I think… Future, Chris Brown, Drake, Wiz Kid, me and Tinie Tempah need to get in the studio that's been overdue. I might steal a verse from GFrsh?
Is there a female artist you'd collaborate with?
Stefflon Don. She's cold. Jorjia Smith. Iamddb.
Congratulations on hitting Top 40 with your single Rihanna and Bestie with Yungen, how does all that feel and how was it working with Yungen?
Yungen is cool man, I remember the first time in the studio he just came to chill and there was a cool vibe. It's not just like we got a track together, it's on the charts Top 10, we got a relationship and the energy we have together drove the track to Top 10. It's just a wonderful feeling.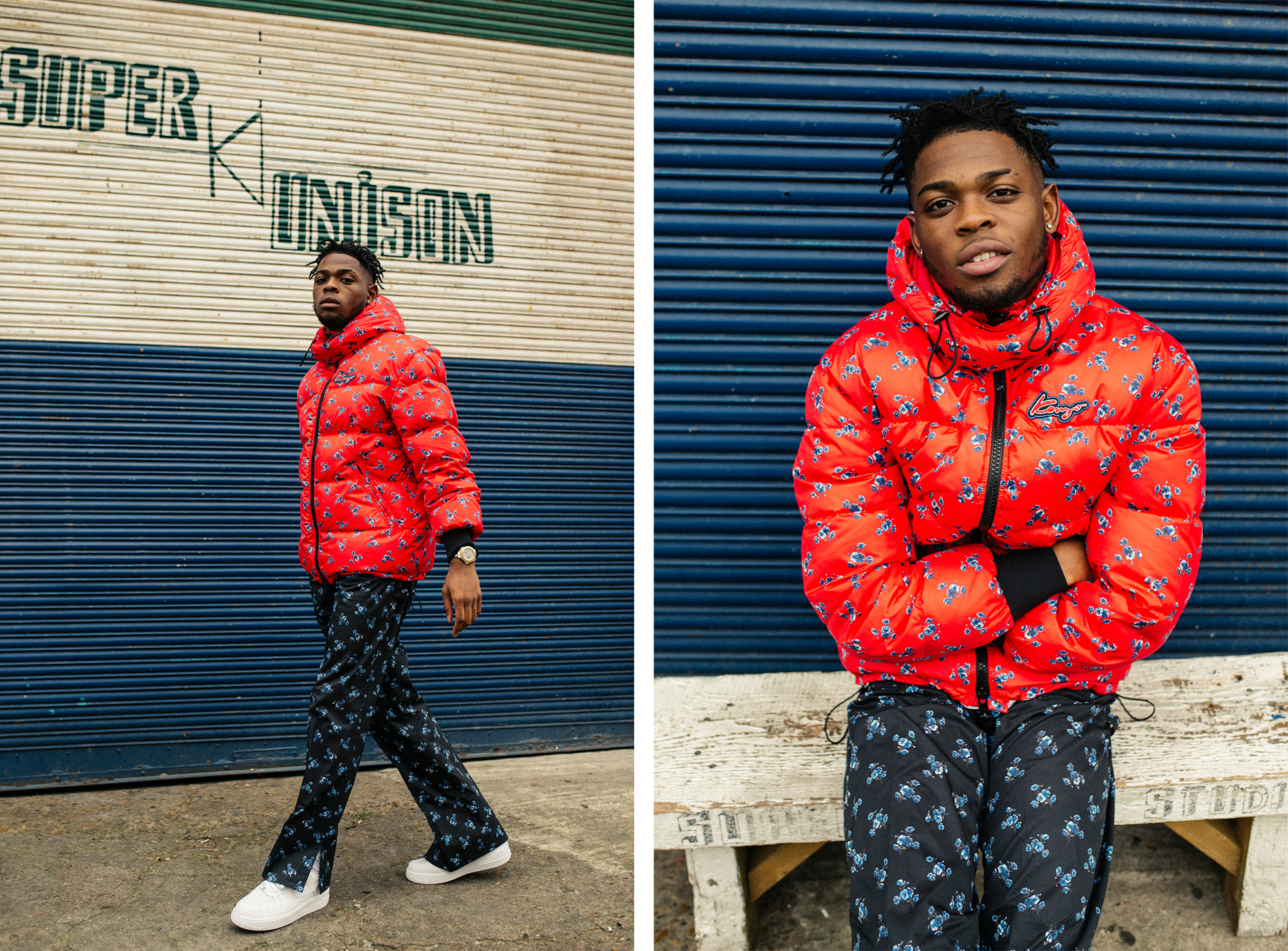 Jacket: Kenzo @ Flannels, Trousers: Kenzo @ Flannels, Sneakers: Nike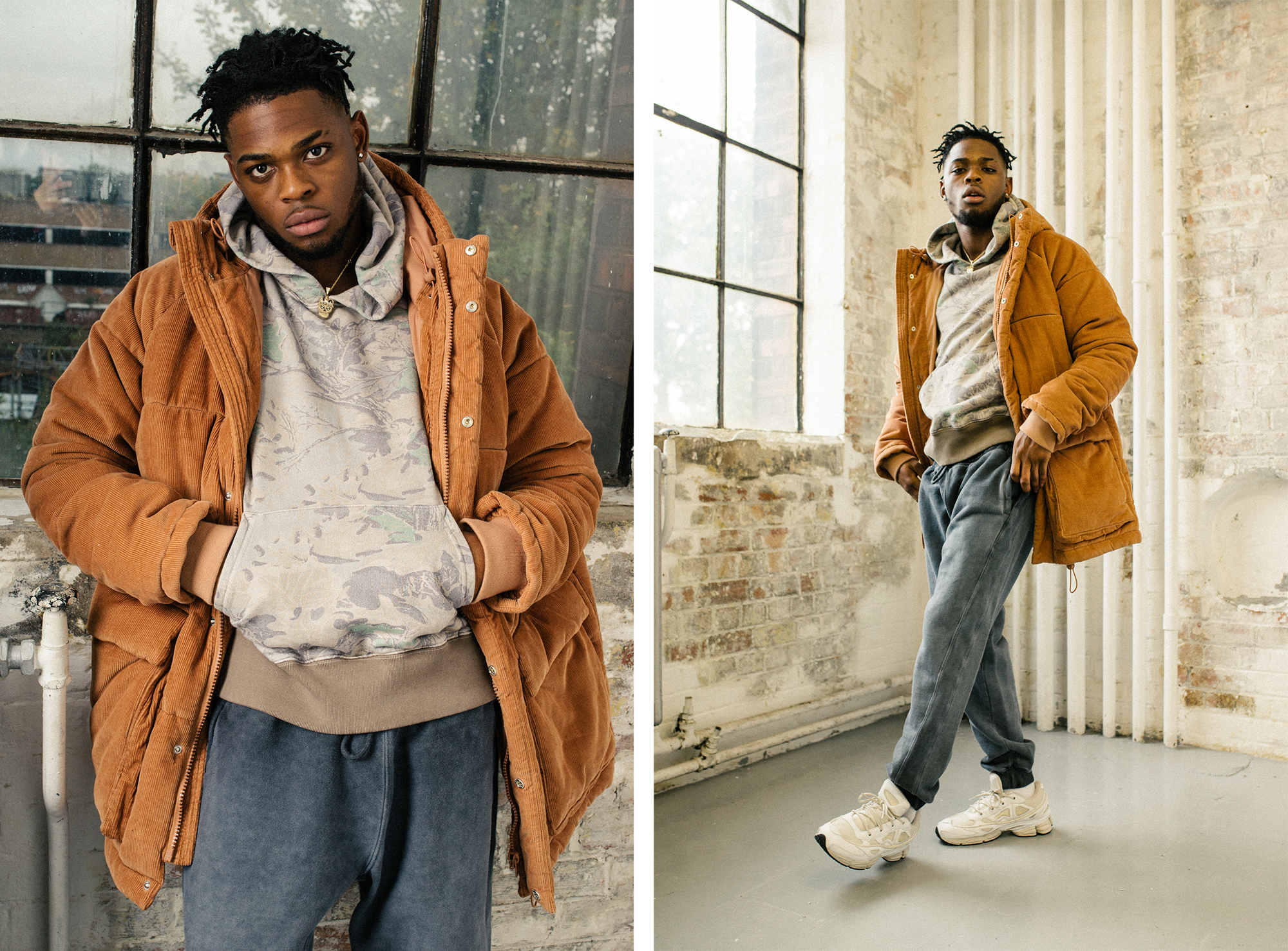 Jacket: Urban Outfitter, Hoodie: YEEZY SEASON @ Browns Fashion, Joggers: YEEZY SEASON @ Browns Fashion, Sneakers: Raf Simons Ozweego
What made you decide to sing and rap?
I don't ever decide "I want to rap today… I want to sing today". It's more like I go to the studio and whether I feel like I want to shout and rap about it or talk about it, the beat is telling me to sing. I will play the beat and it'll remind me of a time in my life or something and however I feel to express it, I'll rap or sing. I just express myself all the time.
Tell us about your new single Froze.
Froze… that's produced by a good brother of mine, big up. We worked on that track quickly, we made it in about half an hour no lie and then it was just a question of getting the mix right. It's just a vibe, people are saying it's the old Bane, it's good to know people are still remembering and loving that old stuff, that old flow. I just felt like I had to give it back to them.
You're up against artists like Loyle Carner and Stefflon Don for the MOBO Best Newcomer Act, how does it feel to be nominated and running against them?
It's a pleasure but you know also when you look at the names you're up against being up against everyone in that category is a big thing. It's a wake up call like, well done son you're actually doing alright keep going! To get to have your name next to the people, big respect to all the people and good luck. We're all winners!
You recently posted a picture in the Radio 1 studio with Charlie Sloth, can we expect a Fire In The Booth from you soon?
You're always getting fire in the booth everytime I'm in the studio it's a fire in the booth!! But yeah… me and Charlie got something coming soon… probably.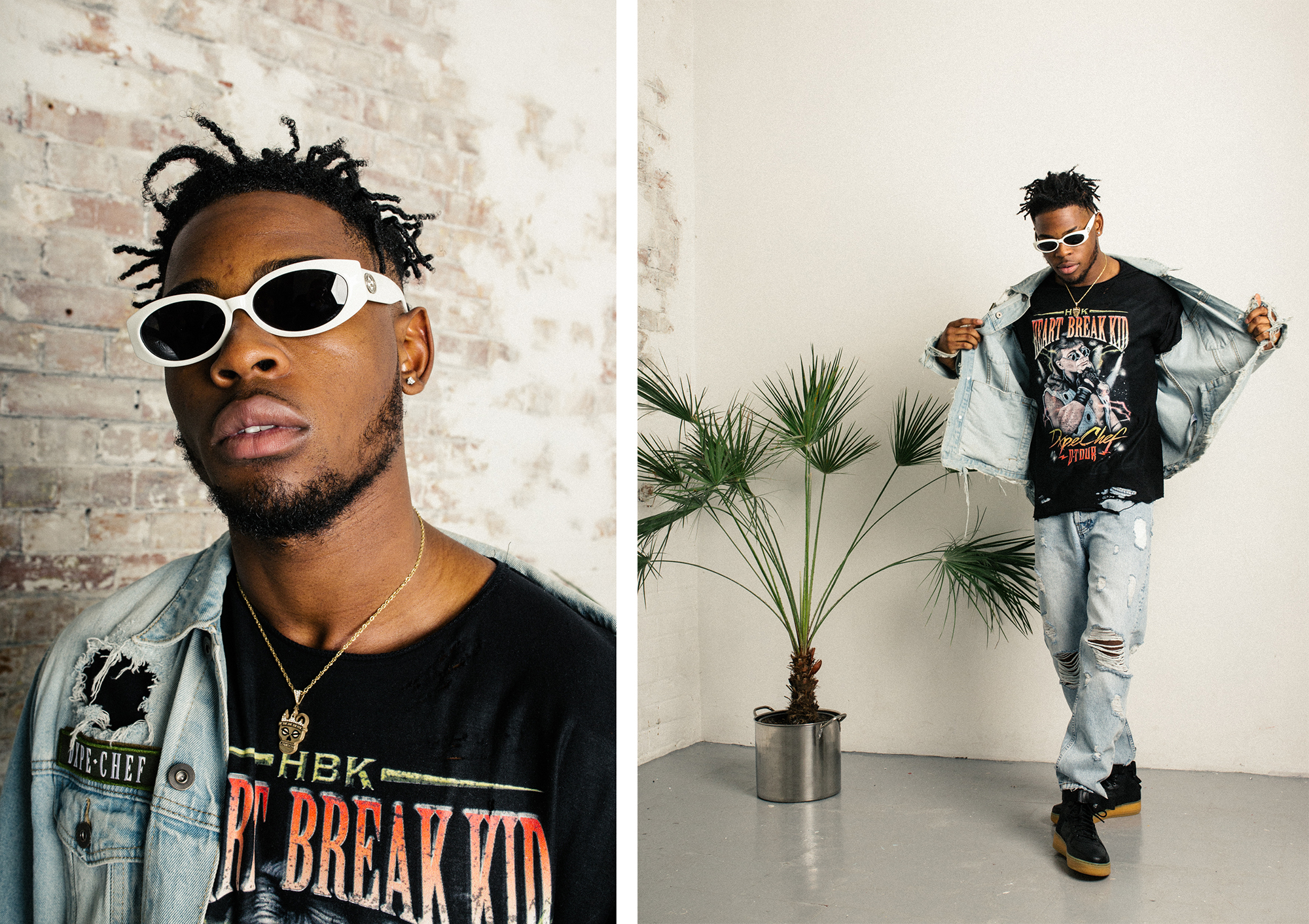 How would you describe your dress sense in one word?
Original…. experimental. Sometimes I take it to places where people, where I come from, wouldn't take it… so experimental. Brave too! I'm from the ends.
What brands would we find in your wardrobe?
OFF-WHITE. YSL. Gucci. Nike. DSquared. CDG. Daily Paper. WWW [What We Wear]. Dxpe Chef.
What is your favourite brand at the moment?
At the moment, the t-shirt that has the best fit is my What We Wear T-Shirt. I'm not just saying that because Tinie [Tempah] is my people and my brother, I'm being dead honest. My favourite t-shirt in terms of fit is my WWW. I'm into tracksuit bottoms at the moment.
What is your favourite sneaker brand?
At the moment, Balenciaga Sock Runners are my favourite Sneaker. My favourite brand would be [Nike Air] Jordans…. 1's.
Can we expect an EP or album from you soon?
Not an EP or an album but maybe a bunch of tracks together, I'm still in the studio. If the people want it enough I'll give them a bunch of tracks but it won't be an album.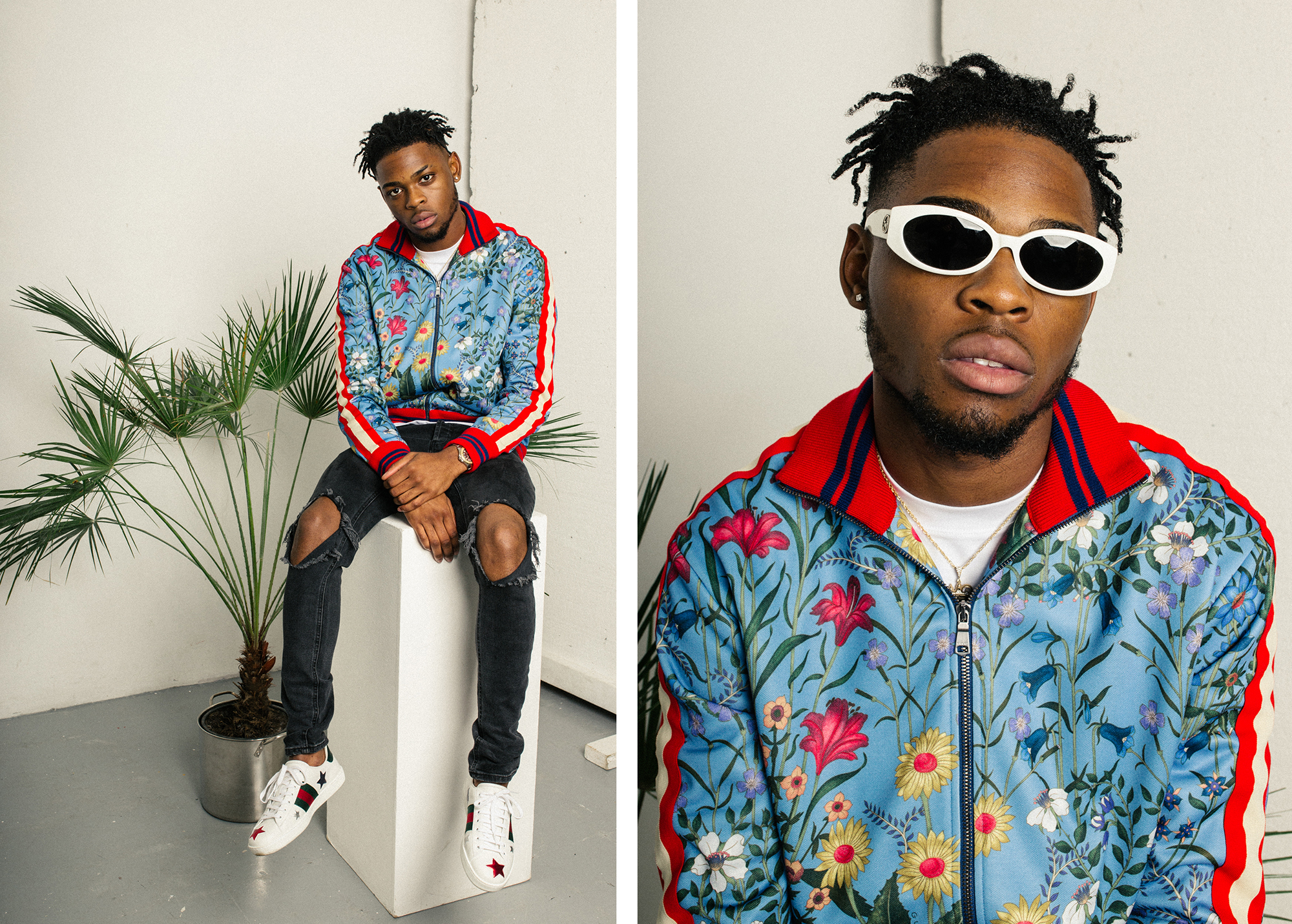 Jacket: Gucci, Denim: Yxng Bane's Own, Sneakers: Gucci @ Flannels